This classic holiday ham is basted with a honey pineapple glaze and served with a sweet and tangy pineapple sauce. Classic Glazed Ham with Pineapple Sauce is a fabulous choice for your holiday menu.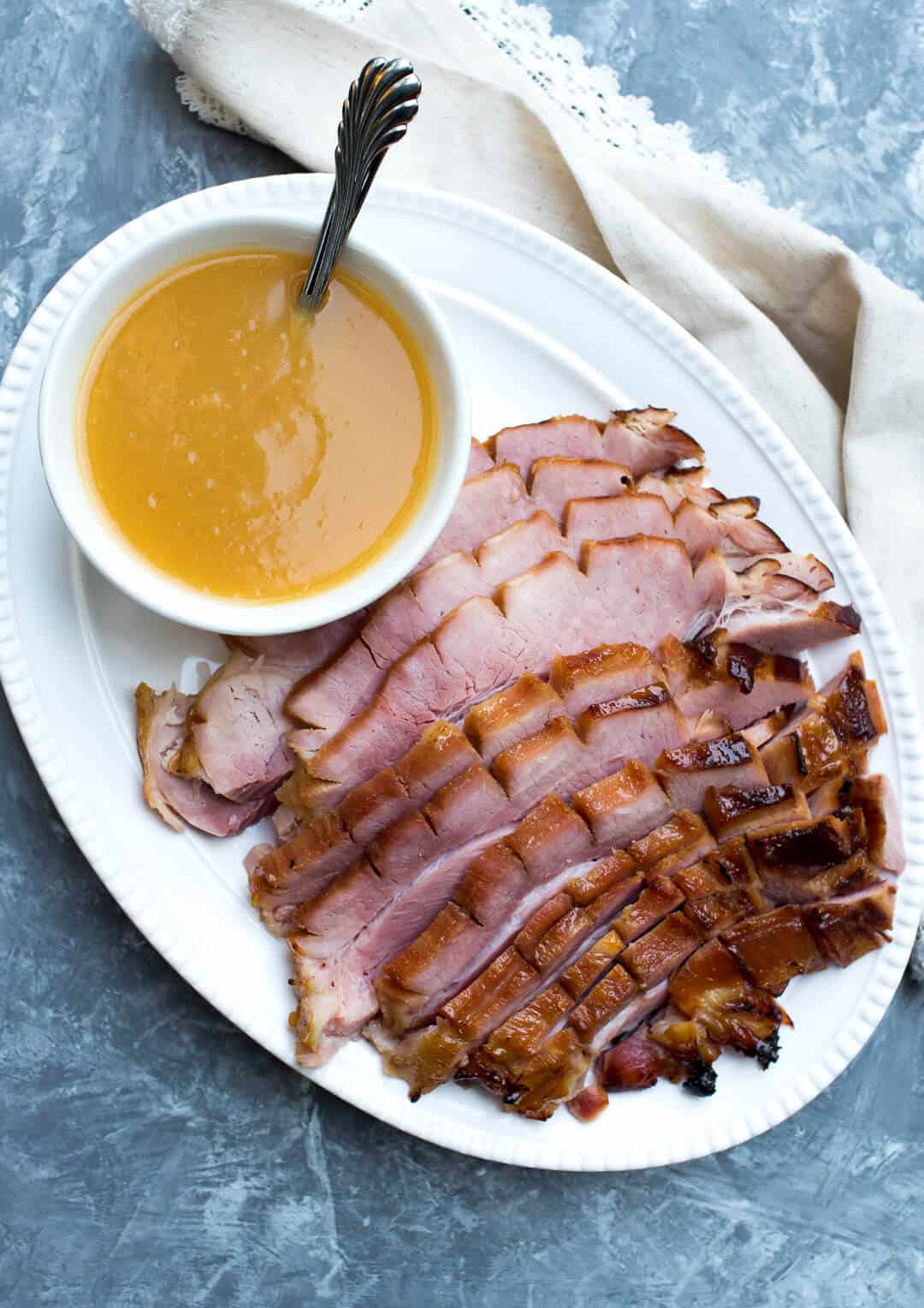 I didn't realize that the ham with pineapple sauce I grew up eating on the holidays was unique until I searched high and low for a recipe similar to the one my mom made every year and found it wasn't really out there. There were plenty of pineapple sauce recipes that called for crushed or chunked pineapple, but Mom's sauce was smooth, similar to a pineapple gravy.
It's that tangy pineapple-y sauce that really makes this recipe something unique and, for me, very nostalgic.
Like so many of the recipes I make today, I've pulled this recipe together from an incomplete ingredient list that was stashed away in my recipe binder. A good reminder to document those treasured family recipes! Some of those people around you who may currently seem very unimpressed with cooking will want them some day. Guaranteed.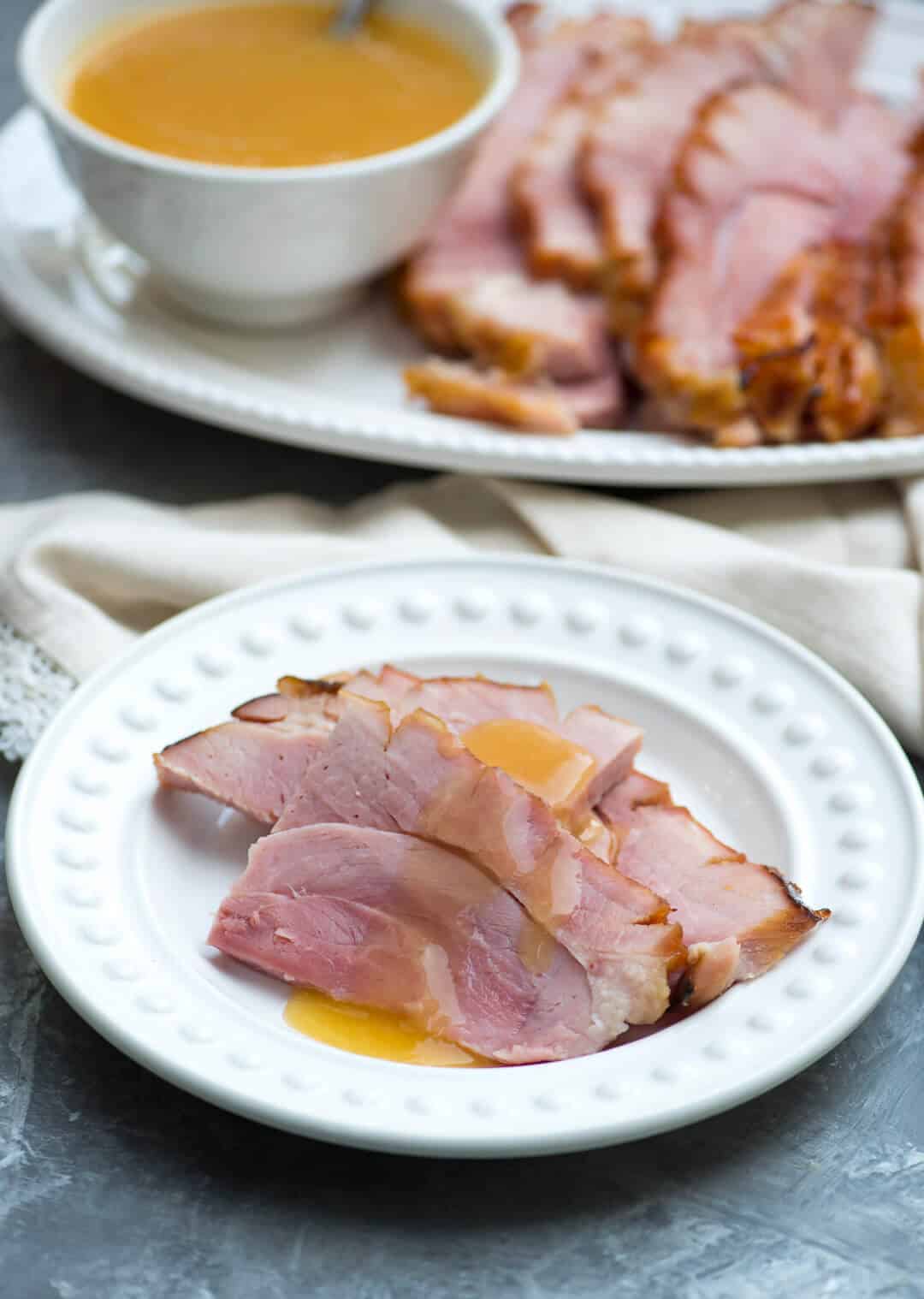 In prior years I've shared a couple of different ways to prepare spiral sliced ham so I decided for this recipe I'd go the classic route with a bone-in ham shank studded with cloves and basted with a syrupy brown sugar-honey-pineapple glaze towards the end of the baking time .
If you've got a spiral sliced ham on your hands, take a look at my Maple Glazed Spiral Ham or Slow Cooker Ham with Peach Thyme Glaze. Both delicious choices for spiral hams.
I use a special technique when baking ham that ensures a moist and tender result and easy cleanup. Especially important for glazed hams.
Here's how I do it.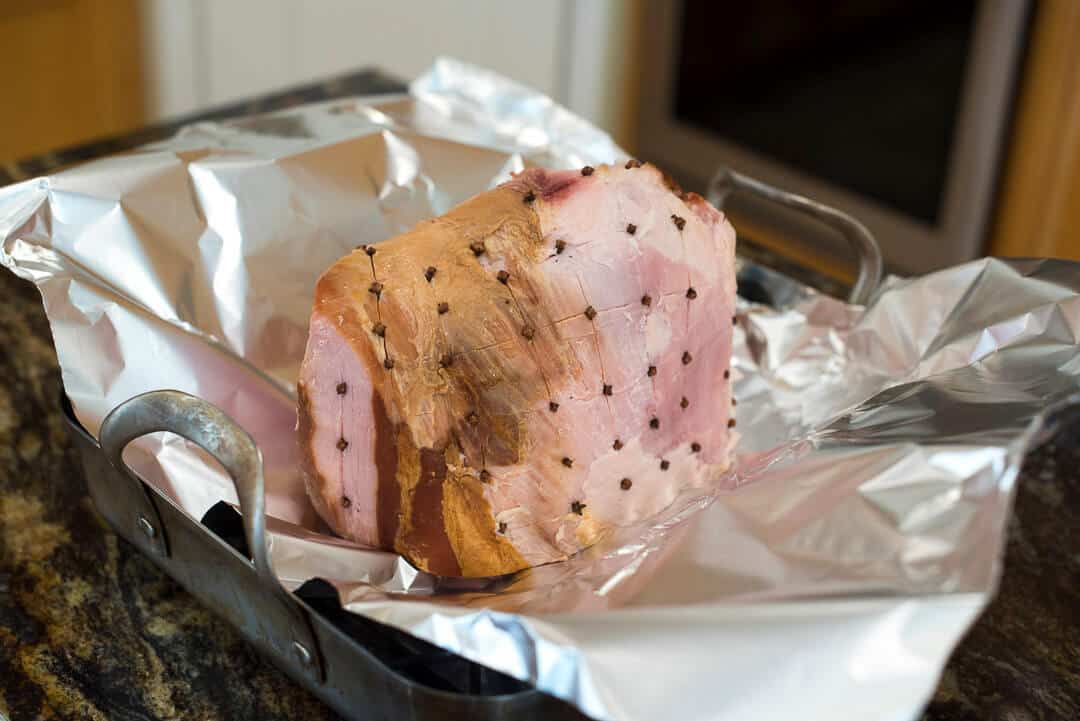 Place a rack in a large roasting pan and place a large sheet of heavy duty foil over the top of the rack. Place the ham on top of the sheet of foil.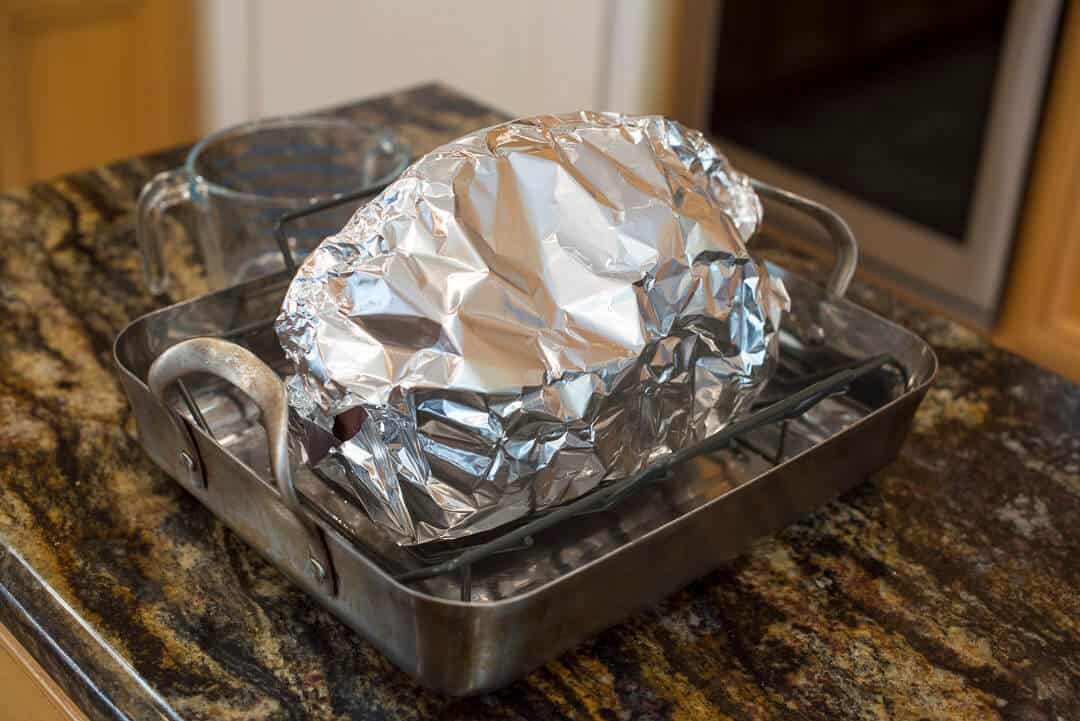 Enclose the ham in the foil with the opening at the top so that you can easily open it up when it's time to baste it with the glaze. I add a couple of cups of water to the bottom of the roasting pan to create a moist environment in the oven. You want to watch the water level as the ham bakes and add additional as some may cook off.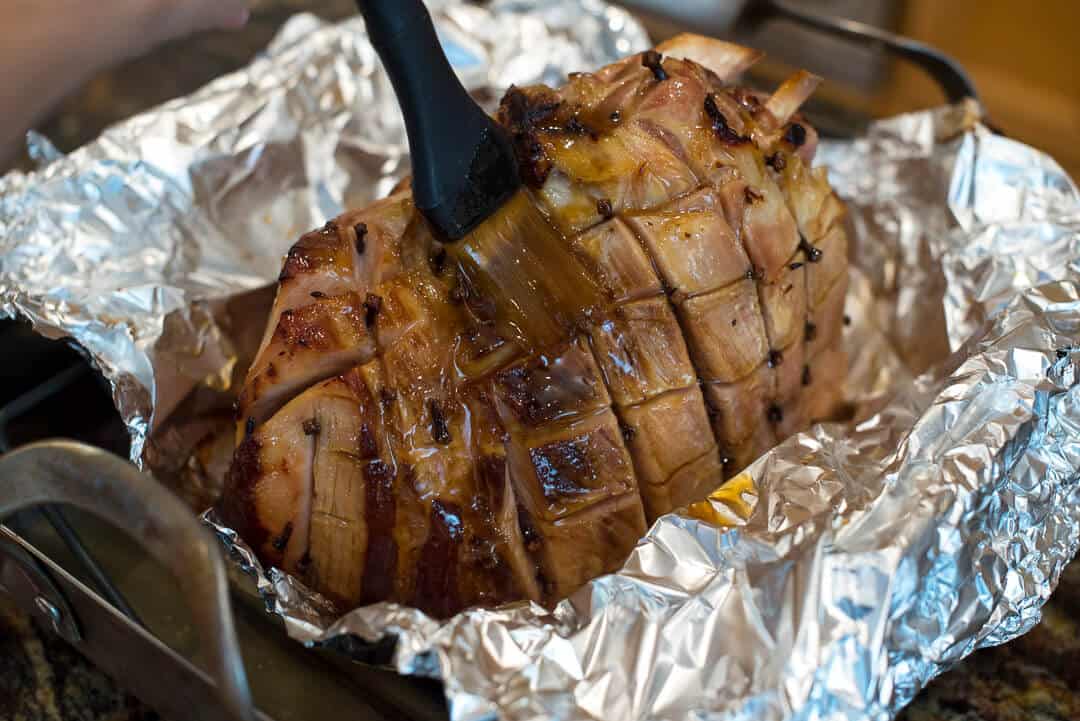 When it's time to baste, open up that foil and baste away. The foil will catch all those sticky drippings and clean up will be a breeze.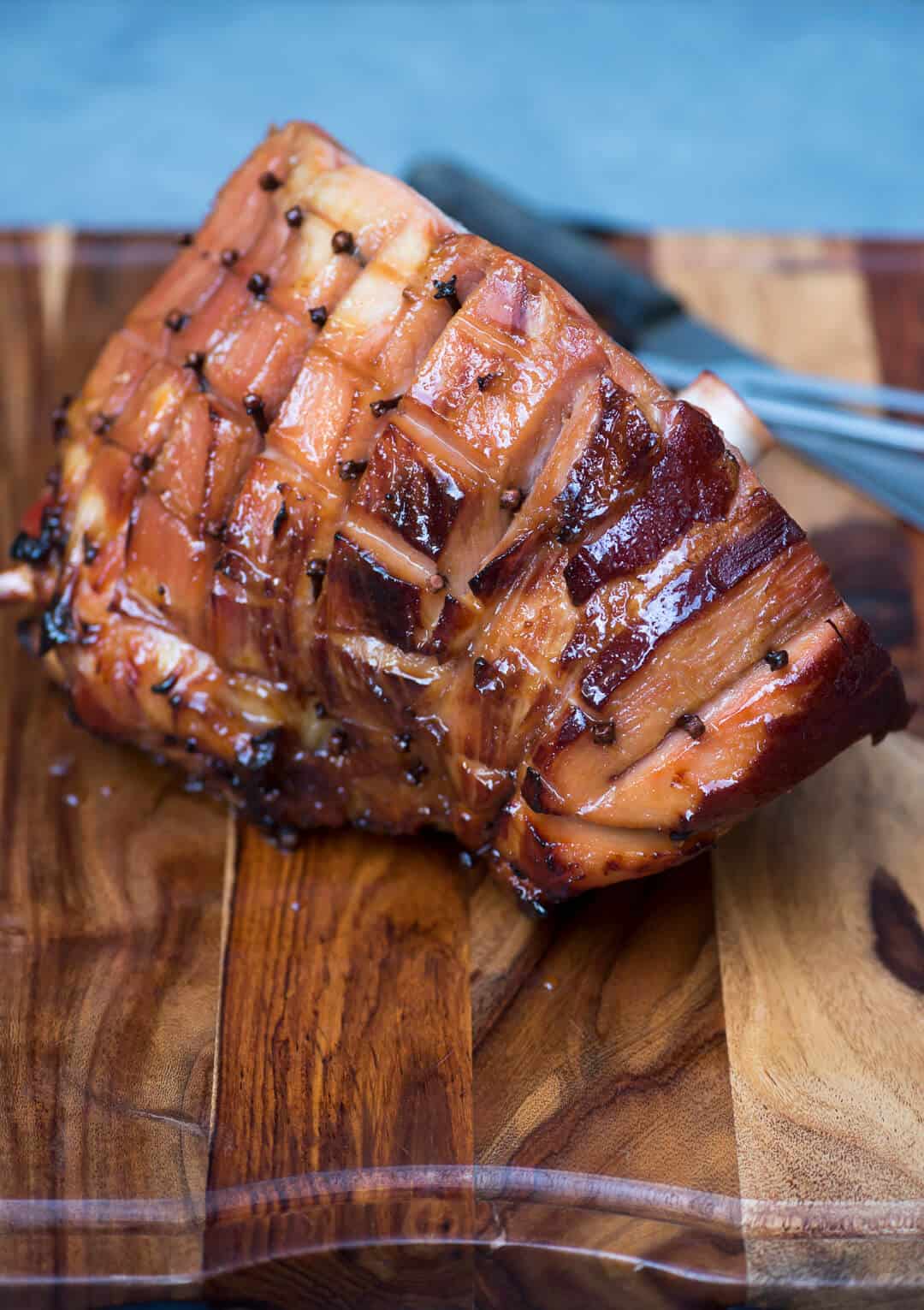 Pretty as a picture and ready to carve. You want to remove the cloves before serving.
I found these ham carving tips for bone-in hams extremely helpful.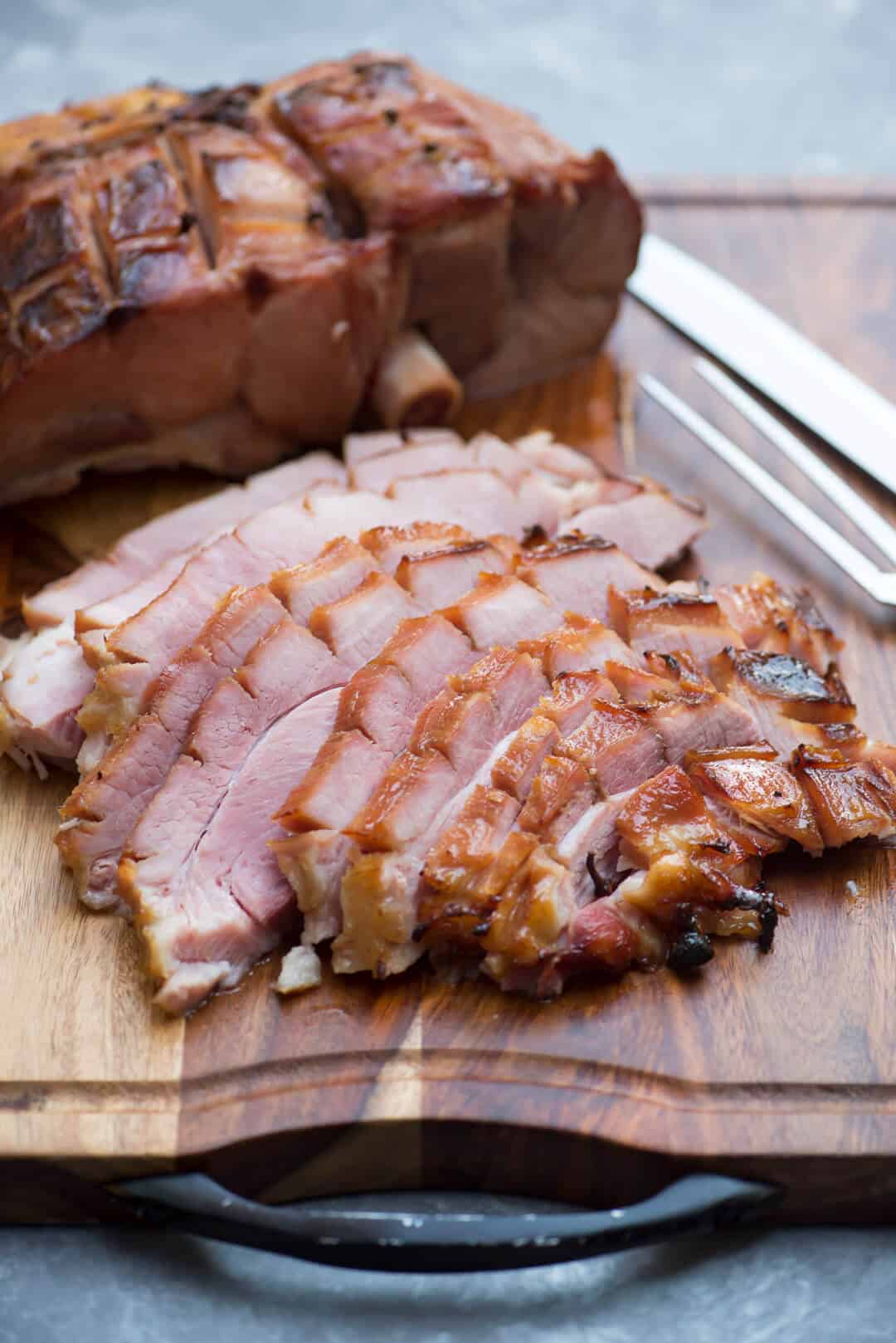 Ham Notes
Boneless or Bone-In? This recipe calls for a bone-in ham which helps to add flavor during cooking but also because there are so many delicious ways to make use of leftover ham bones that I think they are pure gold. For some ham bone inspiration check out my Slow Cooker Ham and Bean Soup, Baked Beans from Scratch, and Slow Cooker Split Pea Soup.
Butt or Shank Ham? The butt portion is the more round, meatier end, and the shank portion is tapered and easier to carve which is why I like the shank for a holiday ham. Either will work for this recipe. Better Homes & Gardens has some really excellent information on the different cuts of ham.
How Big? For a bone-in shank or butt portion ham figure about 3/4 pound person. So, technically, you'd need a 7 1/2 pound ham to feed 10 people but personally, I'd go with a 10-pounder to ensure plenty of leftovers. I've got you covered with some leftover ham recipe inspiration with this Ham Salad, Easy Ham and Cheese Stuffed Crescents, White Bean and Ham Soup, and Ham and Cheese Sliders. Stay tuned for an awesome leftover ham breakfast recipe coming very soon.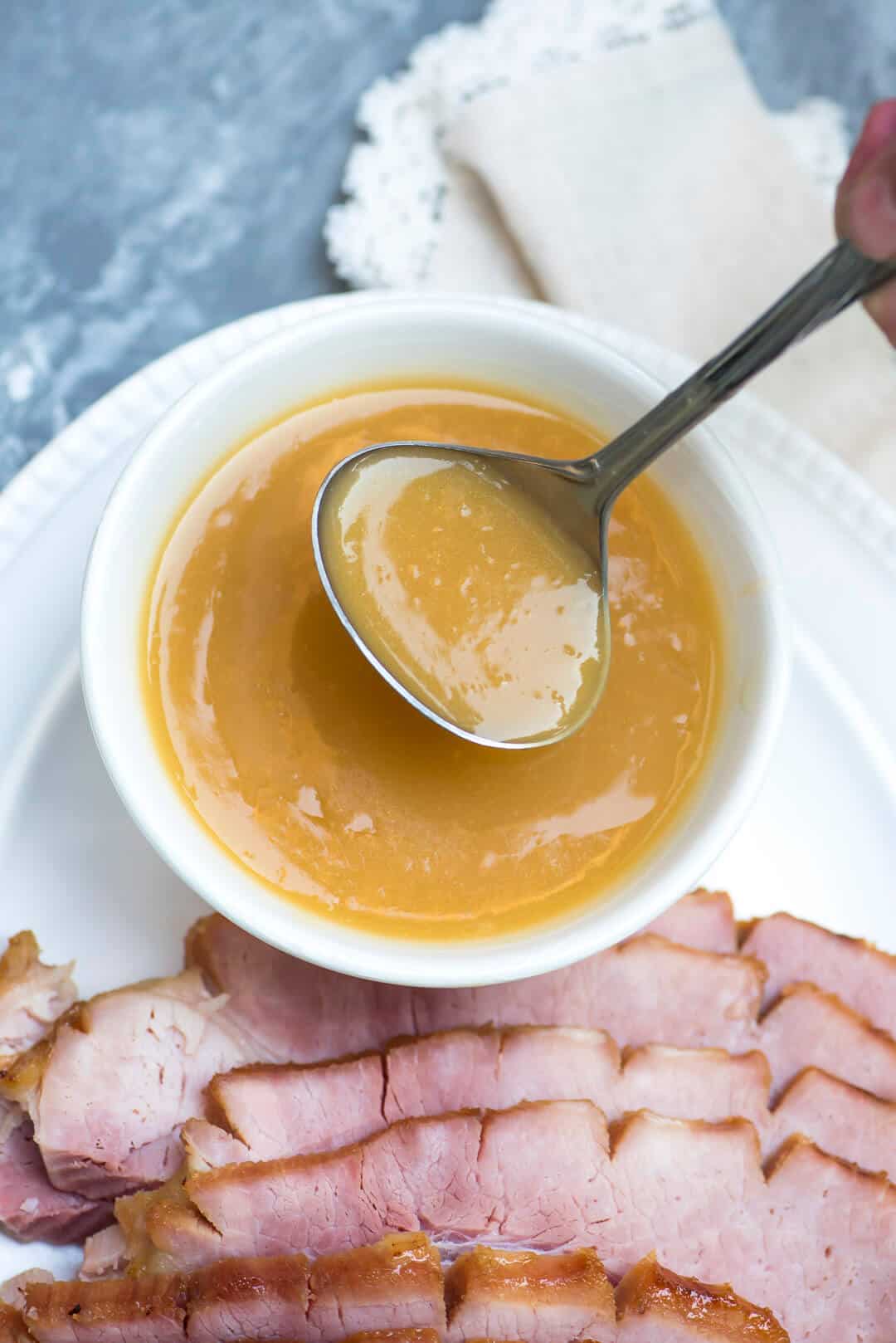 Classic Glazed Ham with Pineapple Sauce
This classic holiday ham is basted with a honey pineapple glaze and served with a sweet and tangy pineapple sauce. Classic Glazed Ham with Pineapple Sauce is a fabulous choice for your holiday menu.
Print
Pin
Rate
Servings: 10 to 14
Calories: 928kcal
Ingredients
Glazed Ham
9 to 11 pound bone-in fully-cooked smoked ham (shank or butt portion)
2 tablespoons whole cloves
2 tablespoons butter
1 cup packed brown sugar
1/2 cup honey
1/3 cup pineapple juice
2 tablespoons Dijon mustard
Pineapple Sauce
1/3 cup light brown sugar
2 tablespoons cornstarch
1 cup pineapple juice
1 cup water
1 tablespoon butter
2 teaspoons apple cider vinegar
Pinch salt
Instructions
For the Ham:
Preheat oven to 325 degrees F.

Trim rind (thick layer of skin) with a sharp knife if necessary. Use paring knife to make shallow even cuts across the fat on top of ham in one direction. Repeat, making slits in opposite direction to form diamond shapes. Insert cloves at intersection of cuts (remove the cloves before eating the ham).

Place a large sheet of heavy duty foil on top of a rack in a large roasting pan. Place ham, cut side down, on top of foil and enclose (so you can open the foil from the top). Bake for 2 1/2 hours (15 minutes per pound), or until a thermometer placed in thickest part of ham registers 130 degrees F.

Meanwhile, melt butter in a medium saucepan over LOW heat. Add brown sugar, honey, and pineapple juice Whisk in the Dijon and bring mixture just to a boil, stirring occasionally. Remove from heat and set aside. Glaze will thicken slightly as it sits.

After initial baking time, remove roasting pan from oven and increase oven temperature to 400 degrees F. Carefully open foil and brush ham liberally with glaze. Return to oven, with foil open, for an additional 30 to 45 minutes, brushing with more glaze several more times as it cooks. Ham should register 140 degrees F in the center when checked with an instant read thermometer.

About 30 minutes before ham is ready to come out of the oven, prepare the Pineapple Sauce.
For the Pineapple Sauce:
Whisk together brown sugar and cornstarch in a small saucepan (don't place over heat). Whisk in the pineapple juice and water until smooth. Place saucepan over MEDIUM heat and bring to a boil. Cook and stir for 2 minutes until thickened and bubbly. Remove from heat and stir in the butter, apple cider vinegar, and salt until butter has melted.
Nutrition
Calories: 928kcal | Carbohydrates: 49g | Protein: 88g | Fat: 44g | Saturated Fat: 15g | Cholesterol: 255mg | Sodium: 3341mg | Fiber: 1g | Sugar: 44g