The totally addictive flavors of sesame oil and peanut sauce combine to create an irresistible Asian-style cold noodle salad. With a few simple tips, it can be made up to a couple of days ahead and tossed together when you need it, making it perfect for your next gathering or potluck.
I've always been a sucker for anything flavored with sesame oil. And, peanut sauce…well don't get me started. The stuff drives me crazy with desire.
Simple ingredients combine in this recipe in a truly beautiful way to create authentic-tasting cold sesame noodles. There is a bit of effort involved but it is so worth it. It's hearty enough to serve as a main dish but I love it as a side with other Asian fare, grilled meats, or even burgers.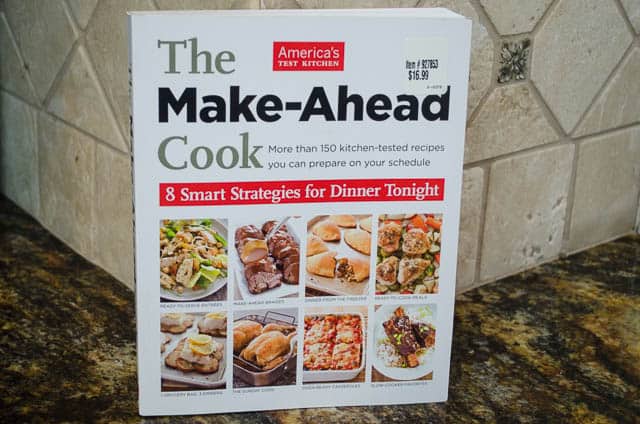 I mentioned back in my October Costco Haul post that I had picked up this little gem of a cookbook from America's Test Kitchen. I've spent some time with it and wanted to let you all know a little more about it. The Make Ahead Cook is filled with over 150 dinner ideas with complete and very thorough make-ahead instructions. There's lots of traditional make-ahead fare – pasta dishes, casseroles, soups, and slow cooker recipes, but there are also some really excellent and creative ideas for preparing dishes in advance that you might not expect to see in a make-ahead collection. I was instantly attracted to this recipe for sesame noodles, which I've adapted and am sharing with you all today.
The book also includes tips on storing and freezing food, things you can do to save time on prep, and all sorts of other good stuff. The recipes include big, beautiful photos and some even include a couple of process photos to help illustrate some of the important steps. Always a good thing. The tips included really make a big difference in the outcome of these recipes. If you can't find it at Costco, it's available at Amazon and other online book sellers.
Let's talk about ingredients a little and then let's get cookin'!
My newest love – bagged, peeled garlic. I bought this bag filled with more than 20 cloves from a local produce market for $1.29! Such a convenience. We need two cloves for the amazing peanut-y sesame dressing.
Process the garlic with some freshly grated ginger in your food processor and then add some crunchy peanut butter, soy sauce, rice vinegar, a little brown sugar…
…Sriracha! Sorry, I get a little excited when I pull out the Sriracha.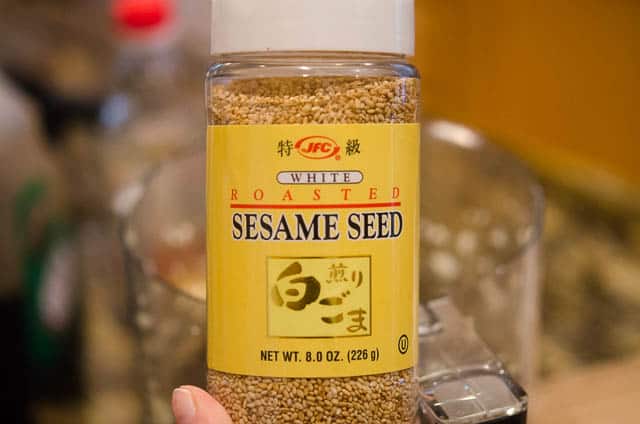 And, roasted sesame seeds. I recommend you purchase them roasted to save yourself the step of roasting them yourself. We have enough to do – we don't need to be roasting sesame seeds. But really, if you need to, just toss them on a baking sheet and pop them in a 350 degree oven for several minutes till lightly browned. These are ready to go. So let's go.
Process all that good stuff until it's nice and creamy and then, with the unit running, add 1/4 cup hot water.
Transfer your super delicious dressing to a covered container and in the fridge it goes while we work on the rest of the recipe.
Next up, the chicken. This method creates awesomely tender chicken that is easy to shred. If a recipe calls for rotisserie chicken and you want to cook your own instead of buying a cooked bird – this is how you want to do it. Saute thin sliced boneless chicken breasts in olive oil over medium-high heat. Season with a little salt and pepper, to taste. Cook the chicken until it is well browned on one side then flip it.
Carefully pour in 1/2 cup water, lower the heat to medium-low, cover the skillet and continue to cook the chicken for another 6 to 8 minutes or until it is thoroughly cooked through.
Transfer the cooked chicken to a cutting board and allow it to cool and then use a couple of forks to shred it into bite size pieces. While the chicken is cooling, get a big pot of water going for your noodles.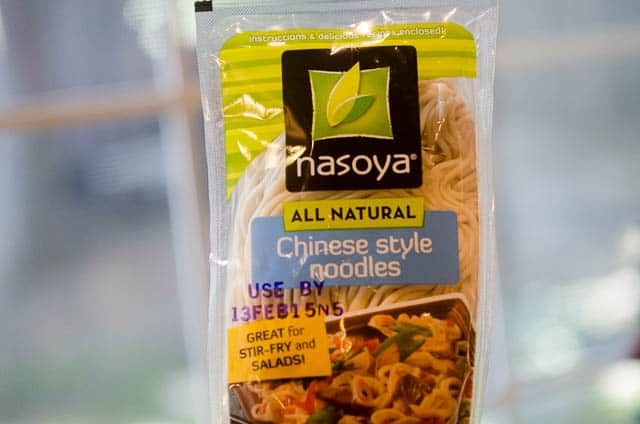 I picked up a couple of packages of these Chinese style noodles from Nasoya and they are perfect for this recipe. I found them in the refrigerated area of the produce section in my local store.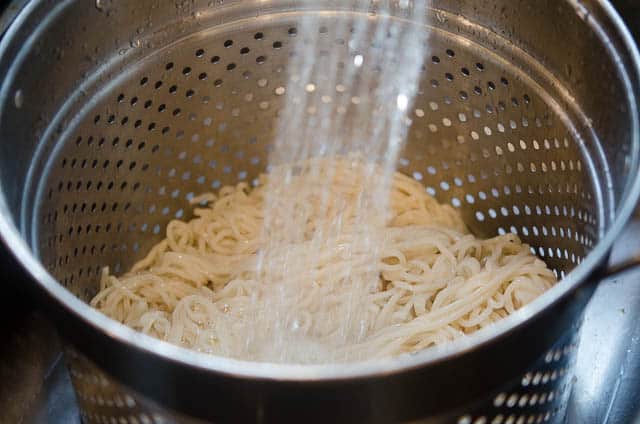 Cook them according to the package directions and then (this is important!) rinse them well with cold water. This is going to remove some of the starch from the noodles to help ensure they won't get gummy or sticky when they cool. Drain them, leaving them slightly wet (again, to help avoid the gummy/sticky thing), and transfer them to a great big bowl.
Add a couple of tablespoons of sesame oil to the noodles and toss them to distribute the oil. Sesame oil adds HUGE, distinctive, and totally addictive flavor.
Lastly, it's just a matter of assembling the salad. Add the shredded chicken, some shredded carrot, chopped red bell pepper, and sliced green onion to the bowl with the noodles and toss with the dressing. Season with some salt and fresh ground pepper, to taste. To make things pretty, sprinkle with a little cilantro for color and some additional sesame seeds.
With a few simple tips, this dish can be made ahead and stored in the fridge for up to two days. For the complete instructions, see the printable recipe below.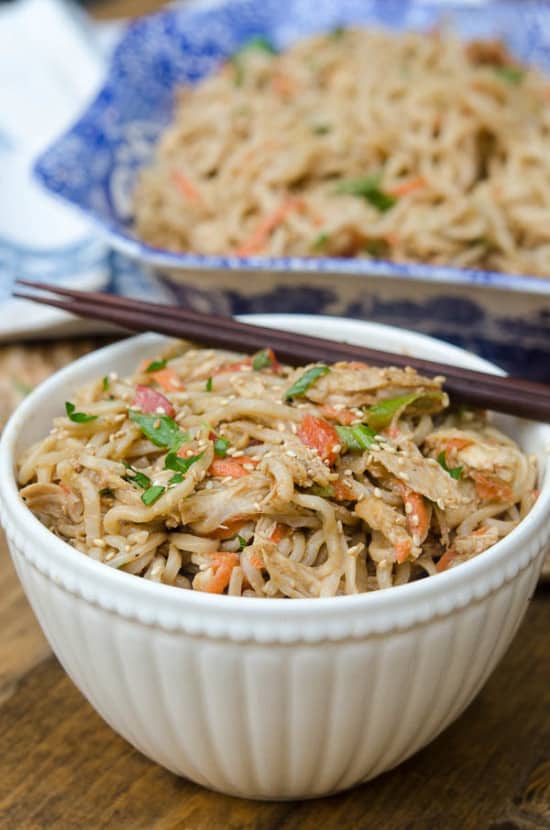 Sesame Noodles with Chicken
Servings:
4
to 6 servings
Ingredients
5

tablespoons

soy sauce

1/4

cup

chunky peanut butter

3

tablespoons

toasted sesame seeds

,

divided

2

garlic cloves

,

minced

2

tablespoons

rice vinegar

2

tablespoons

brown sugar

2

teaspoons

finely grated fresh ginger

1

teaspoon

Sriracha sauce

1/4

cup

hot water

1-1/2

pounds

thin cut boneless

,

skinless chicken breast

salt and fresh ground pepper

,

to taste

1

tablespoon

vegetable oil

1

pound

fresh Chinese noodles

2

tablespoons

sesame oil

4

green onions

,

sliced thinly on the bias

1

carrot

,

peeled and shredded

1

red bell pepper

,

chopped

2

tablespoons

chopped fresh cilantro
Instructions
For the Sauce:Place soy sauce, peanut butter, 2 tablespoons sesame seeds (reserve remaining sesame seeds for later), garlic, vinegar, brown sugar, ginger, and Sriracha in the bowl of a food processor or blender and process for 30 seconds, or until smooth. With unit running, gradually pour in the hot water. Continue to process for a few more seconds. Transfer sauce to a container, cover, and refrigerate.

For the Chicken:Heat vegetable oil in a skillet over medium-high heat. Add chicken and season to taste with salt and fresh ground pepper. Cook chicken for about 5 minutes until nicely browned on one side. Flip the chicken and carefully add 1/2 cup water to the skillet, cover, and reduce heat to medium-low. Continue to cook for another 6 to 8 minutes, or until thoroughly cooked through to the center. Transfer the chicken to a cutting board and allow to cool. Once cool enough to handle, use forks to shred into bite size pieces.

For the Noodles:While chicken is cooking, bring water to boil in a big pasta pot. Add noodles and cook for length of time indicated on package, stirring occasionally. Drain noodles and then rinse with cold water and drain again, leaving them just slightly wet. Transfer to a large bowl and toss with sesame oil.

Add shredded chicken, green onions, carrot, and bell pepper to noodles and toss to combine.

To Finish and Serve:Add dressing to noodles and toss until combined. Season with salt and fresh ground pepper, to taste. Sprinkle with cilantro and remaining sesame seeds and serve.

Make-Ahead Instructions:Refrigerate dressing and noodle/veggie mixture separately for up to two days. When ready to serve, remove dressing and noodles from refrigerator. If dressing has thickened to much, stir in about 1 tablespoon of hot water to thin it slightly. Add dressing to noodles and proceed as directed in recipe above.
Nutrition information is automatically calculated using generic ingredients, and is an estimate not a guarantee. For more accurate results, please refer to the labels on your ingredients at home.
Did You Make This?
We love seeing what you've made! Tag us on social media at @fromvalerieskitchen for a chance to be featured
Valerie's Kitchen is a participant in the Amazon Services LLC Associates Program, an affiliate advertising program designed to provide a means for us to earn fees by linking to Amazon.com and affiliated sites. For more information on our site policies click HERE.