A creamy, chicken and vegetable studded filling is topped with biscuit pieces and baked until bubbly and golden brown This family-friendly Skillet Chicken and Biscuit Pot Pie is an easy, comforting weeknight dinner choice.
Click HERE to sign up for your FREE email subscription and never miss a recipe!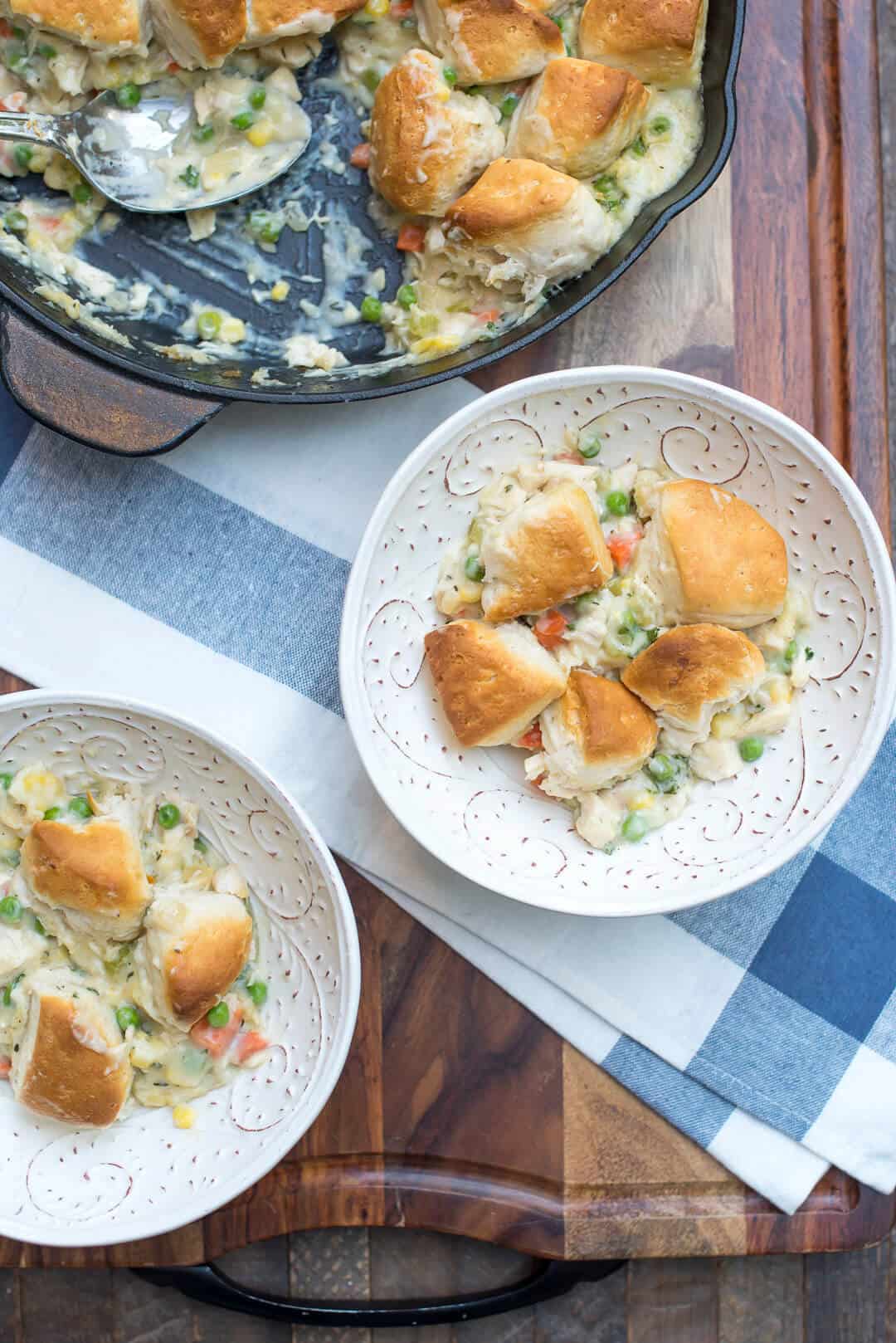 I was recently informed by one of my boys that I have not made enough chicken pot pies in his lifetime. I thought this was a very wise observation on his part so I set upon changing that by whipping up this super easy chicken and biscuit inspired version that I think you're all gonna love.  
It's easy as all get out thanks to a trusty store-bought rotisserie chicken and a canister of buttermilk biscuit dough. But most importantly, it is really, really good. As a matter of fact, I believe that chicken-pot-pie-deprived child of mine's exact words after he tried it were "I'm obsessed".
I'm hoping you will be too!
The traditional pot pie filling includes the usual suspects – onion, carrot, celery, and peas, but I also added some frozen corn. The fun thing with recipes like this is that you can add in any veggies your family loves.
I think mushrooms or chopped broccoli florets would both be a fabulous addition.
It's made from start to finish in one 12″ skillet; starting out on the stove top and finishing off in the oven to create the golden brown biscuit crust.
Check out the quick video below to see how it's done.
Skillet Chicken and Biscuit Pot Pie
For lots of delicious recipes, giveaways, and more, be sure to follow Valerie's Kitchen
Facebook | Twitter | Pinterest | Instagram | YouTube
Skillet Chicken and Biscuit Pot Pie
Ingredients
1/2 cup butter
1 cup diced onions
1 cup chopped carrots (about 2 medium)
3/4 cup chopped celery (about 2 stalks)
1/2 teaspoon dried thyme leaves (not ground)
1/2 teaspoon seasoned salt
1/2 teaspoon fresh ground black pepper
1/2 cup all-purpose flour
2 cups low-sodium chicken broth
1 cup milk (I use 2%)
2 cups chopped cooked chicken breast meat (rotisserie chicken is a great choice)
1 cup frozen sweet peas
3/4 cup frozen corn
1 to 2 tablespoons minced fresh parsley
1 can (16.3 oz) refrigerated buttermilk biscuits (8 biscuits)
Directions
Heat oven to 375 degrees F.
Add butter to a 12" oven-proof skillet (cast iron is preferable) and place over MEDIUM-HIGH heat. Once butter has melted, add onions, carrots, celery, thyme, seasoned salt and pepper; cook 5 to 7 minutes, stirring frequently, until tender. Stir in flour; cook 1 to 3 minutes or until beginning to brown. Gradually stir in broth and milk, cooking and stirring 1 to 3 minutes longer, until bubbly and thickened. Stir in chicken, peas, corn, and parsley. Remove from heat.
Separate dough into 8 biscuits. Cut each biscuit into fourths. Top chicken mixture with biscuit pieces.
Bake in preheated oven for 16 to 20 minutes or until biscuits are golden brown. Let stand 5 minutes before serving.
Adapted from Pillsbury.com
Loading nutrition data...