A delicious mixture of seasoned ground beef and vegetables is topped with a layer of mashed potatoes, sprinkled with cheddar cheese, and baked until golden brown. This Skillet Shepherd's Pie is a quick and easy version of the classic dish.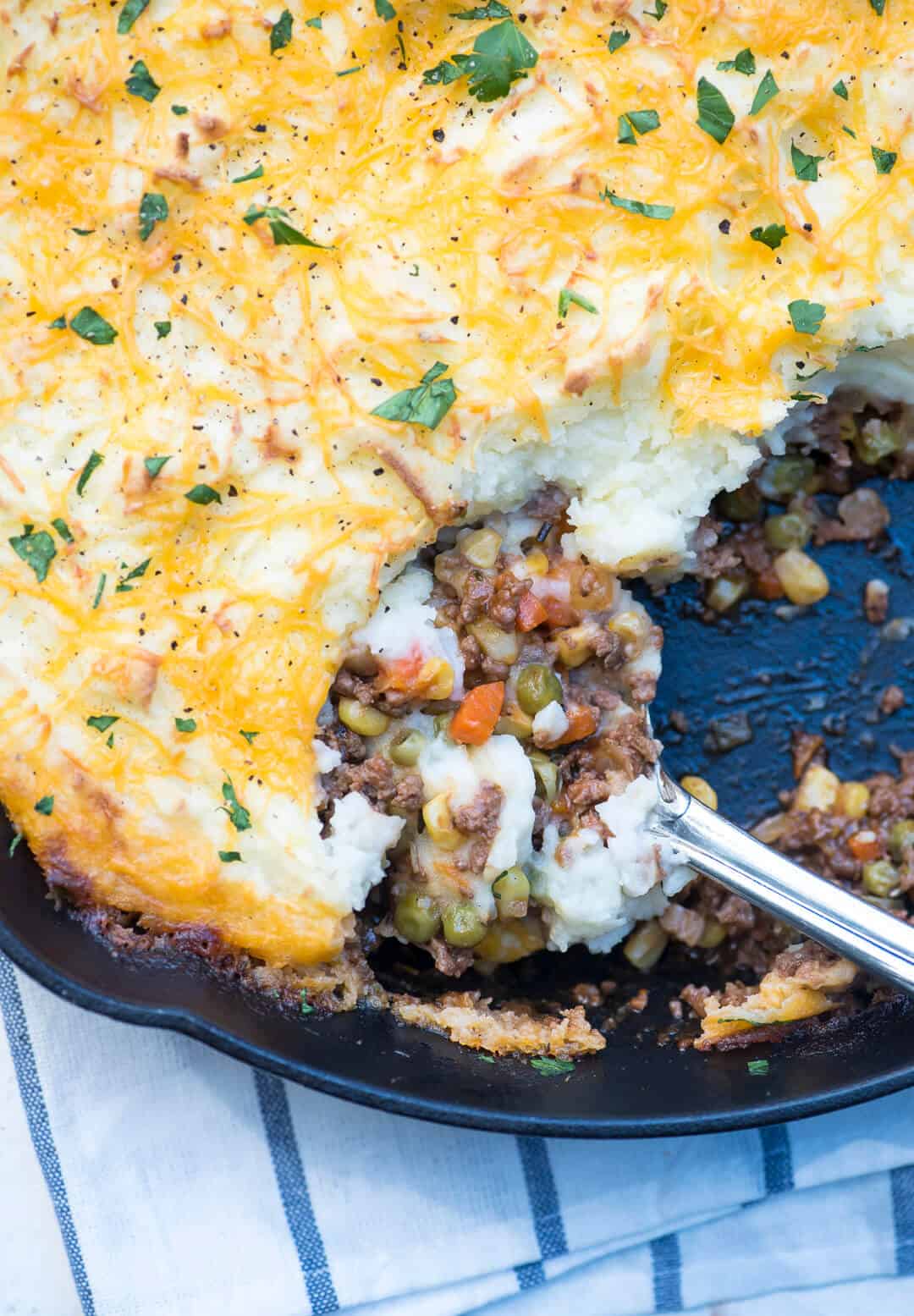 Gather 'round my meat and potato lovers. You'll want to come in close for this one.
This skillet full of deliciousness has family-friendly written all over it. It's also pretty darn easy to put together and reheats beautifully if you're lucky enough to have leftovers.
There is even an option that will make this a super quick one pot meal. More on that in just a bit.
First, I feel a little explanation is in order.
Shepherd's Pie is a well-loved, traditional dish in Britain, Ireland, and Scotland. Historically it was always made with lamb but recipes for Shepherd's Pie were long ago "Americanized" by us here in the U.S. using ingredients most readily available, which explains the ground beef in this recipe. In the U.K. they would refer to it as Cottage Pie when made with beef, but we're sticking with the name we all came to know it by and the term I know most people will search for when looking for a recipe like this.
And now, back to the good stuff!
The filling includes ground beef, onion, carrots, peas, and corn seasoned with rosemary and thyme. I add richness with a little tomato paste and beef broth and top the lovely filling with mashed potatoes and a sprinkling of finely grated cheddar cheese.
When you take a look at the recipe card below, you'll see I've added a little sour cream to the mashed potato mixture. I've found that when I add a little dairy (sour cream or cream cheese) to my mashed potatoes, they hold a better texture when reheated. Since leftovers are always the goal, I like to be sure it will be just as fabulous the second time around. It also means that if you'd like to make the mashed potatoes in advance, you can do that, making it even faster to pull this dish together at dinner time.
To make this a one-pot meal, make the mashed potatoes in advance so they are ready to go or feel free to use store-bought mashed potatoes.
After the filling is prepared on the stove, the mashed potatoes are spooned over the top. I use the back of a spoon to smooth the surface then run a fork through the potatoes to create a rustic roughed-up appearance. The skillet is transferred to the oven for about 20 minutes and then I switch my oven to Broil for just a couple of minutes to create that crisped, golden brown crust.
Check out the quick video below to see how it's done.
If you're not feeling the corned beef this year for St. Patrick's Day, this dish is an excellent option. Pop open a Guinness or two and enjoy!
Skillet Shepherd's Pie
More fun and easy ideas for your St. Patrick's Day menu:
Cheesy Corned Beef Pull-Apart Sliders | Foodness Gracious
Slow Cooker Corned Beef and Cabbage | Valerie's Kitchen
Reuben Soup | Barefeet in the Kitchen
Guinness Corned Beef | Valerie's Kitchen
Classic Irish Soda Bread | Brown Eyed Baker
Boozy Shamrock Shakes | The Blond Cook
For even more inspiration be sure to check out my St. Patrick's Day archives.
Skillet Shepherd's Pie
A delicious mixture of seasoned ground beef and vegetables is topped with a layer of mashed potatoes, sprinkled with cheddar cheese, and baked until golden brown. This Skillet Shepherd's Pie is a quick and easy version of the classic dish.
Print
Pin
Rate
Servings: 6
Calories: 396kcal
Ingredients
For the mashed potato topping:
2 pounds Yukon Gold potatoes
1/3 cup milk
1/4 cup light sour cream
3 tablespoons butter softened
1 teaspoon salt
1/2 cup finely shredded cheddar cheese
1 tablespoon minced fresh parsley
fresh ground black pepper to taste
For the filling:
2 tablespoons olive oil divided
1 pound lean ground beef
1 teaspoon salt divided
1 teaspoon fresh ground black pepper or to taste, divided
1 cup diced onion
1 carrot peeled and diced
1 teaspoon minced garlic
2 tablespoons tomato paste
1 teaspoon dried rosemary
1/2 teaspoon dried thyme leaves
1 tablespoon Worcestershire sauce
1/2 cup low-sodium beef broth
2 teaspoons cornstarch
1 cup frozen corn
1 cup frozen peas
Instructions
Preheat oven to 375 degrees F.

Peel the potatoes and cut into quarters. Place in a good sized pot and cover with cold water. Set over HIGH heat, cover and bring to a boil. Once boiling, reduce heat to LOW and allow potatoes to simmer until tender when pierced with a fork, approximately 15 to 20 minutes.

Meanwhile, get started on the filling. Add olive oil to a 12″ oven-proof skillet and place over MEDIUM heat. Add ground beef and cook, stirring to break up. Season with 1/2 teaspoon salt and 1/2 fresh ground black pepper and continue to cook until meat is no longer pink. Drain grease and transfer cooked beef to a plate.

Add remaining olive oil to empty skillet and return to MEDIUM heat. Add onion and carrot and sauté until slightly softened, about 3 minutes. Add garlic and sauté for a minute or two until fragrant. Add tomato paste and stir well to combine with veggies. Add cooked ground beef back to the skillet and season with remaining salt, pepper, rosemary, thyme, and Worcestershire sauce. Reduce heat to MEDIUM-LOW and allow to simmer for 2 to 3 minutes.

Combine the beef broth with the cornstarch and add to the skillet. Cook and stir over MEDIUM heat for 2 minutes or until thickened. Stir in frozen peas and corn (no need to thaw) and allow to simmer for 2 to 3 minutes just until heated through. Remove skillet from heat.

When potatoes are fork tender, remove from heat, drain well and add the potatoes back to the warm pot. Place milk in the microwave for 30 seconds, just until warmed through. Use an electric hand mixer to mash the potatoes slightly. Add the warmed milk, sour cream, softened butter, and salt and continue to mash until smooth.

Dollop spoonfuls for mashed potatoes over the top of the filling and use the back of the spoon to spread it out evenly. Sprinkle with cheese. Transfer skillet to the preheated oven and bake for 20 to 23 minutes, until bubbling around edges. Turn oven to BROIL and watching closely to be sure it doesn't burn, continue to cook just until golden brown.

Remove skillet from oven and garnish with minced fresh parsley and fresh ground black pepper. Allow to sit for about 5 to 10 minutes before serving.
Notes
If using leftover or store-bought mashed potatoes you'll need about 3-1/2 cups Freezer instructions: Prepare the beef mixture, cool completely and transfer to a freezer-safe container. Freeze for up to 2 months. When ready to use, thaw in refrigerator overnight. Heat partially thawed filling in a 12″ oven-proof skillet, adding a little water or beef broth to thin, if needed. Proceed as directed for remainder of recipe.
Nutrition
Calories: 396kcal | Carbohydrates: 32g | Protein: 25g | Fat: 19g | Saturated Fat: 8g | Cholesterol: 76mg | Sodium: 1077mg | Potassium: 1202mg | Fiber: 5g | Sugar: 3g | Vitamin A: 2160IU | Vitamin C: 24.3mg | Calcium: 165mg | Iron: 7.4mg