I can't say enough about this Slow Cooker Caribbean Pork. It's lean, it's scrum-diddly-umptious, and so easy to prepare!
If you knew me…I mean really knew me, you'd know that I'm crazy about my slow cooker and when I come across a good slow cooker recipe, I get pretty excited. This one is fabulous!
The ingredient list includes lean pork (very nice), vibrant veggies (double nice), and a sauce that packs a great flavor profile which you'll see here in just a minute. I'm all about one bowl meals lately. Spoon it over some basmati rice and dinner is done!
You can use either pork tenderloin or the pork sirloin tip roast that is available at Costco for this recipe. After you've cut the meat into 1″ pieces, give it a good sear in some olive oil in a large saute pan. Season it with a little salt and fresh ground pepper while you're at it. Once the meat has browned, transfer it to your slow cooker.
Here comes the flavor! The sauce consists of hoisin sauce, soy sauce, fresh lime, creamy peanut butter, cumin, salt, garlic, and just enough crushed red pepper to give it a little bit of a kick. It won't be exceptionally spicy if you make this as written so if you want more heat, feel free to lay it on with the crushed red pepper.
Add your beautiful chopped veggies and the sauce to the slow cooker. How gorgeous is this? Place the cover on and cook it on HIGH for an hour. Reduce the temp to LOW and continue to cook it for another 5 or 6 hours (or longer if you want) until pork is fork tender. It will not hurt it to go an hour or so past the cooking time.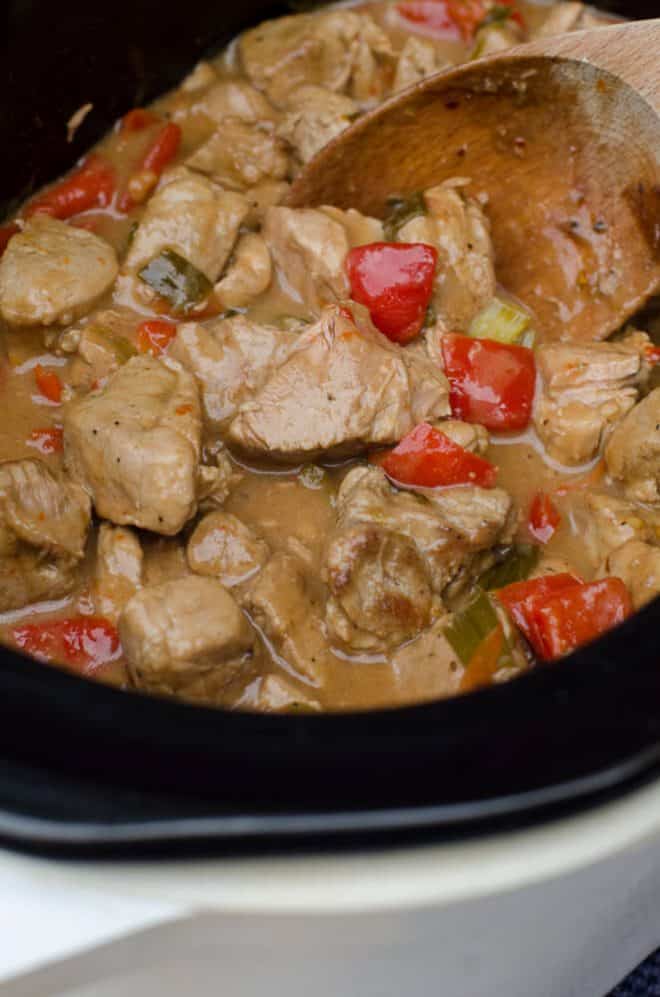 When the pork is nice and tender add a slurry of cornstarch and water (see details on printable recipe below) and turn the temp back up to HIGH for another 10 to 15 minutes, just until the sauce has thickened.
It's a seriously delicious, comforting meal. Try it!
Slow Cooker Caribbean Pork
This Slow Cooker Caribbean Pork is a lean, flavor-packed meal!
Print
Pin
Rate
Servings: 6 servings
Calories: 491kcal
Ingredients
2 pounds pork tenderloin or sirloin tip roast (a little over is okay)
Olive oil enough to coat your skillet
Salt and fresh ground pepper to taste
2 cups chopped red bell pepper (2 small or 1 large)
6 green onions cut into 1/2" pieces, plus additional for garnish
3 tablespoons hoisin sauce
2 tablespoon lower-sodium soy sauce
1 lime juiced
2 tablespoons creamy peanut butter
1 teaspoon cumin
1/2 teaspoon salt
1/2 teaspoon crushed red pepper
1 heaping teaspoon minced garlic
1/2 cup chicken broth
2 tablespoons water
1 tablespoon cornstarch
2 cups basmati rice cooked according to package directions
Instructions
Cut pork into 1-inch pieces. Add oil to a large skillet and place over medium-high heat. Add pork and saute 5 minutes or until browned. Season with a touch of salt and lots of fresh ground pepper while browning.

Place browned pork, bell pepper, and green onion pieces in a 4-quart electric slow cooker coated with cooking spray.

Combine hoisin sauce and next 7 ingredients (through garlic) in a small bowl. Pour chicken broth and hoisin mixture over the pork and vegetables and stir well to combine.

Cover and cook on HIGH for 1 hour. Reduce heat to LOW, and cook for 5 to 6 hours until pork is fork tender. Combine water and cornstarch and pour the mixture into the slow cooker. Stir to combine and turn the slow cooker on HIGH for an additional 10 to 15 minutes to thicken the sauce.

Serve over rice with green onions for garnish.
Nutrition
Calories: 491kcal | Carbohydrates: 61g | Protein: 39g | Fat: 9g | Saturated Fat: 3g | Cholesterol: 99mg | Sodium: 814mg | Potassium: 891mg | Fiber: 3g | Sugar: 5g | Vitamin A: 1724IU | Vitamin C: 69mg | Calcium: 50mg | Iron: 3mg
Some more great ideas for your slow cooker:
Crock-Pot Italian Beef Sandwiches
Crock-Pot Chicken Tacos
Slow Cooker Chicken Caesar Sandwiches