A delicious way to prepare steak in the cold fall and winter months. Slow Cooker Beef Tips with Gravy is a satisfying, family-friendly meal. With a little help from your slow cooker you can have this delicious meal on your menu any night of the week.
Click HERE to sign up for your FREE email subscription and never miss a recipe!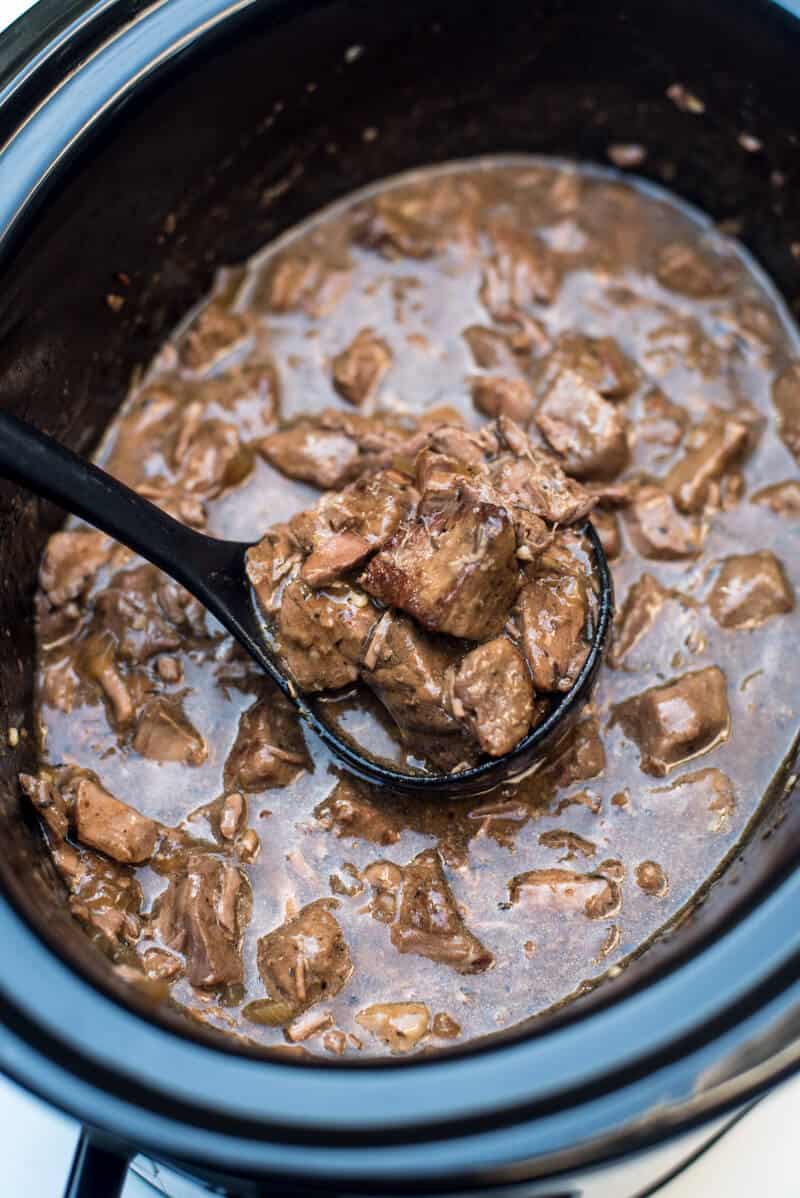 I thought my relationship with my slow cooker was pretty solid but as time goes by I've found myself falling even more deeply in love with this helpful appliance. I try to include one slow cooker meal in my menu planning each week and it always ends up to be such a lifesaver. I encourage you to try it, you won't be sorry.
It's been my aim to create a collection of slow cooker recipes that work through all the seasons of the year and include the cuts of meat I use the most. This recipe is my latest addition to this growing list of busy day meal ideas.
When I hit up Costco, a great big package of top sirloin almost always ends up in my shopping cart. We are steak lovers in this house and this cut is particularly lean and there are an endless variety of ways to prepare it. In the summer we most often pop it on the grill but with the colder months on the way, I wanted to share this fabulous slow cooker recipe that works beautifully with this cut.
There's nothing quite as comforting to me as tender, slow cooked beef with gravy. This dish practically demands that it be served over mashed potatoes but white or brown rice or pasta of any kind would also work very well.
Cook up a quick vegetable side dish and dinner is served.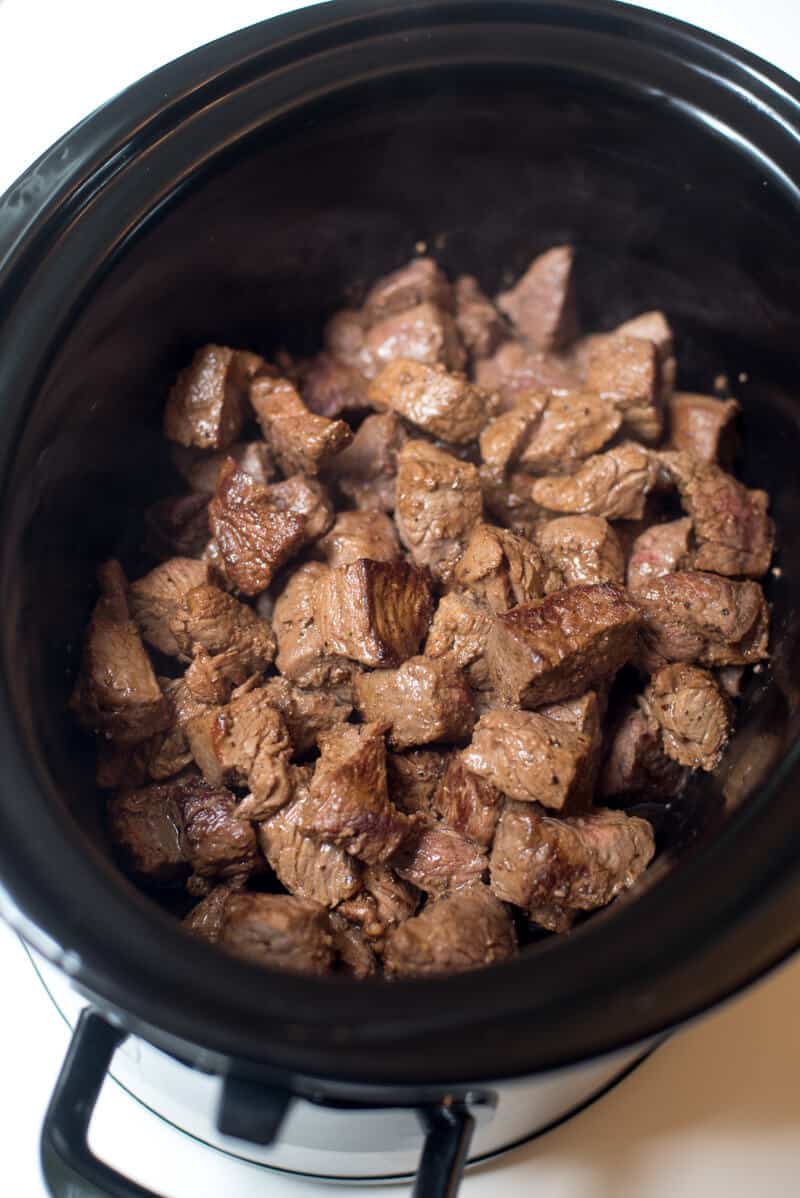 Start by searing the beef, in batches, in a heavy pan . Cast iron is always my first choice for this task. Season the steak with seasoning salt and fresh ground black pepper while it's browning. Transfer the seared beef to your slow cooker.
Pour in a couple of cups of low-sodium beef broth, a good tablespoon of Worcestershire, and the sprinkle the beef with Italian seasoning and dry thyme. I actually prefer dry seasonings in this recipe since they are intensely flavorful and I always have them sitting right in my pantry.
Sprinkle a cup of diced onion and a good amount of minced garlic over the top and tuck a bay leaf down into the mixture. Cover the slow cooker and cook on LOW for 6 hours or on HIGH for 4 hours, or until the beef is fork tender. If you cook it too long, the beef will begin to fall apart. Now, there are worse things in life than beef so tender it is falling apart, however the hope is to end with nicely formed beef cubes that are melt-in-your-mouth tender.
Remember, slow cooker times are always approximate and vary with each model.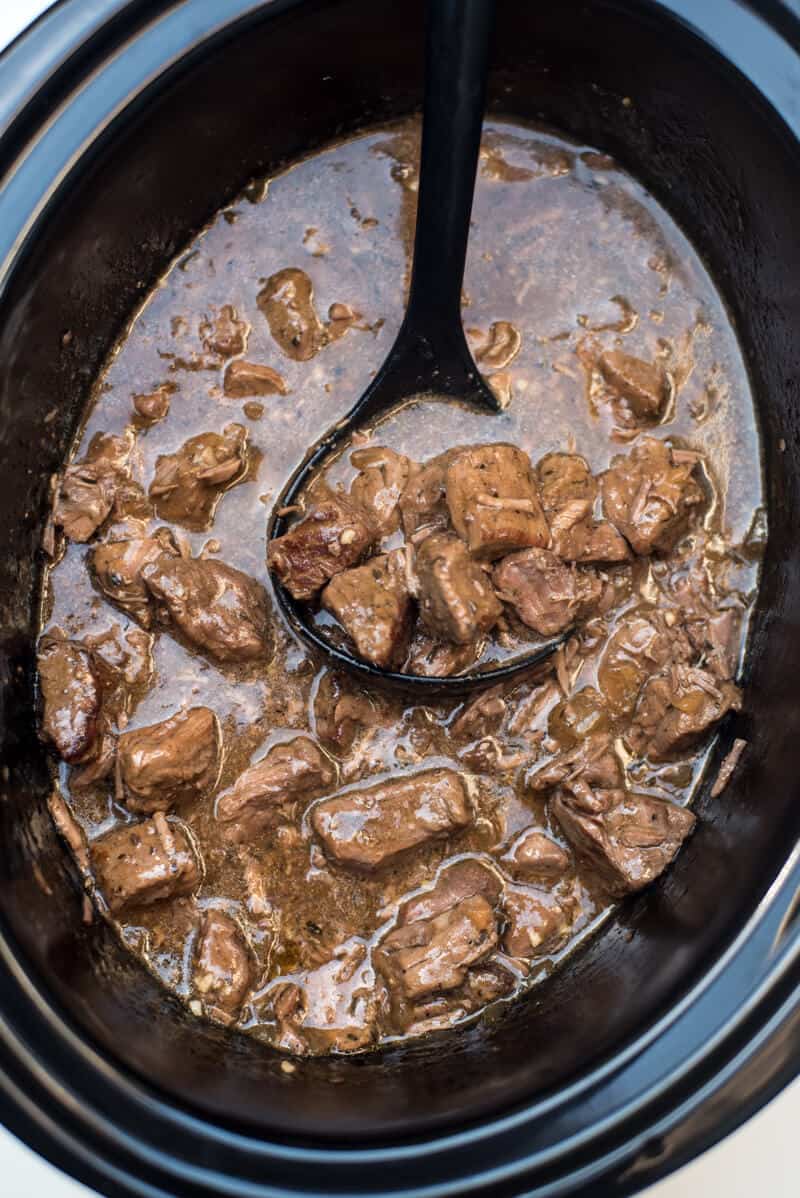 Combine a couple of tablespoons of cornstarch with an equal amount of water and add the slurry to the slow cooker, stirring it into the sauce. Let the mixture cook for an additional 5 or 10 minutes to thicken into a beautiful, luxurious gravy. Remove the bay leaf and you are ready to serve.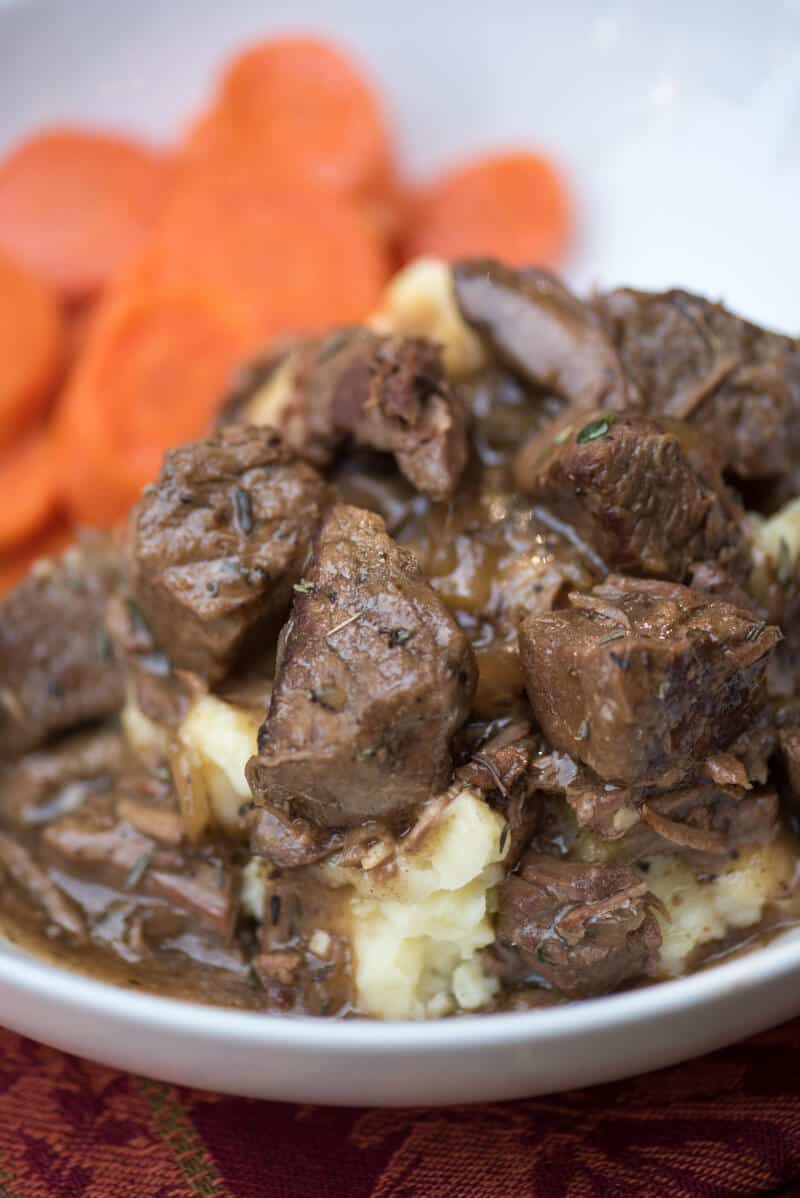 Spoon the beef and gravy over a mound of creamy mashed potatoes, white or brown rice, or buttered noodles.
SLOW COOKER BEEF TIPS WITH GRAVY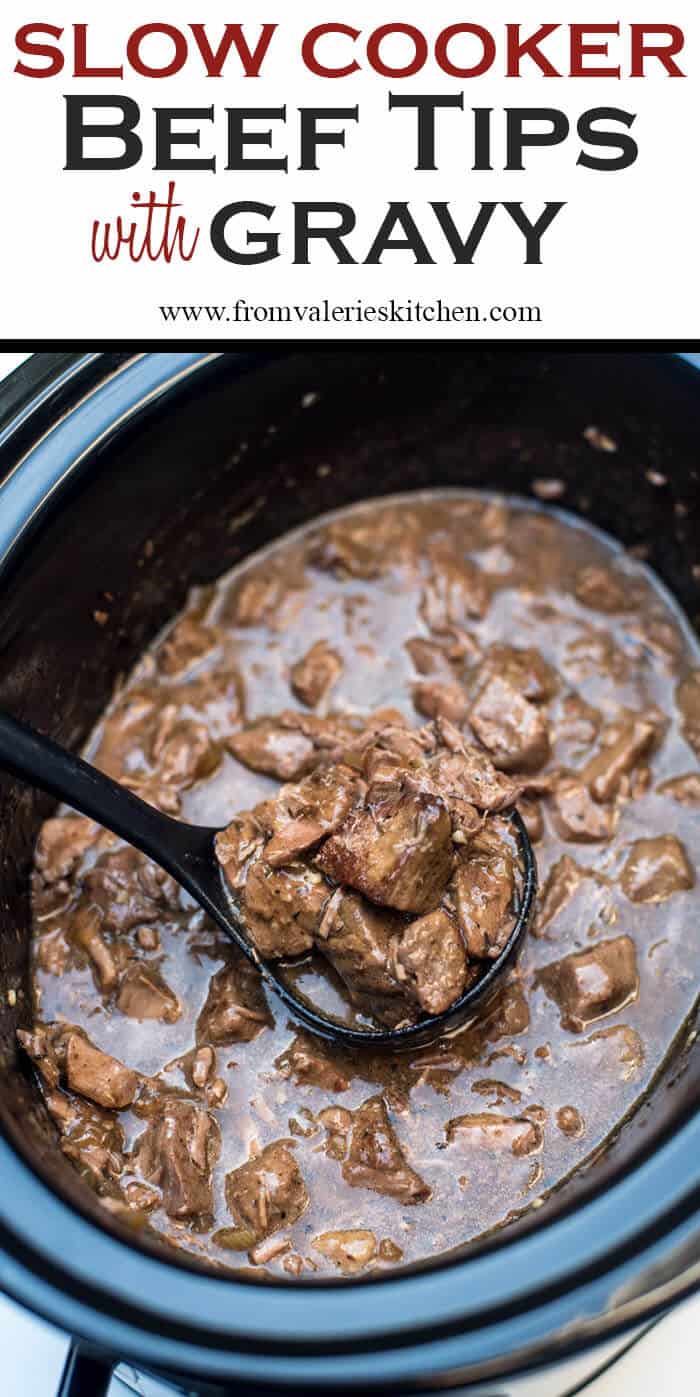 For lots of delicious recipes, giveaways, and more, be sure to follow Valerie's Kitchen
Facebook | Twitter | Pinterest | Instagram | YouTube
Slow Cooker Beef Tips with Gravy
Ingredients
3 pounds top sirloin, cubed
3 tablespoon vegetable oil, divided
1 teaspoon seasoning salt (I use Lawry's), divided
fresh ground black pepper, to taste
2 cups low-sodium beef broth
1 tablespoon Worcestershire sauce
1 teaspoon Italian seasoning
1 teaspoon dried thyme
1 cup diced onion
1 tablespoon minced garlic
1 bay leaf
3 tablespoons water
2 tablespoons cornstarch
Directions
Heat 2 tablespoons oil in a 12" cast iron or other heavy skillet over MEDIUM-HIGH heat. When nice and hot, add half the beef cubes and season them with 1/2 teaspoon seasoning salt and fresh ground black pepper, to taste. Allow to sit, undisturbed for a couple of minutes then stir and cook just long enough to sear the beef without cooking it through. Use a slotted spoon to transfer beef to the slow cooker. Add remaining oil to pan and repeat with remaining beef cubes, seasoning salt and pepper.
Add the beef broth and Worcestershire sauce to the slow cooker and sprinkle the beef with the Italian seasoning and thyme. Sprinkle the diced onions and garlic over the top.Tuck a bay leaf into the mixture.
Cover and cook on LOW for 5 to 6 hours or on HIGH for 3 to 4 hours, or until beef is fork tender.
Combine water and cornstarch in a small bowl and add to slow cooker. Stir until sauce has thickened and cook on LOW for an additional 10 minutes. Remove bay leaf and serve.
Delicious serve over mashed potatoes, rice, or noodles.
Loading nutrition data...