Here is another one to add to your fall and winter cooking arsenal. I just can't say enough about pork tenderloin. It's an excellent cut; low in fat and calories, super tender, and extremely versatile. Paired with a tangy, sweet balsamic glaze it's knock your socks off good! This balsamic glaze is beyond words….you'll be dipping everything on your plate in it.  I served this last night with roasted butternut squash and potatoes and it made us all feel ready for the cozy pumpkin weather that is on the way.
Typically, at this temperature, pork tenderloin will take about 20 minutes per pound to be fully cooked.  If you are the type of person who likes to use a food thermometer, make sure it reads at least 145 degrees Fahrenheit before you pull it out of the oven.  Then you should allow the meat to sit for three minutes before slicing (that's what the USDA has to say about it anyway).   I forego the food thermometer and just slice into it after cooking 40 to 45 minutes to check it.  The center will be very light pink but cooked well throughout.  Be careful not to overcook this wonderfully tender cut of meat.
Roasted Pork Tenderloin with Balsamic Glaze
Prep Time 5 minutes
Cook Time 45 minutes
Total Time 50 minutes
Servings 6 servings
Change the number in the box above to adjust serving size. Please note that size of cookware and cook time may vary.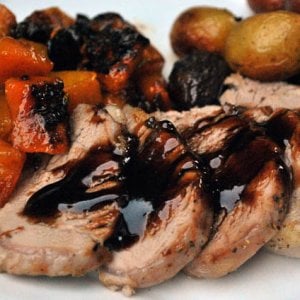 Ingredients
1 tablespoon crushed or minced garlic
1 tablespoon rubbed sage
1/2 teaspoon salt
1/2 teaspoon fresh ground pepper
2 pork tenderloins 1 package, approximately 2 to 2-1/2 lbs. total
1/4 cup sugar
1/4 cup balsamic vinegar
1/4 cup water
1 tablespoon cornstarch
2 tablespoons soy sauce
Instructions
Preheat oven to 350 degrees. Line a 13" x 9" pan with heavy duty foil and place the pork in the pan.

In a small bowl combine sage, salt, pepper, and garlic. Rub the mixture all over the pork. Bake in the preheated oven approximately 45 minutes or until just barely pink in center.

While pork is cooking, place sugar, balsamic vinegar, and soy sauce in a small saucepan over medium low heat. In a small bowl, make a slurry with the water and cornstarch and add to the saucepan. Heat, stirring occasionally, until mixture begins to bubble and thicken slightly. Spoon a small amount of the glaze on each tenderloin during the last 15 minutes of cooking, reserving the rest.

When fully cooked, remove pork from oven, cover with foil, and allow to sit for a few minutes. Slice and return to foil lined pan. Warm the remaining glaze slightly over low heat and pour over sliced pork. Stir a little to mix with pan juices.