This Slow Cooker Shredded Mexican Pork with Beans is lean, flavorful, and versatile! Serve it over rice or rolled into tortillas for an easy, satisfying meal.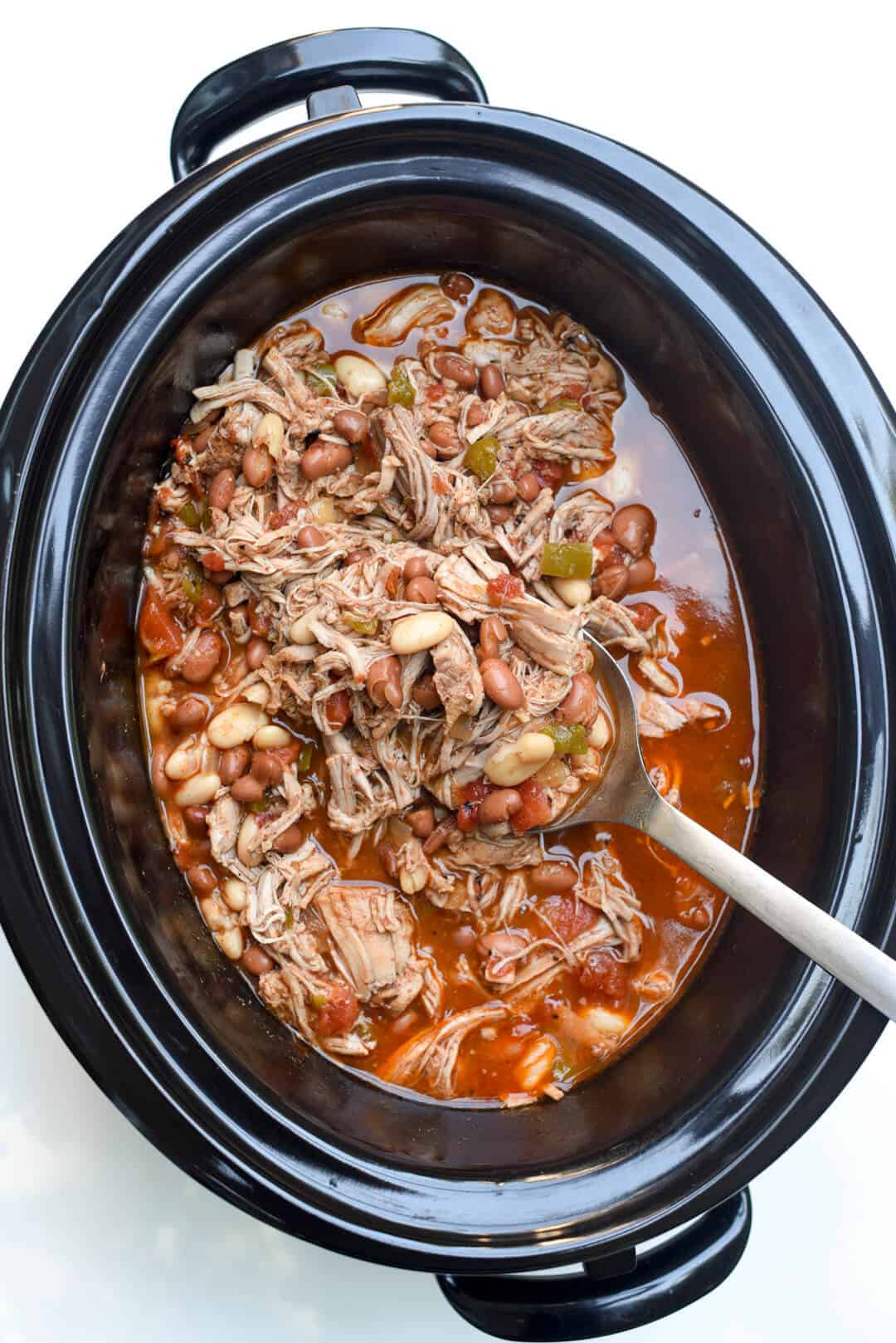 There are certain cuts of meat that I hold a special fondness for and pork tenderloin is one of them. It's super versatile and incredibly lean, but cooks up perfectly tender using a variety of cooking techniques.
If you have the right recipe, you can yield a wonderful result in your slow cooker with lean meats like pork tenderloin and this recipe is the perfect example.
And, let's talk about beans for a minute. They are nutrient-rich, low in fat, full of soluble fiber, make you feel full and satisfied, and they're an inexpensive source of protein. This gives us an excellent excuse to include them in as many meals as we can!
This is just one example of how to serve this delicious Shredded Mexican Pork with Beans. Cozied up next to cooked rice, topped with cheese, a dollop of sour cream and a few dashes of hot sauce.
Or, spoon it over a slice of homemade cornbread (hold me!).
It's also delicious folded inside toasty flour tortillas loaded up with all your favorite burrito toppings, which is exactly how I served my leftovers. For perfectly toasted tortillas, place a dry skillet over medium heat and toast them for a minute or two per side. Then fill 'em up!
I opted to keep the dish mild and set out hot sauce for those who like to add a little heat.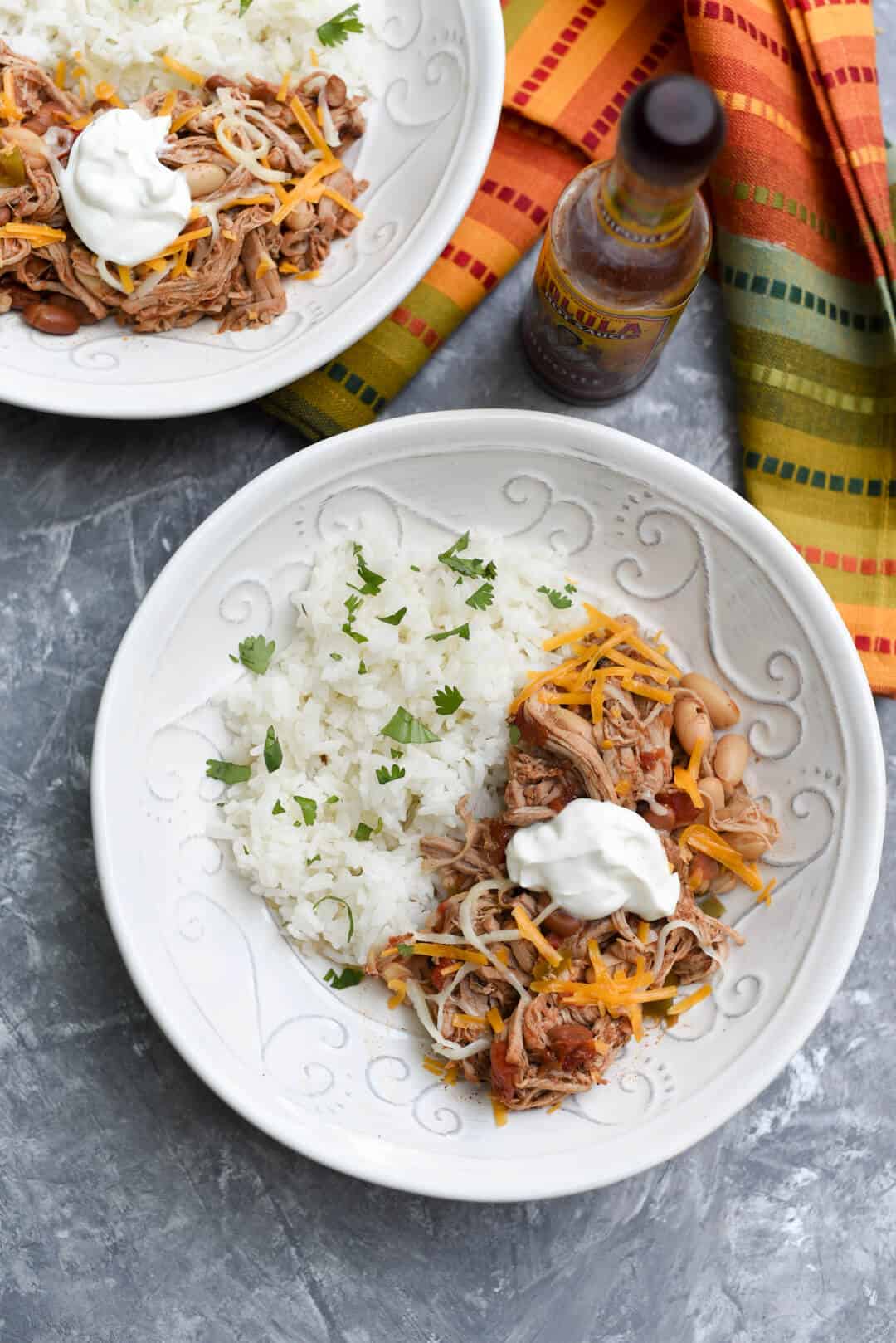 For the past couple of days as I've been working on this recipe and post I've had the song "Pork and Beans" (Weezer anyone?) running through my head. NON-STOP. Make it stop!
Let's get to work…
Pork tenderloin typically comes two to a package and you'll want to look for a total weight of 2-1/4 to 2-1/2 pounds for this recipe. Make sure you don't choose the pre-marinated variety.
Cut each tenderloin into three or four pieces and place them into your slow cooker insert. Sprinkle the tenderloin with the seasonings – chili powder, cumin, salt and pepper. I go light on the salt at this point because we'll be adding canned products which contain a decent amount so it's better to go light and add more at the end of the cooking process, only if needed.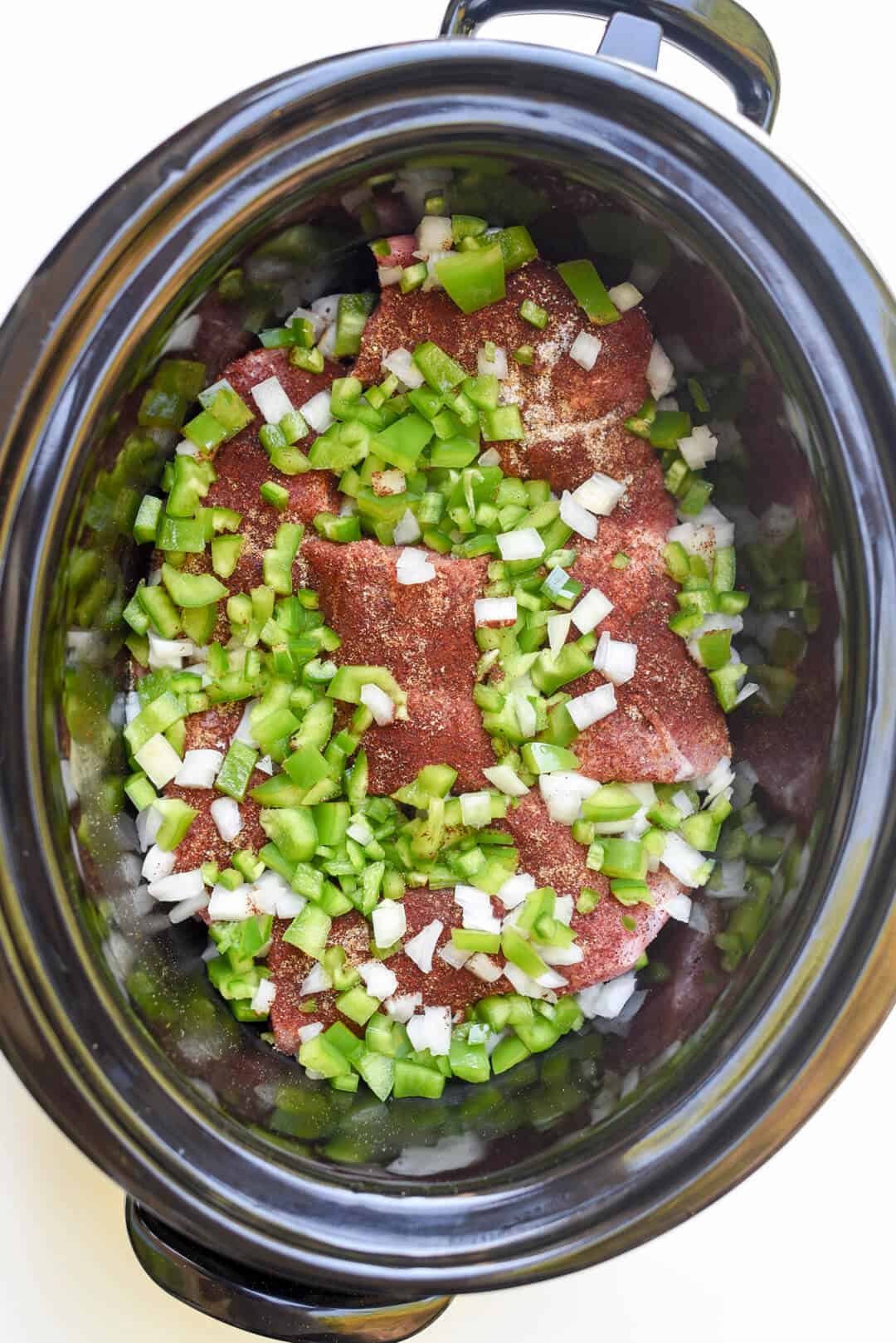 Add some chopped green bell pepper and onion and some minced garlic.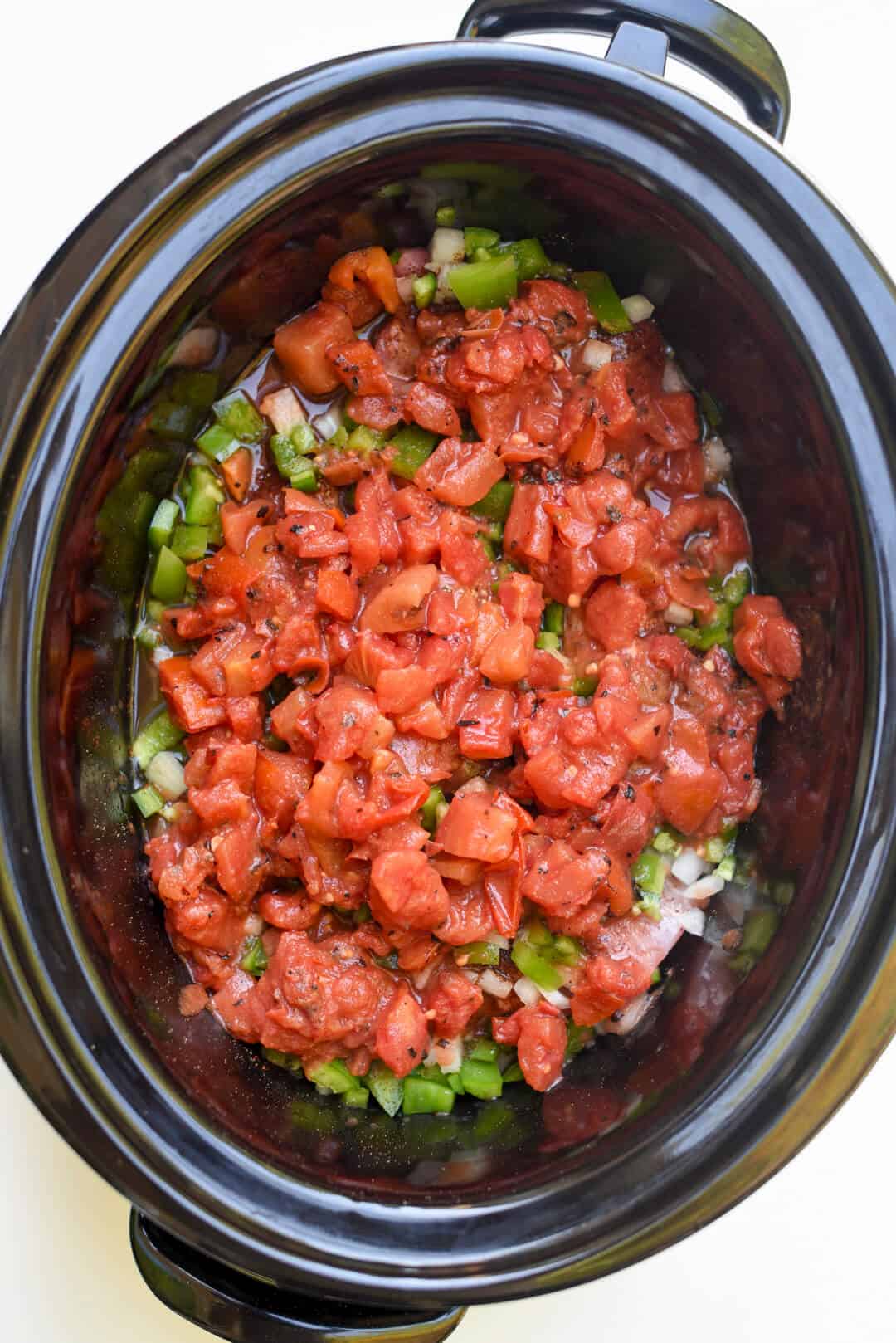 In goes a little low-sodium chicken broth and a can of fire-roasted diced tomatoes. Cover and cook this mixture for about 6 to 7 hours on LOW.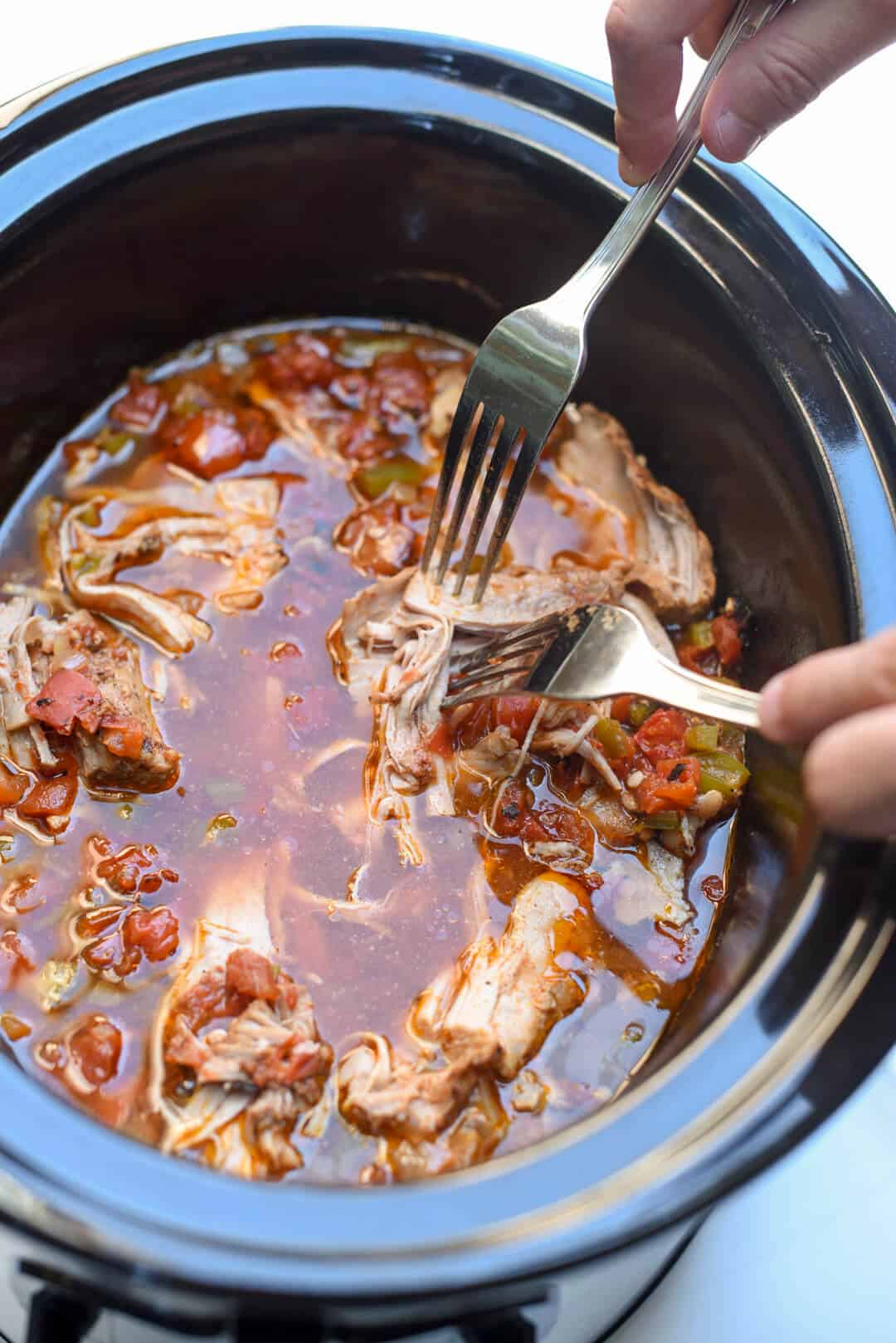 Use a couple of forks to shred the meat into the cooking liquid.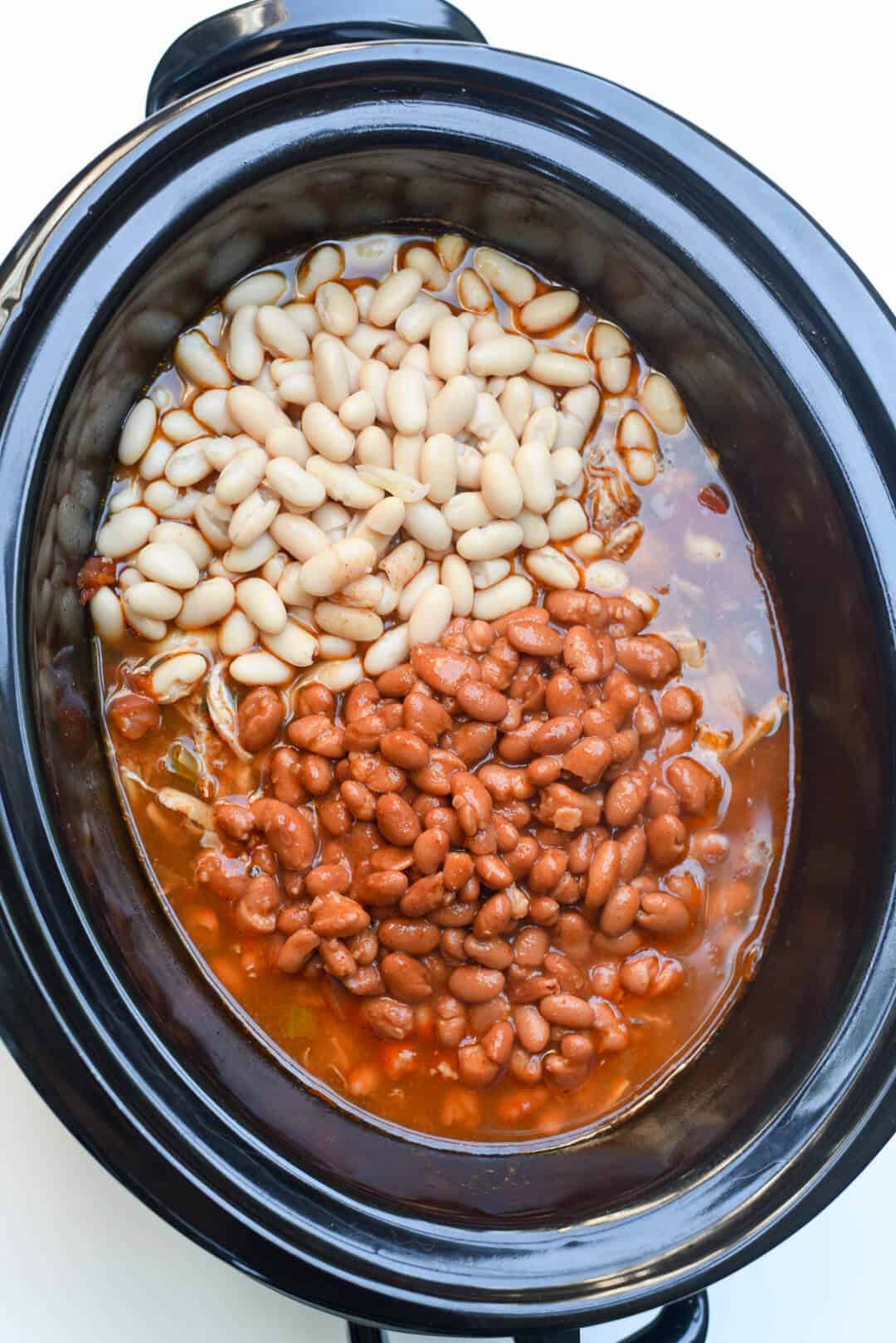 At this point, add a can of chili beans (I used Bush's Chili Beans in Mild Chili Sauce) and well- rinsed and drained cannellini beans, and then cover and cook the mixture for an additional 30 minutes, just to warm the beans through. Remember, canned beans are fully-cooked so I always add them towards the end of the cooking time in slow cooker recipes. They're fine in a pot on the stove for a couple of hours, like in a typical chili recipe, but you don't want them going for 7 hours in a slow cooker or they will get mushy which is just kind of gross. Right?
This last 30 minute cooking time gives you just the time you need to cook up some rice or toast up those tortillas and get your toppings in order.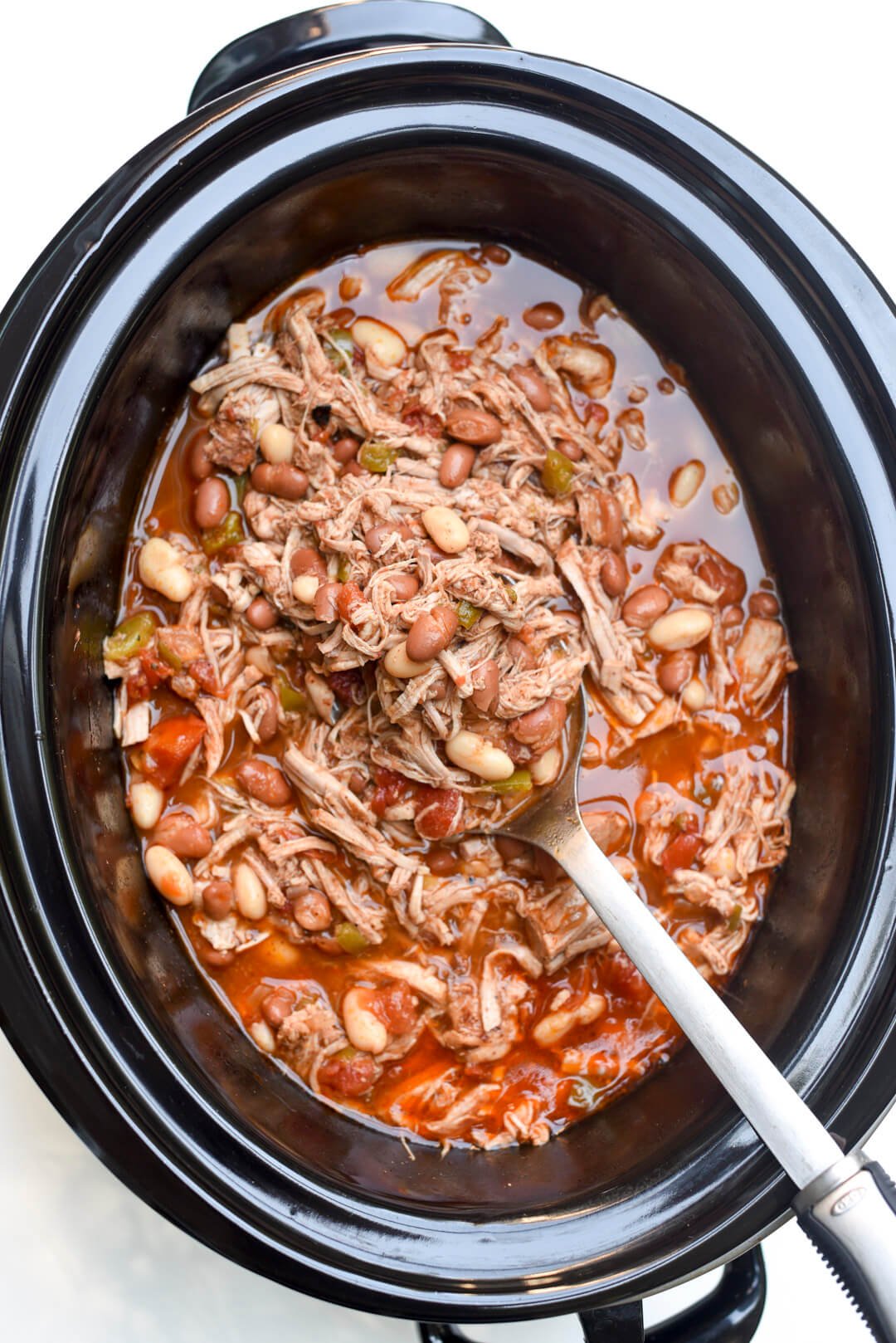 And, its go time my friends. Lean, mean, and delicious!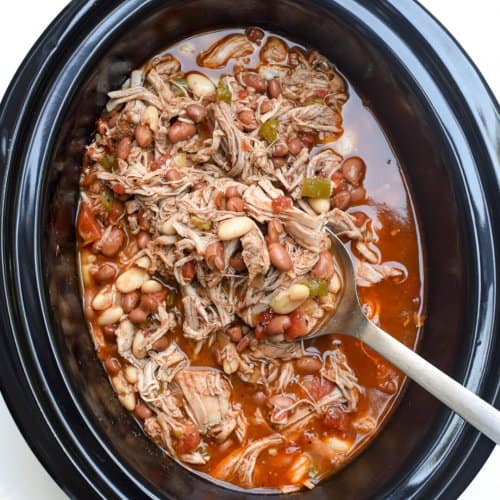 Ingredients
1 2-1/4 to 2-1/2 pound package pork tenderloin
2 teaspoons chili powder
1 teaspoon cumin
1/2 teaspoon salt
fresh ground black pepper to taste
1 teaspoon minced garlic
1 cup chopped yellow onion
1 cup chopped green bell pepper
1 jalapeno seeded and chopped
1 14.5 ounce can fire-roasted diced tomatoes
1/2 cup low-sodium chicken broth
1 16 ounce can chili beans in mild chili sauce, undrained
1 15.5 ounce can cannellini beans, rinsed and drained
Optional toppings
cilantro shredded cheese, sour cream, avocado
Instructions
Cut each tenderloin into 3 or 4 pieces and place them in the insert of a 5 to 6 quart slow cooker. Sprinkle the pork with the chili powder, cumin, salt and pepper. Add the garlic, onion, bell pepper, jalapeno, diced tomatoes and chicken broth. Cover the slow cooker and cook on LOW for 6 to 7 hours, or until pork is tender enough to shred.

Using two forks, shred the pork into the sauce and add both the chili and cannellini beans. Cover and cook on LOW for an additional 30 minutes, until beans are warmed through.

Spoon mixture into tortillas, spoon over cooked rice or cornbread and top with shredded cheese, sour cream, and a dash of hot sauce. Delicious!
Notes
Feel free to substitute any type of bean you love for the cannellini beans – red kidney beans, black beans, pinto beans, or Great Northern beans would all be excellent choices.
Nutrition
Calories: 300kcal | Carbohydrates: 26g | Protein: 36g | Fat: 6g | Saturated Fat: 2g | Cholesterol: 88mg | Sodium: 455mg | Fiber: 7g | Sugar: 3g