This is my go-to recipe for tender Slow Cooker Shredded BBQ Chicken that can be used to create a variety of different meals. Easy, versatile, and always delicious.
Click HERE to sign up for your FREE email subscription and never miss a recipe!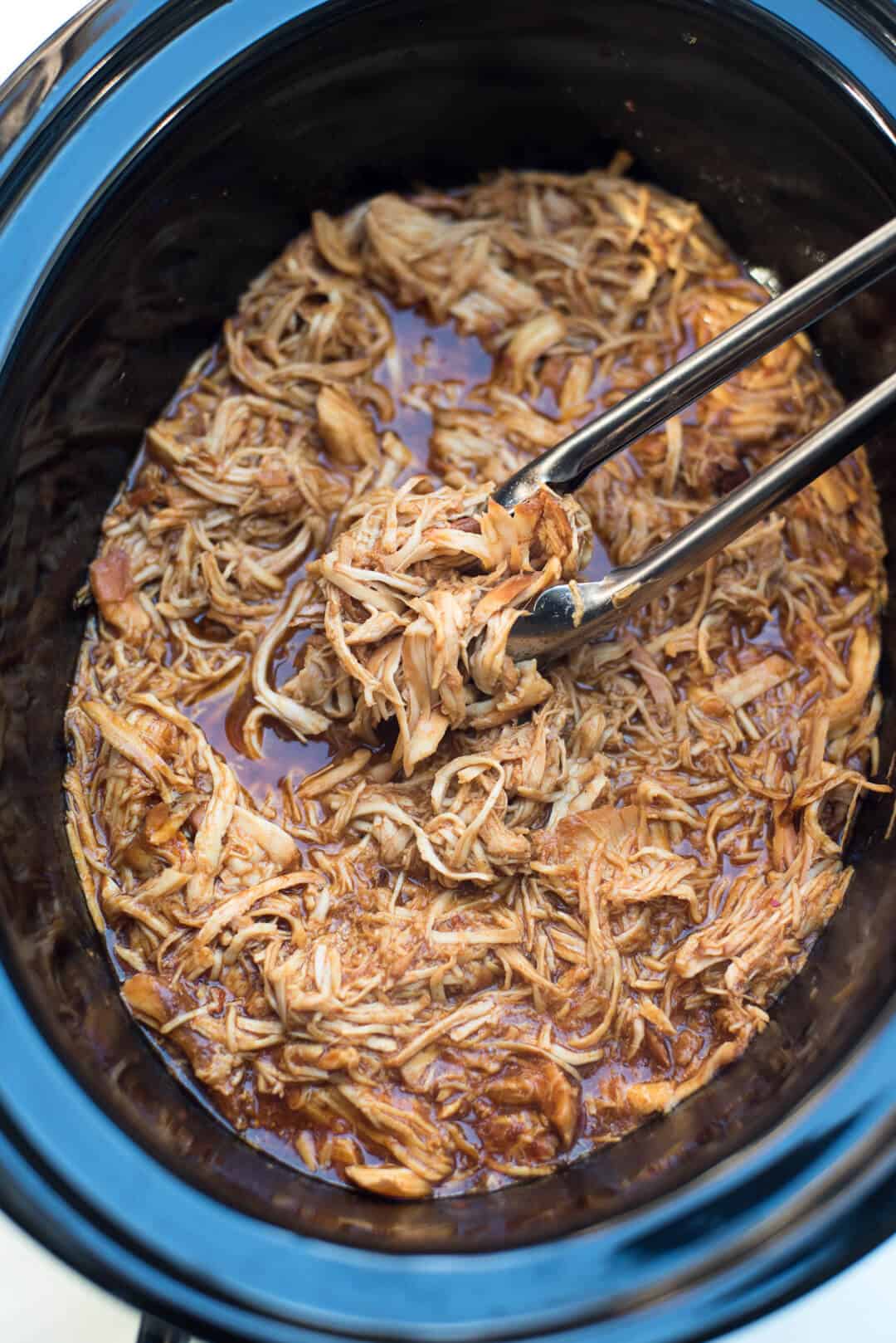 Baby, it's cold outside.  Still.
We had the first day of spring last week but we are not even close to being ready to fire up our grill yet.
I crave BBQ flavors all year long and this is one of the recipes I turn to create incredibly tender and flavorful shredded BBQ chicken any time of year. It's literally a dump-everything-in-the-Crock-Pot-and-run-out-the-door recipe and the end result is super versatile.  
SLOW COOKER SHREDDED BBQ CHICKEN
Place four boneless, skinless chicken breasts in your 6-quart slow cooker. Sprinkle them with a couple of teaspoons of smoked paprika, some granulated garlic (or garlic powder), and fresh ground black pepper.
Pour in one cup of your favorite BBQ sauce, evenly covering all the chicken.
Place the cover on your slow cooker and set it for 3 hours on HIGH or 6 hours on LOW
When the chicken easily falls apart when you test it with a fork, you're good to go!
Use a couple of forks to shred it into the sauce.
Load it up on slider rolls, use it to stuff baked potatoes (so good!), or how about some BBQ chicken nachos? Anyone?
For a fun variation on this recipe check out my Slow Cooker BBQ Buffalo Chicken Sliders.
CLICK HERE OR ON THE IMAGE BELOW TO PIN THIS RECIPE!
For lots of delicious recipes, giveaways, and more, be sure to follow Valerie's Kitchen
Facebook | Twitter | Pinterest | Instagram
SLOW COOKER SHREDDED BBQ CHICKEN
Slow Cooker Shredded BBQ Chicken
Ingredients
4 boneless, skinless chicken breasts (approximately 2-1/2 pounds)
2 teaspoons smoked paprika
1 teaspoon granulated garlic or garlic powder
fresh ground pepper, to taste
1 cup of your favorite BBQ sauce (I used Kinder's Mild)
Directions
Place chicken breasts in your slow cooker and sprinkle with smoked paprika, granulated garlic (or garlic powder), and fresh ground pepper. Pour BBQ sauce over the seasoned chicken. Cover and cook on HIGH for 3 to 4 hours or on LOW for 6 to 7 hours, or until easy to shred.
Remove cover and use two forks to shred the chicken into the sauce.
Serve on toasted buns or however you'd like!
Store any leftovers in an airtight container in the refrigerator. Stays fresh and delicious for several days.
Valerie's Kitchen participates in a variety of affiliate programs and I will earn a small commission if you purchase through the affiliate links in this post. This commission will not affect the price of the items. Thank you for supporting Valerie's Kitchen! For more information on site policies, click HERE.