Billy Crystal is hosting the Oscars this year and I could not be happier! He hosted in 1992. I know this with all certainty because it was one of the most memorable years of my life. I was pregnant with Boy #3. It was very early in the pregnancy and I was busy with his two older brothers and life. My mom and dad were on vacation on the Oregon coast, one of their favorite places to visit. We were planning Boy #1's birthday party and in true grandma fashion, my mom had purchased and wrapped his gift early since they would be out of town. One night, while home taking care of the normal tasks of life, the phone rang. I felt a sense of doom. Does this ever happen to you when the phone rings? Well this time, it ended up to be the worst imaginable news. My mom had suffered a massive heart attack and had been airlifted to an Oregon hospital. I heard my sister's voice on the phone, but I just couldn't process the information. I was frozen.
As her words sunk in I felt a sense of helplessness and fear beyond anything I had ever experienced before. Growing up, my mom had recounted the story numerous times of how her own mother, very sick with cancer, passed away while she was pregnant with me, her sixth child. In her last month of pregnancy she travelled to her home town in Ohio to attend her mother's funeral. I know that it was one of the most difficult times in her life.
She wouldn't do that to me. She would be okay.
My mom passed away about a week after that phone call. I couldn't travel to Oregon to be there with her, it was devastating and I can't even describe the grief. I had Boy #3 growing inside me and I had to do things like eat, sleep, and take care of my two little boys. These tasks seemed nearly impossible.The evening before she passed, her condition had worsened and we knew it was just a matter of time. It also just happened to be Oscar night and even though I was a wreck, I settled in to watch. Then Billy came on. He made me laugh out loud in the midst of all my grief and pain and I thought if I can laugh now, maybe everything will be okay. He did this for me, Billy Crystal made me know that it was going to be okay. I can't say it was okay right away. It took a long time.
Later that year this guy came, look at this guy…then it was okay.
Oh, how she would have loved him. He is hers, heart and soul. To this day I think of how she would have loved him and how Billy Crystal made me laugh and I anxiously await the Oscars, regardless of who is hosting.
We postponed the birthday party for Boy #1 but now it was time and there was Grandma's gift, waiting for him. I almost didn't want to open it because I knew it would be the last gift I would ever open from her. It was clothing, practical, so appropriate and so appreciated. Everyone else would buy him toys, she would buy him clothes. Something we needed.
This may not be what one would expect for a post about the Oscar night, but it is life, and like the movies it has a happy ending. It is twenty years later and I'm here, with my beautiful children, a husband I love very much, and Billy Crystal is hosting the Oscars. This is a time to remember and a time to celebrate.
I'm in the process of planning my own Oscar night menu so I thought I'd share with you some of the appetizers I've posted so far and the perfect cocktail for your Oscar night festivities.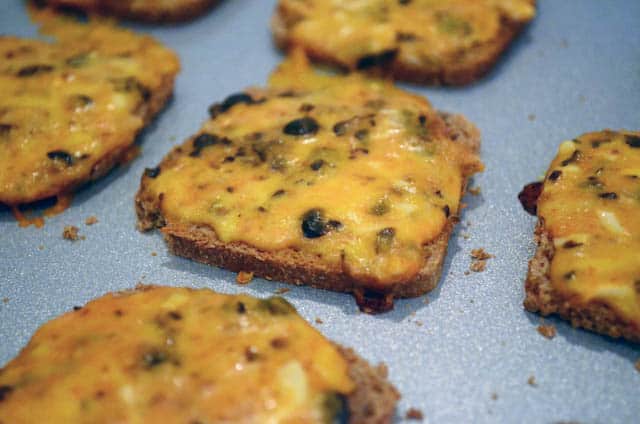 Turkey Burger Sliders with Smoked Gouda Cheese and Sriracha Mayo
Since I've only been at this for six months, I've compiled a list of some Oscar worthy appetizers from some of my favorite bloggers. Go check them out and give them some love:
Artichoke Stuffed Baked Potato Bites by Georgia at The Comfort of Cooking
Garlic Miso Chicken Wings by Nami at Just One Cookbook
Thai Chicken Bites by Lauren at Lauren's Latest
Mini Crab Cakes by Annie at Annie's Eats
Fontina Stuffed Bacon Wrapped Dates by Michelle at Brown Eyed Baker
Proscuitto Wrapped Asparagus with Raspberry Sauce by Val at Val So Cal
Blood Orange Margarita by Brandy at Nutmeg Nanny
Hot and Cheesy Roasted Red Pepper Dip by Jessica at How Sweet It Is