My husband has quite a talent for mixing drinks. This talent was discovered later in life.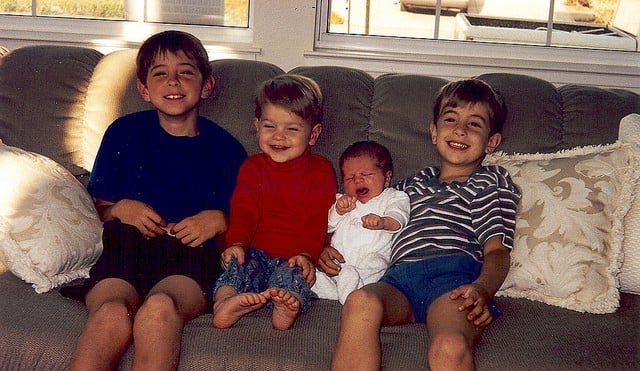 There were not many cocktails being consumed in this house. I think it may have had something to do with these people.
As the boys grew older, we started to enjoy a cocktail now and then and my man can mix a mean one. Seriously. I can't get a drink many places that compares to his. Especially his cosmopolitan, it is perfection. With the Academy Awards just days away, we have the perfect excuse to pull out the cocktail shaker, blow off the dust that has accumulated (what?) and mix up some fresh and tasty cocktails.
Gather the supplies first. The quality of the vodka is VERY important to the quality of the drink so get a good one. For the best result, store the vodka in your freezer. It won't freeze but it will get very, very cold. Most cosmo recipes call for Triple Sec but Paul uses an orange liqueur that we feel is much better in this drink. It's called Citronge and it is made by Patron (so you know it's got to be good!). It gives it a cleaner, less syrupy finish than Triple Sec.
In addition to a high quality vodka, and the Citronge, you will need cranberry juice (light or regular), fresh lime, and ice. You'll notice some fresh berries in there as well. They are not a vital ingredient but a very nice addition as you'll see below.
Now on to the equipment. You'll need a cocktail shaker. If you are in the market for one, make sure it is large enough to mix two drinks at once to save time. You'll also need some martini glasses. You can't use a juice glass, a beer stein, a coffee mug, we are trying to be classy here folks. Although not required, it will make things a little easier if you have a handy, dandy, citrus squeezer. Now we're ready to make some drinks.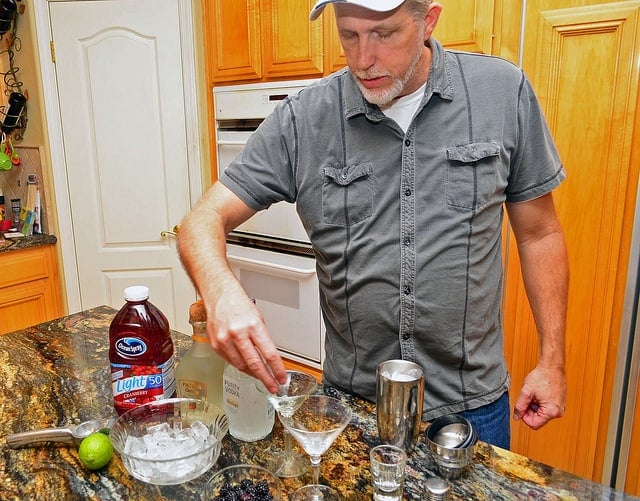 He starts by adding a small piece of ice to the bottom of each glass.
The he adds a fresh berry – nice touch Paul. He'll use any type of fresh berries we happen to have on hand. Fill your shaker about 3/4 full with small pieces of ice. If you only have larger cubes, crush them up a bit.
In goes the vodka. Add the cranberry juice and Citronge as well.
Squeeze in the juice from 1/2 of a fresh lime. Now it's time to shake it up baby! Shake it for a good long time, at least 10 times or more. This will ensure everything gets VERY cold.
Divide the mixture evenly between two martini glasses.
Cheers!
The Perfect Cosmopolitan
Prep Time 5 minutes
Total Time 5 minutes
Servings 2 drinks
Change the number in the box above to adjust serving size. Please note that size of cookware and cook time may vary.
Ingredients
Ice
3 ounces good quality vodka
1-1/2 ounces Citronge orange liqueur
1-1/2 ounces cranberry juice light or regular
1/2 fresh lime
Instructions
Place a small piece of ice at the bottom of 2 martini glasses. Place a berry in each glass, if using. Fill a large cocktail shaker about 3/4 full with small pieces of ice. Pour in vodka, Citronge, and cranberry juice. Squeeze the juice from half a lime into the shaker. Cover and shake well, at least ten times or more.

Pour cocktail into the prepared martini glasses.

Cheers!
Course Beverage
Cuisine American