These Sriracha Refrigerator Pickles are incredibly easy to make at home. Pack everything into mason jars, pop them in the fridge and the next day you have fresh, crispy, totally addictive pickles ready to eat. Adding a little Sriracha to the brine makes them even more irresistible.
Got zucchini? Be sure to check out my Refrigerator Zucchini Pickles! A fabulous way to make use of that abundant summer zucchini.
They get even better with a little more time in the fridge. After a couple of days soaking in the flavorful brine, they are zoom-pow, someone help me I can't stop eating these – good. They make great snacking pickles but they're also excellent on burgers and sandwiches. You could also make a pretty mean pickle relish with these babies. The ingredient list is simple and this particular method is as easy as it gets.
My oldest son, Ryan, recently came over to make pickles with me. That's a sentence I never imagined I would hear myself say… ever. Life is funny. You have these children and you work hard raising them. There is immense joy but there is also plenty of blood, sweat, and tears my friends. And, then one day you get the following text message from your grown son:
"Mom, I made pickles and they are AMAZING!" My response to him, after I recovered from the initial shock?
"You're coming over here to make them with me!" And, so we did. And, here's how it went.
How to Make Sriracha Refrigerator Pickles
Please focus your attention on Mr Good Lookin' in the foreground of this photo slicing away at the cucumber. My kitchen was in a shambles on pickle making day. Now that I've pointed that fact out, you're totally staring at my messy kitchen aren't you? Sheesh.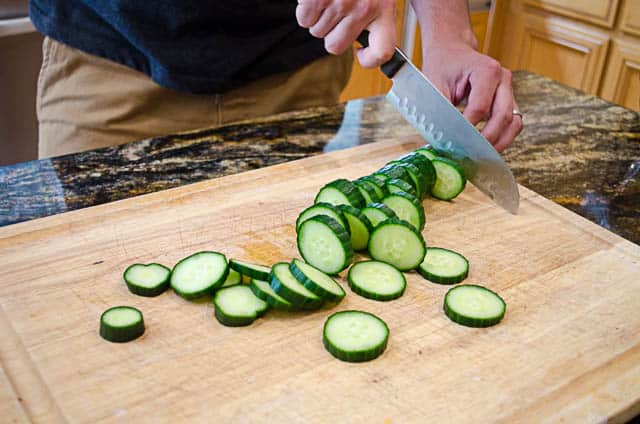 Slice the cucumbers to the thickness you'd like. Thicker slices will be crunchier, which we really like and the thinner slices will soften up more, making them great on sandwiches and burgers. You can also slice them lengthwise into spears if that's more your style.
To make the brine, combine 2-1/2 tablespoons kosher salt, 2 tablespoons sugar and 1-1/4 cup unseasoned rice wine vinegar. Mix until sugar and salt are dissolved and vinegar is clear. Then add 2 cups of cold water.
Add 2 tablespoons Sriracha to the vinegar mixture and the party has officially started.
Grab 3 clean pint size mason jars and divide the seasonings between each jar. Black peppercorns (I used a peppercorn blend – use what you have or can find at the store), dill seed, minced garlic, and a dash of crushed red pepper. Unless you really like things HOT, don't be tempted to add more than a dash of crushed red pepper – the stuff is hot but a dash added just the right amount of heat for us.
Miss Bridget knew something was going on in the kitchen and she wanted in on it so Boy #4 (aka Adam) lifted her up for a better view. This was just days before we took Adam down to Santa Barbara to set him up in his off-campus apartment in preparation of his second year of college. It was a rare moment where I had my oldest and my youngest in my kitchen at the same time. It was a good day.
Time to pack the sliced cucumbers into the mason jars right on top of all those spices. Pour the brine over the top, filling the jars up to the top, leaving only about 1/2″ of head space. Discard any remaining brine.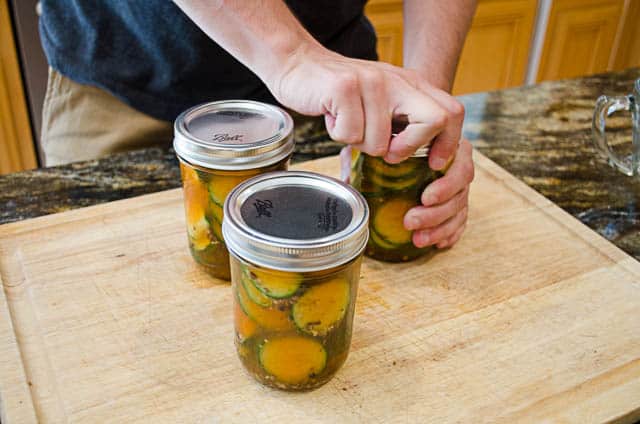 Screw the lids on tightly and get those pickles in the fridge. Let them sit at least 24 hours before eating. They'll taste even better after 2 or 3 days and will stay fresh for several weeks – if they last that long.
Give a jar to a friend and keep a couple for yourself.
A few ingredient notes before the recipe:
The Best Pickling Cucumbers
Since we're smack in the middle of cucumber season, there are lots of great varieties of pickling cucumbers available at produce and farmers' markets. Kirby and Persian pickles are good choices when available, but regardless of the time of year we can still have our pickles! English "Hothouse" cucumbers are the variety we used here and they are readily available in most grocery stores all year round. Be sure to choose a fresh, firm cucumber that is somewhat uniform in circumference from end to end for the best result. Look for cucumbers that have not been waxed and wash them well before beginning.
What Type of Vinegar is Best?
We used unseasoned rice vinegar in place of the typical distilled white vinegar used in most pickling recipes. Rice vinegar has a milder, slightly sweeter flavor and is also slightly less acidic. The Sriracha is going to add a nice punch so the milder vinegar works very well in this recipe. Since we're making refrigerator pickles, the slightly lower level of acidity (4% versus 5% in white distilled vinegar) is not an issue. If you plan to preserve your pickles in a water bath canner in order to make them shelf stable, I'd opt for the white distilled vinegar. This recipe is meant strictly to be used for refrigerator pickles.
Salt
Do not be tempted to substitute regular table salt. Iodized salt has additives that can affect the color and texture of the pickles and adversely affect the quality of the brine. Stick to kosher salt or salt specifically made for pickling.
Sriracha Refrigerator Pickles
Refrigerator pickles are incredibly easy to make at home. Pack everything into mason jars, pop them in the fridge and the next day you have fresh, crispy, totally addictive pickles ready to eat. Adding a little Sriracha to the brine makes them even more irresistible.


Ingredients
2

English Hothouse cucumbers,

,

or your favorite variety of pickling cucumber (approximately 2 pounds)
Brine:
1 1/4

cups

unseasoned rice wine vinegar

2 1/2

tablespoons

kosher salt

2

tablespoons

sugar

2

cups

water

2

tablespoons

Sriracha
Seasonings:
1 1/2

teaspoon

black peppercorns

,

(1/2 teaspoon per jar)

3

teaspoons

dill seed

,

(1 teaspoon per jar)

1 1/2

teaspoons

minced garlic

,

(1/2 teaspoon per jar)

crushed red pepper flakes

,

(a dash per jar, or more to taste)
Instructions
Prepare the brine by mixing to together the rice wine vinegar, kosher salt, and sugar. Mix with a spoon until sugar has dissolved. Add 2 cups water and 2 tablespoons Sriracha. Set aside.

Wash and slice your cucumbers into chips or spears, as desired.

Divide the seasonings between 3 clean pint sized mason jars. Pack the jars with the sliced cucumbers and then add brine to the top of the jar, leaving about 1/2″ of headspace. Tightly secure lids and place jars in the refrigerator. Refrigerate for at least 24 hours or more before eating.

Pickles will stay fresh and delicious for several weeks in the refrigerator.
Notes
Total time does not include 24 hour marinating time in fridge.
Nutrition
Calories:
16
kcal
·
Carbohydrates:
3
g
·
Protein:
1
g
·
Fat:
1
g
·
Saturated Fat:
1
g
·
Sodium:
1010
mg
·
Potassium:
60
mg
·
Fiber:
1
g
·
Sugar:
2
g
·
Vitamin A:
35
IU
·
Vitamin C:
2
mg
·
Calcium:
15
mg
·
Iron:
1
mg
Nutrition information is automatically calculated using generic ingredients, and is an estimate not a guarantee. For more accurate results, please refer to the labels on your ingredients at home.
Did You Make This?
We love seeing what you've made! Tag us on social media at @fromvalerieskitchen for a chance to be featured