These Refrigerator Zucchini Pickles are a fantastic way to use up that ever abundant late-summer zucchini. They are fun and easy to make and so tasty!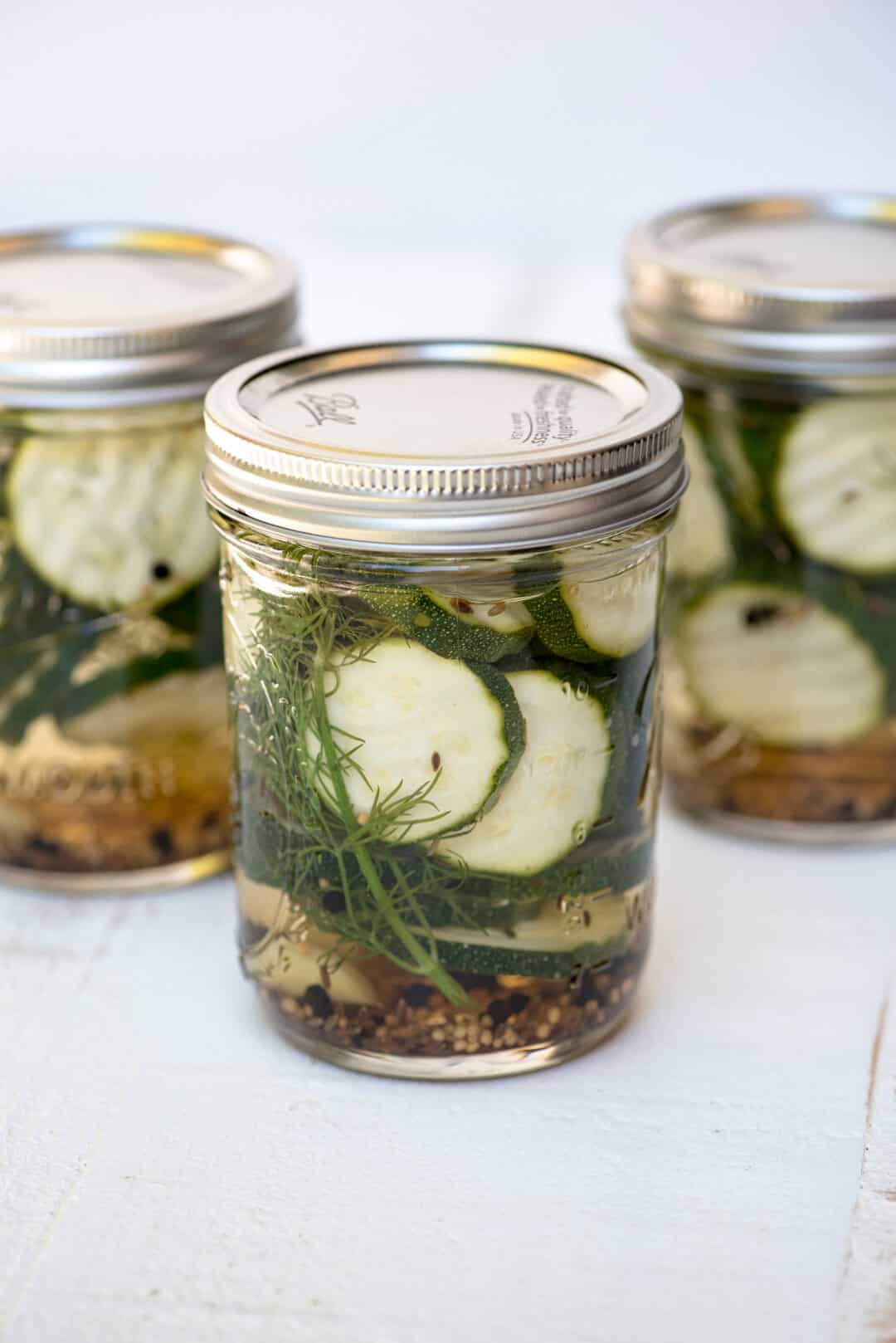 My first foray into refrigerator pickles was a seriously momentous occasion that took place just about 3 years ago. That post with my son, Ryan, remains one of my favorite of all time and the resulting Sriracha Refrigerator Pickles were a big success. I've had some very nice feedback from those of you who've made them – thank you very much! My pickle loving heart appreciates each and every one of your comments.
I've long heard that zucchini is fabulous pickled and this little kitchen project has been on my to-do list since last summer. I'm so glad I finally got around to trying to out because we are completely hooked. We've become a house full of die-hard Zucchini Pickle fans.
Due to the overwhelming response I received on my recent recipe and video for Italian Stuffed Zucchini Boats, I had a suspicion that more than a few of you might have piles of these versatile veggies lying around your kitchen so I hope you'll find some time to give this recipe a try. Try the Zucchini Boats too… oh my gosh, yum!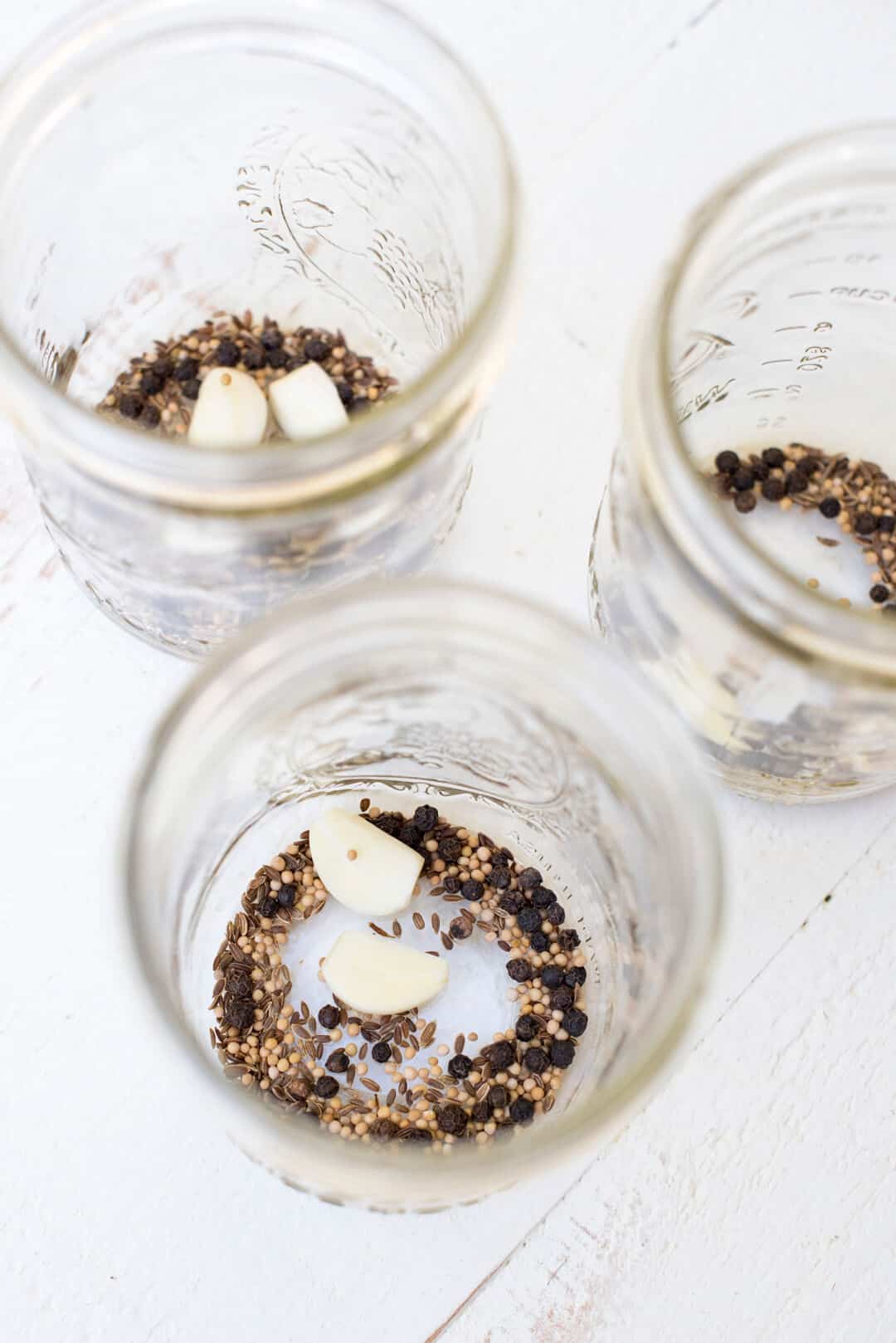 All pickles start with a seasoned brine of some sort. For the zucchini I went with black peppercorns, mustard seed, and dill seed. All of these should be readily available in the spice section of most grocery stores. I also threw in some halved cloves of garlic.
Instead of adding the seasonings to the brine, I like to place it directly into the jars right off the bat, ensuring an even amount ends up in each jar. It works beautifully.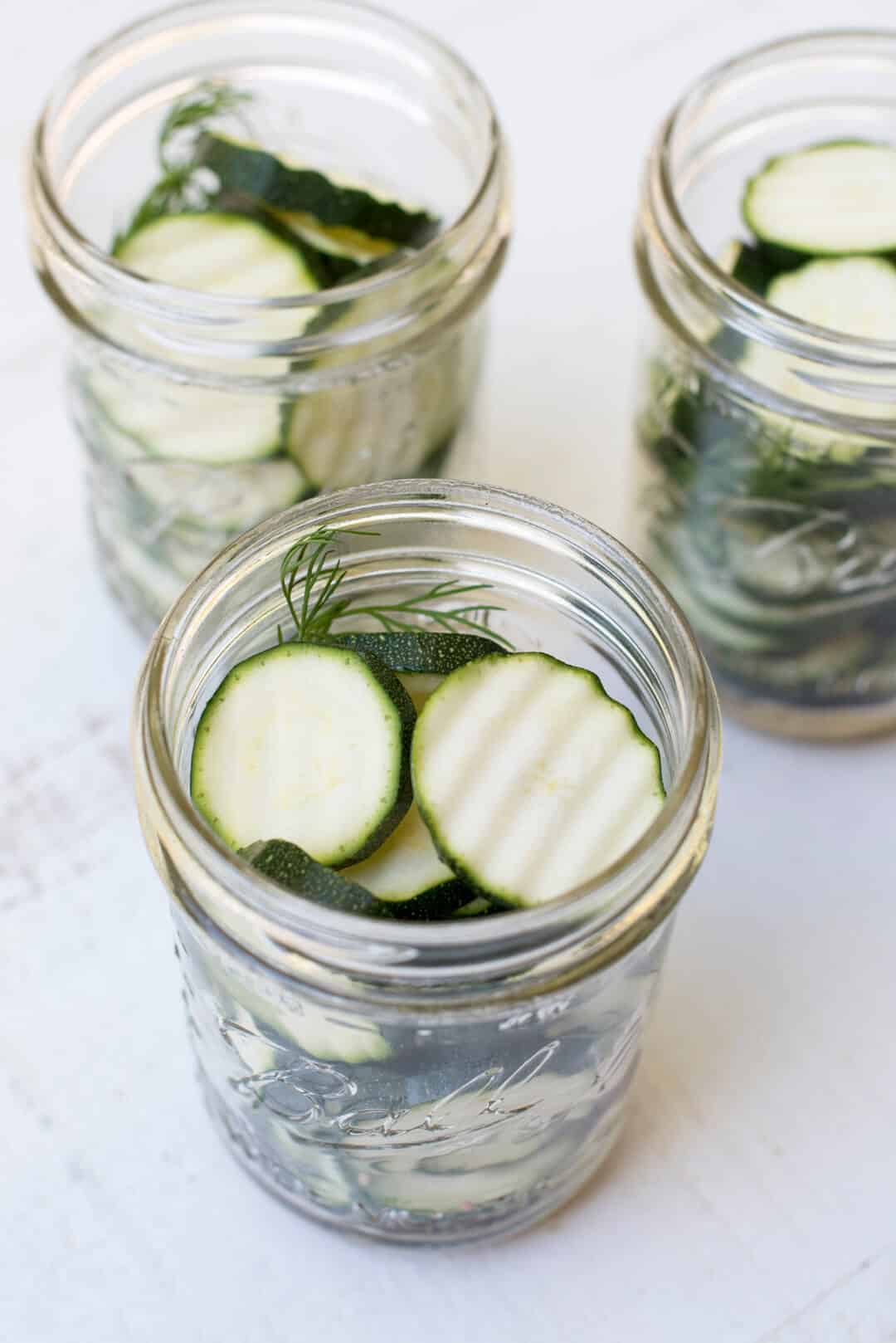 Fill the jars with your sliced zucchini and a couple of sprigs of fresh dill. If you don't have any fresh dill lying around and would prefer not to buy it, you can double the amount of dill seed for that nice, dilly flavor.
I made my chips pretty by slicing the zucchini with my Wavy Knife.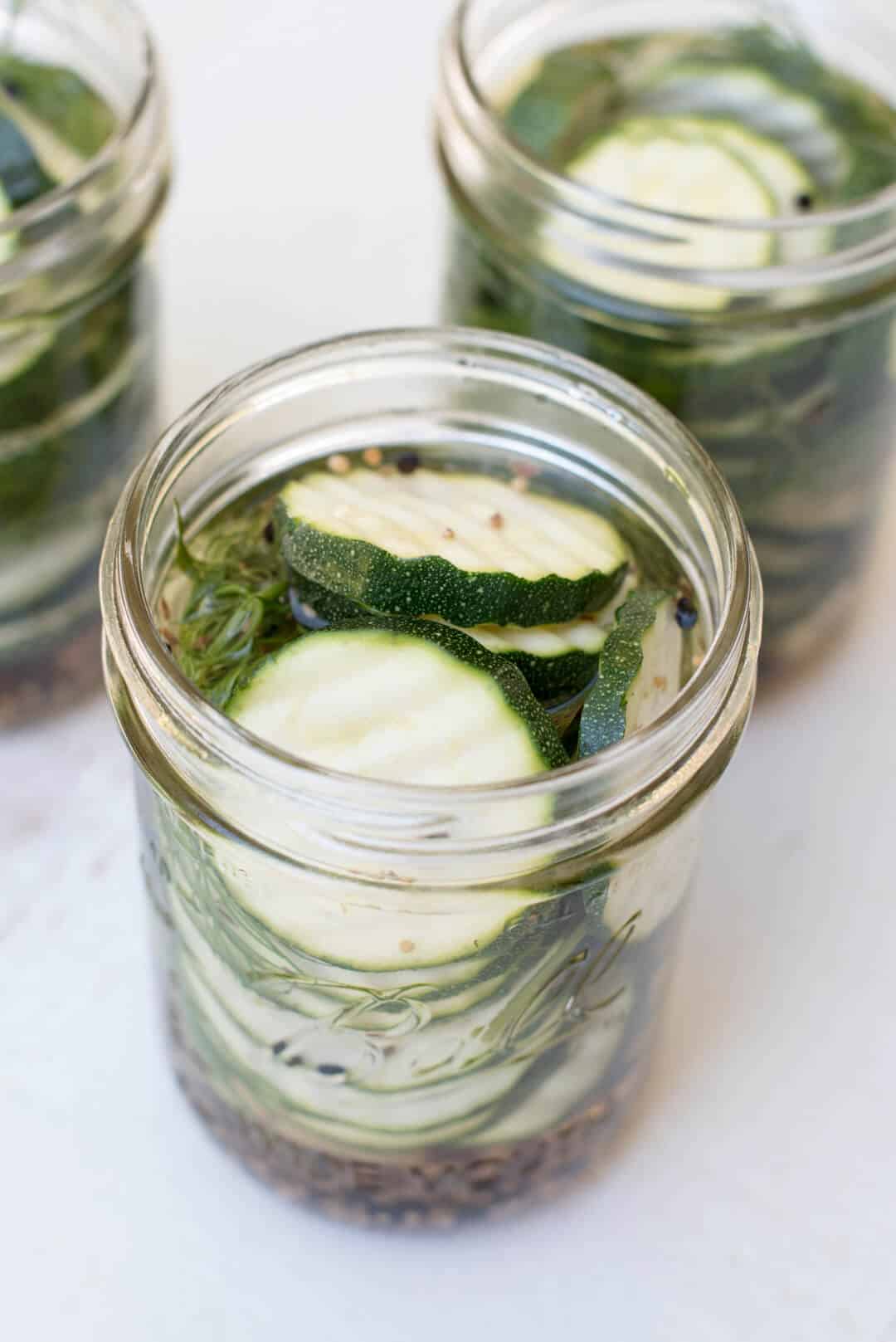 A simple brine that consists of water, distilled white vinegar, sugar, and coarse sea salt is brought to a boil and then the hot brine is poured right into the jars over the zucchini. I've seen other methods that instruct you to par-boil the zucchini or to soak it in a salt water solution to soften it before adding the brine, but I don't recommend it. The zucchini will soften just the right amount from a good soak in the hot brine and within 24 hours or less you're going to have perfectly crisp-tender Zucchini Pickles on your hands.
I believe this method makes it easier to avoid the dread of droopy, overly soft pickles. Nobody wants that!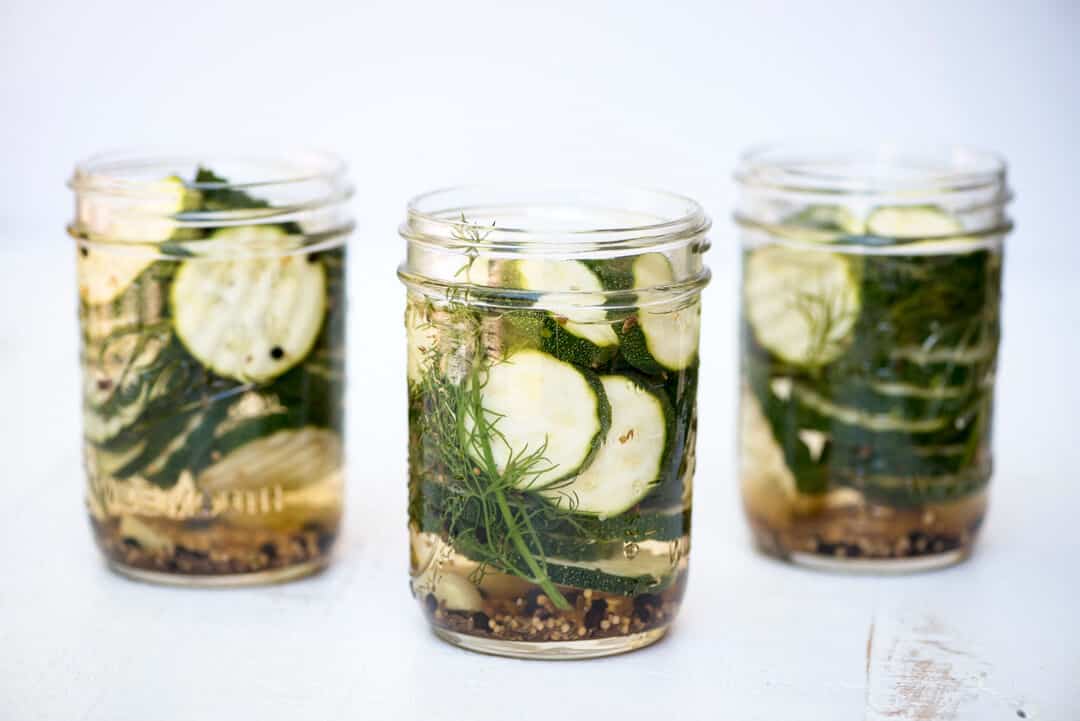 Zucchini vs. Cucumber:
Zucchini contain less water than cucumbers so less water is pulled from the zucchini during the brining process, which results in less dilution of the brine. For this reason, I've upped the water to vinegar ratio a bit as compared to my Sriracha Refrigerator Pickle brine. This also means that the zucchini won't shrink and settle as much so don't feel the need to pack the jars too tightly. Fill them up close to the top, leaving about ½-inch headspace.
Vinegar
My vinegar of choice for this recipe is basic distilled white vinegar ( 5% acid). It's bright, clear, and doesn't affect the color of the finished product. It also makes for an excellent brine. It's very inexpensive and I always have a big jug of it in my pantry.
Salt
It's important to use coarse sea salt or kosher salt that does not contain iodine. Iodized salt can discolor your pickles and result in a cloudy brine.
Other Important Notes
This recipe is strictly intended to be a refrigerator pickle recipe. Do not attempt to use it for water bath canning as it will not result in shelf-stable jars of pickles. The pickles must be kept refrigerated and will stay fresh and tasty for 2 weeks or more.
If you don't have any fresh dill on hand and don't want to purchase it, increase the dill seed to ½ teaspoon per jar.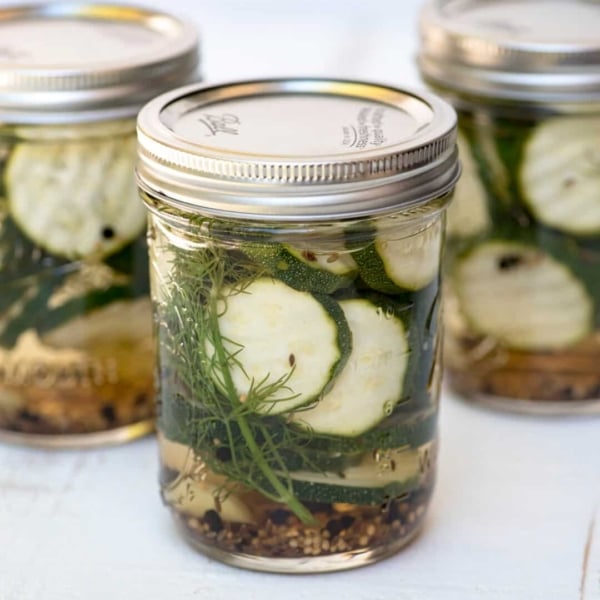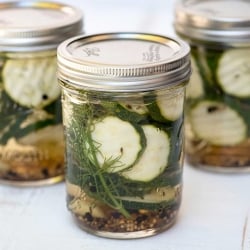 Refrigerator Zucchini Pickles
These Refrigerator Zucchini Pickles are a fantastic way to use up that ever abundant late-summer zucchini. They are fun and easy to make and so tasty!
Ingredients
1 ½

pounds

zucchini

,

(3 to 4 medium-sized zucchini)

6

fresh dill sprigs
Seasoning
3

garlic cloves,

,

peeled and halved (2 halves per jar)

1 ½

teaspoons

black peppercorns

,

(½ teaspoon per jar)

1 ½

teaspoons

mustard seeds

,

(½ teaspoon per jar)

¾

teaspoon

dill seed

,

(¼ teaspoon per jar)
For the Brine
2 ½

cups

water

1

cup

distilled white vinegar

¼

cup

sugar

2

tablespoons

coarse sea salt or kosher salt

,

(not iodized)
Instructions
Wash your zucchini; trim and discard ends. Slice into chips or spears, as desired. Set aside.

Divide the seasonings between 3 clean pint-sized mason jars. Divide the zucchini and dill sprigs evenly between the jars.

Combine all brine ingredients in a medium saucepan and place over MEDIUM-HIGH heat. Bring mixture to a boil

and then remove the pan from the heat and carefully pour the hot brine into the jars over the zucchini and fresh dill. Fill to the top of the jar, leaving about ½-inch of head space. Tightly secure lids and shake the jars. Allow to cool slightly on your kitchen counter for about 30 minutes before placing jars in the refrigerator. Refrigerate for 24 hours or more before eating.

Keeps well refrigerated for 2 to 3 weeks.
Nutrition
Calories:
23
kcal
·
Carbohydrates:
5
g
·
Protein:
1
g
·
Fat:
1
g
·
Saturated Fat:
1
g
·
Sodium:
781
mg
·
Potassium:
108
mg
·
Fiber:
1
g
·
Sugar:
4
g
·
Vitamin A:
101
IU
·
Vitamin C:
7
mg
·
Calcium:
13
mg
·
Iron:
1
mg
Nutrition information is automatically calculated using generic ingredients, and is an estimate not a guarantee. For more accurate results, please refer to the labels on your ingredients at home.
Did You Make This?
We love seeing what you've made! Tag us on social media at @fromvalerieskitchen for a chance to be featured