It's surprising how much less food we go through in our house with just one 6'2″ boy missing. With Boy #4 back in Santa Barbara for school, I skipped my September Costco trip altogether. Last week, as I was pulling my last package of vacuum sealed meat out of the freezer and realizing at the same time just how bare the pantry shelves were getting, I knew a shopping trip was in order.
And, we seriously needed ketchup (don't you hate it when you're low on ketchup but you don't realize it until you pull fries out of the oven?). I really dislike buying my kitchen staples at the grocery store unless there's a deal, so it was time to venture back to Costco! And, this time I did it all by my lonesome while Paul was at work. Wish I could have had you all with me!
Here's what ended up in my cart this time. Remember, no repeats.
I've featured peeled, cut, ready-to-cook butternut squash in a previous post but on this visit I found it packaged differently and it was a bit less expensive for the same amount. Nice! Butternut squash is a bugger to cut but if you have a package of this on hand, you are less than 30 minutes away from delicious roasted butternut squash. Recipe coming soon!
Los Angeles Salad Company Fresh Butternut Squash (2 pounds) – $4.79
There are some big changes brewing in the meat department of Costco which I'll talk about more below. I went light on meat this visit but did pick up these gorgeous boneless NY steaks. We eat far less steak after we put the grill away at the end of the summer so I've been doing lots and lots of chicken lately. I think I'm having a red meat deficiency and was therefore, magnetically drawn to these babies. Instead of grilling, I'm looking forward to doing a quick stove to oven method. It's steak for us this weekend!
USDA Choice Beef Loin Boneless New York Steak – 4.04 pounds at $7.99 per pound = $32.38
I really, really wish we had a lime tree in our yard. I go through a ton of limes in my kitchen and won't have any problem using up this 5 pound bag. I squeeze lime juice into so many things – iced tea, cranberry juice, diet coke, it's amazing on most veggies, in marinades, in salad dressings, in baking, the list is endless. Oh, and it's also nice in cocktails. Every now and then a girl's gotta imbibe.
Persian Limes (5 pounds) – $4.99
This is a new item for us. I like to have some ready made beverages on hand that have a shelf life, especially lemonade. Mix it with iced tea to make your own Arnold Palmers. This is a very tart, not overly sweet, lemonade. Love it.
Kirkland Organic Lemonade (96 ounce two-pack) – $5.99
I am a recent Keurig convert. I had the opportunity to attend a breakfast hosted by Keurig when I attended BlogHer 14, a blogging conference that was held right here in my home town this summer. They very generously shipped one of their sleek, new machines to me so that I could try it for myself in my own kitchen. I think I might be the only person in California who had never had any experience with a Keurig and I have to say, I was skeptical. My coffee is very important to me. I was won over immediately after brewing my first cup. Oh, the joy of coming down the stairs in the morning, pressing a button, and literally holding a cup of coffee in your hand in seconds. The Keurig 2.0 uses K-Cups to brew just a cup and also comes with a 4-cup capacity carafe for use with the larger K-Carafe packs. Costco has a great price on the unit. If you don't see it in your local Costco, it's available online.
There were lots of choices of K-Cups available. I settled on this Multi-Pack so we could try out some new flavors, and it was on sale! We like deep, dark, bold coffee and out of the varieties we had tried so far, my favorites were the Starbucks Sumatra and French Roast. I was surprised to find that I like the Newman's Special Blend and the Green Mountain Coffee Dark Magic at least as much as the Starbucks varieties. They are my new favorites. If you do the math, it obviously costs more to buy K-Cups than a pound of ground coffee but with these, there is no waste. You brew a cup and drink it and if you want more, you brew another cup. I find that when I brew an 8 to 10 cup carafe in the morning, much of it ends up getting tossed. Are you a Keurig fan? I'd love to hear your coffee routine.
Keurig Brewed Multi-Pack (72 count) – $33.99 less $5.00 instant manufacturer's coupon = $28.99
A new item, and the item I'm most excited about. I know, it's Plain Naan…doesn't look too exciting does it? It is the best packaged Naan I've ever tried. I knew right away what I wanted to do with it and I'm sharing a recipe very soon that is crazy, over the top, good. I mean, you've got to make it. Promise me. (Update – this naan has become an item I purchase on a regular basis. Check out my recipe for Buffalo Chicken Flatbread Pizza.)
Costco, if you're listening, please don't stop carrying this Naan!
La Brea Plain Naan Flatbread (12 pack) – $5.99
I always pick up the latest, greatest variety of ravioli from Rana on each visit. This month it was the Cheese & Pancetta Ravioli. On my last visit, I discovered what has ended up to be my all-time favorite flavor – the Tomato & Burrata Cheese Ravioli. I'm holding out hope that this one will be very good as well.
Rana Cheese & Pancetta Ravioli (two 16 ounce packages) – $9.99
It's so rare that we try a new item from Costco that we don't like but I'm afraid I have a negative review on this one. I thought these little pasta purses were so cute and festive but we all felt they were totally bland and tasteless. Vibrant yes, flavorful no. I always prepare a new variety of pasta simply with olive oil and Parmesan on the first go around so I can taste the pasta and not just the sauce. This one is definitely in need of a flavorful sauce like the brown butter sage sauce recommended on the package.
Nevo Pasta Organic Roasted Pumpkin Pasta Purses (two 16 ounces packages) – $10.99
I couldn't pass up these gorgeous, deep red grape tomatoes. I'm going to saute them in some olive oil with garlic and toss them with the Rana Cheese & Pancetta Ravioli above, toss in a little fresh spinach and lots of Parmesan. Dinner!
Concerto Grape Tomatoes (2 pounds) – $7.99
I usually opt for the container of shaved Parmesan but I decided to splurge and buy this big hunk of Parmigiano Reggiano this time. It's so nice to have in the house at this time of year with all the pastas, soups, and comforting fall dishes that are happening. Like all of the cheeses and many of the other items I buy in bulk, I'll section it off and vacuum seal the portions so I can have fresh Parmesan on hand for a very long time.
Kirkland Parmigiano Reggiano Stravecchio – 1.40 pounds at $12.59 per pound = $17.63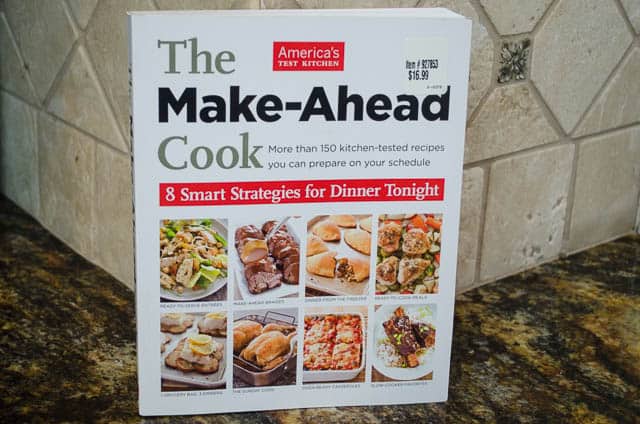 I bought a cookbook! On most shopping trips I avoid the book section or I'll get myself in trouble but I saw this one as I passed by and couldn't resist it. It's SO in my wheel house. America's Test Kitchen has some great cookbooks and I'm loving this one. Some really great recipes and great make-ahead tips. Costco had a better price on this book than Amazon. (Update – Click HERE to see what I made!)
America's Test Kitchen – The Make-Ahead Cook – $16.99
Woo hoo, plastic storage bags! Okay, not too exciting but we need them and Costco has them for a good price.
Ziploc Quart Freezer Bags (216 count) – $10.99
Ziploc Sandwich Bags (500 count) – $9.49
On to "eyed but didn't buy" section. The most interesting change I noted this time around was in the meat department. Let's go take a look.
All of the meat was shuffled around and the new Open Prairie Natural Angus beef products were prominently placed. As you can see by the sign, this is high quality beef with no added hormones, antibiotics, or artificial ingredients. There was a pretty nice selection of cuts available.
This quality meat comes with a pretty hefty price tag. I chose these USDA Choice Beef Loin New York Steaks for comparison purposes since it's the same I cut I purchased (above) for $7.99 per pound. The Open Prairie version of this cut comes in at a whopping $12.99 per pound which brings this 4 pound package to $53.00 versus the $32.38 I paid for my package in the same size. This is a personal choice and the price may be worth it for a lot of folks. It's wonderful to have the choice available but for us, this is pricey for an average weeknight dinner, for sure. I'd love to hear from anyone who decides to give this a try.
They've also brought in a line of organic chicken products. According to the Coastal Range Organics website, their chicken has no antibiotics, hormones or steroids, is fed with 100% organic vegetarian feed without antibiotics or animal by-products, and are free-range and raised on organic land.
The boneless, skinless chicken breasts come in at $5.99 per pound – not too bad. I've been more and more disappointed with the quality of chicken available at the grocery store. I love Tyson, but unfortunately my local store doesn't carry it and it seems that over time, the quality of the store brand has been diminishing. I think I may try this one on my next trip.
Ready or not, here it comes, it's officially Christmas time at Costco. They have it all – from decorations, to lights, to wrapping paper and bows, and if you're in the market for a 9 foot lighted tree, you're in luck. This one comes in at $399.99. Ho, ho, ho!
That's it for October. I expect I'll be visiting at least a couple more times this year in preparation for the holidays. As always, I'd love to hear if you've come across any new favorites on your recent visits.
Costco is not a sponsor of this site. I'm just there quite often and thought you might like to see the items that end up in my cart and a few that don't. I was not compensated in any way by Costco for this post. Keurig provided me with the Keurig 2.0 for review purposes but all opinions expressed here are solely my own.