The Snakebite Drink made with equal parts Guinness and hard cider may just be your new favorite beverage! Crisp, refreshing cider is accented perfectly with a layer of dark and creamy beer in this tasty beer cocktail.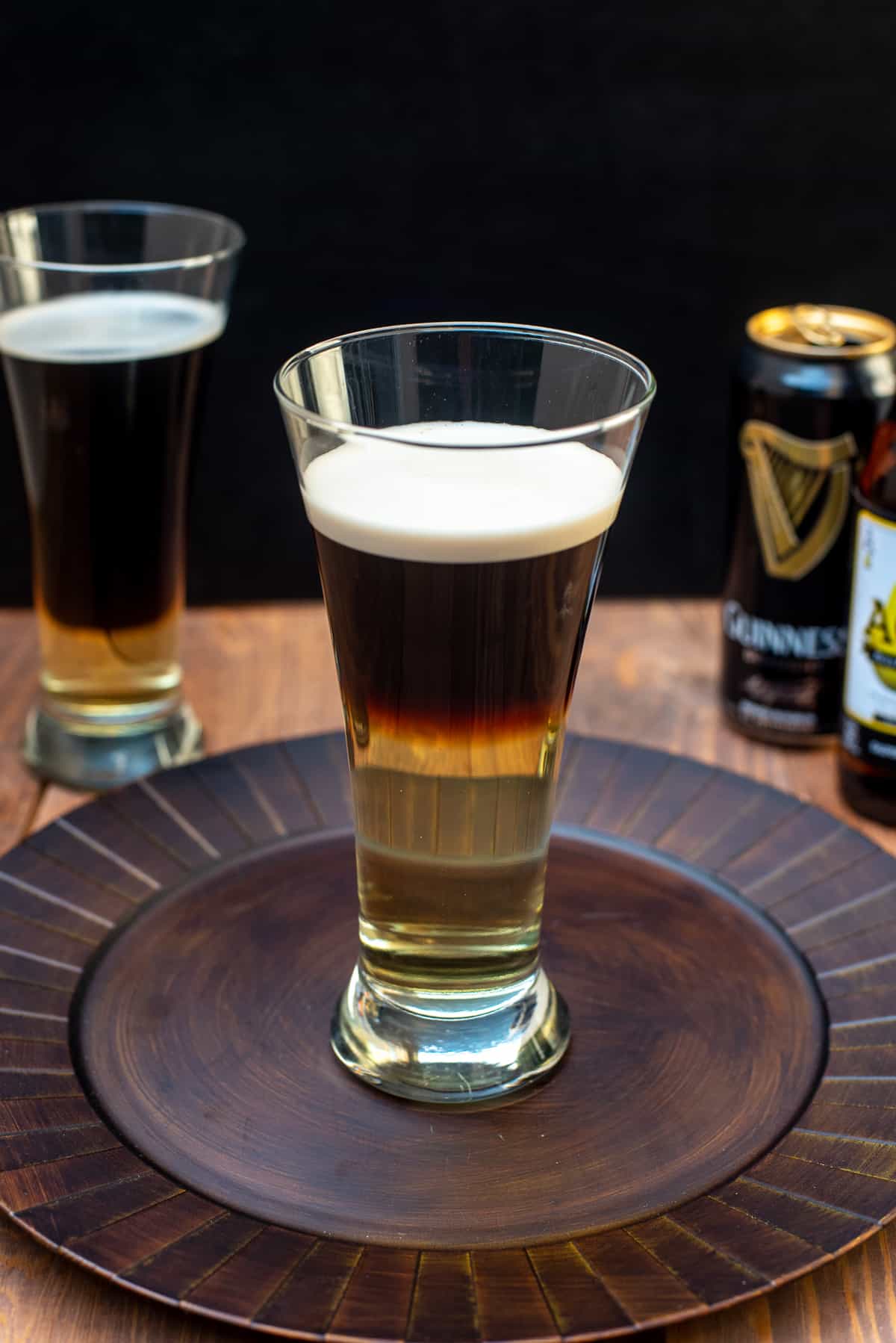 Layered beer cocktails are a really fun way to dress up your beverage menu without breaking the bank. You don't need to go out and buy high-priced bottles of booze or mixers you'll never consume.
The Snakebite Drink is a very simple, two-ingredient drink that's really easy to make – once you know the trick.
Guinness is a St. Patrick's Day tradition for many of us, but a Snakebite made with hard pear or apple cider is an excellent choice for fall too. It's a fun beertail to serve at a game day party during football season.
I (forced) persuaded my bartender-in-another-life husband to spend an afternoon with me pouring beer cocktails while I photographed the process. Not a bad way to spend an afternoon, I might add.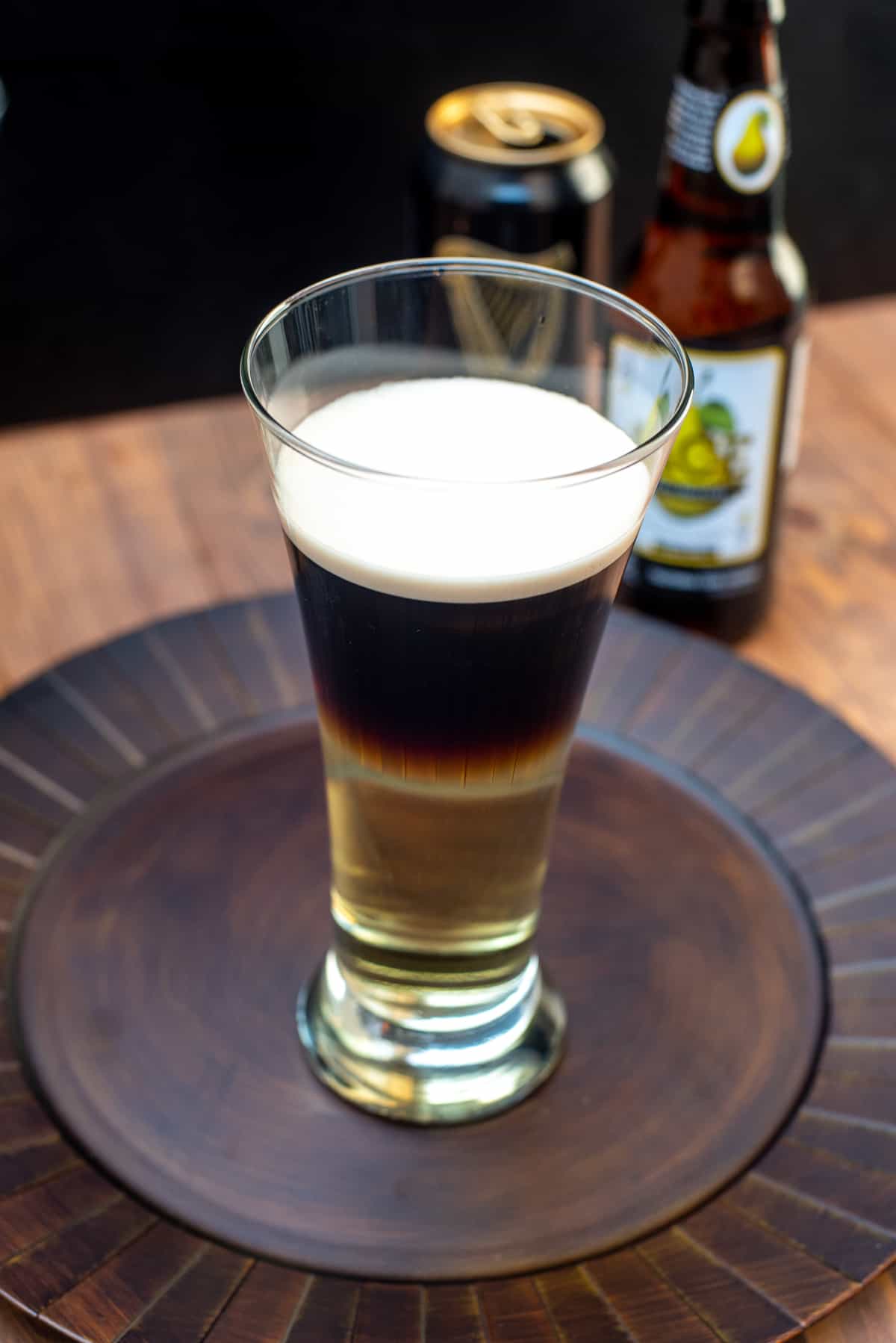 What is a Snakebite Drink?
The Snakebite is a layered beer cocktail made with equal parts beer and hard cider. It gained popularity in the United Kingdom in the 1980's where they primarily use a lager beer. As it grew in popularity in the U.S., it became common to use an Irish stout, like Guinness, in place of a lager.
It's a smooth, refreshing, and downright delicious drink that is gorgeous to look at.
Why is it Called a Snakebite Drink?
There are a lot of tales that explain the name, but no one really knows why it's been deemed the Snakebite. Some think it's because it was initially popular with young people in Britain who were looking for a less expensive way to imbibe. A beer cocktail is a budget-friendly drink with a "bite".
Some UK pubs have been known to refuse to serve the Snakebite because of the drink's reputation and the patrons it might attract.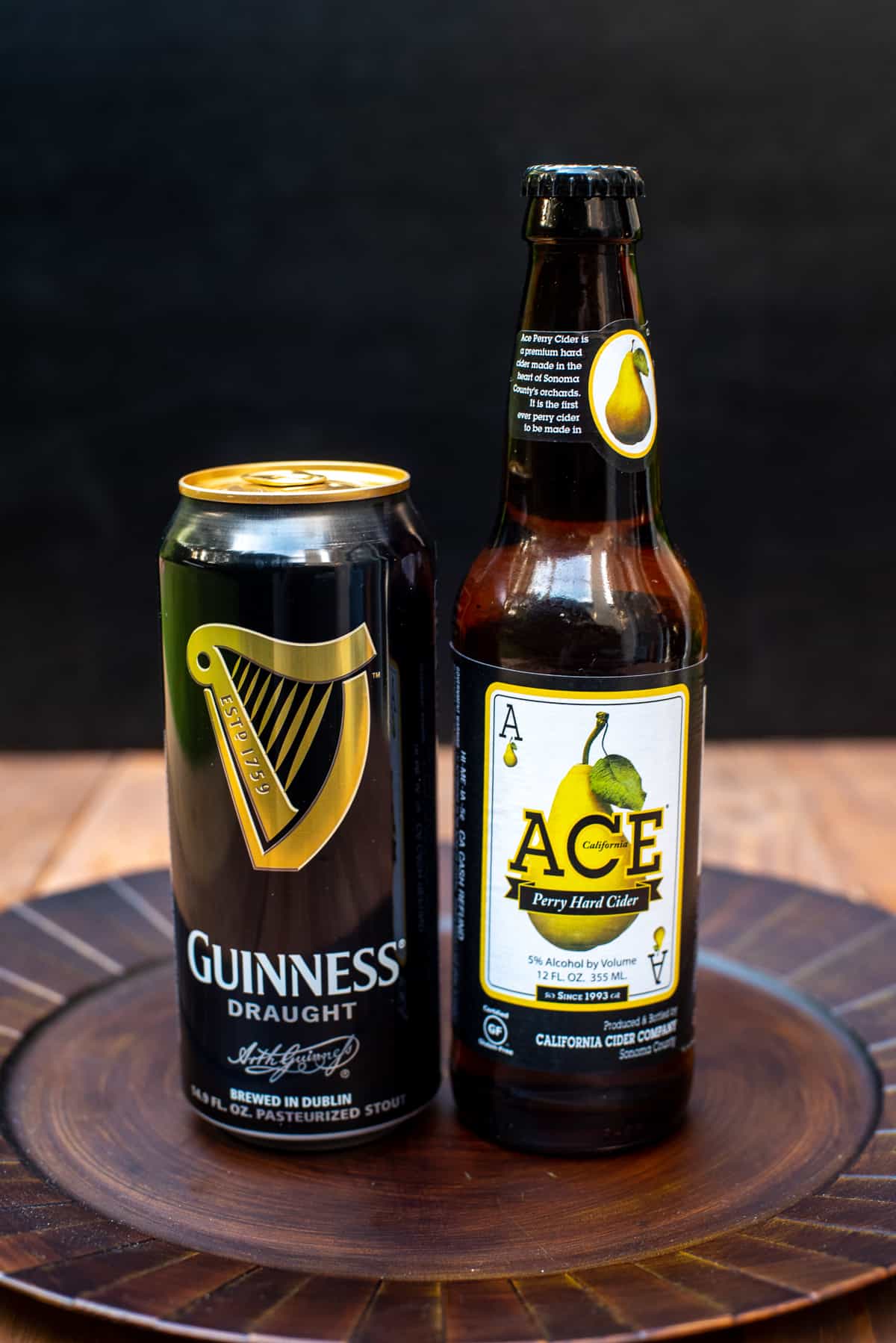 The Best Beer and Hard Cider for a Snakebite
Although the original UK version of this drink is made with a lager beer, we prefer Guinness Draught. It's a dark, creamy beer that is a bit smoother than Guinness Extra Stout. It's available in both a can and bottle. The slightly bitter finish is offset perfectly when layered with a sweet, hard cider.
Snakebite drinks are frequently made with hard apple cider. But, we love them with Ace Perry Hard Cider, made from a refreshing blend of pear and apple juice. When you crack one open, be sure to give it a try on its own. It's got a lovely pear and apple aroma and a crisp, sweet flavor.
Beer Cocktail Layering Technique
There is technique involved in pouring the perfect layered Snakebite Drink.
First, the order is important. The hard cider is poured first. Then, the beer is poured slowly to form a defined layer over the top.
By pouring the beer over the back of a spoon, it slows down and interrupts the pour. This helps it land more gently on top of the hard cider layer, keeping the liquids separate.
It can take a little practice to perfect this technique but it's fun and the result is really impressive.
How to Make a Snakebite Drink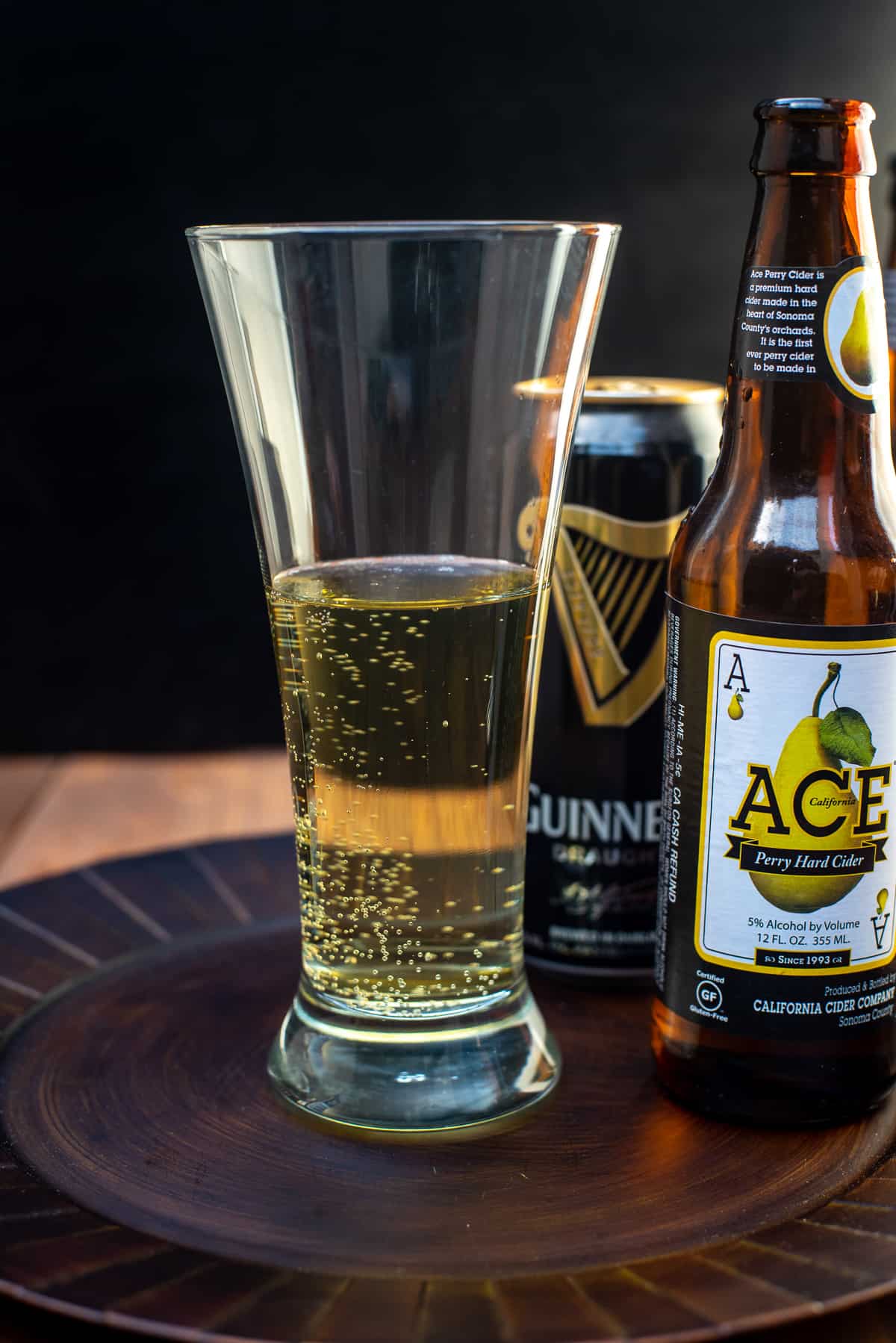 Fill a pint glass half way with your hard cider of choice. Aaahhh, the bubbly…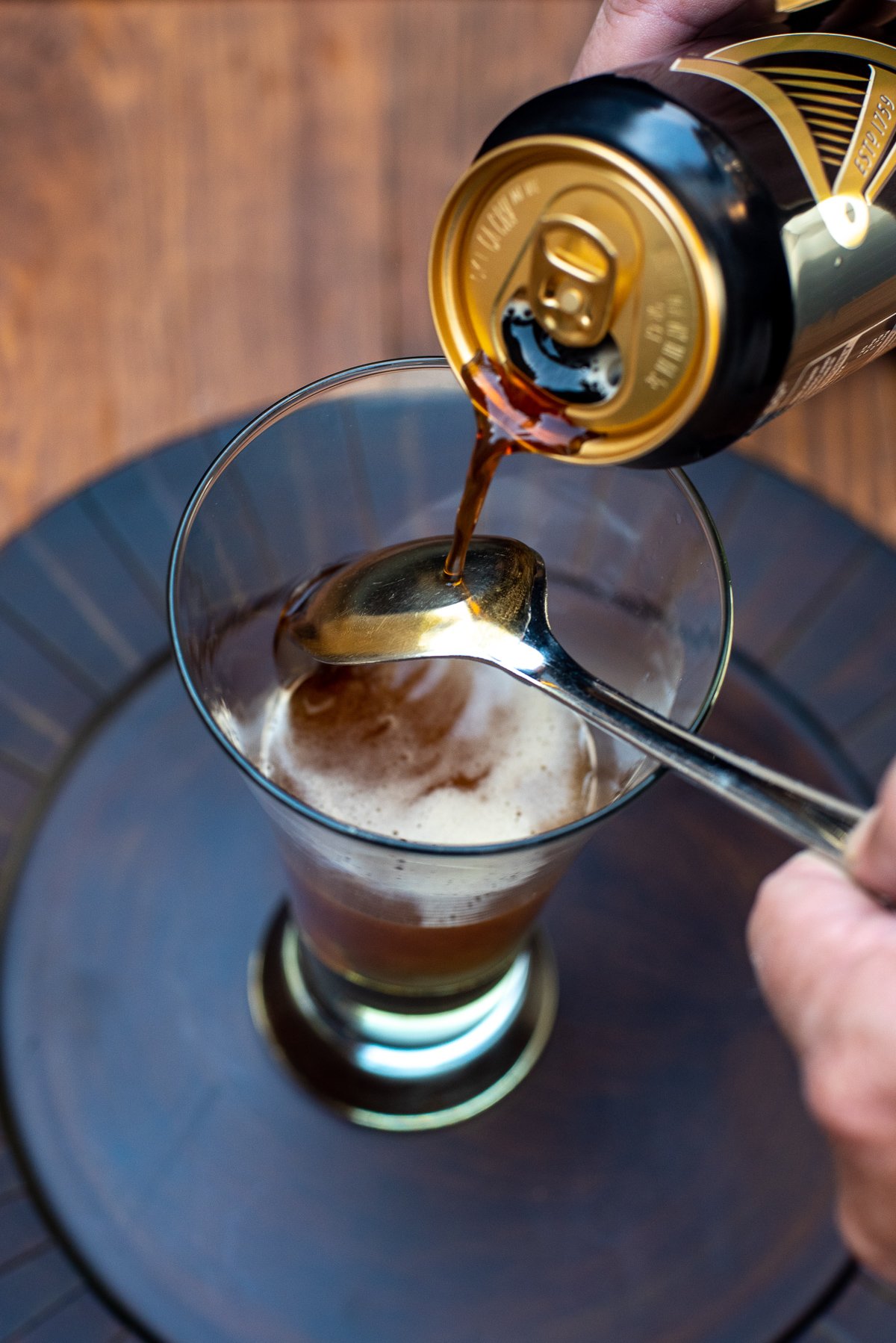 Then, slowly pour the Guinness over the back of a spoon onto the side of the glass. Allow it to gently pour down over the hard cider. This is the key to the layering effect.
If you take your beer cocktails seriously, you can pick up a Guinness pour spoon or beer layering tool.
Since Guinness contains less sugar and is slightly lower in alcohol content than hard cider, it will float on top of the higher density cider layer if poured correctly.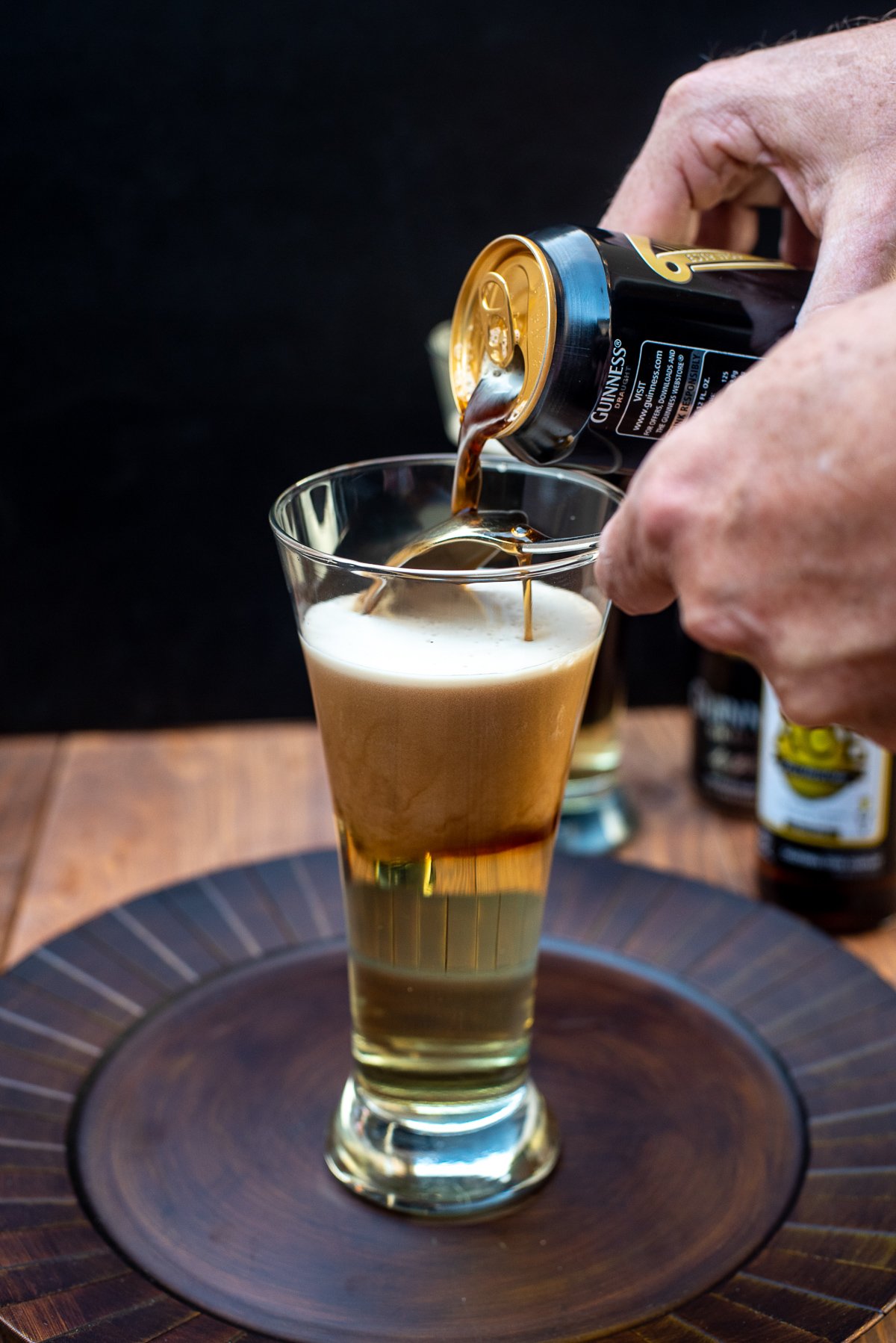 No rushing allowed. Pouring the beer very slowly ensures it will not mix down into the cider layer.
Once the head settles down a bit, you'll have the nice layering effect we're after.
Snakebite Variations
Snakebite and Black – When a dash of blackcurrant liqueur is added to a Snakebite Drink, it becomes the more potent Snakebite and Black or a Diesel.
Snakebite Shot – The Snakebite Shot is not at all the same as a Snakebite Drink. It's a sweet and tart whiskey shot made with Yukon Jack and splash of sweetened lime juice.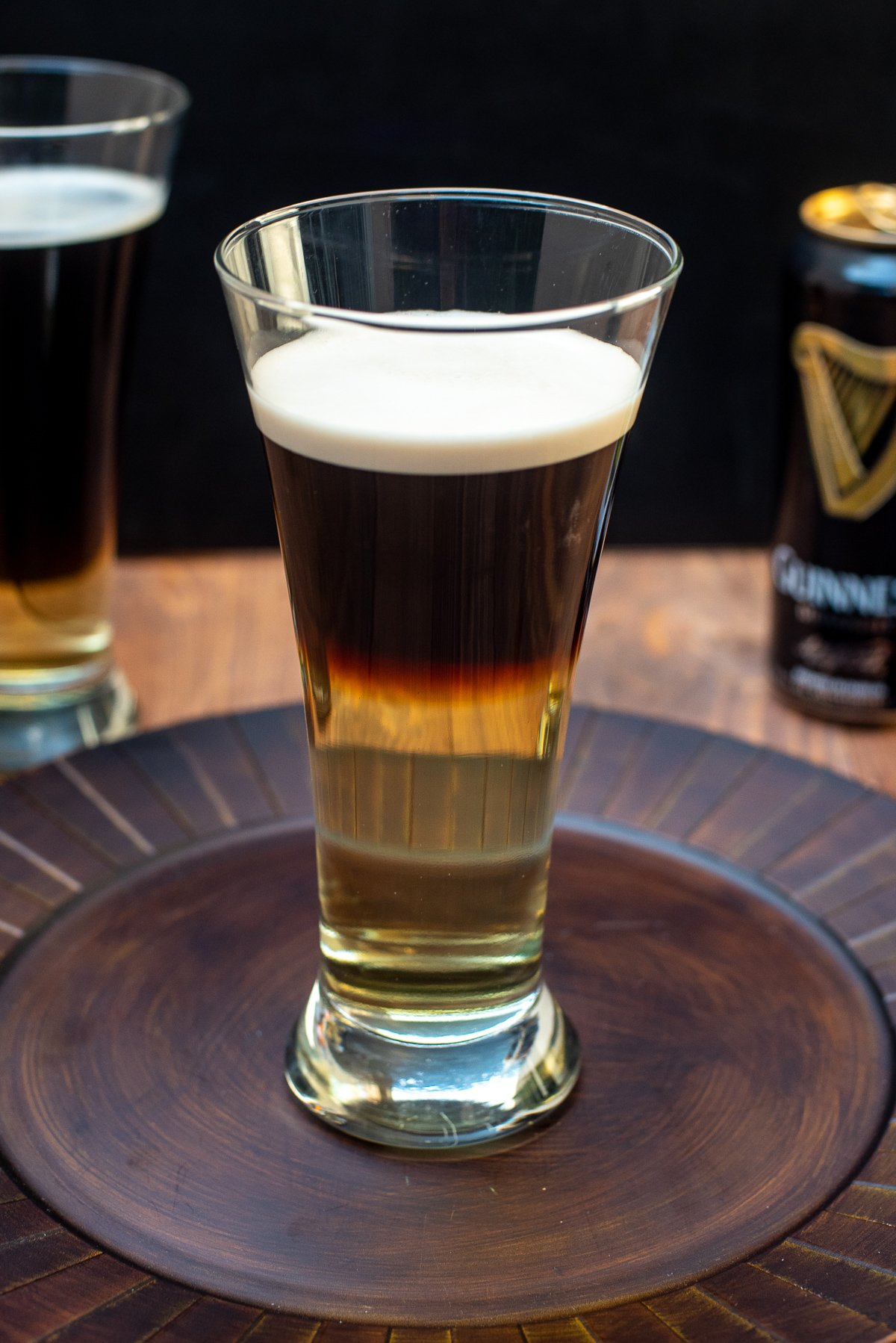 More Cocktail Recipes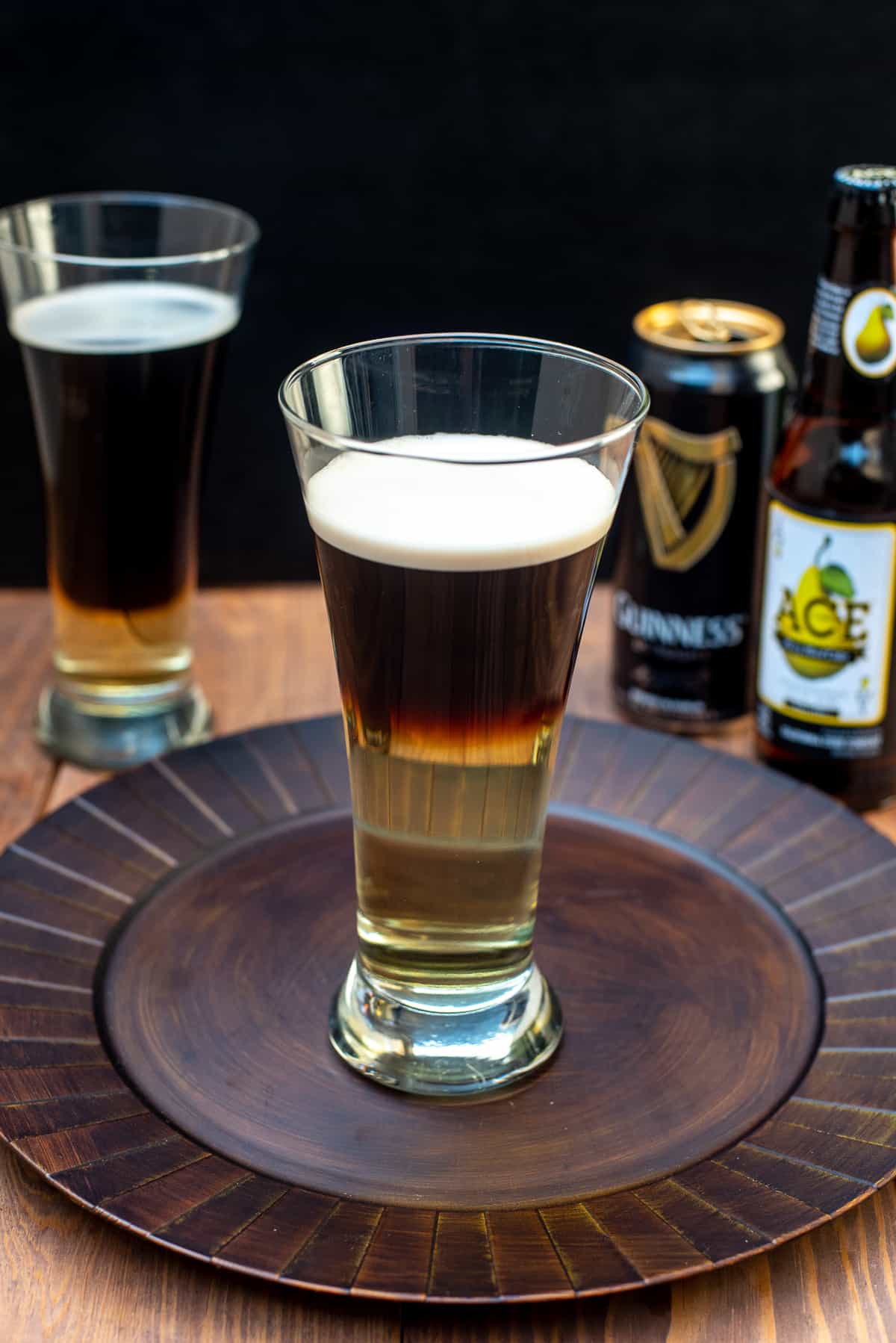 Sign up for my free newsletter for all the latest recipes and join me on Facebook, Instagram and Pinterest for more cooking inspiration!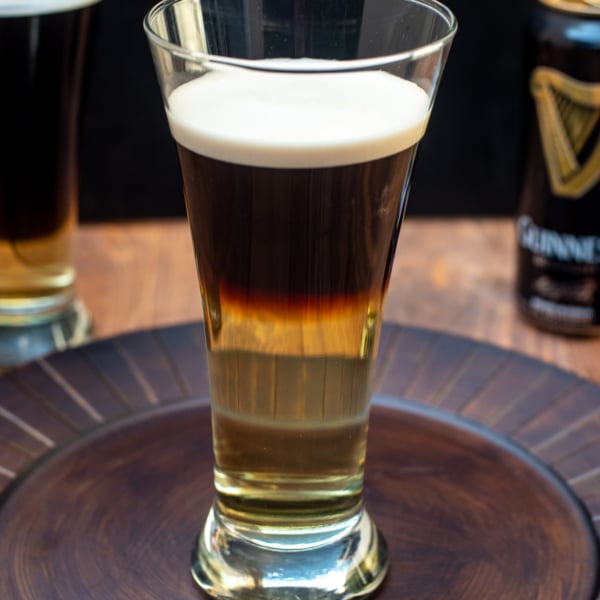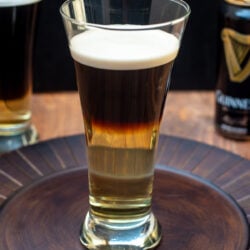 Snakebite Drink
The Snakebite Drink made with equal parts Guinness and hard cider may just be your new favorite beverage! Crisp, refreshing cider is accented perfectly with a layer of dark, creamy beer in this tasty beer cocktail.
Ingredients
4

(14.9 ounce)

cans Guinness Draught

4

(12 ounce)

bottles hard cider

,

apple, pear, or a combination like Ace Perry Hard Cider
Instructions
Fill a tall beer glass half full with the hard cider. Insert a the back side of a spoon into the glass, with the tip touching the inside of the glass above the cider. Gently and slowly pour the Guinness over the spoon and allow it to pour down over the cider.

Give the cocktail a moment to settle and serve.

Cheers!
Nutrition
Calories:
248
kcal
·
Carbohydrates:
25
g
·
Protein:
0.4
g
·
Sodium:
10
mg
·
Sugar:
13
g
Nutrition information is automatically calculated using generic ingredients, and is an estimate not a guarantee. For more accurate results, please refer to the labels on your ingredients at home.
Did You Make This?
We love seeing what you've made! Tag us on social media at @fromvalerieskitchen for a chance to be featured