This Turkey Black Bean Enchilada Bake has a creamy, flavorful filling of lean ground turkey, black beans, corn, and diced tomatoes that is rolled in tortillas and topped with enchilada sauce and cheese. The recipe makes enough to feed a crowd or pop one dish in the freezer for an easy dinner when you need it!
Click HERE to sign up for your FREE email subscription and never miss a recipe!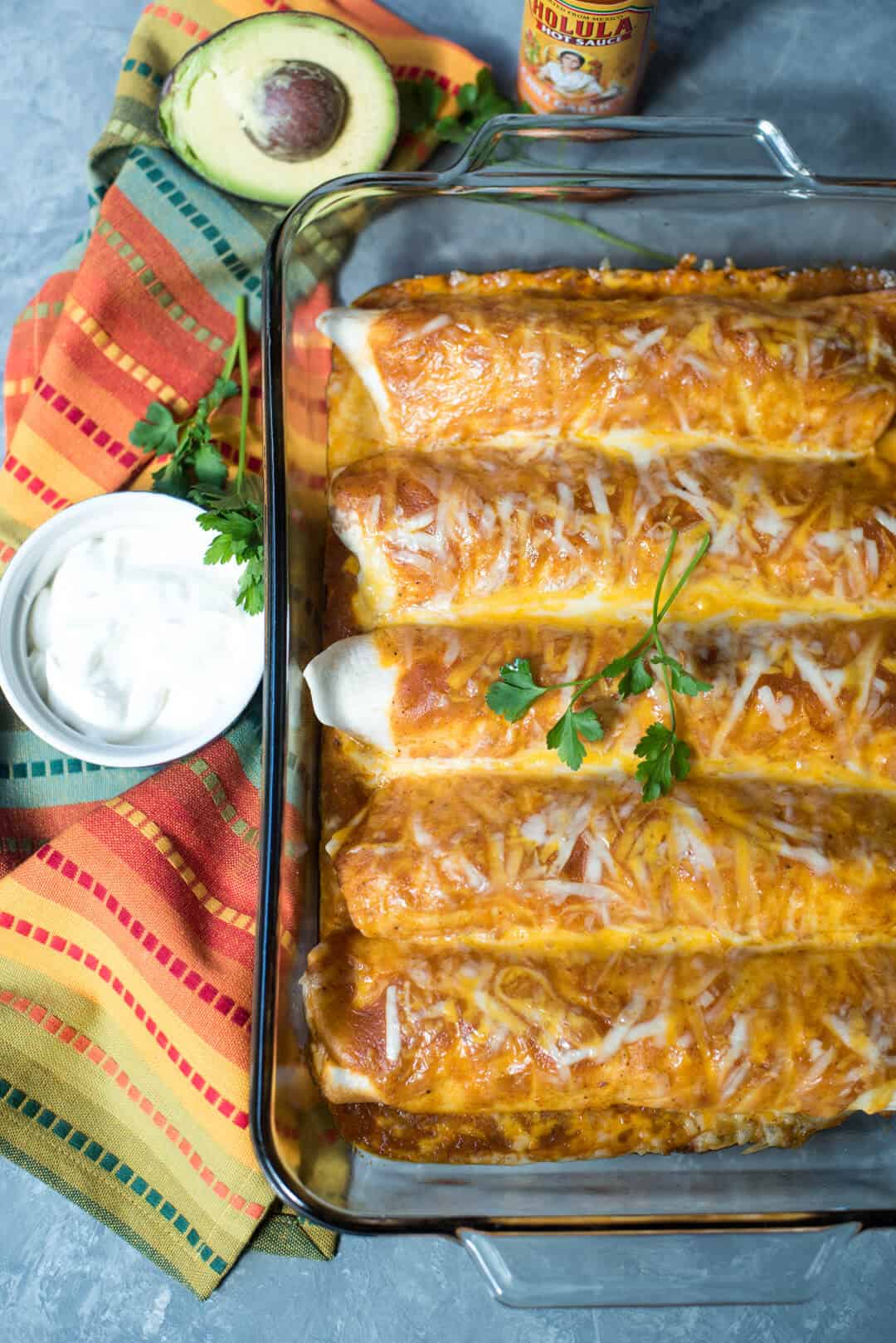 With just one pound of lean ground turkey and an assortment of other tasty ingredients, this recipe yields two casserole dishes full of hearty, soul-satisfying food. Bake both and you'll have enough to feed 6 to 8 with leftovers, or bake one dish and wrap the other one up for the freezer and have a delicious meal waiting for you when you need it.
Considering the fluctuating number of folks that land here around the dinner hour, this is a great thing for me.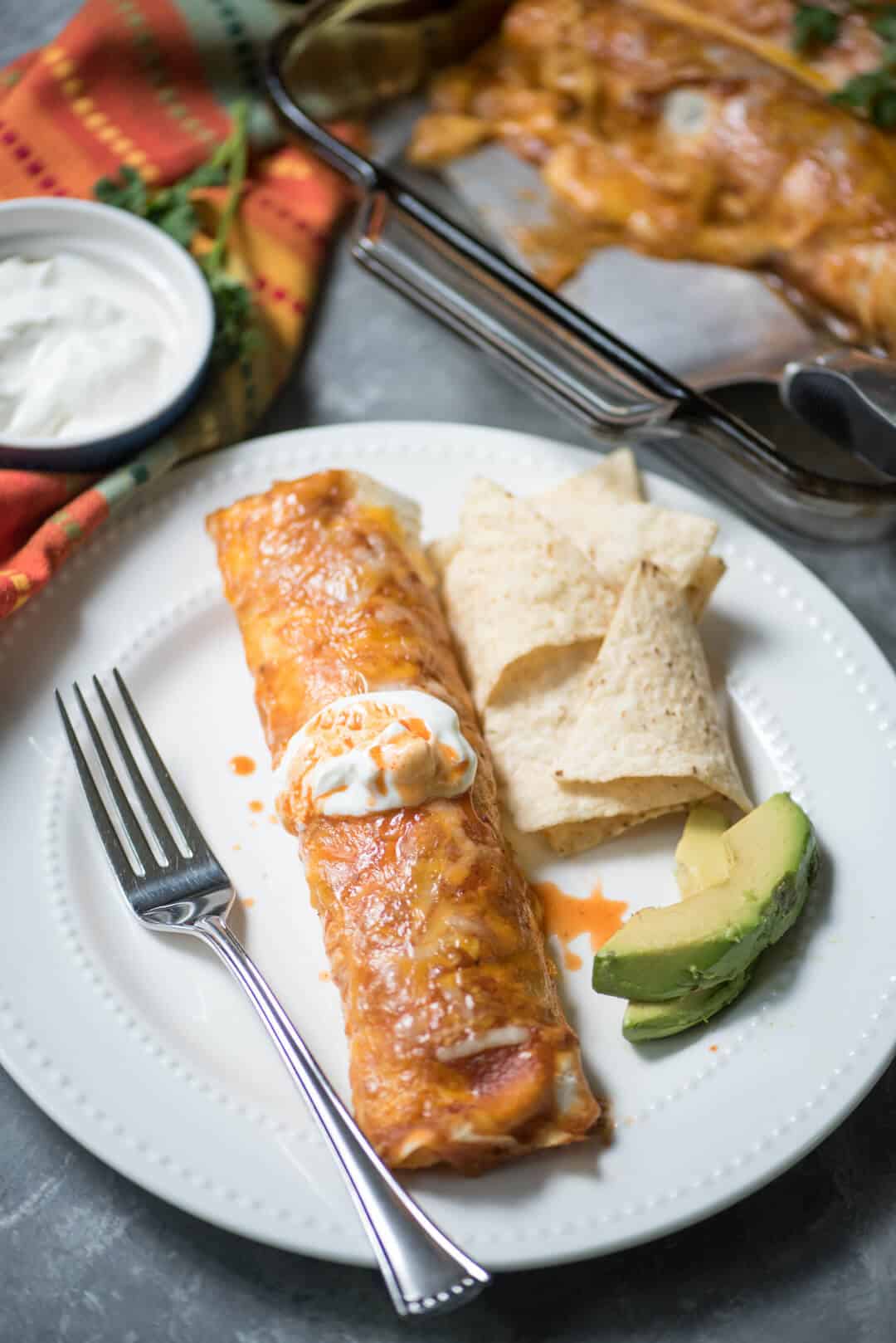 I could easily serve a Mexican-inspired recipe a couple of times a week with no complaints. We love our Mexican food around here.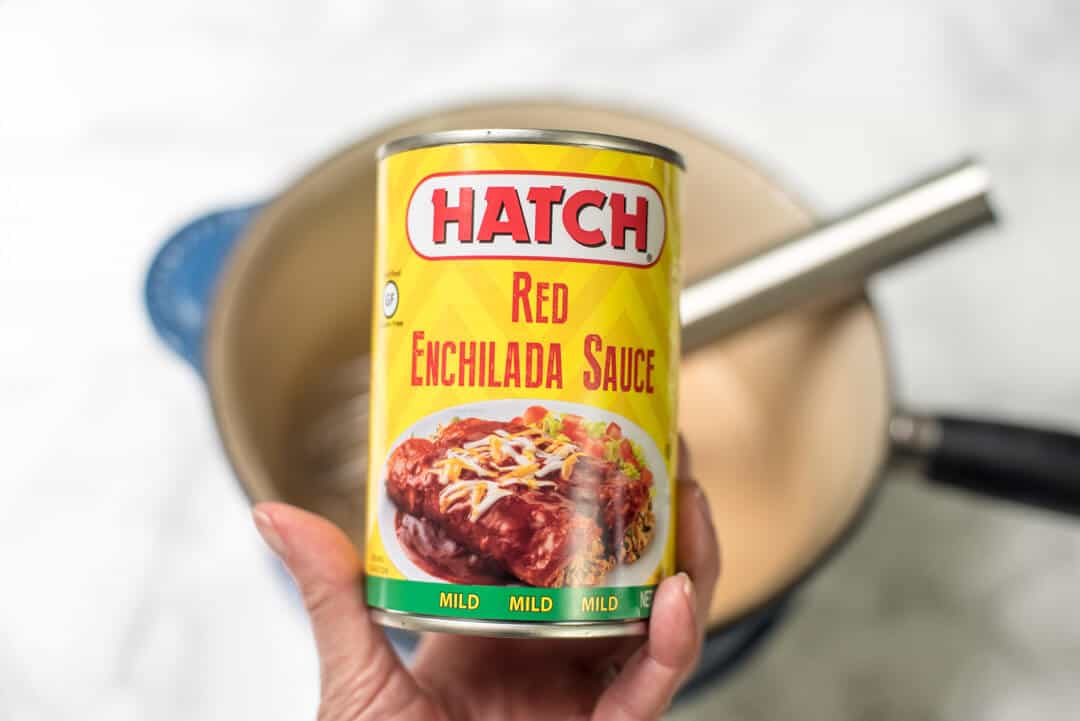 I always keep a supply of this Hatch Red Enchilada Sauce in my pantry. It's fabulous. And, with a little help it turns into one of my all time favorite semi-homemade recipes; my Easy Enchilada Sauce. I use this sauce whenever I make enchiladas or smothered burritos. It's the finishing touch that really takes these enchiladas to the next level.
Here's how it's done.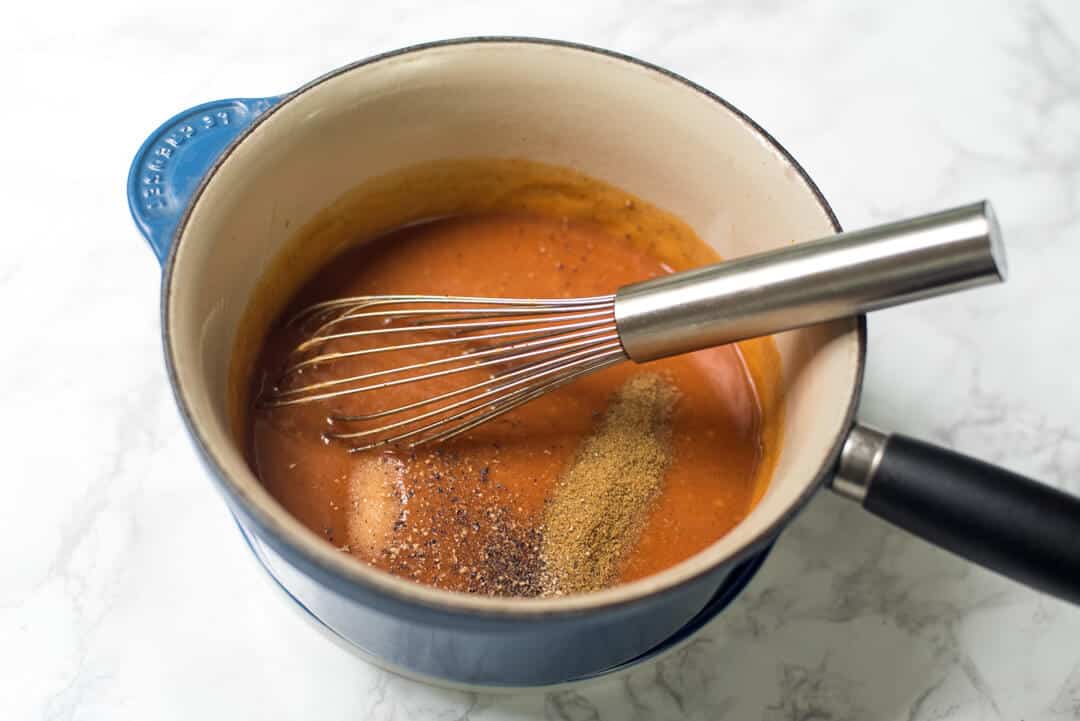 The first step is to create a roux with vegetable oil and flour that helps balance and add body to the canned sauce. Add 1 cup of low-sodium beef broth, the can of enchilada sauce, and the seasonings – cumin, black pepper, and a touch of salt. It cooks up quickly and it is so worth the effort.
See the printable recipe below for the detailed instructions.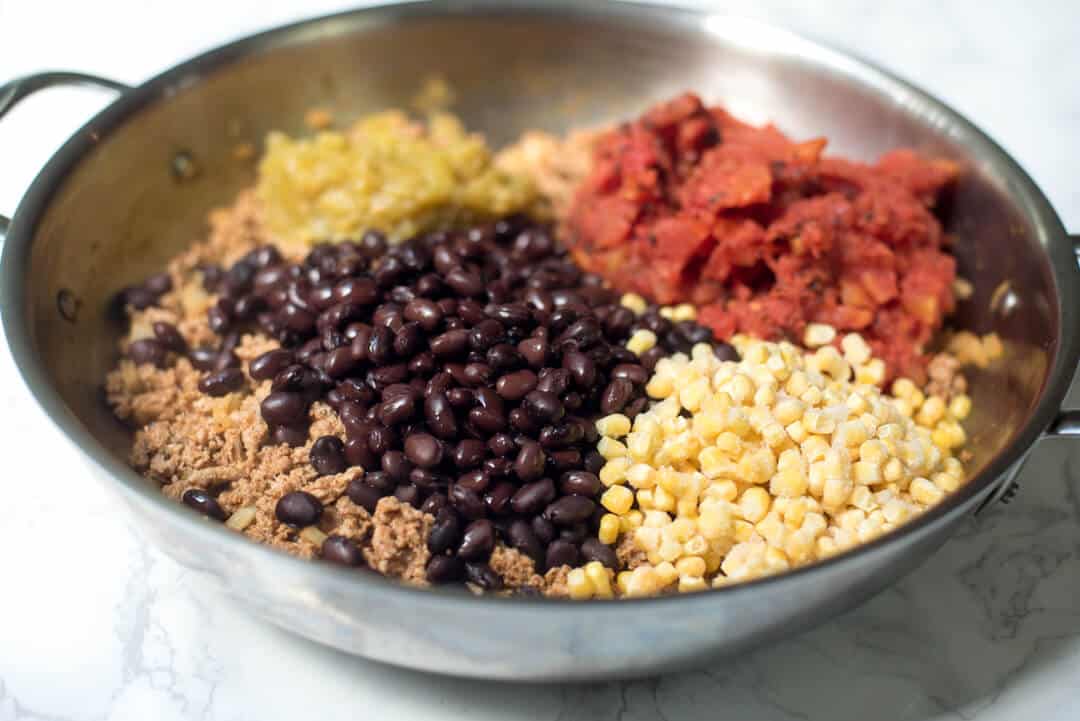 The filling is a breeze to make and full of wholesome goodness. One pound of lean ground turkey, chopped onion, canned black beans, diced green chilis, fire-roasted diced tomatoes, and frozen corn, and simply seasoned with taco seasoning.
To up the comfort factor – some cream cheese (I used the reduced fat variety) and a little shredded sharp cheddar and Monterey Jack cheese.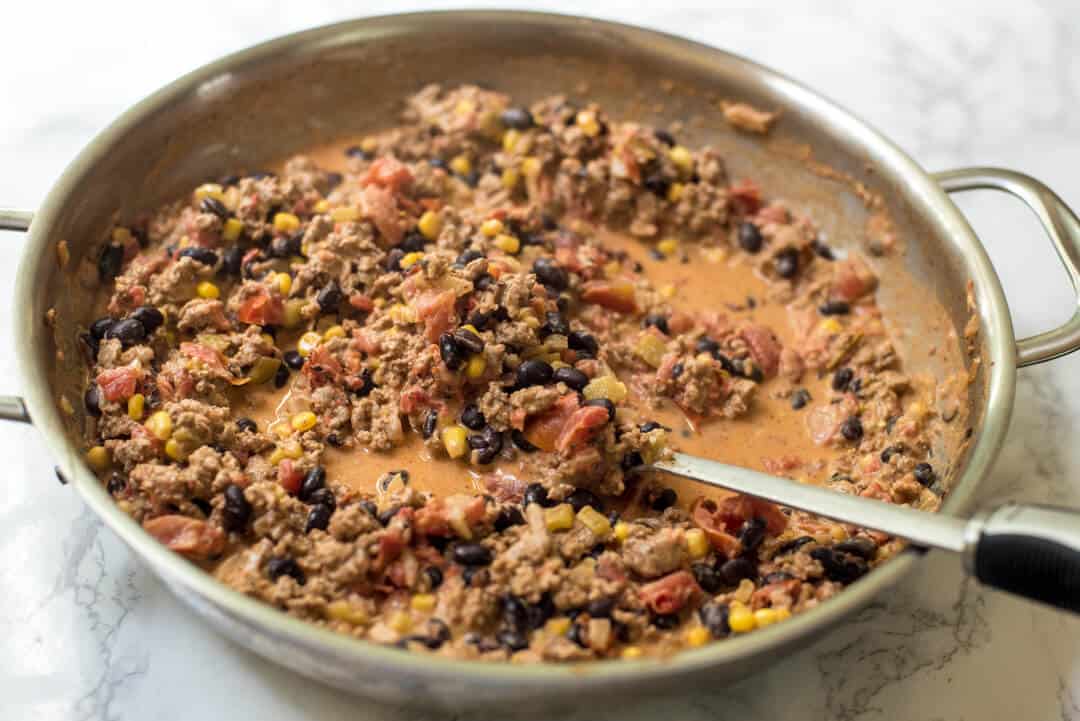 The cheese melts into the mixture and you're ready to roll!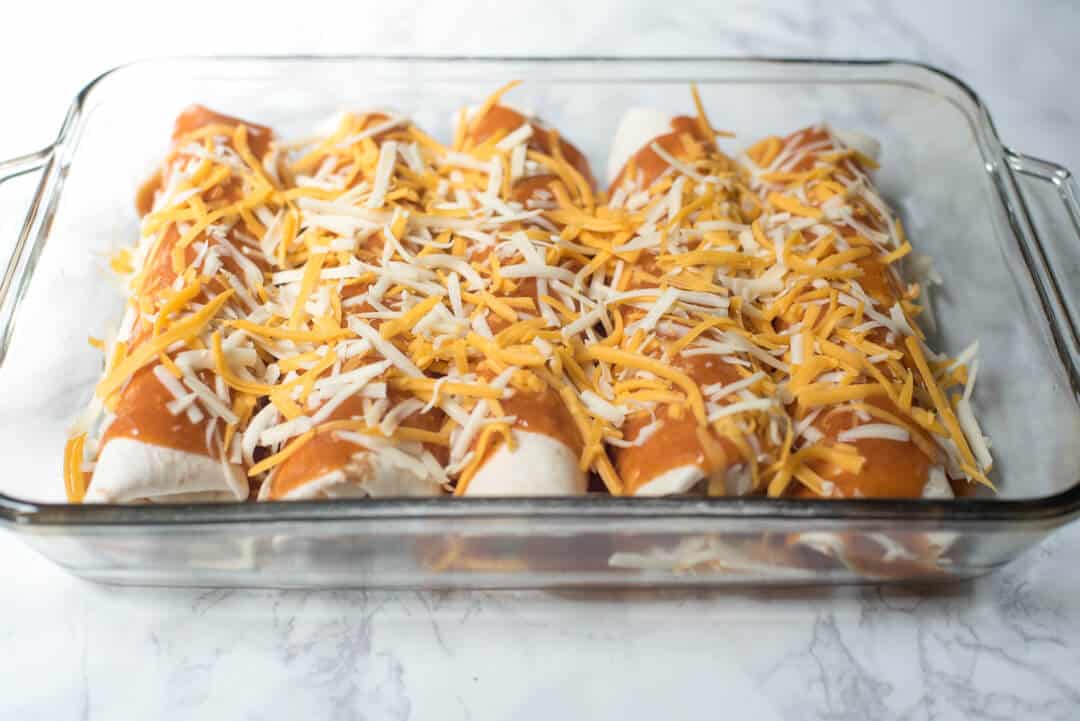 This recipe will fill 10 burrito size (10″) flour tortillas. I understand that for many, an enchilada is not an enchilada unless it's wrapped in a corn tortilla. However, I feel you'll get the best result here if you go with flour tortillas so we'll just call it an "enchilada bake" and hopefully we can all eat Mexican food together in peace.
I'll make the margaritas!
After they are assembled and covered in foil, it's just 25 minutes in the oven and dinner is served.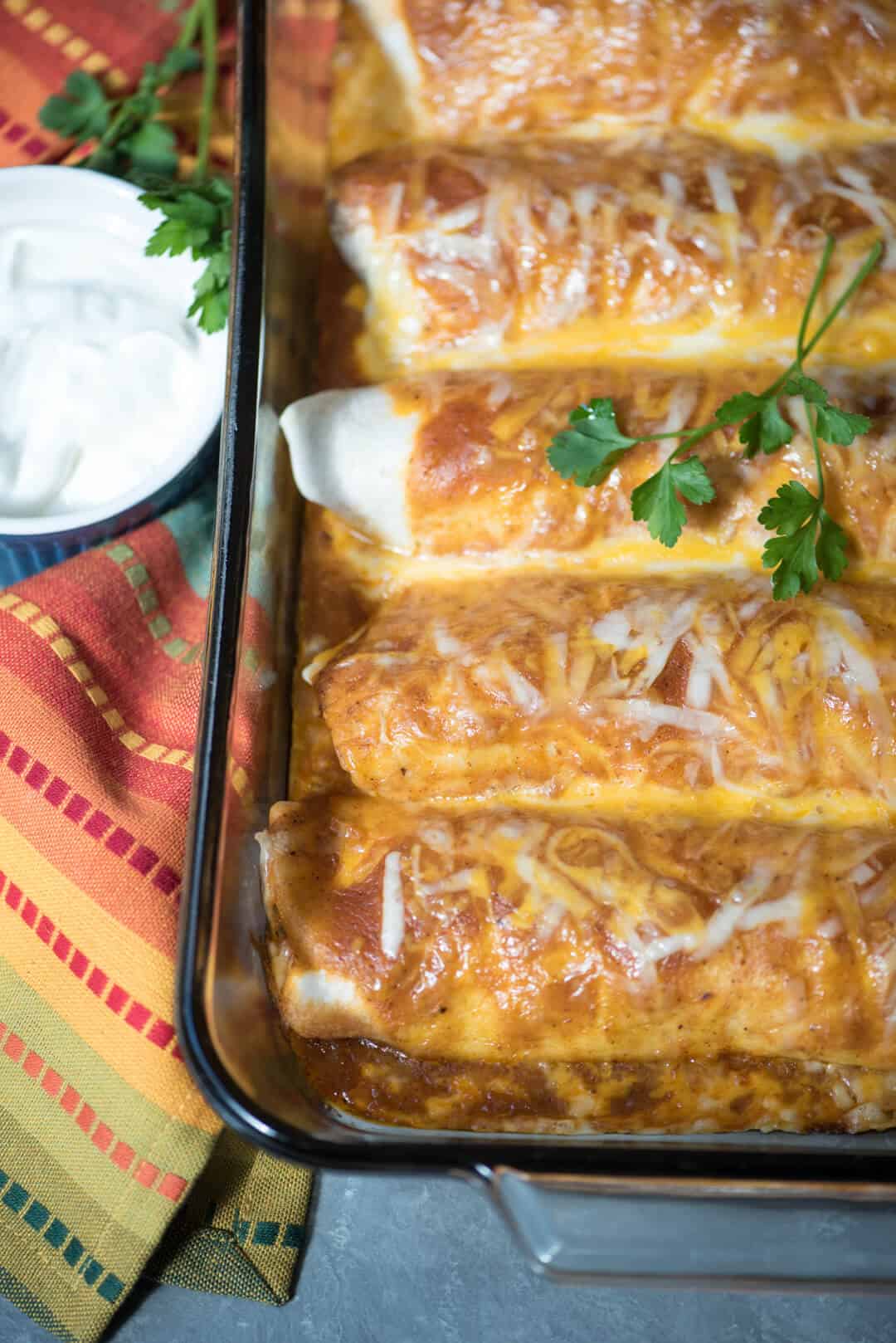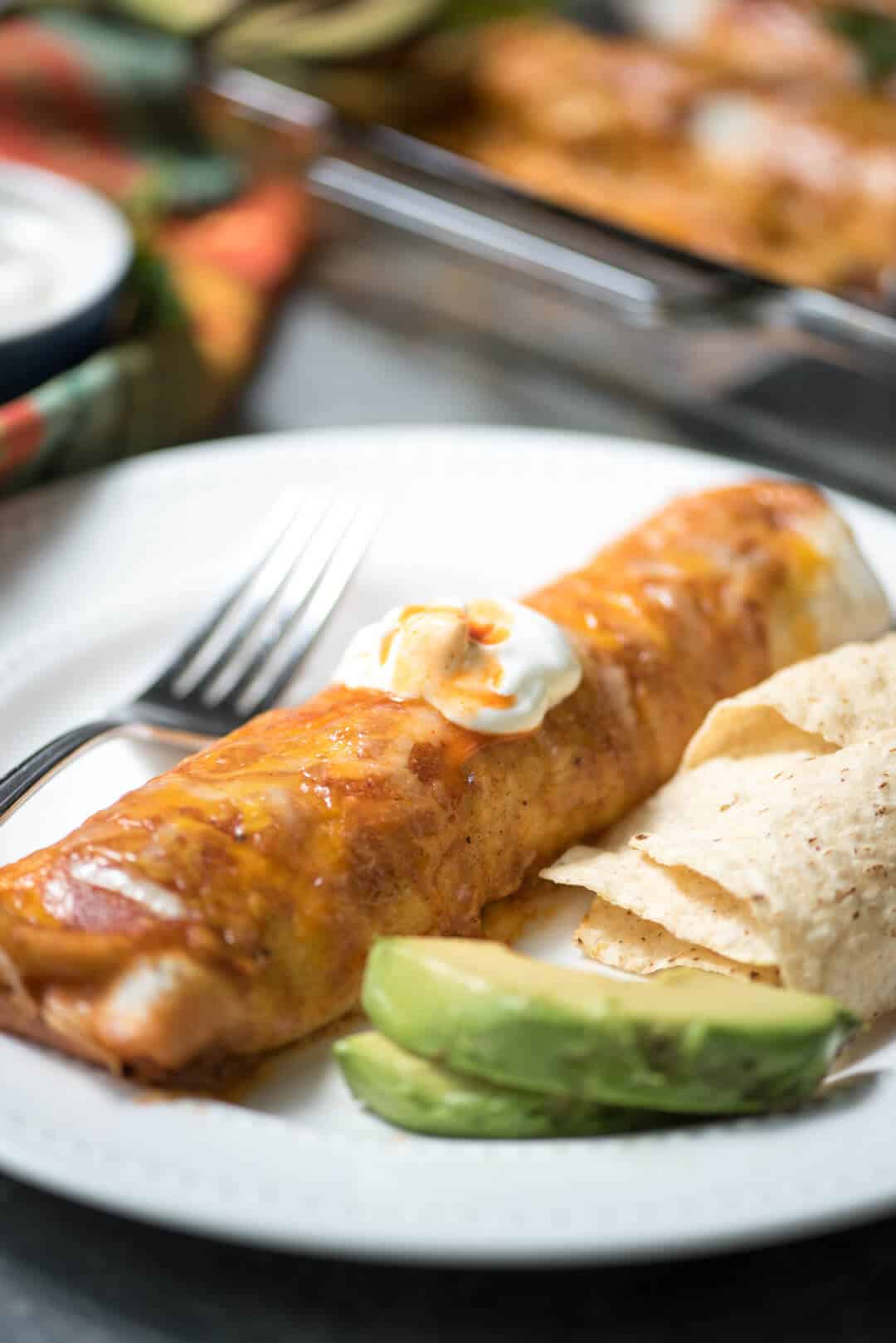 Let everyone add their toppings of choice – cilantro, sour cream, avocado, a little hot sauce – all the usual suspects will work here.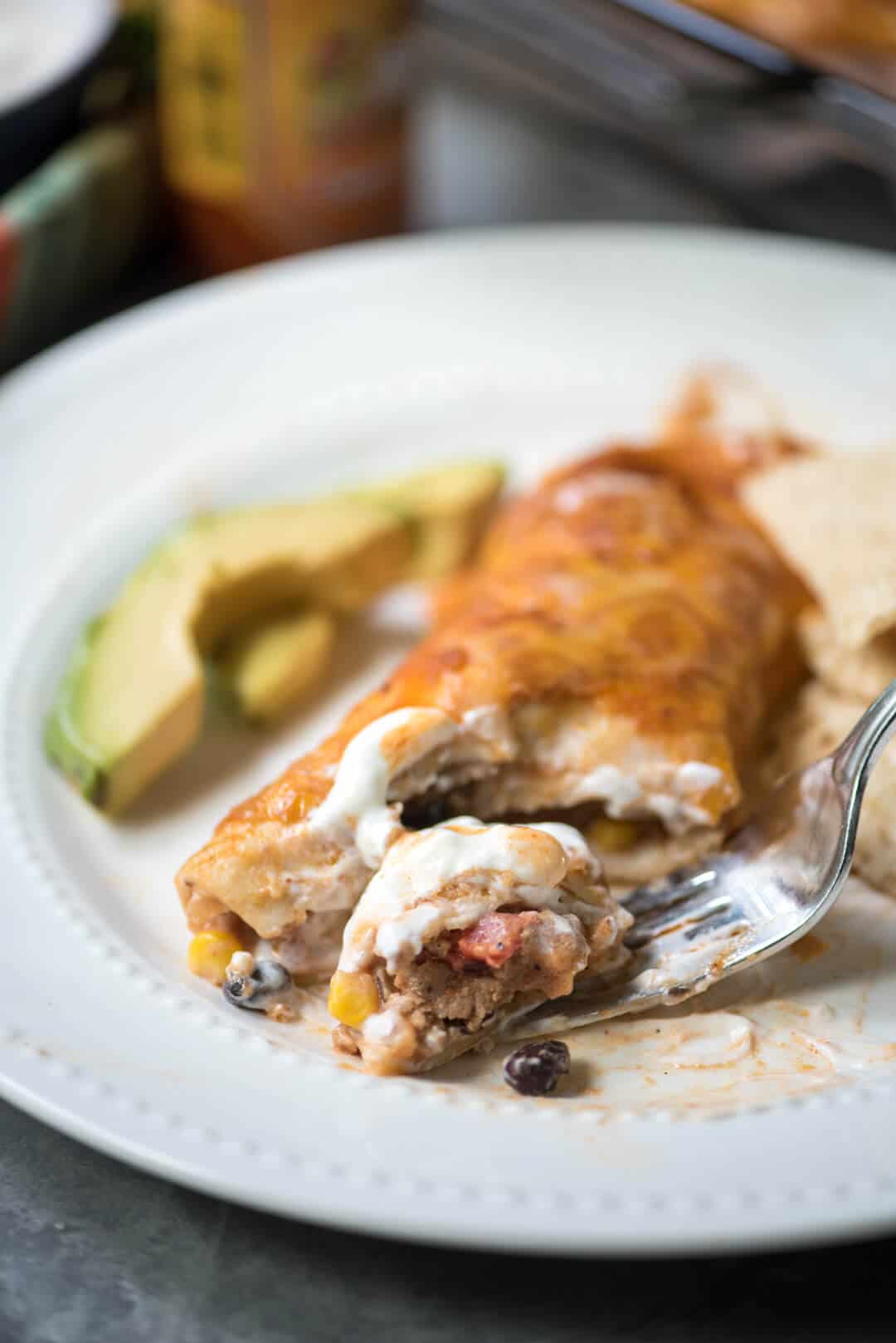 We were crazy for these enchiladas! They were voraciously consumed and will be on the menu again very soon.

Ingredients
For the Easy Enchilada Sauce:
2 tablespoons vegetable oil
3 tablespoons flour
1 cup low-sodium beef broth
15 ounce can red enchilada sauce (use Hatch brand if you can find it)
1 teaspoon ground cumin
1/4 teaspoon salt
fresh ground black pepper to taste
For the Enchiladas:
1 pound lean ground turkey
1/2 cup chopped onion
1 tablespoon taco seasoning homemade or store-bought
15 ounce can black beans, rinsed and drained
1 cup frozen corn no need to thaw
14 1/2 ounce can fire-roasted diced tomatoes
4 ounce can diced green chiles
4 ounces reduced-fat Neufchatel cream cheese, cubed
2 cups shredded sharp cheddar cheese divided
2 cups shredded Monterey Jack cheese divided
a few healthy shakes of your favorite hot sauce we love Choluha Chipotle flavor
10 burrito size (10") flour tortillas, at room temperature or softened slightly in microwave
Optional toppings: minced cilantro sour cream, diced tomato, avocado, sliced black olives, thinly sliced green onion
Instructions
For the Enchilada Sauce:
Heat vegetable oil in a medium saucepan over LOW heat. Whisk in the flour and cook, whisking constantly, for a minute or two until mixture is just beginning to get lightly golden brown. Whisk in the beef broth, enchilada sauce, cumin, salt, and pepper. Increase heat to MEDIUM-HIGH and bring mixture to a boil. Reduce heat enough to keep mixture at a low simmer and whisk lightly until thickened. Remove from heat and set aside.
For the Enchiladas:
Preheat oven to 375 degrees F. Coat two 13" x 9" baking dishes with non-stick cooking spray.

Coat a large skillet with non-stick cooking spray and cook turkey, onion, and taco seasoning over medium heat for 5 or 6 minutes, or until turkey is no longer pink and onion is tender. Stir in beans, corn, tomatoes, and diced green chiles. Add cream cheese and 1/2 cup each of the shredded cheddar and Jack cheese and stir until melted. Add a few healthy shakes of your favorite hot sauce and stir to combine. Remove from heat.

Place 1/2 cup turkey mixture down the center of each tortilla. Tuck edges of tortilla in and slightly over the filling and roll up. Place in the two prepared baking dishes, seam side down. Top with enchilada sauce and sprinkle with remaining shredded cheese.

Cover dishes with foil and bake for 20 minutes or until heated through. Remove foil and bake an additional 5 minutes.

Serve with your toppings of choice.
Notes
If you'd like to save time you can substitute two (15 ounce) cans of enchilada sauce for the Easy Enchilada Sauce. Baking Tip: Spray the underside of the foil with non-stick cooking spray before covering the casserole dishes so the cheese won't stick to the foil while baking. Make-Ahead/Freezer Instructions: Top casseroles with sauce but do not top with cheese. Allow unbaked casseroles to cool completely, cover tightly with foil, and freeze. To use, allow to partially thaw in refrigerator overnight. Remove from refrigerator 30 minutes before baking. Top with cheese and bake casseroles as directed, increasing time to 20-25 minutes or until heated through.
Nutrition
Calories: 383kcal | Carbohydrates: 20g | Protein: 29g | Fat: 20g | Saturated Fat: 12g | Cholesterol: 75mg | Sodium: 1143mg | Potassium: 440mg | Fiber: 4g | Sugar: 4g | Vitamin A: 965IU | Vitamin C: 8.5mg | Calcium: 499mg | Iron: 2.5mg
More Mexican-inspired casserole dishes you might like:
Mexican Stuffed Peppers
Chili Cornbread Bake
Chicken Tamale Casserole
Chicken Enchilada Casserole
Tamale Pie
Taco Pasta Bake
Easy Slow Cooker Chicken Enchiladas