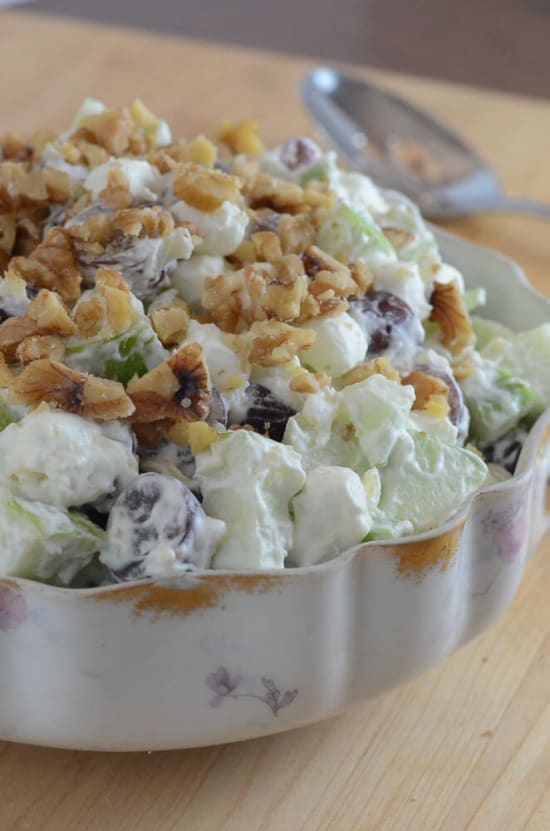 My mom really went to town on Thanksgiving. The food prep started early in the morning, before I was even out of bed, and the cooking continued throughout most of the day. By mid-day her apron was covered with flour from rolling out the most amazing, from scratch crescent rolls in existence and our house was filled with the smells of a great big turkey roasting in the oven with her traditional bread stuffing. Along with a bunch of other delicious dishes, this Waldorf Salad was a part of our Thanksgiving spread each and every year.
Traditional Waldorf salad calls for a simple mayonnaise dressing but my mom's ambrosia inspired version will always be my favorite. Instead of a boring, plain mayo dressing, she mixed some crushed pineapple along with some of the pineapple juice into fresh, sweet whipped cream. From time to time she would also add some mini marshmallows. They aren't a necessary addition, but they make me happy.
First, a few tips for making fresh whipped cream.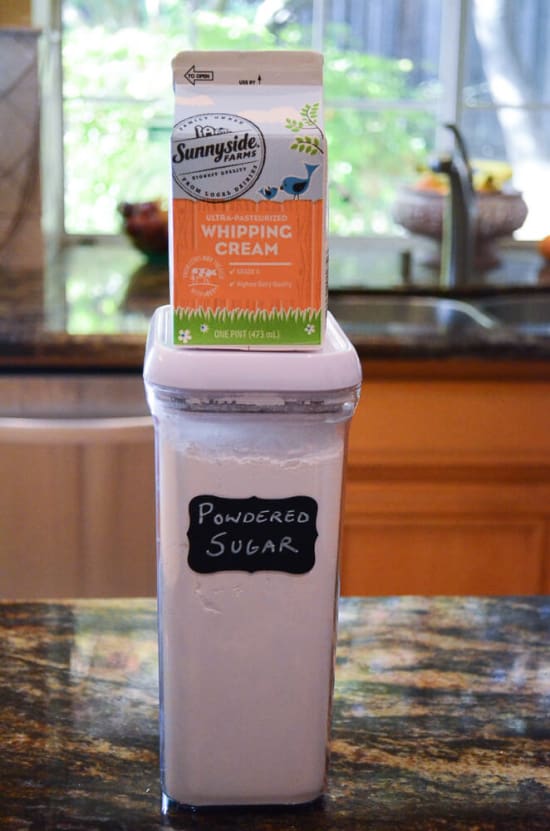 Fresh whipped cream consists of two ingredients, cream and sugar. You can use either powdered (confectioners') or granulated sugar. I prefer using the powdered variety since it dissolves easier, but either works.
I like to use a metal bowl and if I'm really on the ball, I'll place the bowl in the freezer for about 10 minutes ahead of time to get it icy cold. This step is not necessary but helpful.
Use an electric hand mixer or stand mixer to whip 1 cup of whipping cream. As soon as it begins to thicken and stiffen, add 2 tablespoons of either powdered or granulated sugar.
Continue to beat until thick, creamy, and peaks form when you pull the beaters out. Don't overbeat. Cover the bowl with plastic wrap or transfer to a bowl with a lid and store in the refrigerator until ready to use. It will keep well for several hours.
On to the salad…
The fresh ingredients – 3 Granny Smith apples, celery, and red seedless grapes.
Core and dice the apples, dice the celery, and cut the grapes in half.
Transfer it all to a large mixing bowl.
Drain off as much of the juice from the crushed pineapple as possible. We'll be needing that juice so hang on to it.
Time to go grab the whipped cream from the fridge. Add 1 tablespoon of the reserved pineapple juice and all of the drained pineapple to the whipped cream and mix to combine. Add another 2 tablespoons of pineapple juice directly to the apple mixture and toss it to combine. The pineapple juice helps to keep the fruit fresh.
Transfer the whipped cream dressing to the fruit mixture.
Mix well to distribute the whipped cream dressing.
Finally, add about 1 cup of mini marshmallows if you are so inclined. Happiness.
A cool, fresh, sweet addition to the Thanksgiving meal. I look forward to it every year!
Ingredients
3

green apples, washed and diced

3

cups halved red seedless grapes

3

celery ribs, diced

1

cup mini marshmallows

2

cups prepared fresh whipped cream or Cool Whip

1

(8 ounce) can crushed pineapple, drained, juice reserved

1/3

cup finely chopped walnuts, for garnish
Instructions
Combine apples, grapes, and celery in a large mixing bowl, set aside.
In a separate smaller bowl, combine whipped cream or Cool Whip with the drained crushed pineapple and 1 tablespoon of the reserved juice from the can. Add an additional 2 tablespoons of the reserved pineapple juice to the fruit mixture and toss to combine. Fold the whipped cream into the fruit mixture and mix together. Fold in 1/2 cup mini marshmallows. Sprinkle walnuts over the top as a garnish and serve.
Recipe Notes
Refrigerate any leftovers in an airtight container. Best if eaten within a few days. If the salad is made with fresh whipped cream, the leftovers will stay fresher for longer than if you use Cool Whip.