A fresh and creamy avocado based dressing combines with chicken and crisp bacon to create these Avocado Bacon Chicken Salad Sandwiches.
Click HERE to sign up for your FREE email subscription and never miss a recipe!
Since it's late summer and avocados have been looking mighty good, I've been going a little avocado crazy for the past couple of weeks. It's easy to go avocado crazy when you are as crazy for avocados as I am.
It started with my creamy Avocado Ranch Dressing and Dip and now I've moved on to this wonderful twist on chicken salad.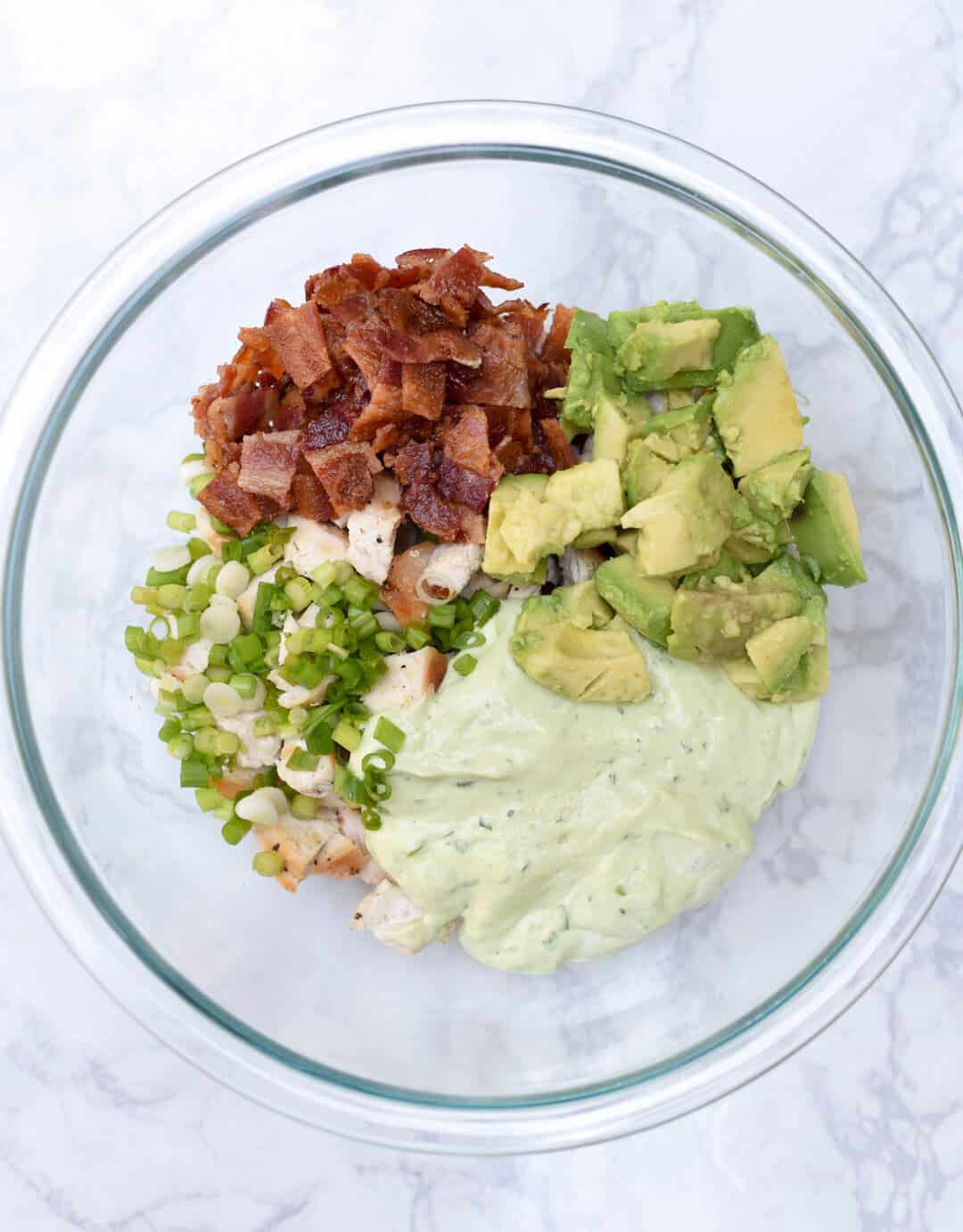 The dressing is quickly whirled together in your food processor and consists of avocado, lemon juice, garlic, a little mayo, sour cream, and salt and pepper. The dressing is combined with cooked, chopped chicken, sliced green onion, BACON, and because you can never have too much, more avocado.
I cooked up my own chicken for this recipe (see the recipe card below to see how I did it) but this recipe would be an excellent way to make use of a rotisserie chicken. Hello Costco!
Honestly, I can eat this with a fork right out of the bowl but it's also delicious on sandwich rolls, toasted grainy bread, rolled into a wrap, or simply mounded on spring greens.
More tasty chicken salad recipes I love:
Crunchy Sweet Chicken Salad Sandwiches
Curry Chicken Salad Sandwiches
Cranberry Almond Poppy Seed Chicken Salad

Ingredients
2 large ripe avocados
1 lemon juiced divided
1/3 cup mayonnaise
1/4 cup sour cream
1 tablespoon chopped fresh Italian flat leaf parsley
1/2 teaspoon minced garlic
salt and fresh ground black pepper to taste
1-1/2 pounds cooked skinless boneless chicken breasts, cooled (2-1/2 heaping cups chopped)
5 strips cooked bacon crumbled
2 thinly sliced green onions
Instructions
Peel and chop the avocados. Place in a bowl and sprinkle with 1 tablespoon lemon juice.

In the bowl of a food processor, combine mayonnaise, sour cream, parsley, minced garlic, a quarter of the diced avocado, the remaining lemon juice, and a little salt and fresh ground black pepper. Blend until smooth.

Chop the cooked and cooled chicken and transfer to a large bowl. Add the bacon, green onion, remaining diced avocado, and the dressing, and gently fold the mixture together. Season with additional salt and pepper, to taste.

Serve on sandwich rolls, on toasted whole wheat bread, or roll it into wraps.
Notes
Feel free to use rotisserie chicken or cook your own. Here's how I cooked mine. Add a couple of tablespoons of olive oil to a non-stick skillet and place over MEDIUM heat. Add chicken for about 4 minutes, per side, or until thoroughly cooked and no longer pink in center. Season with a bit of salt and pepper while it cooks. Remove to a cutting board and allow to cool for several minutes. Chop the chicken into small, bite-sized pieces and allow to cool completely
Nutrition
Calories: 517kcal | Carbohydrates: 8g | Protein: 29g | Fat: 42g | Saturated Fat: 10g | Cholesterol: 99mg | Sodium: 566mg | Fiber: 5g | Sugar: 1g