An oven-fry method creates this crispy Baked Eggplant Parmesan that rivals any fried version. An easy, updated take on the classic Italian dish.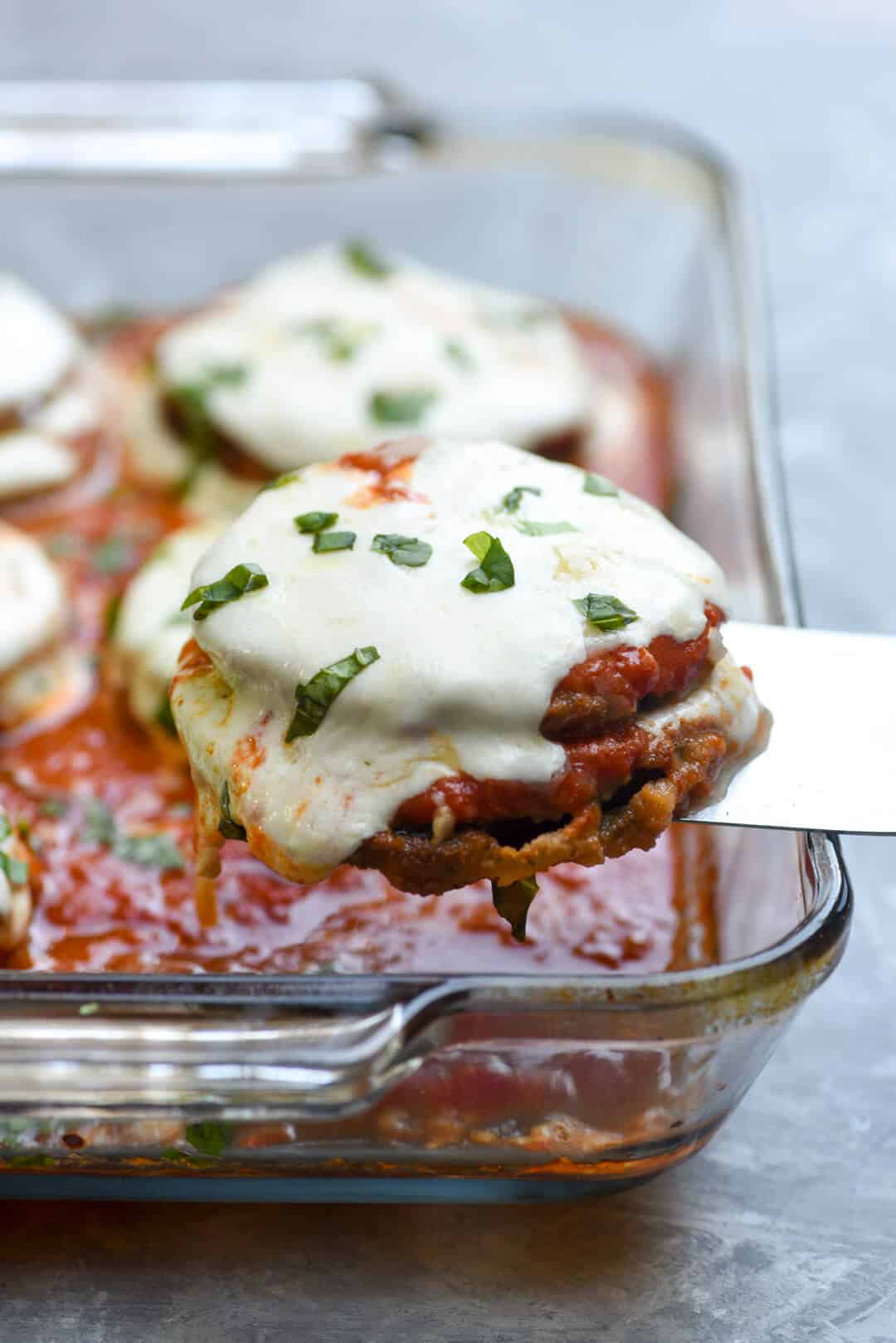 This post was originally published on September 11, 2011. It has been updated with new photos and an instructional video.
Aaahhh, cheesy Baked Eggplant Parmesan. One of my husband's favorites. I remember making it for the first time ages ago and wondering how my kids would perceive it. I mean, there's no meat in it! Not necessarily an easy selling point to four teenage boys.
Because it resembles lasagna they dove right in without even asking what it was… and it was love at first bite. So, there you go!
I find this oven-fry method is easier to prepare than the traditional fried version and it's definitely a little easier on the waistline without forfeiting any of the delicious flavor or texture. Try it and you'll see.
How to Sweat Eggplant
Don't sweat the small stuff…. but definitely sweat your eggplant! Eggplant can have bitterness to it and this process of "sweating" helps eliminate that. Not all of them will have that bitter element, but to me it's not worth the risk so I always take this extra step when I make this Baked Eggplant Parmesan.
Sweating is the process of salting your eggplant slices and allowing them to rest for about an hour or more. The salt will pull some of the potentially bitter liquid from the eggplant. Less moisture in the eggplant slices also helps them to crisp up nicely in the "oven-fry" method in this recipe. Once they've sweat, just be sure to rinse them well with cool water to remove the excess salt and blot them dry before breading them.
Should I Peel the Eggplant?
Whether you peel them is personal preference. It isn't necessary and I love the deep purple color not to mention that there are vitamins and additional flavor in the skin. I've done it both ways with this Baked Eggplant Parmesan recipe but took the easy way out here and left the skin on.
You could mix things up by using different varieties of Italian cheese but for this recipe I always go with sliced fresh mozzarella and a little Parmesan. The fresh mozz has such a luscious, creamy quality and layers nicely on the eggplant stacks.
This is one of our favorite Italian-inspired meals in this house. I've made it countless times and it remains at the top of the list!
More fabulous ways to use eggplant:
Julia Child's Eggplant Pizzas | Kayln's Kitchen
Eggplant Fries with Marinara Sauce | A Family Feast
Garlic and Roasted Eggplant Hummus | Melanie Makes
Stuffed Eggplant | The Little Kitchen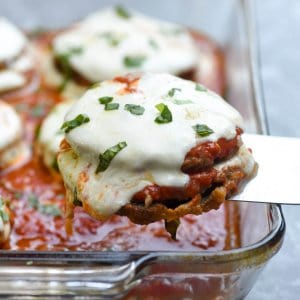 Baked Eggplant Parmesan
An oven-fry method creates this crispy Baked Eggplant Parmesan that rivals any fried version. An easy, updated take on the classic Italian dish.
Print
Pin
Rate
Servings: 6 servings
Calories: 491kcal
Ingredients
3 eggplant sliced ¼-inch thick (you'll need 12 slices)
salt
3 eggs beaten
8 ounce box Italian seasoned panko bread crumbs
26 ounce jar marinara sauce
16 ounces fresh mozzarella cheese thinly sliced
½ cup grated parmesan cheese
¼ cup chopped fresh basil or 1 teaspoon dried basil
cooking spray
Instructions
Sprinkle some salt on both sides of each slice of eggplant. Layer the slices in a colander and place the colander in your sink. Place a heavy dish or pan over the top to press them down. Allow to sweat for 30 to 45 minutes. Rinse well with cold water to remove salt and blot dry with paper towels.

Preheat oven to 400 degrees F. Spray a rimmed baking sheet generously with cooking spray. Dip eggplant slices in egg, then in bread crumbs, pressing crumbs down with fingers if needed to cover evenly. Place in a single layer on oiled baking sheet and lightly spray tops of breaded eggplant with cooking spray. Bake in preheated oven for 10 minutes then carefully flip each slice and cook an additional 5 to 10 minutes, until nicely browned. Remove from oven and reduce oven temperature to 350 degrees F.

In a 9- x13-inch baking dish, spread just enough marinara to cover bottom of dish. Place a layer of eggplant slices in the sauce. Cover each slice with a spoon full of marinara, a slice or two of mozzarella, and then sprinkle with parmesan cheese. Repeat with one more layer. Pour any leftover marinara and around edges of eggplant slices and top with any cheese that is left. Sprinkle basil on top.

Bake, uncovered, in preheated oven for 30 minutes.
Nutrition
Calories: 491kcal | Carbohydrates: 48g | Protein: 33g | Fat: 19g | Saturated Fat: 10g | Cholesterol: 137mg | Sodium: 1779mg | Potassium: 1122mg | Fiber: 10g | Sugar: 16g | Vitamin A: 1265IU | Vitamin C: 14.9mg | Calcium: 803mg | Iron: 4.3mg
Slightly adapted from Allrecipes.com