I'm updating classic chicken parmesan with a little pesto and skipping the skillet with a clean and easy baking method. Baked Chicken Pesto Parmesan is a fast and easy meal your family will love!
From time to time I open my fridge and glance at what I've got on hand and just go for it. That's what happened with this updated version of chicken parmesan and I'm excited to be sharing the result with you all today.
Frist, it's SO delicious. Seriously BIG time delicious.
Second, it's totally easy to pull together and the end result looks and tastes as if you've put a ton of effort into it.
Third, the clean and easy baking method means you'll use less oil and cleanup will be pretty effortless.  
Crispy breaded chicken breasts are topped with a little bit of marinara, some pesto, and a blanket of fresh mozzarella, then sprinkled with Parmesan and baked until the cheese is melted and glorious.
If you've ever had issues with your nicely breaded chicken parm absorbing too much sauce and becoming soggy, you're going to love this method. The key is to spoon just enough sauce on each piece towards the end of the baking time and I'm going to show you just how it's done right here and right now. Let's do it!
It's important to use thin-sliced boneless chicken breasts so they will cook quickly and evenly. If you don't buy the thin-sliced variety, you'll need to pound them or slice them into thinner pieces. Coat both sides of each piece of chicken first in a mixture of milk and egg.
Next, dredge the chicken in the breading mixture which consists of Italian style panko bread crumbs, Italian seasoning, fresh ground black pepper, and Parmesan. See the recipe below for the precise measurements.
Transfer the breaded chicken to a rimmed baking sheet that has been generously coated with non-stick cooking spray. I like to use a baking sheet that has seen it's fair share of use for my "oven-fry" recipes. The darker metal of the used baking sheet will result in better browning and a crispier result. Lightly spray the tops of the breaded chicken with some non-stick cooking spray and add a drizzle of olive oil for good measure. We don't want the breading to stick to the pan once we flip the pieces over.
Bake the chicken in a preheated 425 degree oven for about 15 minutes; flip it and let it go another 10 minutes or until nicely browned on both sides.
Remove the pan from the oven and spoon 2 or 3 tablespoons of good jarred marinara sauce over the top of each piece.
Follow up with a couple tablespoons of pesto. I keep a big container of pesto in my fridge at all times (thank you, Costco) and this is just one of many delicious ways I've found to use it.
Finally, add some thinly sliced fresh mozzarella and a sprinkle of Parmesan. Return the pan to the oven for about 5 minutes, or till the sauces have warmed through and the cheese is melted. If you're looking to lighten this recipe up a bit – go with shredded mozzarella and you can use half the amount called for here.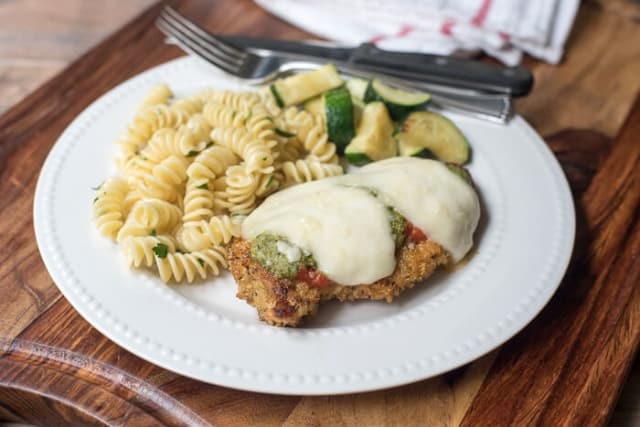 This chicken is delicious served with simply prepared pasta, a veggie side, and a glass of red.  Perfection!
Baked Chicken Pesto Parmesan
Prep Time 5 minutes
Cook Time 35 minutes
Total Time 40 minutes
Servings 4
Change the number in the box above to adjust serving size. Please note that size of cookware and cook time may vary.
Ingredients
4 thin-sliced boneless skinless chicken breasts
1 cup Italian-style panko bread crumbs
2 teaspoons Italian seasoning
fresh ground black pepper to taste
1/2 cup grated Parmesan cheese divided
1 egg lightly beaten
1/2 cup milk
olive oil as needed
8 ounces fresh mozzarella thinly sliced
Instructions
Preheat oven to 425 degrees F. Generously coat a large rimmed baking sheet with non-stick cooking spray.

In a low, shallow dish (a pie plate works perfectly) combine bread crumbs, Italian seasoning, pepper, and 1/4 cup Parmesan cheese. In a separate shallow dish whisk together the egg and milk.

Dip each chicken breast first in the egg mixture and then dredge both sides in the bread crumb mixture, pushing crumbs onto the surface of the chicken with your hands to help them stick. Transfer the breaded chicken to the prepared baking sheet. Wash your hands well.

Spray the top of the breaded chicken lightly with non-stick cooking spray and add a light drizzle of olive oil on each piece. Place baking sheet in the oven and bake for 15 minutes, or until golden brown on bottom side. Flip pieces over and return to oven for an additional 10 to 15 minutes, or until golden brown and crisped. Remove baking sheet from oven and spoon 2 to 3 tablespoons of marinara sauce over each piece of chicken, followed by 1 to 2 tablespoons of pesto, the mozzarella cheese, and a sprinkling of Parmesan. Return the baking sheet to the oven and cook for an additional 5 minutes, or until sauces are warmed through and cheese has melted.

Delicious served with the cooked pasta of your choice.
Recipe Notes
It is important to use thin-sliced chicken for this recipe. If you are using thicker cut breasts, be sure to pound them or slice them thin to ensure quick and even cooking.