This is a sponsored post written by me on behalf of The Marzetti® Brand. All opinions are 100% mine.
Tender butter lettuce, sweet red grapes, and tangy Gorgonzola cheese are topped with toasted walnuts and a delicious vineyard-inspired balsamic dressing. This easy to prepare salad is one of my favorites.
The first time I experienced this combination of ingredients was at a cute little sandwich shop Paul and I used to go to for lunch. I really shouldn't refer to it as a sandwich shop because the offerings went far beyond sandwiches. There were freshly baked pasta dishes, soups that nearly brought me to tears, and a meatloaf that was so incredible I'd have paid good money for the recipe. The talented lady who ran the place used only the freshest ingredients and everything she made was far above par.
We absolutely LOVED the little Butter Lettuce Salad with Grapes and Gorgonzola that came with our lunch. Lunch also came with a freshly baked cookie (still warm) but that is a story for another day. Today is about salad.
I had a sinking feeling the place wouldn't be around for long because I just knew she would move on to bigger and better things. I was right. But, her salad stuck with me and thankfully, it's super easy to prepare at home.
As soon as I got my hands on the new line of Marzetti® Vineyard Dressing, I knew this salad was going to have to happen. The Marzetti® Vineyard Dressing Balsamic Cabernet flavor is spot-on perfect for this salad. It's got a great balsamic punch along with garlic, fresh ground pepper, and a hint of rosemary – the perfect combination of ingredients to pair with grapes, Gorgonzola, and walnuts. I've always felt this salad was reminiscent of Napa and I can't imagine a better way to dress it than with a salad dressing inspired by the vine!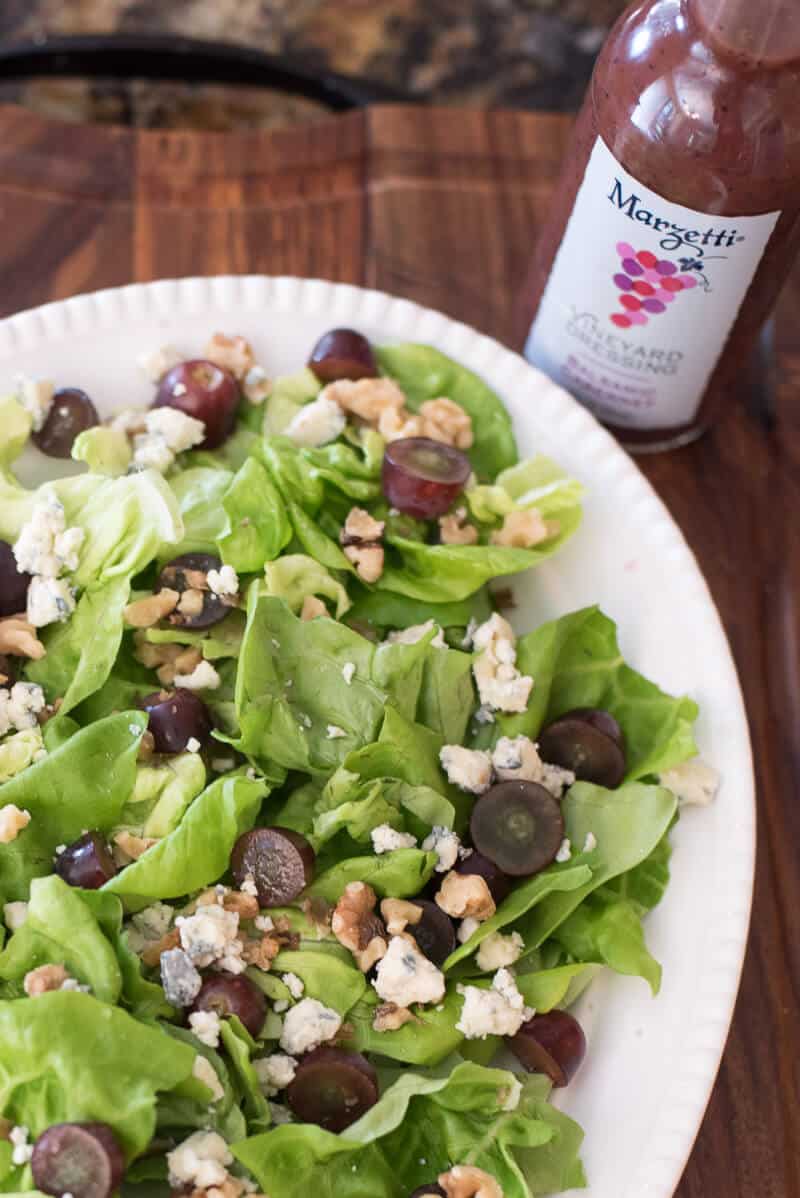 Butter lettuce is a delicate, tender lettuce which means this is not a salad you want to make ahead. Assemble it just before you're ready to serve. It only takes minutes to put together and it will be perfectly fresh and wonderful.
In addition to the Marzetti® Balsamic Cabernet Vineyard Dressing, there are five other seriously delicious flavors to help inspire your creativity in the kitchen. You'll find them in the produce department with the refrigerated dressings. Check the Marzetti® Vineyard Dressing product locator to find out where you can find them in your area.
Ingredients
1 head butter lettuce
1/2 cup walnuts roughly chopped
1 cup halved red grapes
4 ounces crumbled Gorgonzola cheese
Marzetti® Vineyard Dressing Balsamic Cabernet to taste
Instructions
Preheat oven to 350 degrees F. Place walnuts on a baking sheet or small oven-proof dish and bake for 5 minutes, or until lightly toasted. Remove from oven and allow to cool while assembling salad.

Layer salad ingredients on a platter or in a salad bowl. Drizzle with dressing and serve.