This Apple Cabbage Salad with Walnuts and Gorgonzola is a delicious way to add a fresh, crisp element to your holiday menu.
Anyone else feeling a little over-indulged from the holiday season yet?
After powering our way through a very delicious Thanksgiving (that included a few more pieces of pie than I care to mention), I feel the need to include something fresh and wholesome on my Christmas menu. This Apple Cabbage Salad with Walnuts and Gorgonzola is one of my favorite salads of all time and a delicious way to add a fresh element to your holiday menu.
Just a few weeks ago, I had grand illusions of weekends spent decorating and baking, wrapping gifts way in advance, and nights filled with popcorn and Christmas movies. Yes, all these things happen. But they happen along with life.
Work, school, finals week for the boys, Boy #4's Winter Formal, more work, you get the drift. It's a bit frenzied, even frantic at times, but all the same, it's Christmas.
As I write this, Adam is at his Winter Formal. Just a couple of hours ago, I had a house full of beautiful girls and handsome boys all decked out in their prom attire posing for photos. I'm treasuring every one of these moments with our youngest.
Even at a tux fitting on an extremely busy day, I'm present, snapping photos with my phone when he's not looking. I don't want to miss a thing. This is his last year at home with us before he heads off to college which makes this a very special Christmas for our family.
Since I always do a traditional turkey at Thanksgiving (this Dry Brine Turkey is spectacular!), I almost always do my Roasted Beef Tenderloin with Port Wine Gravy for Christmas Eve. I love beef for Christmas and this Apple Cabbage Salad is a great complement to both beef tenderloin and prime rib. The ingredients are chopped so that you get a little bit of everything in each bite. The cabbage is crisp, the apples are sweet and tart, and the gorgonzola cheese and walnuts keep you coming back for more. It's all topped off with a light apple cider based vinaigrette which adds a special festive touch for the holidays.
How to Make the Apple Cider Vinaigrette
This sweet and tangy dressing is what takes this salad to a special place. It consists of apple cider (not apple juice), rice vinegar, Dijon mustard, honey, olive oil, salt, pepper, and fresh lemon juice. Before combining the apple cider with the other ingredients it is reduced for a more concentrated flavor. It's a super easy task but it takes a little time on the stove so I always make it in advance.
Place two cups of apple cider in a heavy saucepan and place it over MEDIUM-HIGH heat. Bring it to a boil, then reduce the heat to MEDIUM and continue to simmer the cider at a low boil for about ten minutes or until the mixture has reduced to about half. This will happen, really. I didn't believe it the first time I heard it either.
Remove the reduced cider from the heat and whisk in the remaining dressing ingredients, except the olive oil. Let the dressing cool for a couple of minutes and then transfer to a container and place in refrigerator to cool completely. If you are rushed for time, you can place the dressing in the freezer for 10 or 15 minutes to cool it more quickly.
Once the mixture has cooled completely, whisk in the olive oil. You can use the dressing right away or place it in a mason jar or other airtight container and refrigerate it for a day or two until you are ready for it.
What's the Difference Between Seasoned and Unseasoned Rice Vinegar?
You will see both seasoned and unseasoned rice vinegar available at the grocery store which can be confusing if you don't know the difference.
Rice vinegar is a mild, slightly sweet vinegar that works really well to brighten up salad dressings. Seasoned rice vinegar is exactly that – it's rice vinegar that has been seasoned with additional sugar and salt. This recipe calls for the unseasoned variety since we are adding other ingredients to create flavor. That being said, I've made this dressing with both varieties with a good result so don't fret if you've picked up the seasoned variety by mistake.
Napa Cabbage vs. Green Cabbage
While regular green cabbage is just the thing for a classic coleslaw, I love Napa cabbage in this salad. It has a fancier quality to it which is just perfect for a holiday menu. Napa cabbage leaves are softer and sweeter but still plenty crisp without the "rubbery" quality of green cabbage.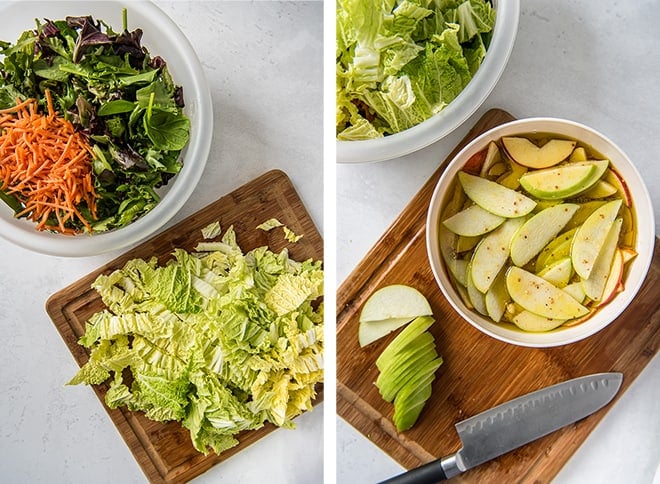 Start by slicing up your head of Napa cabbage and discard the innermost part which is yellowish in color. I always rinse and spin my sliced cabbage in my salad spinner to be sure it is clean and free of debris.
You will combine the cabbage with a bagged spring salad mix. I like to run my knife through the greens a few times to make everything bite-size. The variety of colors in the spring mix are going to make this one pretty salad. You can julienne your own carrots or to save time, pick up a bag of shredded carrots in the produce section.
How to Prevent the Apples from Browning
Remember that dressing that's been chillin'? Here's a pretty cool trick.
As you slice the apples, add them to the dressing. The vinegar and lemon juice will help prevent the sliced apples from turning brown and as an added bonus, each apple with soak up a little of the yummy dressing. I like to use both a red and green apple for color.
To finish the salad add as much dressing as you'd like and give the salad a good toss to distribute the dressing throughout. Top it off with the fresh chives, Gorgonzola cheese and walnuts. You can chop the walnuts if you like but I just use my hands to break them into large pieces as I add them to the salad. Gorgonzola and walnuts are seriously a match made in heaven and SO good in this salad.
Apple Cabbage Salad with Walnuts and Gorgonzola is a beautiful choice for a Christmas buffet. Color, texture, and amazing flavor.
It is my sincerest hope that you have a wonderful holiday filled with friends, family, and of course, delicious food!
Happy Holidays!
This post was originally published on December 21, 2012. It has been updated with new text and images but the recipe and sweet memories remain the same.
Apple Cabbage Salad with Walnuts and Gorgonzola
This Apple Cabbage Salad with Walnuts and Gorgonzola is a delicious way to add a fresh, crisp element to your holiday menu


Ingredients
Apple Cider Vinaigrette:
2

cups

apple cider

1/2

cup

rice vinegar

2

tablespoons

Dijon mustard

2

tablespoons

fresh lemon juice

2

tablespoons

honey

Salt and fresh ground pepper

,

to taste

1/2

cup

olive oil
Salad:
2

apples

,

red, green, or both

1

small head

Napa cabbage

7

ounces

mixed greens (spring mix)

1

cup

julienned baby carrots

3

tablespoons

fresh chives

,

cut into 1" pieces

1/3

cup

roughly chopped walnuts

1/3

cup

crumbled Gorgonzola cheese

,

or to taste
Instructions
For the Apple Cider Vinaigrette:
Place 2 cups apple cider in a heavy saucepan and place over medium high heat. Bring to a boil then reduce heat to medium. Simmer at a low boil for about 10 minutes or till mixtures reduces by half. Remove pan from heat and add rice wine vinegar, mustard, lemon juice, honey, salt and fresh ground pepper. Allow to cool for a few minutes then transfer to a bowl or other container and place in the refrigerator to cool completely. You can place it in the freezer to cool more quickly but check frequently and pull out as soon as it is chilled.
For the Salad:
Finely slice the Napa cabbage and give it a rinse, draining well. Place the sliced cabbage in a large salad bowl. Transfer the contents of the bagged salad mix to your cutting board and run your knife through it a couple times. Add chopped mixed greens to the cabbage and toss to combine. Add the julienned carrots.

When the dressing has completely cooled, whisk in the olive oil. Core and thinly slice the apples, adding them to the dressing as you work, to prevent them from discoloring. Use a spoon to transfer the apples from the dressing to the salad and then toss the salad with just enough dressing to lightly coat the ingredients.

Top the tossed salad with the chopped fresh chives, walnuts, and crumbled Gorgonzola cheese.

Serve immediately.
Notes
Prep time shown does not include time to chill dressing.
Nutrition
Calories:
215
kcal
·
Carbohydrates:
19
g
·
Protein:
3
g
·
Fat:
15
g
·
Saturated Fat:
3
g
·
Cholesterol:
3
mg
·
Sodium:
113
mg
·
Potassium:
396
mg
·
Fiber:
3
g
·
Sugar:
14
g
·
Vitamin A:
2364
IU
·
Vitamin C:
33
mg
·
Calcium:
107
mg
·
Iron:
1
mg
Nutrition information is automatically calculated using generic ingredients, and is an estimate not a guarantee. For more accurate results, please refer to the labels on your ingredients at home.
Did You Make This?
We love seeing what you've made! Tag us on social media at @fromvalerieskitchen for a chance to be featured