I had brunch with my oldest yesterday. I get to do that kind of thing now, as the mother of grown people. I get to say "Hey, wanna meet up for brunch" and he says "Yes!" and we meet up for brunch. It's a beautiful thing. Our conversations have gone way past X-Men and Power Rangers. We talk, drink coffee, eat too much, and he makes me laugh; so much like his father even though he doesn't see it. All the work, worry, illness, school projects, broken hearts, teenage strife, it all leads to this. The payoff, the jackpot – this incredible man sitting across the table from me.
When they were very young, I remember trying to picture what our lives would be like through time, as they grew and moved on to the next big thing. Middle school, high school, college. But that's where it ended. I never really thought past that point.
And now, here we are. Past that point.
When you have little ones in your house, it is hard to imagine a time when there won't be a constant demand on your time and focus. You get into that parenting groove and then a funny thing happens. Even when those demands ease, you don't get it. It takes time for it to set in. With my youngest finishing his first year of college, I'm just now beginning to get it. I came home from work the other day, picked up a book and read – for three hours – stopping only to eat a quick dinner. I'm learning to sleep again – I mean really sleep. It takes years to learn how to turn off the mom radar at night. I'm not sure that will ever completely go away. Funny thing is, just as I'm adjusting, the school year is coming to an end. Come June, we'll have three out of the four back for the summer. So, I have to laugh when people call us "empty nesters". Not quite yet. And, I couldn't be happier.
It's a beautiful thing.
What does all of this have to do with tacos? Nothing! Shall we talk about taco's now? Okay.
This is my version of carne asada and it's bright, fresh, and wonderful. The marinade includes olive oil, cilantro, garlic, jalapeno, smoked paprika, cumin, salt and peppa, fresh lime and orange juice, and a touch of sugar.
Giving it a whirl in a food processor creates a thick, lush puree of goodness that will do very nice things to a flank steak.
Place your unsuspecting flank steak in a baking dish and coat both sides with the marinade. Cover the dish and refrigerate the steak for at least 2 hours, or preferably, closer to 6 or even 8.

Anything goes as far as toppings but I like to include a Mexican cheese. This time it was Cotija, a sharp, salty, pungent cheese. Queso Fresco is lighter and milder than Cotija and also a great choice. Both crumble up beautifully and lend a more authentic look and taste to these tacos.
Flank steak is a thin cut that cooks up pretty quickly on the grill. It's best grilled to a nice medium rare. Be sure not to let it go too long or it can get tough. About 10 minutes per side should suffice.
Remove it to a cutting board and allow it to rest for 10 minutes. Slice it against the grain and then cut the slices down into smaller pieces that will fit well in your tortillas.
We topped ours with pico de gallo, chopped avocado, and crumbled cotija.
I believe a couple of very cold beers or some margaritas are in order.
Thanks for indulging me in my mama ramblings. Try the carne asada! I hope you love it as much as we do.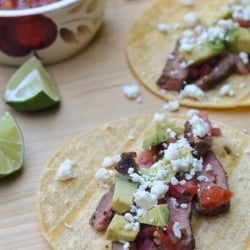 Carne Asada Tacos
Ingredients
2

pounds

flank or skirt steak

corn or flour soft taco size tortillas

,

toasted in a dry skillet
For the Marinade:
1/3

cup

olive oil

3

whole garlic cloves or 1 teaspoon minced garlic

1

jalapeno

,

seeded as desired

1/2

teaspoon

smoked paprika

1/2

teaspoon

ground cumin

1/2

bunch fresh cilantro

sea salt and freshly ground black pepper

,

to taste

1

lime

,

juiced

1

orange

,

juiced

1/2

teaspoon

sugar
Optional Garnishes:
cotija or queso fresco Mexican cheese

,

crumbled

pico de gallo or salsa

avocado or guacamole

sour cream

lime wedges
Instructions
Place all ingredients for marinade in the bowl of a food processor. Process until well pureed.

Place the steak in a baking dish large enough to allow it to lay flat. Spread the marinade mixture evenly over both sides of the steak. Cover dish and refrigerate for at least 2 hours or up to 8.

Grill steak until medium-rare to medium a hint of pink, about 7 to 10 minutes on each side. Remove to a cutting board and allow to rest for 5 minutes before slicing against the grain. Cut the slices down into pieces that will fit well in tortillas.

Serve on warmed tortillas with desired toppings.
Nutrition information is automatically calculated using generic ingredients, and is an estimate not a guarantee. For more accurate results, please refer to the labels on your ingredients at home.
Did You Make This?
We love seeing what you've made! Tag us on social media at @fromvalerieskitchen for a chance to be featured