This clever recipe makes use of leftover sandwich rolls to create this easy peasy garlic bread. Cheater Garlic Bread takes just minutes to prepare and is surprisingly delicious!
Click HERE to sign up for your FREE email subscription and never miss a recipe!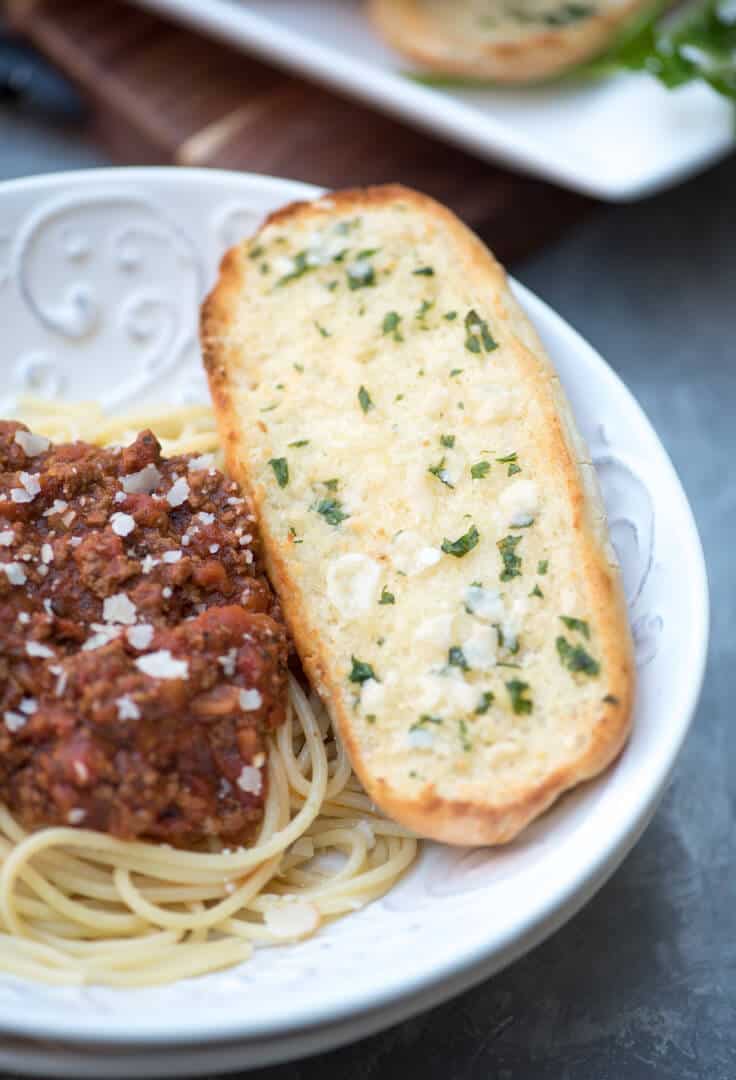 Many a time in my long and illustrious career as a home cook, I've landed in the position of having extra sandwich rolls on my hands. You know, when you buy two packages because there's only six rolls per pack and you need eight? I hate seeing anything go to waste in the kitchen so recipe hacks like this are A-okay in my book.  
This sandwich roll made into garlic bread concept caught my eye on Allrecipes about 10 pounds… I mean… 10 years ago, and my boys were so crazy about the result I started buying sandwich rolls specifically to make it.
It's absolutely perfect for serving with a big bowl of pasta like this lovely spaghetti with my Easy Homemade Spaghetti Sauce that I  shared with you recently.
The five ingredient smear consists of softened butter, a little mayonnaise (I know!), fresh parsley, garlic powder (or granulated garlic), and minced garlic. It may seem a bit odd to add mayonnaise, and I realize we are completely departing from traditional Italian garlic bread here, but you're going to have to trust me on this one. It's pretty darn good.
Separate the sandwich rolls, place them on a foil lined baking sheet, spread them with the garlic butter mixture and sprinkle them with a little Parmesan. Pop the baking sheet in a preheated 400 degree F oven for about 5 minutes and then switch the oven to BROIL for just a minute to get them nice and toasty.
Buttery, garlic-y, with a slight tang from the mayo and a salty bite from the Parmesan. Perfect every time!
More easy Italian side dish ideas:
Antipasto Salad | Taste and Tell Blog
Easy Garlic Parmesan Knots | Valerie's Kitchen
Garlic Cheese Pull Apart Bread | Your Homebased Mom
Olive Garden Salad Dressing | CopyKat Recipes
Italian Style Wedge Salad | Cupcakes & Kale Chips
CHEATER GARLIC BREAD
Cheater Garlic Bread
Prep Time 5 minutes
Cook Time 7 minutes
Total Time 12 minutes
Servings 6
Change the number in the box above to adjust serving size. Please note that size of cookware and cook time may vary.
Ingredients
1/4 cup butter softened
1 tablespoon mayonnaise
1/2 teaspoon minced fresh garlic
1/2 teaspoon granulated garlic or garlic powder
1 tablespoon minced fresh Italian flat leaf parsley
1/4 cup grated or shaved Parmesan cheese divided
3 hoagie style rolls split in half
Instructions
Preheat the oven to 400 degrees F. Line a baking sheet with aluminum foil.

In a small bowl combine softened butter, mayonnaise, minced garlic, granulated garlic (or garlic powder), and parsley.

Spread equal amounts of the garlic butter mixture on each roll half. Place roll halves on the prepared baking sheet and sprinkle with Parmesan cheese.

Bake for 5 minutes then turn oven to BROIL for an additional minute or two, just until toasted and lightly golden brown, watching closely so it doesn't burn.