This hearty, one-pot Cheesy Beef Skillet Pasta is a great choice for a busy weeknight. Ready in 30 minutes, packed with beef, vegetables, pasta and cheese. It is sure to please the entire family.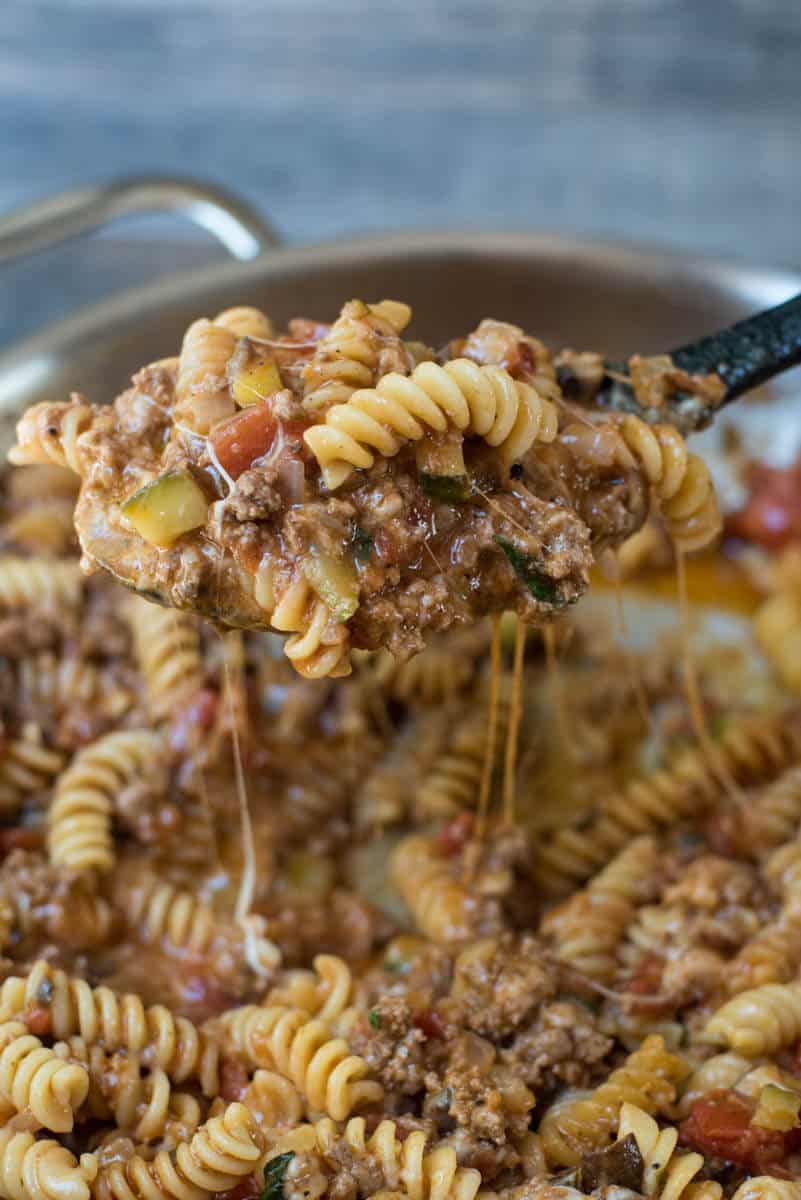 I've had a very full house for the past month. They fly the coop, it feels as if they've been gone forever, and then you wake up one day and you've got people swarming around your kitchen looking for food.
The number of people in this house seems to be a constantly fluctuating thing these days and I've got to be ready to go with the flow. Yet it seems that whenever I get used to cooking the big meals again, they are heading back out that revolving door.
This is the true story about life in a big family with grown kids.  
I don't want anyone thinking we are splurging on beefy, cheesy pasta on a nightly basis. Most nights you'll find me in my kitchen tossing a big grilled chicken salad or searing mahi mahi and serving it with mashed sweet potatoes and sauteed spinach. But, when I've got big guys with big appetites around, this kind of meal is just what's in order. Every now and then you just need a good Cheesy Beef Skillet Pasta. Right? Right.
And, you gotta love pasta leftovers. Especially when you have a house full.
As the name implies, everything in this recipe cooks together in one skillet to create this delicious dish. Ground beef, onion, zucchini, mushrooms, diced tomatoes, tomato sauce, beef broth, dry pasta, and seasonings.
It's all brought to a boil and then covered and simmered for 15 minutes until the pasta is al dente. Time to add a little fresh basil.
Then sprinkle on some shredded mozzarella and Parmesan cheese and pop it under the broiler for a minute or two until it melted and bubbly.
I served it with a great big Caesar salad with homemade croutons. People were happy.
Very happy.
This meal is guaranteed to provide comfort and satisfy the seemingly insatiable appetite of a college aged male.
And, I loved it too!
Cheesy Beef Skillet Pasta
Prep Time 5 minutes
Cook Time 25 minutes
Total Time 30 minutes
Servings 4
Change the number in the box above to adjust serving size. Please note that size of cookware and cook time may vary.
Ingredients
2 tablespoons olive oil
1 cup diced white or yellow onion
1 cup diced zucchini
1 teaspoon minced garlic
1 pound lean ground beef
1 to 2 teaspoons Italian seasoning
1/2 teaspoon salt
fresh ground black pepper to taste
1 15 ounce can fire-roasted diced tomatoes
1 8 ounce can tomato sauce
1 cup low-sodium beef broth
1 cup chopped mushrooms
2-1/2 cups dry pasta fussili or penne works well
1/4 cup chopped fresh basil
1 cup shredded mozzarella
1/3 cup shredded Parmesan
Instructions
Preheat your oven to BROIL.

Add oil to a 12" skillet and place over medium heat. Add onion, zucchini, and garlic and saute for a couple of minutes, or until onion is slightly softened and zucchini is fork tender. Add beef and cook, stirring to break up, until browned.

Drain off as much grease from the pan as possible and return to the heat. Sprinkle beef with Italian seasoning, salt, and pepper. Add diced tomatoes, tomato sauce, beef broth, mushrooms, and dry pasta to the pan. Stir to combine and bring to a boil. Cover skillet, reduce heat to LOW and simmer for 15 minutes or until pasta is al dente.

Stir in basil. Sprinkle mozzarella and Parmesan over the pasta and transfer skillet to the oven. BROIL just until cheese is melted and bubbly.