This Coconut Curry Chicken is a comforting, flavor-packed meal. Serve this curry infused chicken with cauliflower and red bell pepper over rice for a super satisfying dinner.
I was lucky to have a Mom who developed an interest in cooking things that you didn't find on most of the dinner tables in the homes around us. Don't get me wrong, there was plenty of pot roast, stuffed bell peppers, tacos, steak and potatoes, typical fare for 1970's America, but occasionally a Filipino dish called pansit would show up on our table or she would painstakingly put together a pan of baklava for dessert. The demographic of our area has changed greatly over the course of my life. My kids have had the great fortune to grow up in an area of great diversity, and as a result, have developed some pretty sophisticated palates. They have eaten all kinds of cuisine cooked in the homes of their friends, and at local restaurants, that I would have never had access to when I was their age. You know what this means? It means I get to play in the kitchen and they'll pretty much eat anything I throw their way. Bonus!
This curry dish is a bit of a departure from the norm for us and a big hit with all my boys. Curry is just pure comfort food. The aroma and flavor is unmistakable and absolutely wonderful.
Here's what you'll need – vegetable oil, salt, pepper, curry powder, onion, red bell pepper, minced garlic, boneless skinless chicken breasts, a can of lite or regular coconut milk, a can of diced tomatoes, tomato sauce, sugar, cauliflower. Also grab some crushed red pepper and white rice (just pretend they are up there).
Dice up your onion, julienne strip up your red bell pepper, and floret up your cauliflower.
Cut your chicken into bite size pieces.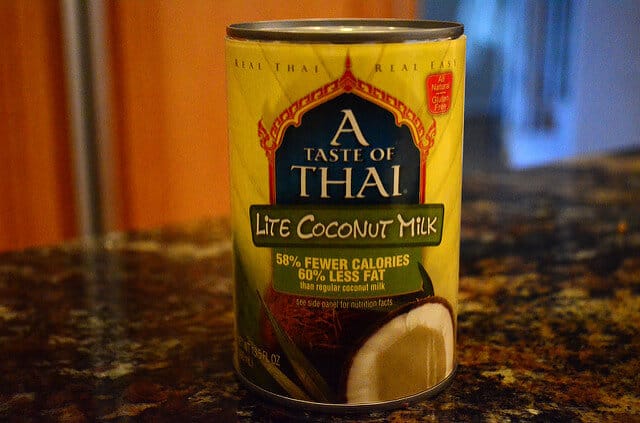 I have made this recipe using both regular and lite coconut milk and I'm here to tell ya, it doesn't make a difference. Lite coconut milk has far less fat and calories and considering how much fat and calories have been consumed by all of us over the course of the holidays, I'm definitely going the lite route.
Start off by heating your olive oil in a large pan and add the curry powder. Cook and stir just till browned, being careful not to let it burn.
Mmmm, curry oil. The aroma of this stuff is incredible and I should warn you, it will stick around for awhile. Anyone who comes in your door for the next 24 hours is going to demand that you warm some of this stuff up for them. That is, if you have any leftovers.
Add your onion and bell pepper to the curry oil and cook and stir for just a couple of minutes.
In goes the garlic.
Add the chicken and let it cook till it is no longer pink in the middle, about 10 minutes or so.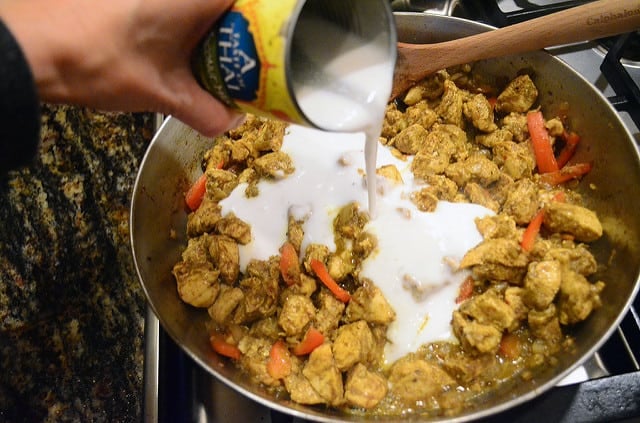 The coconut milk.
The diced tomatoes.
The tomato sauce.
The sugar and the crushed red pepper.
And, finally, the cauliflower florets. Increase the heat to medium high. As soon as it comes to a boil, reduce the heat and let it simmer for about 30 to 40 minutes while you cook up some white rice, and…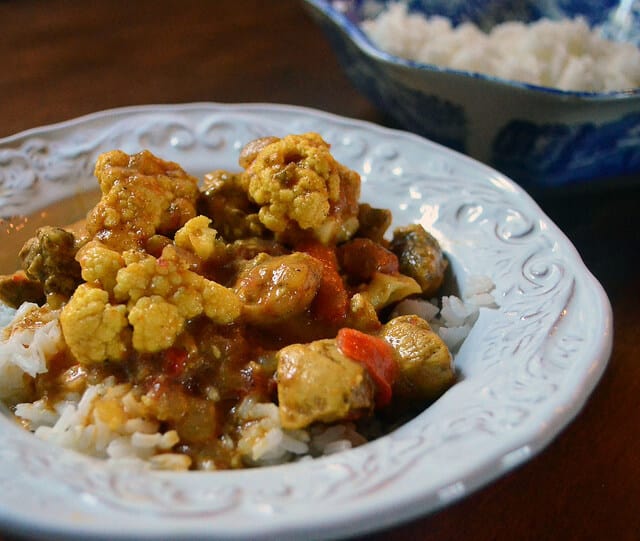 Voila! Bask in the glory that is Coconut Curry Chicken.
Coconut Curry Chicken
This Coconut Curry Chicken is a comforting, flavor-packed meal. Serve this curry infused chicken with cauliflower and red bell pepper over rice for a super satisfying dinner.
Print
Pin
Rate
Servings: 6 servings
Calories: 454kcal
Ingredients
3 tablespoons vegetable oil
2 tablespoons curry powder
½ yellow onion diced
1 red bell pepper seeded and cut into julienne strips
1 tablespoon minced garlic
2 pounds boneless skinless chicken breasts, cut into 1/2-inch chunks
1 teaspoon salt
½ teaspoon freshly ground black pepper
14 ounces coconut milk light or regular
14.5 ounces canned diced tomatoes
16 ounces tomato sauce
2 tablespoons sugar
½ teaspoon crushed red pepper or to taste
2 cups cauliflower florets about half a head of cauliflower
3 cups cooked white or brown rice prepared according to package directions
Instructions
Add the oil to a Dutch oven or large, deep sauté pan and place over MEDIUM heat. Add the curry and cook, stirring, for two minutes, to toast the curry. Allow the curry oil to brown but lower the heat, if needed, so that it doesn't burn. Stir in the onions and red bell pepper, and cook, stirring, for 2 minutes. Add the garlic and cook for 1 more minute. Add chicken, tossing lightly to coat with the curry oil. Season with salt and pepper, to taste. Cook for 7 to 10 minutes, or until chicken is cooked through and juices run clear.

Add the coconut milk, tomatoes, tomato sauce, sugar, and crushed red pepper to the pan, and stir to combine. Add cauliflower. Increase heat to MEDIUM-HIGH and cook until mixture just comes to a boil. Reduce heat to LOW and simmer, uncovered, stirring occasionally, approximately 30 to 40 minutes, or until cauliflower and bell pepper are tender.

Serve over rice.
Nutrition
Calories: 454kcal | Carbohydrates: 39g | Protein: 37g | Fat: 16g | Saturated Fat: 11g | Cholesterol: 97mg | Sodium: 541mg | Potassium: 1027mg | Fiber: 3g | Sugar: 9g | Vitamin A: 955IU | Vitamin C: 54mg | Calcium: 63mg | Iron: 3mg
Adapted from Allrecipes