A tangy, lightly sweet poppy seed dressing graces this pretty Cranberry Almond Poppy Seed Chicken Salad. Layer it with lettuce on potato buns for a delicious, light meal. Perfect for a spring buffet!
Click HERE to sign up for your FREE email subscription and never miss a recipe!
This newest addition to my chicken salad family has been waiting to make an appearance here for years and I'm so happy that today is the day. Friends, it is wonderful!
Any recipe involving poppy seeds seems appropriate for spring and Easter to me. Not sure what the deal is with that, but that's the facts man. I can picture these little sandwiches on the table mixed in with all the other offerings at an Easter buffet. They also make for a super delicious lunch or light dinner any old time of year.  
And, it's one more way for me to use rotisserie chicken. Always a fabulous shortcut.
CRANBERRY ALMOND POPPY SEED CHICKEN SALAD
This from-scratch poppy seed dressing really makes this recipe incredible. Some mayo, a little Greek yogurt, a touch of sugar and apple cider vinegar for that sweet-tang. A couple of simple seasonings and poppy seeds complete the picture.
Then, it's just a matter of adding some dried cranberries, slivered almonds, celery, red onion, and the chicken.
Combine the mixture and it is ready to serve. This salad is delicious immediately upon mixing or cover and refrigerate until ready to serve.
It is absolutely delicious served on these little potato buns but I also love it on lightly toasted sliced sourdough or a flaky croissant.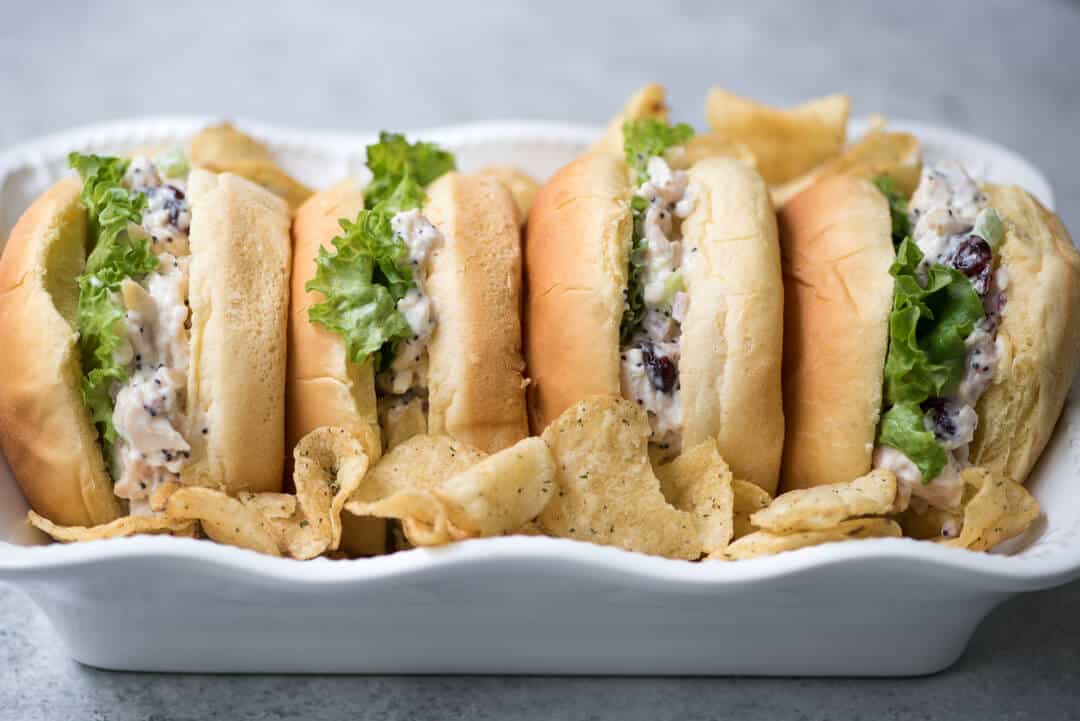 Other chicken salad recipes you might like:
Crunchy Sweet Chicken Salad
Curry Chicken Salad
Long Grain and Wild Rice Chicken Salad
CRANBERRY ALMOND POPPY SEED CHICKEN SALAD
Cranberry Almond Poppy Seed Chicken Salad
Prep Time 10 minutes
Total Time 10 minutes
Servings 8
Change the number in the box above to adjust serving size. Please note that size of cookware and cook time may vary.
Ingredients
For the Poppy Seed Dressing:
3/4 cup mayonnaise
1/4 cup non-fat plain Greek yogurt
1/4 cup milk
1 tablespoon sugar
1 tablespoon apple cider vinegar
1 tablespoon poppy seeds
1/2 teaspoon dry mustard
1/2 teaspoon onion powder
1/2 teaspoon garlic powder
1/4 teaspoon salt
fresh ground black pepper to taste
For the Chicken Salad:
2-1/2 cups cooked chopped chicken breast (I used a rotisserie chicken)
1/3 cup finely diced red onion
1 stalk celery diced
1/3 cup dried cranberries
1/3 cup slivered almonds
Instructions
Combine all the dressing ingredients in a medium mixing bowl and whisk to combine.

Add chicken salad ingredients and toss until the dressing is thoroughly incorporated.

Serve on slider rolls, croissants, wraps, or lightly toasted bread with lettuce leaves. Cover and immediately refrigerate any leftovers.