Grandma's Special Hash Brown Casserole is a classic recipe that is the perfect choice to serve with your holiday ham.
I realize I'm not breaking new ground here and I urge anyone who considers themselves to be a gourmet to cover their eyes and run for the hills. I'm about to pull out the Cream of Chicken Soup and share a recipe that has been in our family since my boys were little. To us they are known as Grandma's special potatoes and my blog would not be complete without them. She made them each year with her Easter ham and they were one of the things we all looked forward to most. They are easier to throw together than the traditional scalloped or au gratin variety and here is the big bonus – they can be made ahead of time to save you precious time when preparing the big meal.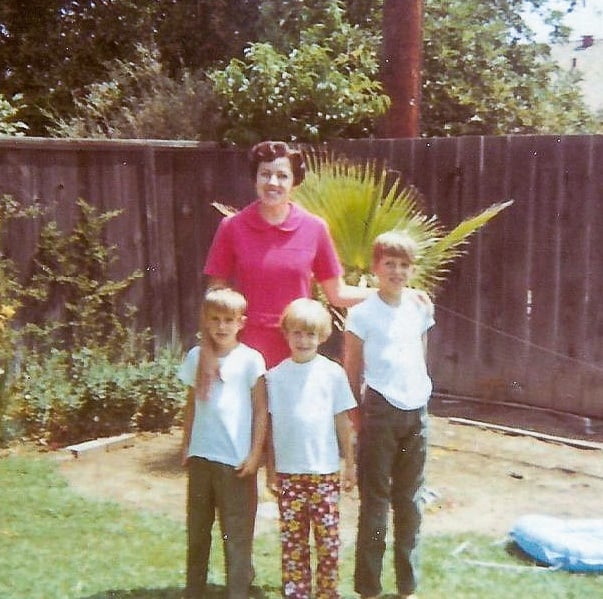 That's my tall, lanky future husband there on the right along with his little sister Victoria, little brother Pat, and their proud momma. LaVerne was a working mom before being a working mom was the norm and she understood, first hand, the importance of time-saving meal preparation. Cooking was one of the first things that connected the two of us and from there the connection grew as I had my own children and matured into my life as a wife and working mother. She embraced her role as Grandma and in addition, she was my support, my sounding board, my friend. No mother-in-law jokes here. I loved her dearly and I miss her deeply. So it is with love and wonderful memories that I share her recipe today.
The grocery list – Salt and pepper, a bag of frozen hash browns, good ole' Kellogg's Corn Flakes, sharp cheddar cheese, butter, Campbell's Cream of Chicken Soup, and an onion.
Allow the hash browns to thaw in the refrigerator overnight then combine them with the Cream of Chicken Soup, chopped onion, shredded cheddar cheese, and 1/4 cup of the melted butter. Mix well and then add the salt and pepper and mix till everything is well combined.
Transfer the mixture to a 13- x 9-inch pan that has been coated with non-stick cooking spray.
After years of research and exhaustive study, I have found the best way to crush corn flake crumbs is to place them in a plastic storage bag and have at 'em with a rolling pin. No rolling pin? A can of peas (or any other canned good) will work too.
Add the remaining two tablespoons of melted butter to the corn flake crumbs, seal the bag and shake it up till the crumbs are coated. I had to work hard to restrain myself from singing a certain Beatles song just now.
You're welcome.
Spread the crumbs over the top of the potatoes and pop them in a 350 degree oven for 50 to 55 minutes, or till nicely browned.
The dishes we serve create memories that last a lifetime, regardless of how complex or how wonderfully simple. I hope your holiday is spent with the ones you love, creating your own special memories.
Grandma's Special Hash Brown Casserole
Grandma's Special Hash Brown Casserole is a classic recipe that is the perfect choice to serve with your holiday ham.
Print
Pin
Rate
Servings: 8 servings
Calories: 334kcal
Ingredients
30 ounces frozen hash browns, thawed (1 pound 14 ounce bag)
1/2 cup chopped onion
1 can Campbell's Cream of Chicken Soup
6 tablespoons melted butter, divided
1/2 teaspoon salt
1/2 teaspoon fresh ground pepper, or to taste
2 1/2 cups shredded cheddar cheese
2 cups corn flakes, crushed
Instructions
Coat a 13- x 9-inch baking dish with non-stick cooking spray. Preheat oven to 350 degrees F.

In a large mixing bowl combine the thawed hash browns, onion, soup, 4 tablespoons melted butter, salt, pepper, and shredded cheese. Transfer to prepared baking dish.

Toss the corn flake crumbs with the remaining 2 tablespoons melted butter. Sprinkle mixture over the top of the potatoes.

Bake for 50 to 55 minutes or until nice and golden brown.
Notes
Make-Ahead Method: After transferring the mixture to the baking pan (before adding corn flake crumbs), cover with plastic wrap and refrigerate for up to 24 hours, till ready to bake. Top with corn flake crumbs and bake as directed. You may need to add an additional 10 to 15 minutes to baking time if the pan is cold when it goes in the oven.
Nutrition
Calories: 334kcal | Carbohydrates: 26g | Protein: 12g | Fat: 21g | Saturated Fat: 13g | Cholesterol: 60mg | Sodium: 515mg | Potassium: 364mg | Fiber: 2g | Sugar: 1g | Vitamin A: 741IU | Vitamin C: 11mg | Calcium: 270mg | Iron: 3mg