This simple method and plenty of tips will help you make perfect easy to peel hard-boiled eggs every time!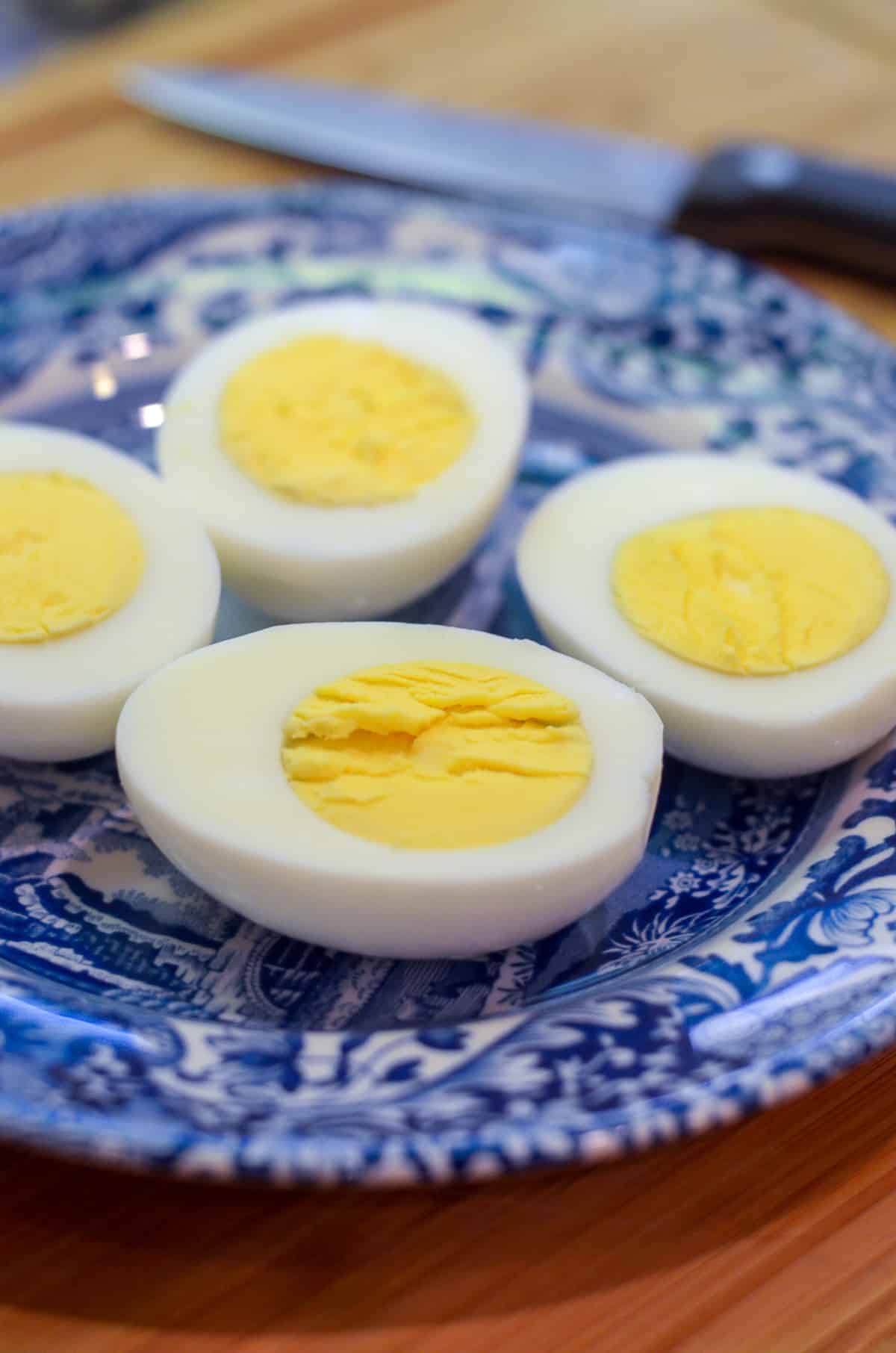 With spring officially in full swing and Easter just around the corner, there will be lots of deviled eggs happening in many of our kitchens very soon. I thought this was the right time to share some simple tips that will result in hard-boiled eggs with a creamy, bright yellow center and an easy to peel shell, making them perfect for all of your Easter recipes.
Once you try this method, there's no going back.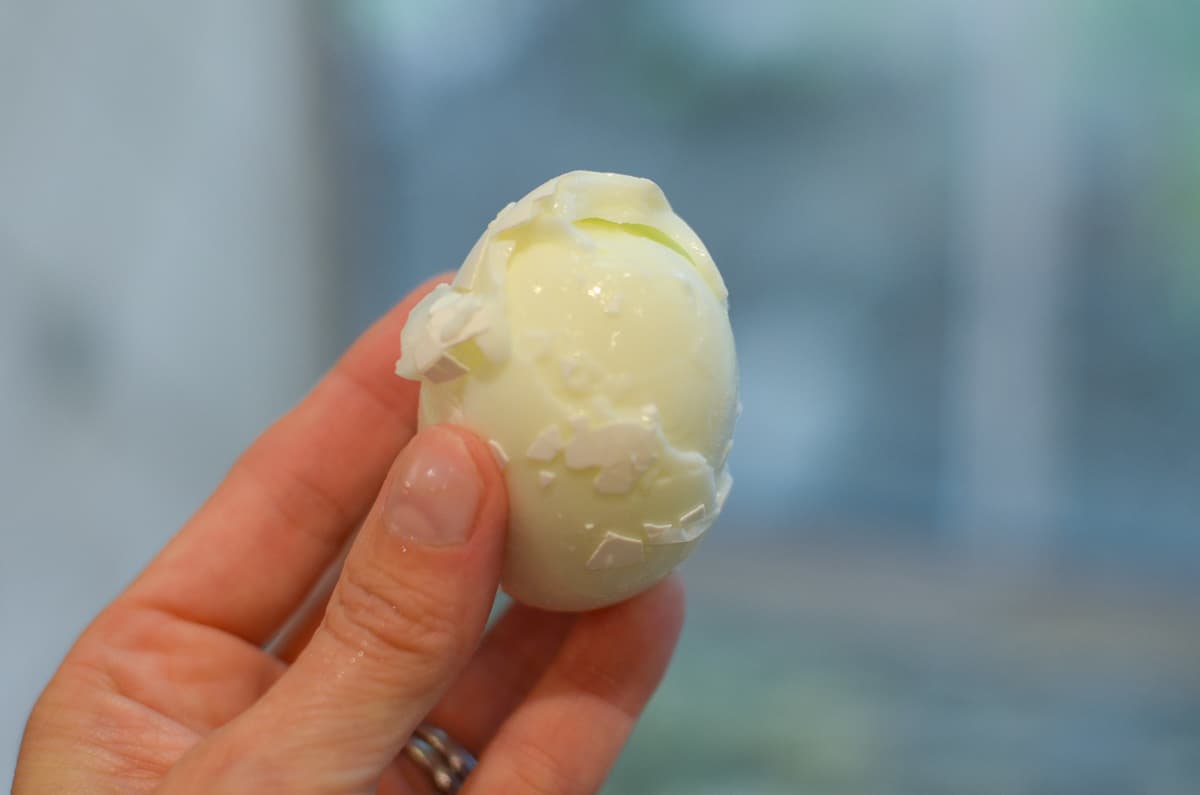 There's nothing more frustrating than boiling up a batch of eggs only to peel them and end up with something that looks like this. If you're chopping them up to make egg salad for sandwiches, no big deal. If the plan is to use them to make deviled eggs, this just won't cut it.
(Disclaimer: Please disregard the sad condition of my nails in the photos included in this post. I am in serious need of both a manicure and time to go get a manicure.)
Let's get to work and boil some eggs.
How to Make Easy to Peel Hard-Boiled Eggs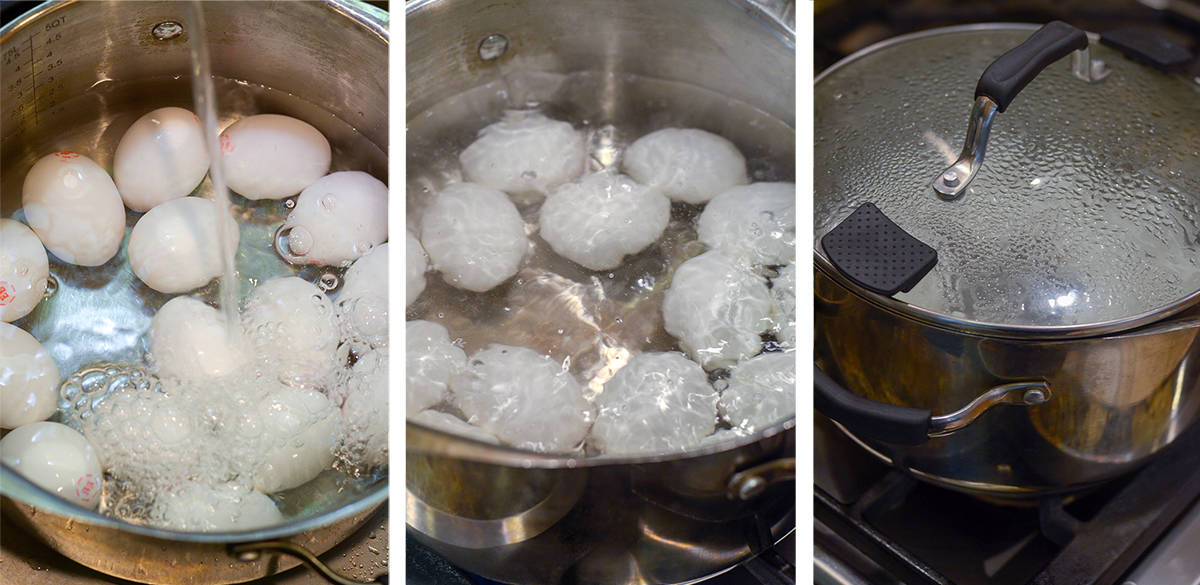 Arrange eggs in a single layer in the bottom of a large pot. Add cold water until the eggs are covered by about 2-inches
Place the pot over high heat and bring it to a boil.
Just as soon as it comes to a boil, remove the pot from heat and place the cover on. Let it sit, covered, for 15 minutes. Set a timer so you'll be sure to keep them from overcooking.
Always cook 2 or 3 extra eggs over and above what you need for your recipe just in case there's an uncooperative one in the bunch. I need a dozen eggs for the deviled eggs I'm making so I'm boiling 15 eggs.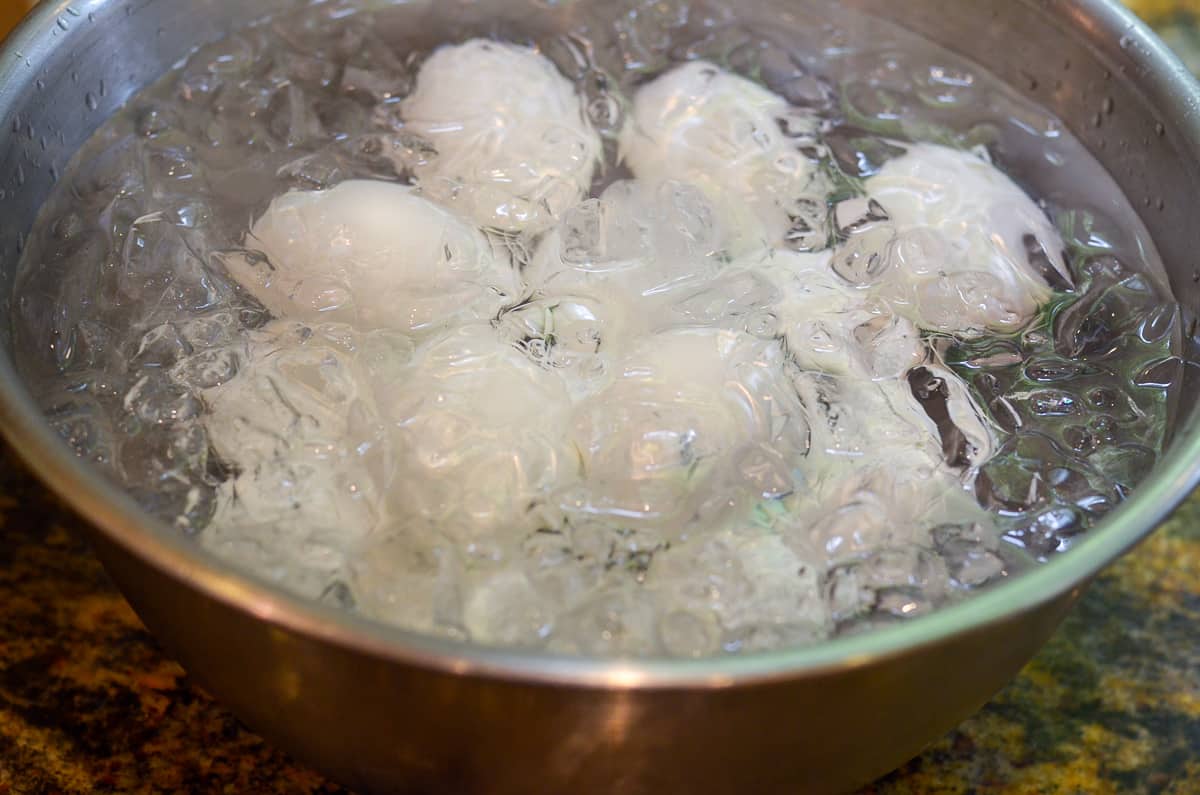 After 15 minutes, transfer the eggs directly from the hot water to a large bowl of ice water. Let the eggs sit in the ice water bath for 15 minutes. This is the "shocking" process and it is key to ensuring the eggs will be easy to peel. After 15 minutes, the eggs will be cool, ready to peel, and you can move on with your recipe without delay.
I recommend peeling the eggs immediately upon removing them from the ice water bath for the best result. If you are not using the eggs right away, they must be refrigerated until ready to use.
How to Peel Hard-Boiled Eggs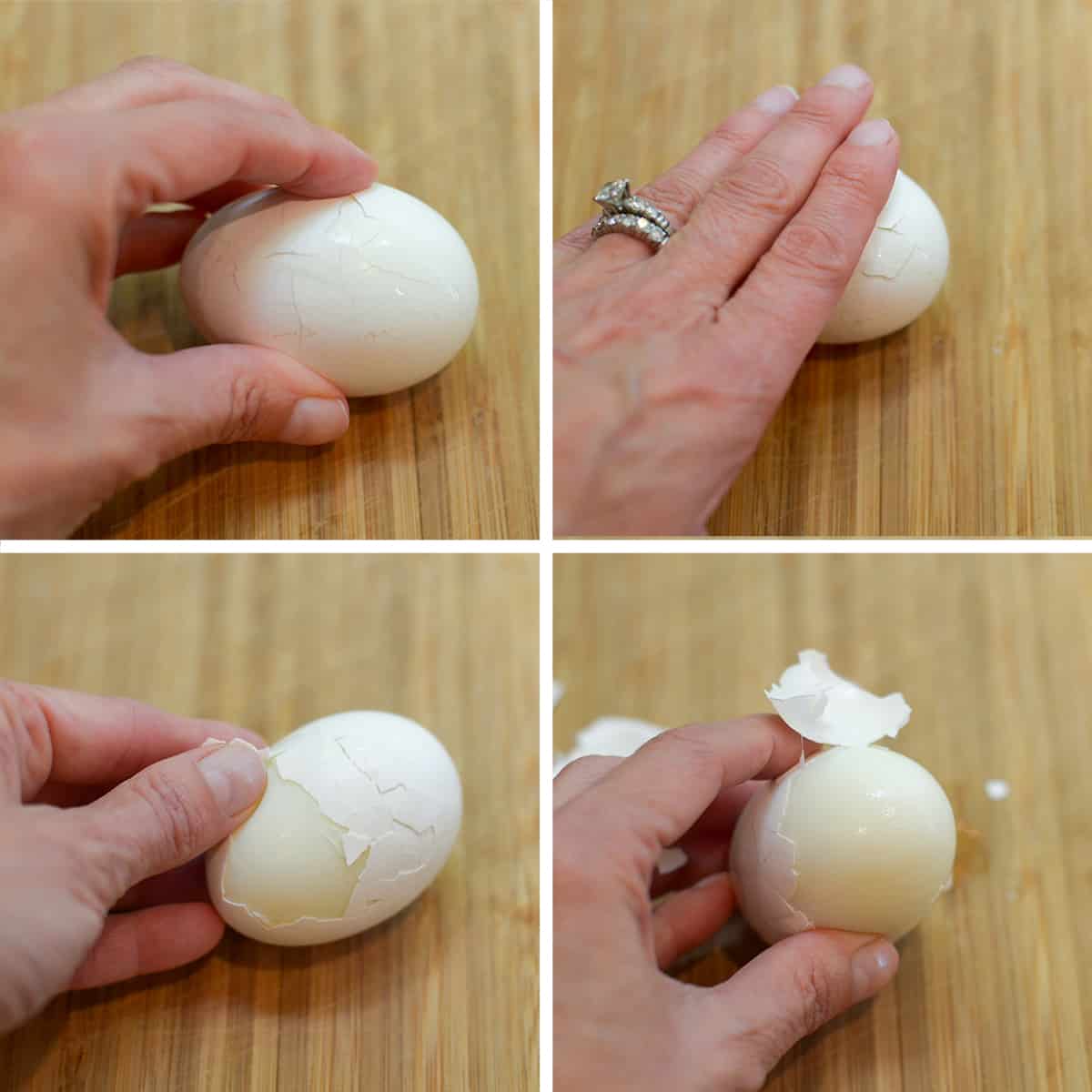 Tap the egg lightly on a cutting board or kitchen counter to crack the shell on both sides.
Roll the egg back and forth to crack it all over.
Begin to pull at the cracked shell, heading towards one of the ends of the egg.
Small bits may come off at first but they should get larger as you near the end of the egg where there's a bit of space between the egg and shell.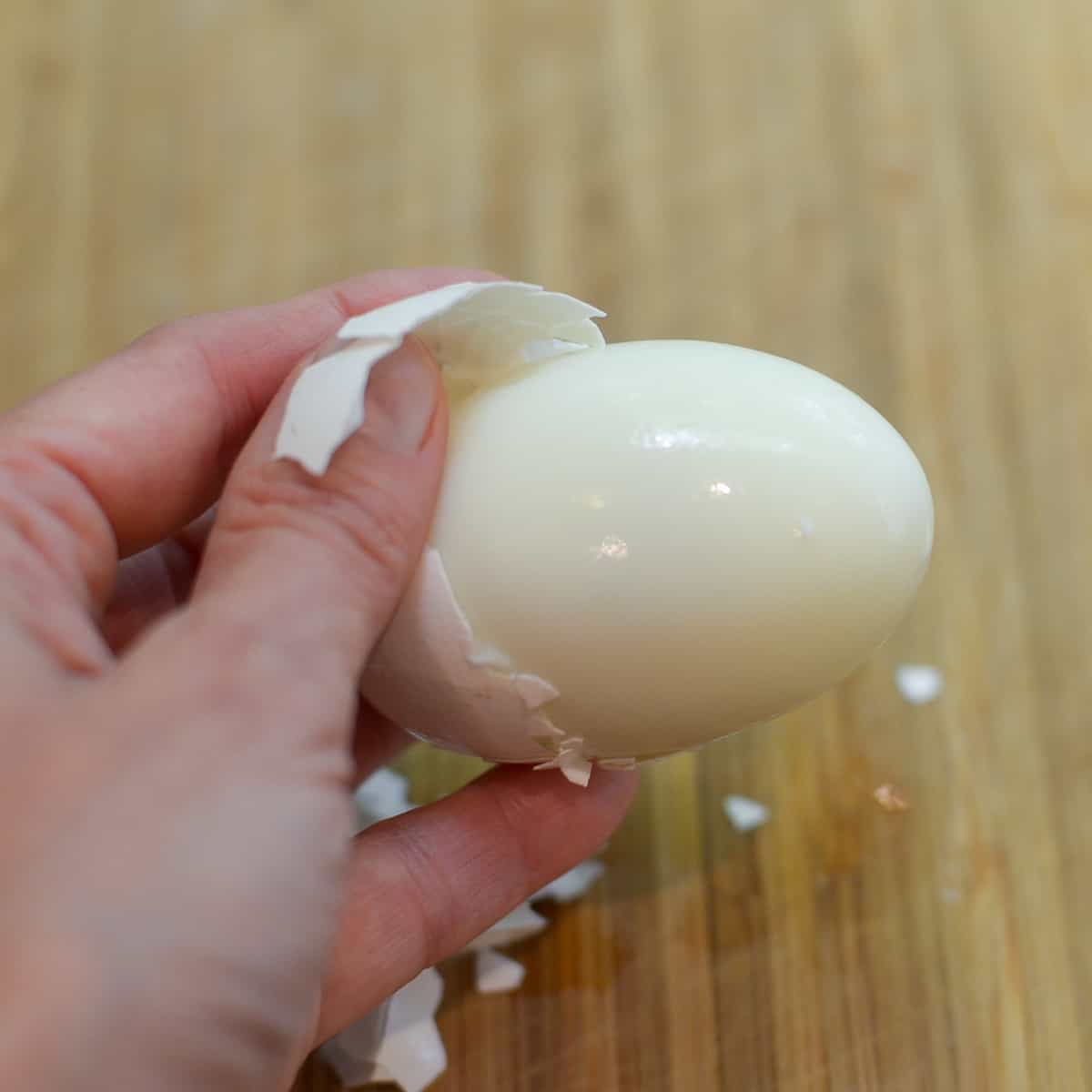 The remaining shell should come off quite easily.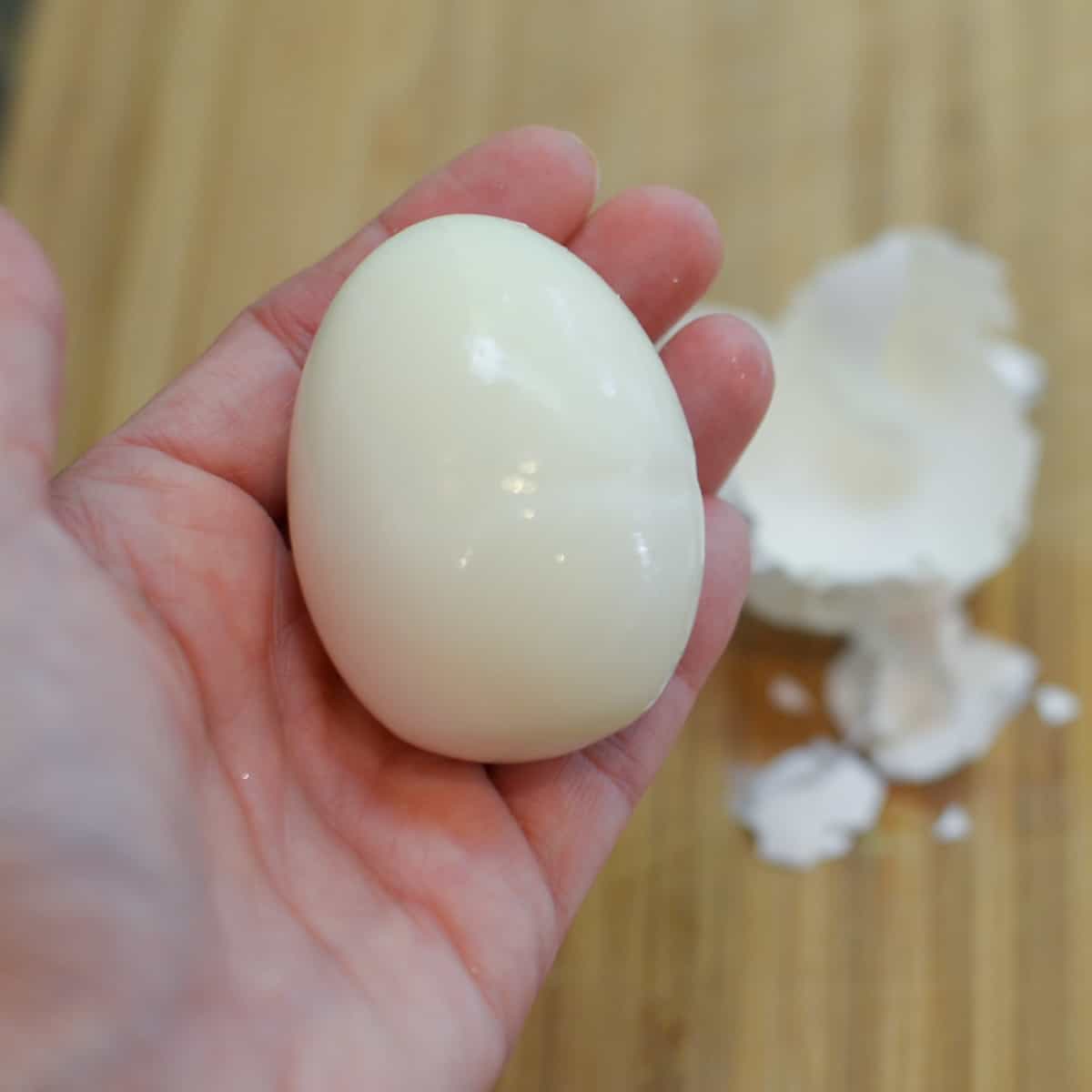 Beautiful.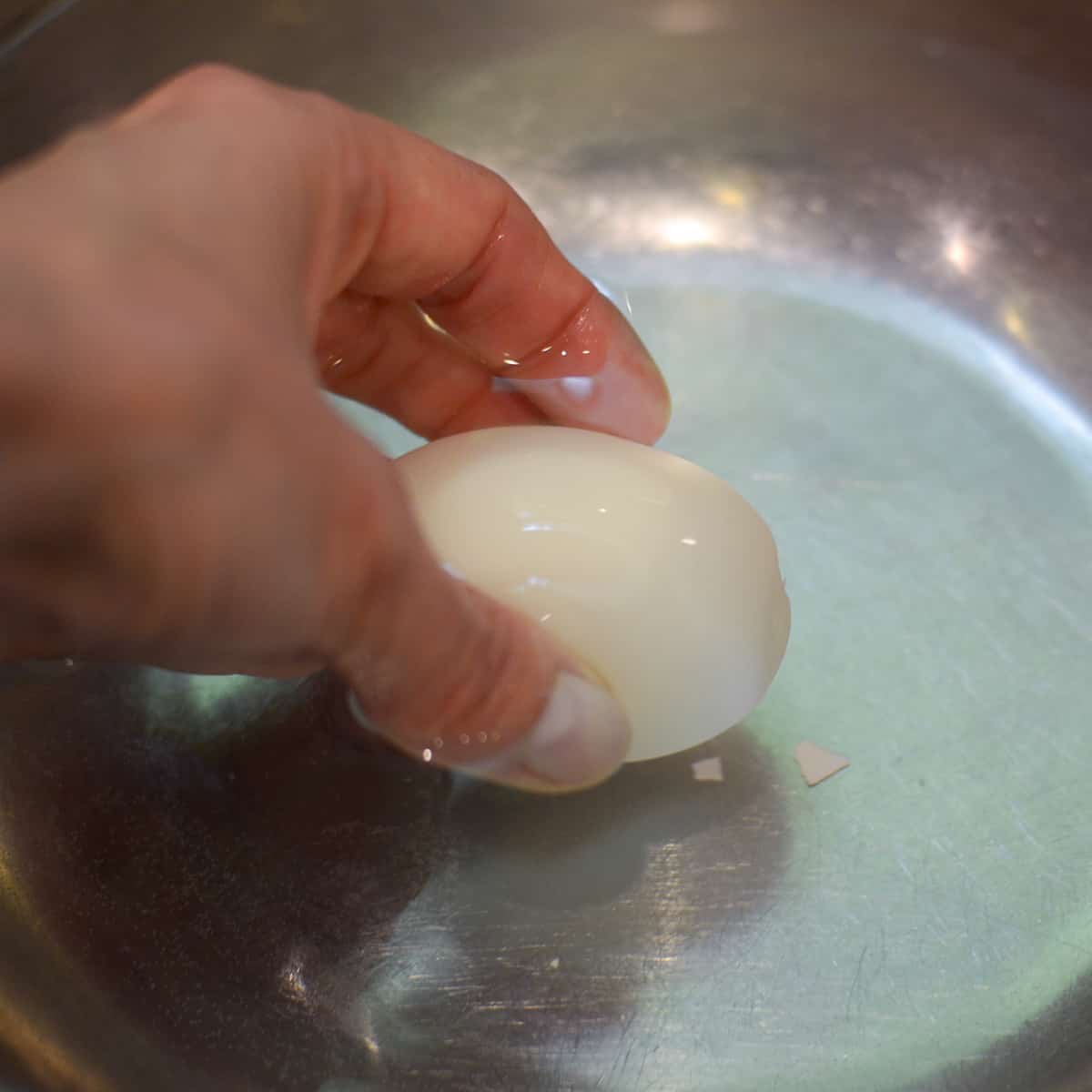 Keep that bowl of mostly melted ice water nearby and give the peeled egg a dunk to make sure there are no shell fragments left behind.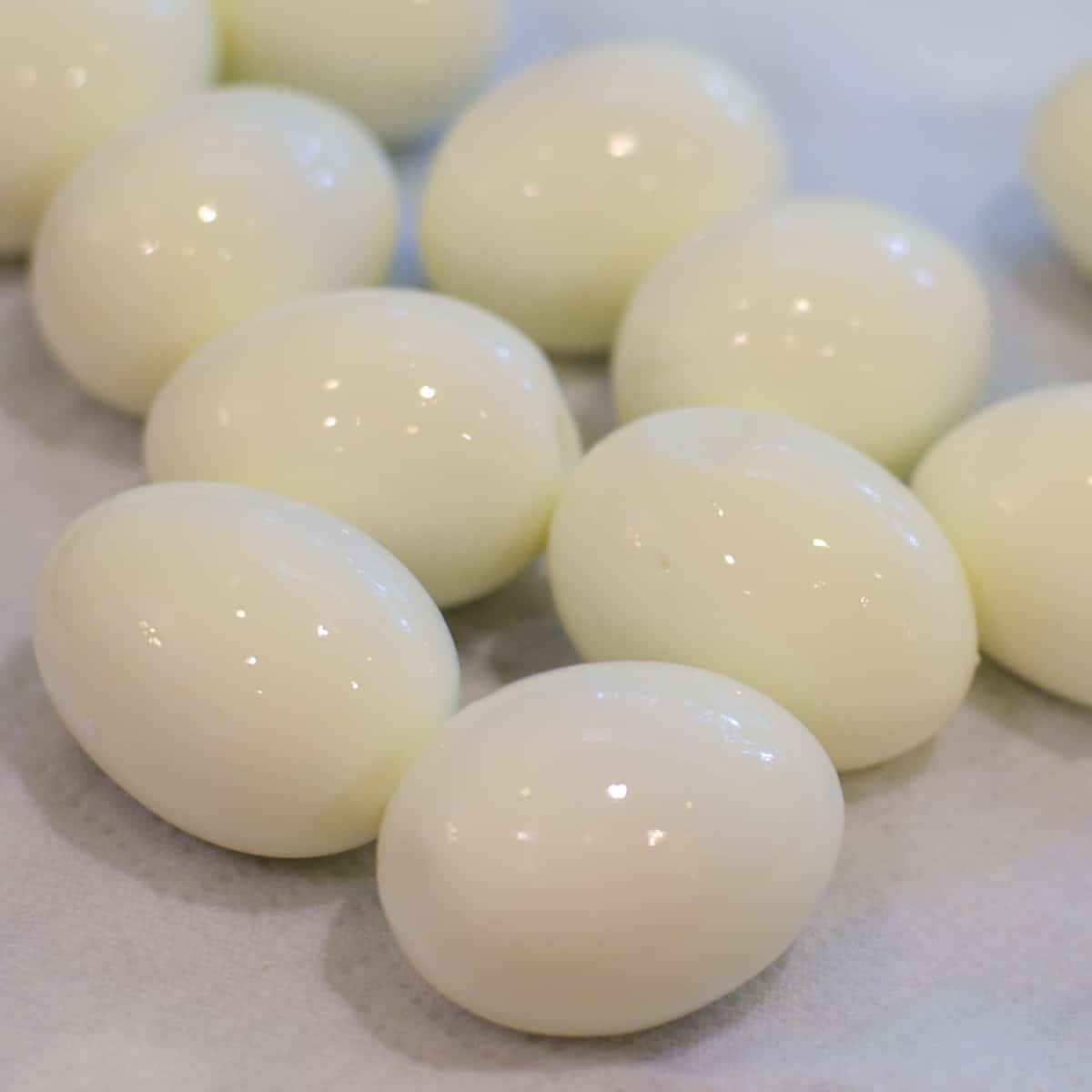 FAQ's and Valerie's Tips
Do I have to use old eggs?
You may have heard that for easy to peel eggs, you should not use fresh eggs. If you have a chicken on your property laying eggs, that is a fresh egg and I agree that you should not use eggs the day they pop out of your chicken (sorry for that graphic image I just put in your head). If you buy your eggs at the grocery store, like I do, they should do just fine. It's not necessary, or practical, to plan this whole egg boiling situation a week or two in advance and most of us don't keep a dozen old eggs on hand. If you've got eggs near the expiration date – use them. If not, use what you've got in your fridge.
And, by the way, if you do have a chicken on your property, congratulations. I dream of having a chicken on my property one of these days. A girl's gotta dream.
Why are my egg yolks green?

If you've ever noticed that your cooked yolks have taken on a greenish hue, that is the result of overcooking. The steps below provide a simple solution for this problem and will result in a perfectly cooked, bright yellow yolk every time.
Do I need to add salt or vinegar to the water?
This is a step you will see included in many posts on this subject. I have never added anything to the water and in my opinion, it's not necessary.
Why are my hard boiled eggs impossible to peel?
Cold eggs peel best. Shocked, cold eggs will peel even better. When the egg cools quickly, it will contract a bit and make the shell easier to remove. If you try to peel an egg that you've boiled and allowed to come to room temperature on it's own, you're going to suffer the pain that most of us have experienced at one time or another.
I hope these tips help you produce perfect hard-boiled eggs for all of your recipes for spring and beyond!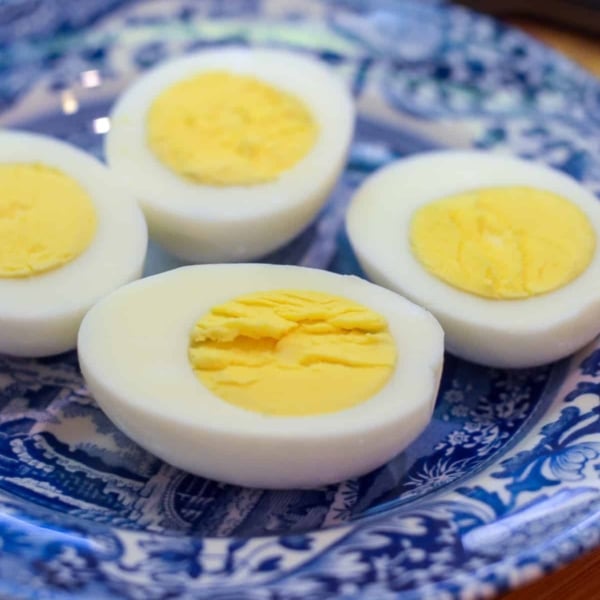 Perfect Easy to Peel Hard-Boiled Eggs
These simple tips will help you make perfect easy to peel hard-boiled eggs every time!
Ingredients
1

dozen

large eggs

water

,

as needed

ice

,

as needed
Instructions
Place the eggs in a single layer in a large pot. Cover with about 2-inches of cold water. Place pot over HIGH heat and bring to a boil. Remove from the heat and cover the pot. Let the pot sit, covered, for 15 minutes.

Meanwhile, fill a large bowl about halfway with ice water.

Transfer the eggs to the ice water, adding more water, if necessary, to be sure they are completely immersed. Let them sit in the ice water bath for 15 minutes. Peel the eggs immediately upon removing them from the ice water bath for the best result. If not using right away, eggs must be refrigerated until needed.
Nutrition
Serving:
1
egg
·
Calories:
63
kcal
·
Carbohydrates:
1
g
·
Protein:
6
g
·
Fat:
4
g
·
Saturated Fat:
1
g
·
Polyunsaturated Fat:
1
g
·
Monounsaturated Fat:
2
g
·
Trans Fat:
1
g
·
Cholesterol:
164
mg
·
Sodium:
62
mg
·
Potassium:
61
mg
·
Sugar:
1
g
·
Vitamin A:
238
IU
·
Calcium:
25
mg
·
Iron:
1
mg
Nutrition information is automatically calculated using generic ingredients, and is an estimate not a guarantee. For more accurate results, please refer to the labels on your ingredients at home.
Did You Make This?
We love seeing what you've made! Tag us on social media at @fromvalerieskitchen for a chance to be featured