A few interesting ingredients take this banana bread to a tropical place from which you will not want to return. Banana bread with an island twist.
 I've always had so-so feelings about banana bread. It's okay and all, but it never really did that much for me.
Those feelings came to an abrupt end when I tried this recipe and discovered that banana bread can be be cool, interesting and downright exciting. Seriously, exciting!  No joke, this bread is exceptional.
With the help of fresh lime, coconut, and pecans – both in the bread and the sticky-sweet glaze – it becomes something far more interesting than plain old banana bread.
In other words, this ain't your mama's banana bread. Unless you happen to be one of my four children then…this IS your mama's banana bread.  
A little bit of the Captain seals the deal. You could use any rum you've got on hand but I recommend using a spiced rum. I always have a little Captain Morgan on hand to use for recipes.
Really…it's for the recipes.
And, let me tell you, even mere strangers will develop some very strong feelings for you if you bake a loaf of this bread for them. Intense feelings.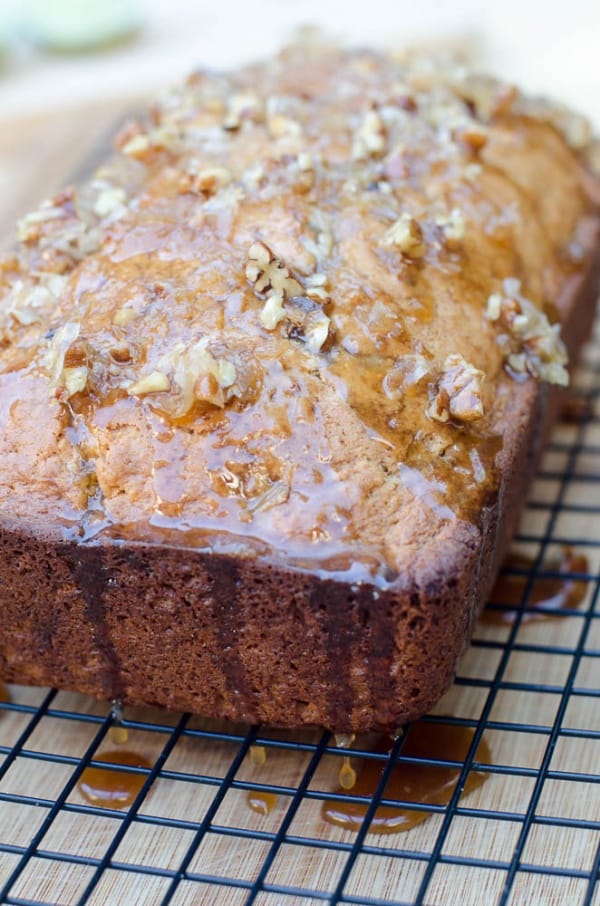 The sweet coconut-pecan glaze is poured over the top while the bread is still slightly warm. It's what really what makes this whole thing happen. The glaze is where it's at!
I'm going to dispense with the step-by-step because it's really very easy and I have faith in you…
Bake a loaf today and it will help chase the winter blues away.
We Be Jammin' Jamaican Banana Bread
Ingredients
2

tablespoons butter, softened

2

tablespoons regular or Neufchatel (reduced fat) cream cheese

1

cup white sugar

1

egg

2

cups all-purpose flour

2

teaspoons baking powder

1/2

teaspoon baking soda

1/4

teaspoon salt

1

cup mashed overripe banana

1/2

cup milk

2

tablespoons spiced rum (like Captain Morgan)

1

teaspoon lime zest

1/2

lime, juiced

1

teaspoon vanilla extract

1/4

cup finely chopped pecans

1/4

cup sweetened, flaked coconut
For the Glaze
1/4

cup brown sugar

1

tablespoon butter

1/2

lime, juiced

2

teaspoons spiced rum (like Captain Morgan)

2

tablespoons chopped pecans

2

tablespoons sweetened, flaked coconut
Instructions
Preheat oven to 350 degrees. Generously coat a 9" x 5" loaf pan with non-stick cooking spray.
Using an electric hand mixer, beat together 2 tablespoons of softened butter and cream cheese in a large bowl until fluffy. Add white sugar and beat until well incorporated. Add the egg and mix well.
In a separate mixing bowl, combine the flour, baking powder, baking soda, and salt. In a different bowl combine the mashed bananas, milk, 2 tablespoons rum, lime zest, lime juice, and vanilla extract.
Using a wooden spoon, alternate mixing the flour mixture and banana mixture into the creamed butter mixture, in increments, until both have all been added and it is well combined. Fold in 1/4 cup pecans and 1/4 cup coconut. Pour the mixture into the prepared loaf pan.
Bake in the preheated oven for 55 to 60 minutes, until toothpick inserted in center of loaf comes out clean. Remove from oven and allow to cool for 5 to 10 minutes in the pan, then remove from the pan and transfer loaf to a wire rack to continue cooling.
Meanwhile, prepare the glaze. Place the brown sugar, butter, lime juice and rum in a small saucepan over medium-high heat. Bring to a simmer stirring constantly. Cook until the sugar has dissolved and the mixture is smooth, about one minute. Remove from heat and stir in 2 tablespoons pecans and 2 tablespoons coconut. Spoon the glaze over the loaf while it is still slightly warm. The glaze will set up as the loaf cools.
Adapted from Allrecipes.com