Oven roasting is by far my favorite method for creating a large batch of crispy breakfast potatoes. These Oven Roasted Breakfast Potatoes are excellent for breakfast or brunch but are also a delicious dinner side dish!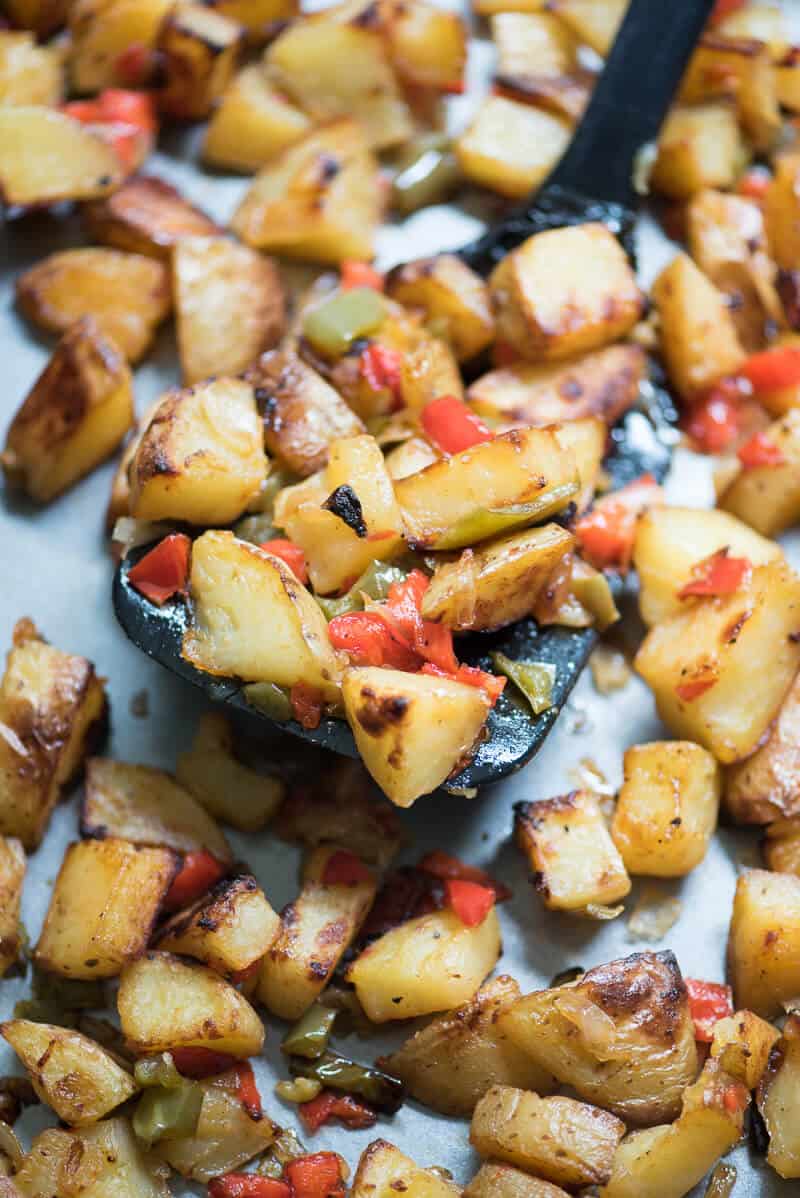 Over the course of the last few weeks I've been sharing my favorite recipes from my Easter brunch menu. First came the incredibly addictive Smoked Salmon Dip and then the Spinach Mushroom and Feta Crustless Quiche, two really tasty recipes that I'm happy are now part of my recipe archives. Today it's time to talk about these Oven Roasted Breakfast Potatoes. I'm not sure I can adequately express my love for this recipe, but let's give it a try.
I could eat these potatoes for breakfast, lunch, and dinner. And, I have! I kid you not. The cooking method allows you to cook up a big batch all at once and cleanup is so much easier than the oily mess you've got on your hands when you cook them in a pan on the stove.
One of the biggest benefits to oven roasting is the hands-free quality. When you're cooking for a group for brunch, this is key. Just toss them with a spatula a couple of times and that's it. I've been oven roasting potatoes forever and a day but got a little inspiration on some of the details for this recipe from The Pioneer Woman.
And, my friends, they are downright luscious. Golden brown buttery goodness, crispy brown edges, heaven! The flavor is taken up a notch with onion, garlic, and bell pepper.
My favorite potato to use for this recipe, and many others, is the Yukon Gold. You'll need 2-1/4 to 2-1/2 pounds max. Any more and you'll need to split them between two baking sheets. Chop the potatoes into small chunks and add them to a large mixing bowl with a chopped red and green bell pepper, about 1 cup chopped onion, and a teaspoon of minced garlic.
Toss the potatoes and veggies with 2 tablespoons olive oil and 1 tablespoon melted butter. Can you use all olive oil? Yes, you can! I like to add the touch of butter for flavor but it's not necessary. Just add an extra tablespoon of olive oil if you don't want to use the butter.
The seasonings go in next – 1 teaspoon Lawry's Seasoning Salt, 1/4 teaspoon cayenne, and fresh ground black pepper to taste. As written, the cayenne will not add much heat but adds a little somethin' somethin'. It kicks up the flavor in a great way. If you want more heat, add more cayenne.
Coat a large rimmed baking sheet with non-stick cooking spray and spread the mixture out in an even layer.
Pop them in a preheated 425 degree oven for 15 minutes. Give them a toss with a spatula, spread them back out in an even layer and return them to the oven for an additional 15 to 20 minutes, or until fork tender. Give them a toss again but this time, increase the oven temperature to 500 degrees. Continue to roast the potatoes until golden brown and crispy, another 10 to 15 minutes. If you feel the need to stir them again, do it! It will help them brown more evenly.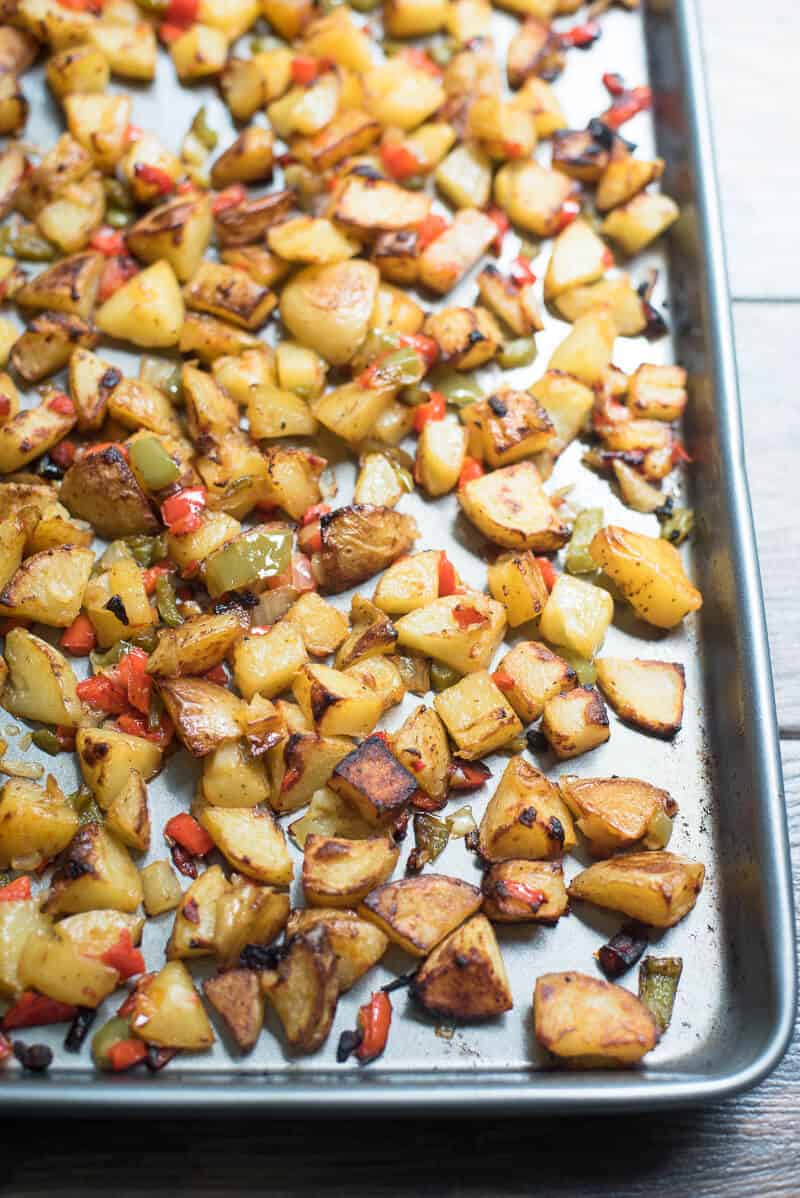 Remove them from the oven and season to taste with salt and additional pepper, if you feel the need.
I love these potatoes as a dinner side just as much as I love them with breakfast fare. Versatile and delicious!
Oven Roasted Breakfast Potatoes
These Oven Roasted Breakfast Potatoes are excellent for breakfast or brunch but are also a delicious dinner side dish!
Print
Pin
Rate
Servings: 10
Ingredients
2-1/4 to 2-1/2 pounds Yukon Gold potatoes, scrubbed clean and cut into small chunks (don't peel)
1 teaspoon minced garlic
1 cup diced white or yellow onion
1 green bell pepper diced
1 red bell pepper diced
1 tablespoon butter melted
2 tablespoons olive oil
1 teaspoon all-purpose seasoning blend like Lawry's
1/4 teaspoon cayenne pepper
salt and fresh ground black pepper to taste
Instructions
Preheat the oven to 425 degrees F. Coat a large rimmed baking sheet with non-stick cooking spray.

In a large bowl toss together the potatoes, garlic, onion, green bell pepper, and red bell pepper. Add olive oil and melted butter and toss well to coat the potatoes and veggies. Add seasoned salt, cayenne pepper, and fresh ground black pepper, to taste.

Transfer to the prepared rimmed baking sheet and bake for 15 minutes. Use a spatula to toss and stir the potatoes and then spread them back out in an even layer and cook for an additional 15 minutes or until fork tender (time will vary based on of potatoes). Toss again and then raise the oven temperature to 500 degrees and bake until crisp and brown, an additional 10 to 15 minutes, tossing every 5 minutes.

Season to taste with salt and additional pepper if needed and serve.

Adapted from The Pioneer Woman