A richly spiced pumpkin custard layer is topped with a sticky sweet pecan praline and baked to perfection. This Praline Pumpkin Pie takes this Thanksgiving standard to a delicious new level!
Click HERE to sign up for your FREE email subscription and never miss a recipe!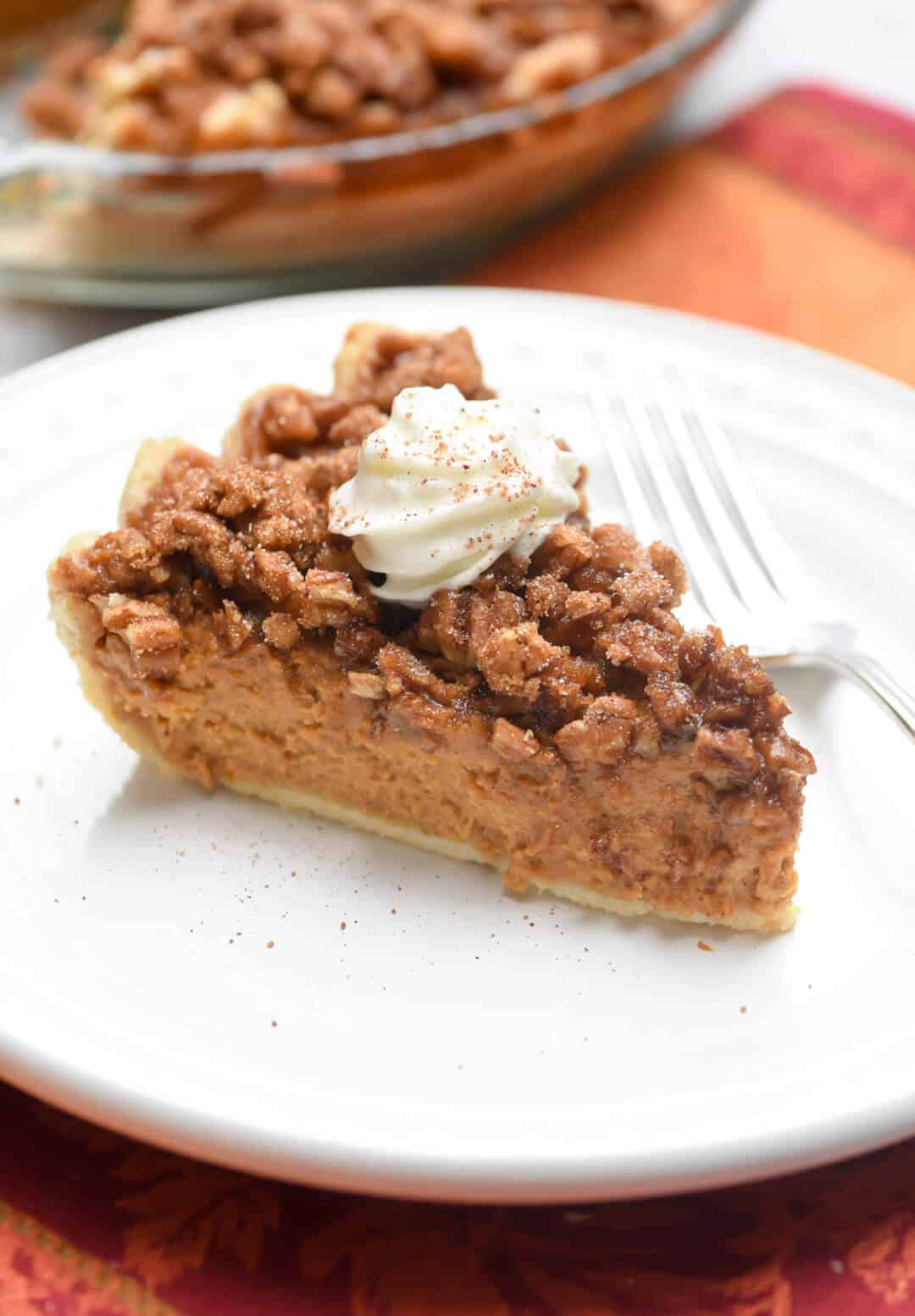 After years and years of baking pies for holiday gatherings, I've become a bit bored with some of the classics. Pumpkin pie is always on the list but I felt the need to do something a little different with it this year.
You've got to keep them guessing!
I had a little fun in the kitchen this weekend which resulted in what I think will become a new holiday favorite. If you are a fan of both pumpkin and pecan pie, this is the pie for you!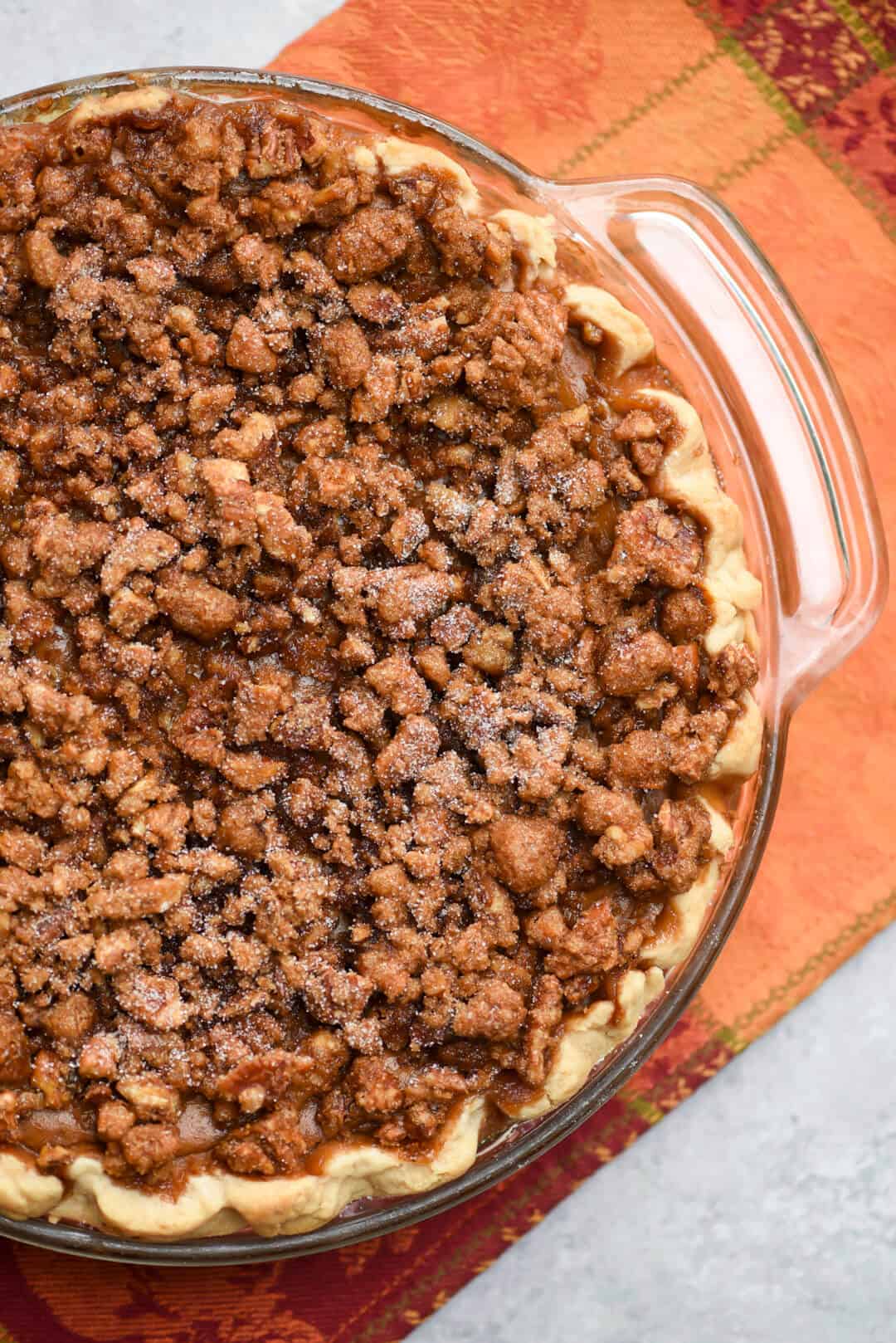 How is it different than your run of the mill pumpkin pie? It is deep, dark, nicely spiced and topped with a sticky-sweet pecan praline layer.
For the pumpkin custard, I swapped out white sugar for dark brown, added a decent amount of cinnamon (or indecent, depending on your point of view) , and threw in an extra egg to ensure it was plenty custard-y.
The pecan praline includes additional dark brown sugar, chopped pecans, a touch of dark corn syrup, and a little vanilla.
The pie bakes until it is set up and then the praline layer is added and it goes back in the oven until it is caramelized. Baking the pie before adding the praline layer ensures the praline will stay on top, where it belongs.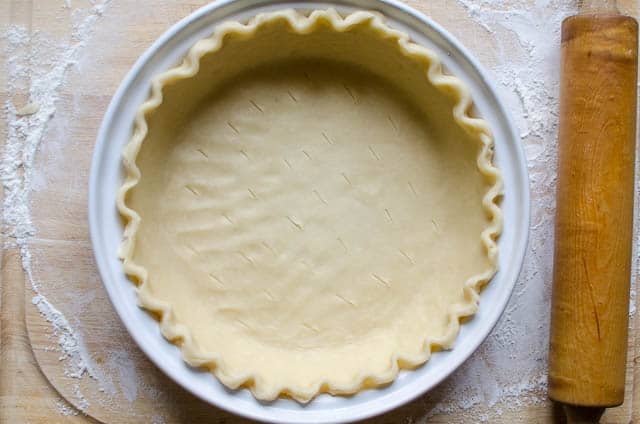 BASIC PIE CRUST (FOOD PROCESSOR METHOD)
Click the link above to check out my food processor method for creating perfectly flaky and delicious pie crust. This is the recipe I use for all of my holiday pies.
Or, feel free to use a store-bought crust if you're short on time.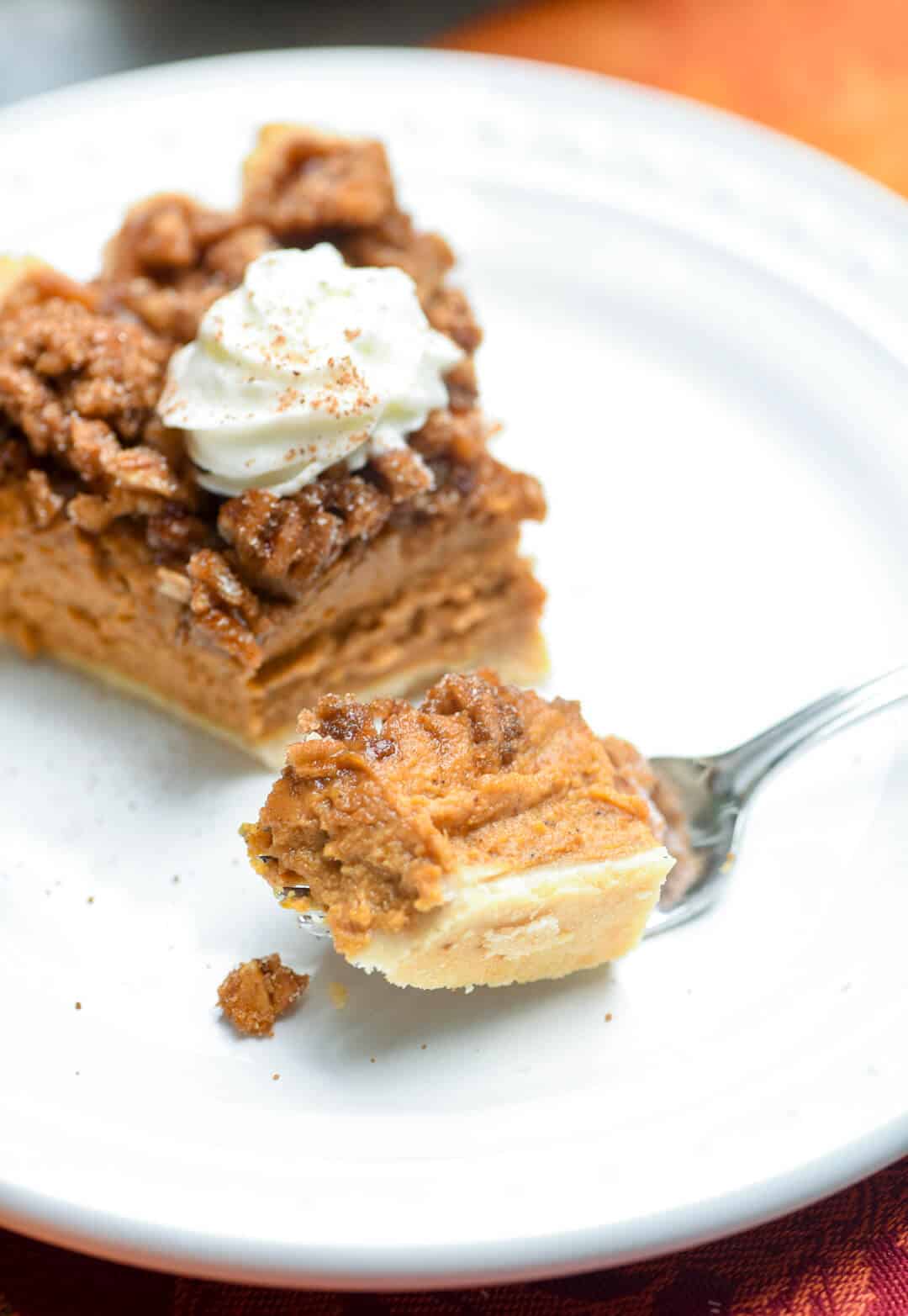 This pie will make an delicious addition to your Thanksgiving dessert menu this year.

Ingredients
For the pumpkin custard
3/4 cup packed dark brown sugar
2 teaspoons ground cinnamon
1 teaspoon ground ginger
1/2 teaspoon salt
1/4 teaspoon ground nutmeg
Pinch of ground cloves
3 large eggs
1 15 ounce can pumpkin puree (not pie filling)
1 12 ounce can evaporated milk
For the praline topping
1 cup 4 ounces pecans, chopped fine
1/2 cup packed dark brown sugar
2 teaspoons dark corn syrup
1 teaspoon vanilla extract
1 teaspoon granulated sugar
Instructions
Preheat oven to 425 degrees F.

Set pie crust into a 9" deep pie plate. Trim and flute edges, as desired. Use a fork to prick all over the bottom crust. Set aside.

In a small mixing bowl, whisk together brown sugar, cinnamon, ginger, salt, nutmeg, and cloves. Set aside.

Lightly whisk eggs in a large mixing bowl. Add pumpkin puree and sugar-spice mixture and stir until well combined. Stir in the evaporated milk.

Pour filling into pie crust, and bake at 425 degrees F for 15 minutes. Reduce oven temperature to 350 degrees F and continue baking for an additional 30 to 35 minutes minutes or until center appears mostly set and only slightly jiggles when you shake the dish.

While the pie is baking, toss pecans and brown sugar in bowl. Add corn syrup and vanilla and toss again. Use your fingers to work the ingredients together until well incorporated.

Scatter topping evenly over pie as soon as it is removed from the oven. Sprinkle 1 teaspoon granulated sugar evenly over the topping. Return pie to the oven on top of a baking sheet or piece of foil and bake at 350 degrees F until pecans are fragrant and topping is bubbling around edges, about 15 minutes. Cool pie completely on wire rack, at least two hours. Cover and refrigerate before serving.

Delicious on its own or topped with whipped cream.
Nutrition
Calories: 451kcal | Carbohydrates: 57g | Protein: 8g | Fat: 23g | Saturated Fat: 6g | Cholesterol: 82mg | Sodium: 348mg | Fiber: 4g | Sugar: 37g