This comforting Skillet Sausage and White Beans with Spinach is on your table in just 30 minutes. Serve with a loaf of crusty bread to soak up the delicious broth for a flavorful, satisfying meal.
Skillet Sausage and White Beans with Spinach
This meal is simplicity at it's best. Both in the list of easily stocked ingredients and the method of preparation. It all takes place in a 12″ skillet so cleanup is a breeze and smoked sausage and white beans are purely a match made in food heaven. They should stay together forever and ever, amen.
Things I love about this recipe:
It includes simple ingredients that are easy to keep on hand.
It's ready in 30 minutes.
You can easily lighten it up by using turkey or chicken sausage.
It's full of fiber, protein and dark leafy greens.
It's super flavorful and extremely comforting.
It's vibrant – our food should be pretty!
Some of the items you will need – fresh baby spinach, a package of smoked sausage (or your sausage of choice), a can of petite diced tomatoes, and a couple of cans of cannellini beans. Just a side note that this is way more spinach than you'll need but I had this big ol' container in my fridge.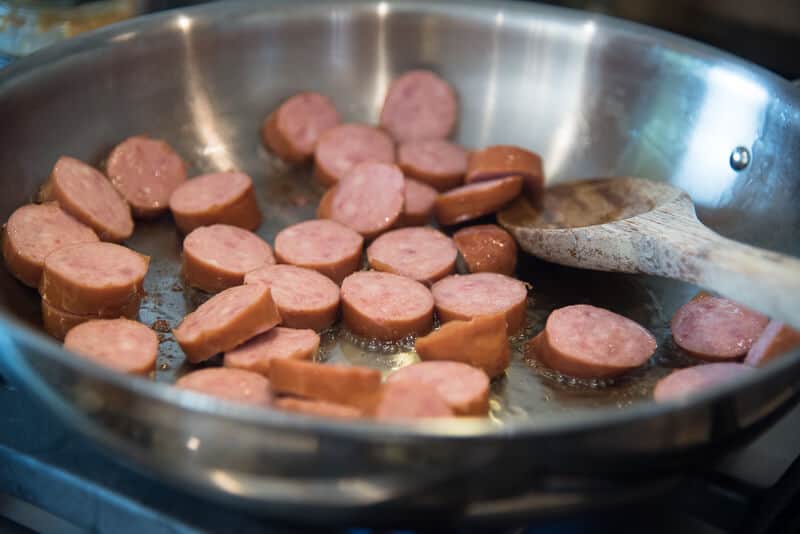 Heat 1 tablespoon of olive oil in a 12″ skillet over medium-high heat and add the sliced sausage. Cook and stir until nicely browned. Remember, the sausage is fully-cooked so we're just searing it here and that will only take 2 or 3 minutes.
Add 1-1/2 cups low sodium chicken broth, the rinsed and drained cannellini beans, the diced tomatoes, 1 teaspoon of Italian seasoning and 1/4 teaspoon crushed red pepper flakes for a bit of a kick. Bring this mixture to a boil and then reduce the heat to medium and allow it to simmer, uncovered, for about 15 minutes. The broth will reduce just a bit.
Add a few big handfuls of baby spinach. This is just about the amount in a 6 ounce bag. A little more or less won't hurt anything.
Remove the pan from the heat and stir the spinach into the sausage and beans until wilted. Season the mixture with a little fresh ground black pepper and top it with some grated Parmesan.
Dinner is served!
Watch the quick video below to see just how easy it is to put this delicious meal together!
For lots of delicious recipes, giveaways, and more, be sure to follow Valerie's Kitchen
Facebook | Twitter | Pinterest | Instagram | YouTube
Skillet Sausage and White Beans with Spinach
Ingredients
1 tablespoon olive oil
1 (14 ounce) package fully-cooked smoked sausage, sliced into 1/2" rounds
1 teaspoon minced garlic
1-1/2 cups low sodium chicken broth
2 (15 ounce) cannellini beans, rinsed and drained
1 (15 ounce) can petite diced tomatoes (fire-roasted diced tomatoes work very well too!)
1 teaspoon Italian seasoning
1/4 teaspoon crushed red pepper flakes
1 (6 ounce) bag fresh baby spinach
fresh ground black pepper, to taste
1/4 cup grated Parmesan, or to taste
Directions
Heat olive oil in a large skillet over medium-high heat. Add sausage and cook, stirring, until nicely browned. Add garlic and cook for just another minute or two until garlic is fragrant. Add chicken broth, cannellini beans, diced tomatoes, Italian seasoning, and crushed red pepper. Bring to a boil, then reduce heat to medium and let it simmer, uncovered for 15 minutes to allow broth to reduce a little.
Stir in fresh baby spinach and remove from heat. Continue to stir until spinach is wilted. Garnish with fresh ground black pepper and Parmesan. Ladle into bowls and serve with a hunk of crusty bread.
Recipe Notes
Can substitute any type of sausage you prefer - Andoullie sausage to add some heat - turkey or chicken sausage to reduce the fat and calories.
Recommended for this recipe: