Slow Cooker Cuban Pork with Black Beans and Rice is a satisfying, flavorful meal you can make any night of the week. The pork roast cooks low and slow throughout the day and the black beans and rice can be made just before you are ready to serve.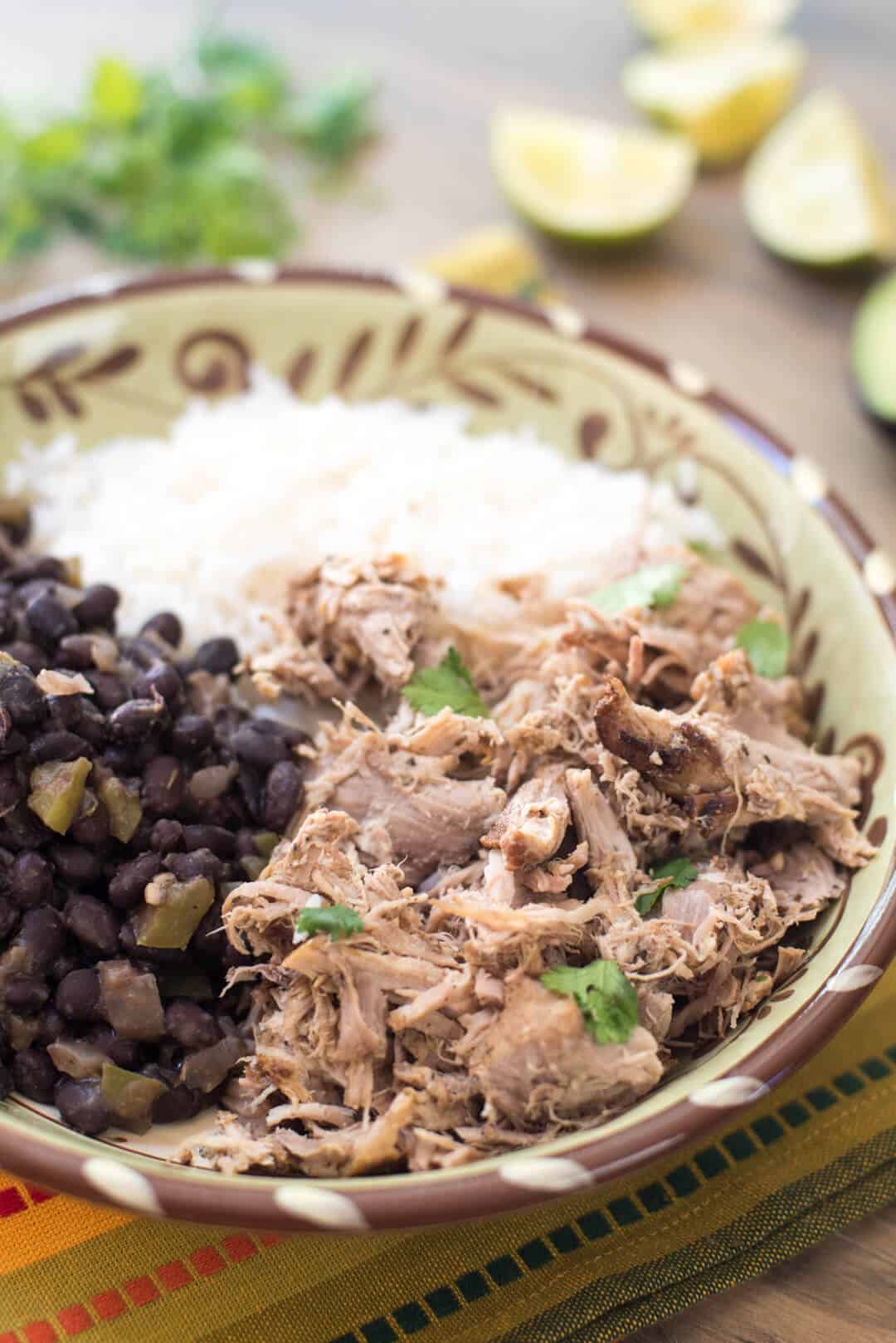 Bowl meals are one of my favorite go-to recipe ideas for a busy weeknight. They typically involve meat that has been been cooked low and slow until fork tender and easy to shred, and some rice and beans. From there you can go with an assortment of other additions and toppings.
And of course, the best way to create tender, shredded meat while you attend to your busy life is with your trusty slow cooker!  
Cuban pork is typically roasted in the oven but I decided from the get-go I wanted to create a recipe that could be done in my slow cooker. I just can't seem to find the time to babysit a roast while it cooks in my oven these days.
Most recipes will include cumin, oregano, and garlic and some sort of citrus marinade. With the slow cooker method, I've skipped the step of marinating the meat because in essence it will be doing just that as it slow cooks for 6 to 8 hours covered with the spices and immersed in the citrus juices. Plenty of time for those ingredients to do their thing.
This bowl full of goodness is so flavorful and satisfying that I don't think it needs anything extra added. Maybe a little chopped cilantro as a garnish, and okay, a touch of sour cream wouldn't hurt either. A few slices of avocado is always delicious and some of my guys like to keep the hot sauce close by to spice things up.
Add what you like or keep it simple.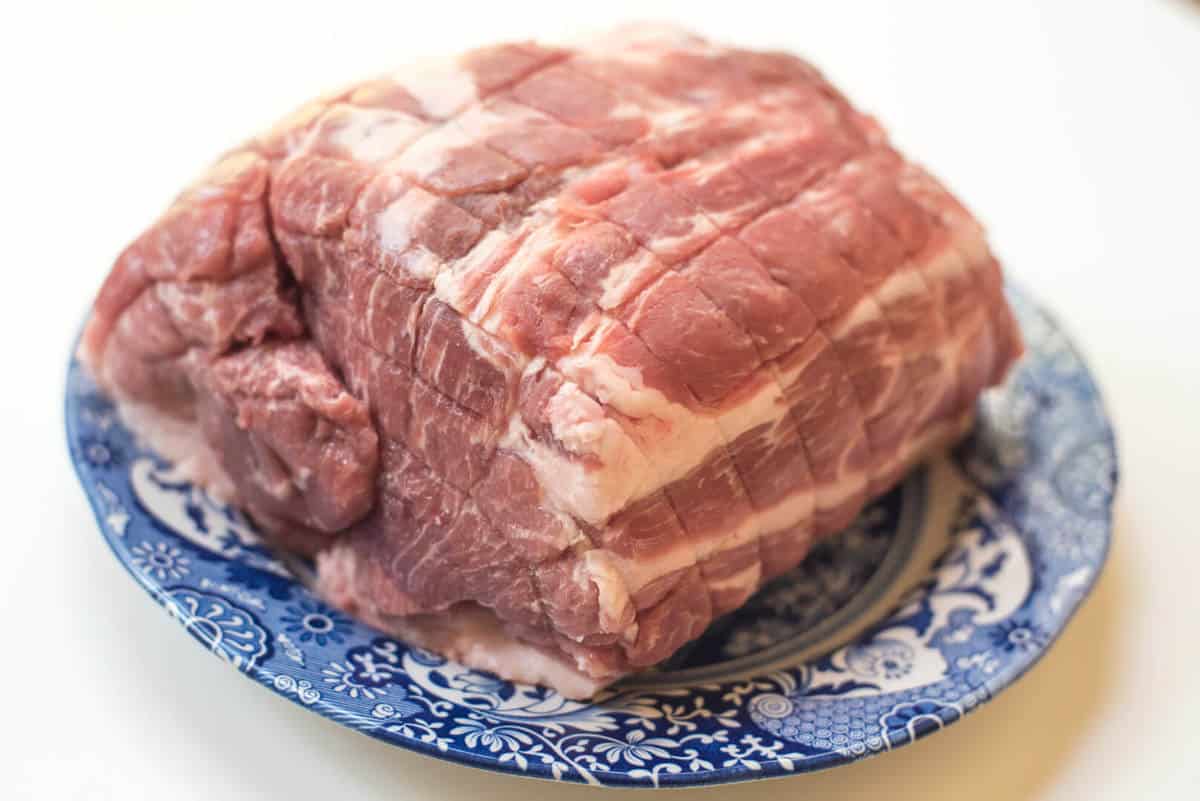 Say hello to my little friend. This is a 5-ish pound boneless pork shoulder, also affectionately referred to as a Boston butt. They will typically have a pretty nice layer of fat on one side that can pretty easily be sliced away with a sharp knife. The first step in the process is to trim as much of the fat away from the exterior of the roast as you can.
What you see here in this little dish is a delicious blend of olive oil, cumin, dried oregano, salt, and fresh ground black pepper. Let's give our pork roast a little massage…
Spread the oil and spice mixture over the roast, coating all sides.
The spice coated roast takes a turn in a heavy skillet – cast iron is best – in hot olive oil. Cook it for several minutes, turning as needed to brown it nicely on all sides.
Transfer the browned pork roast to your slow cooker and pour in some chicken broth, fresh orange and lime juice. Sprinkle with a good amount of minced garlic, tuck in a bay leaf, cover and set the slow cooker on LOW for 6 to 8 hours.
Hello beautiful! The roast is ready when you can reach in and shred it easily. Shred it as much or as little as you'd like and press the meat down into those flavorful, citrus, cumin and oregano infused juices.
You can use this shredded pork for a variety of different purposes but it's wonderful served up with Easy Cuban-Style Black Beans and rice like I've done here.
For lots of delicious recipes, giveaways, and more, be sure to follow From Valerie's Kitchen
Facebook | Twitter | Pinterest | Instagram
Click HERE to sign up for your FREE email subscription and never miss a recipe!
Slow Cooker Cuban Pork with Black Beans and Rice
Ingredients
1 (4 to 5 pound) boneless pork shoulder (Boston butt roast), trimmed of as much fat as possible
4 tablespoons olive oil, divided
1 tablespoon cumin
1 tablespoon dried oregano
2 teaspoons salt
1 teaspoon fresh ground black pepper
1/2 cup low-sodium chicken broth
1/2 cup fresh orange juice
1/4 cup fresh lime juice
2 teaspoons minced garlic
1 bay leaf
1-1/2 cups long grain white rice
3 cups low-sodium chicken or vegetable broth
Directions
In a small bowl, combine 2 tablespoons olive oil, cumin, oregano, salt, and fresh ground black pepper and stir to create a paste. Rub the paste all over the trimmed pork shoulder. Heat the remaining oil in a large heavy skillet or Dutch oven over MEDIUM-HIGH heat. Sear the pork until it forms a browned crust on both sides. Transfer the pork roast to your slow cooker.
Pour the chicken broth, orange, and lime juice over the pork roast in the slow cooker. Sprinkle with the minced garlic and tuck a bay leaf down into the liquid. Cover and dook on LOW for 6-8 hours, or until you can easily shred the meat with a fork. Remove and discard the bay leaf and shred the meat into the cooking juices.
Meanwhile, prepare Easy Cuban-Style Black Beans.
Prepare rice according to package directions, using chicken or vegetable broth in place of water.
Serve shredded pork with Easy Cuban-Style Black Beans and rice.
Inspired by Serious Eats