Making use of canned black beans makes these Easy Cuban-Style Black Beans quick and easy enough to prepare any night of the week. The traditional flavors are there in a dish that is ready in under 30 minutes!
These Cuban-Style Black Beans are a really tasty accompaniment to a variety of meat dishes but I especially love them with my Slow Cooker Cuban Pork. They are so complimentary in fact that I had planned to share them together in one post but at the last minute I decided they deserved their own time in the limelight. 
Traditional recipes for Cuban-style beans will typically start with dry beans which makes it a dish you have to plan for way in advance. Don't get me wrong, I love cooking dry beans from scratch however on a typical weeknight, it's just not happening.
This recipe allows you to create an easy version of this dish with the traditional flavors that will literally take you under 30 minutes to make.
The dry seasonings include cumin and oregano and an interesting component to Cuban-style beans – they are also seasoned with vinegar and sugar which compliment each other in a unique and delicious way.
Shall we?
Grab a 12″ skillet, add 1/4 cup olive oil and place it over MEDIUM heat. Add onion, bell pepper, jalapeno, and garlic and cook, stirring, until vegetables begin to soften, approximately 5 to 6 minutes.
Add 3 cans of drained black beans, low-sodium chicken or veggie broth (whichever you prefer), cumin, oregano, salt, pepper, apple cider vinegar, and a touch of sugar. Reduce the heat to LOW and simmer for about 15 minutes until the mixture thickens.
Serve them with pork, beef, or chicken. They are delicious as part of a bowl meal including rice and shredded meat. They are also a great choice alongside traditional Mexican entrees like enchiladas.
Mix things up a bit and give these tasty beans a try!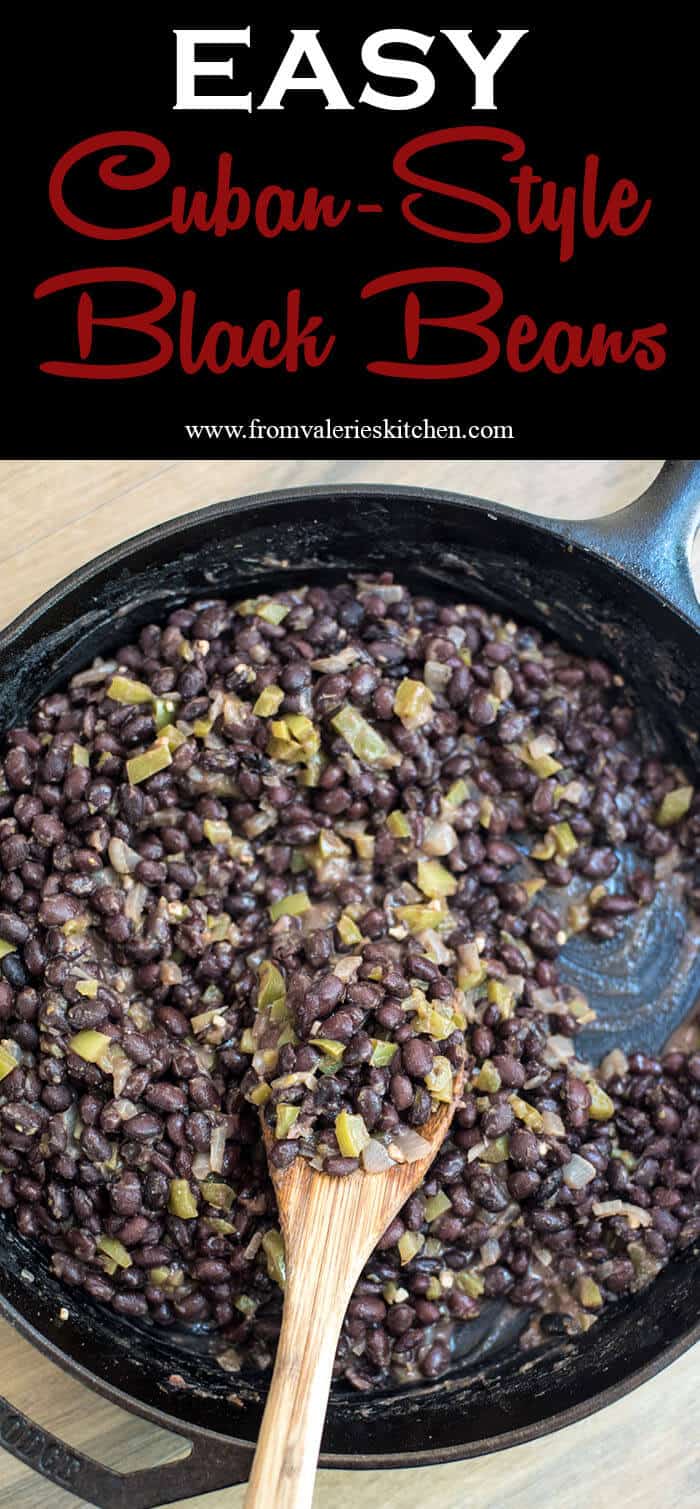 For lots of delicious recipes, giveaways, and more, be sure to follow From Valerie's Kitchen
Facebook | Twitter | Pinterest | Instagram
Click HERE to sign up for your FREE email subscription and never miss a recipe!
Easy Cuban-Style Black Beans
Ingredients
1/4

cup olive oil

1

cup diced white or yellow onion

1

small green bell pepper, seeded and diced

1

jalapeno, seeded and diced

1

teaspoon minced garlic

3

(15 ounce) cans black beans, drained

3/4

cup low-sodium chicken or vegetable broth

2

teaspoons dried oregano

1

teaspoon ground cumin

1/2

teaspoon salt

fresh ground black pepper, to taste

2

tablespoons apple cider vinegar

1

teaspoon sugar
Instructions
Heat oil in heavy 12" skillet over MEDIUM heat. Add onion, bell pepper, jalapeno, and garlic and cook, stirring, until vegetables begin to soften, approximately 5 to 6 minutes. Add the beans, broth, oregano, cumin, salt, pepper, vinegar, and sugar and simmer until mixture thickens and flavors blend, stirring occasionally, about 15 minutes.
Adapted from Epicurious