Take canned beans to the next level with these easy Spicy Baked Beans. A zippy, flavorful take on the classic summer potluck dish.
As we prepare to fire up the grill this Memorial Day weekend, I thought it was time to share my take on a classic BBQ side dish – baked beans. Last year I shared another recipe for baked beans (click here to view) which have been a long time family favorite. The recipe I'm sharing today with y'all is quite different in flavor, but equally loved.
These aren't the soak the dry beans in water overnight and bake them for ten hours till soft, kind of beans. These are the open some cans, throw in some good stuff and voila…beans, kind of beans. And, they are excellent!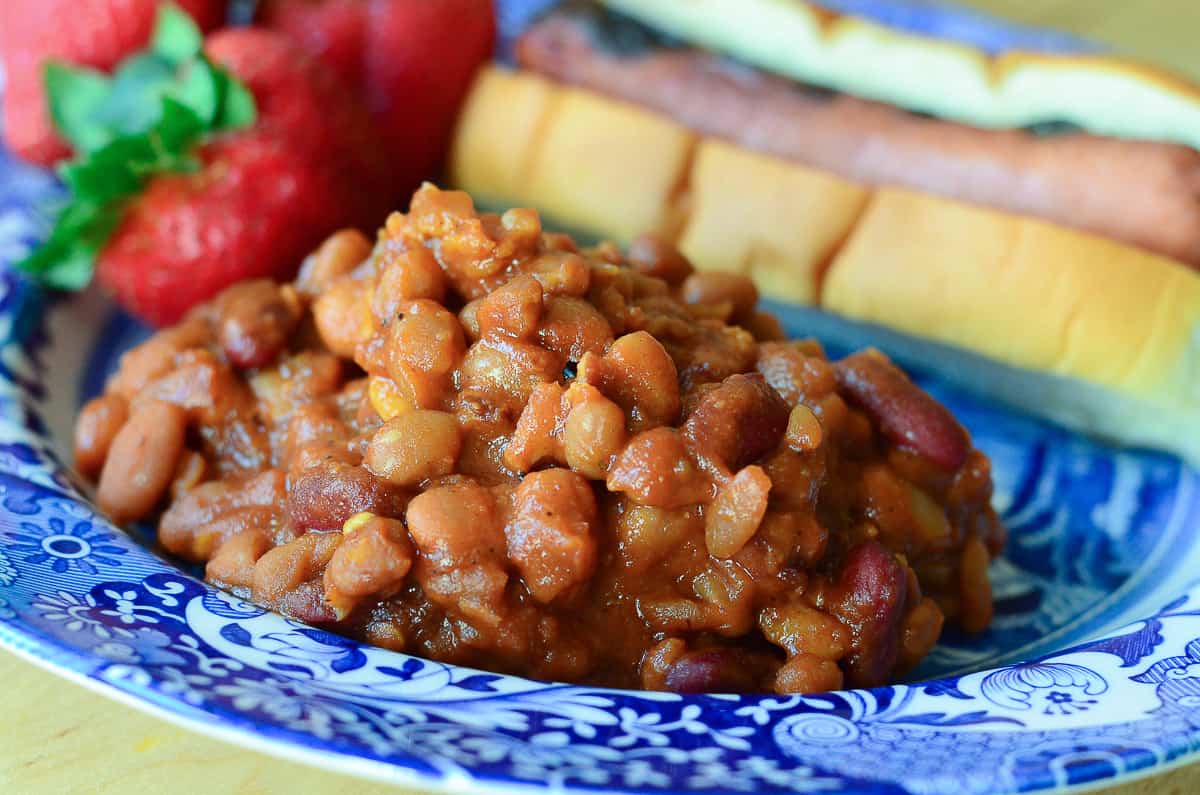 The flavor has that down home familiarity but I've punched it up with some smoked paprika, a diced jalapeno and a little cayenne. Over time, my boys have been requesting spicy foods more and more and at this point, I believe they have left me in the dust as far as the amount of heat they can handle.
The heat level is very easy to control by scaling back on the jalapeno and cayenne, or even omitting them altogether. So, if you're feeding lots of youngins I'd recommend doing just that. But, if you like a little spice in your life, these are for you!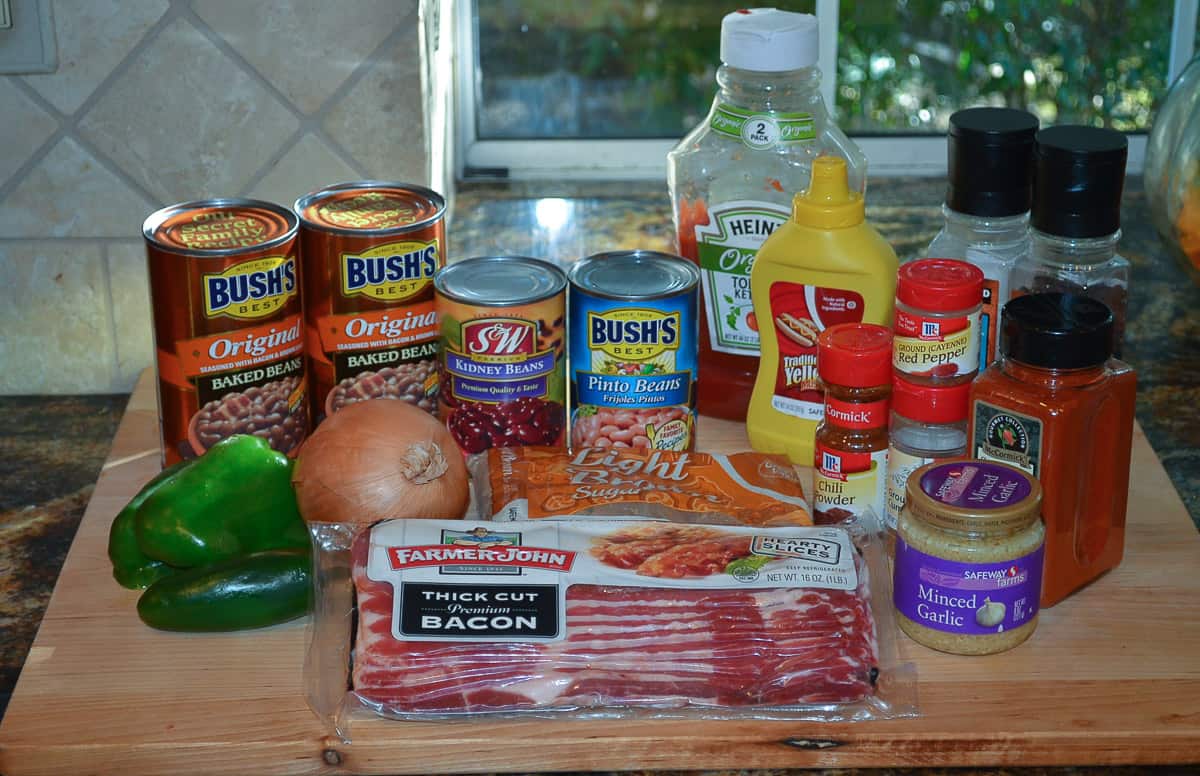 Be sure to use a good brand of basic baked beans like the Bush's Original Baked Beans above. We are going to add a lot of flavor so you don't need any of the fancy combinations that are out there. You'll also need some kidney and pinto beans, ketchup, yellow mustard, salt, pepper, chili powder, cumin, cayenne pepper, smoked paprika, minced garlic, brown sugar, bacon, onion, green or red bell pepper, and a jalapeno.
After you cook up six pieces of bacon in a Dutch oven, remove the bacon to paper towels to drain and discard most of the bacon grease, leaving just a scant amount of grease in the pot. Add the diced onion, bell pepper, garlic, and jalapeno. For more information on how to control the heat level of your jalapeno take a look here. Be sure to come back; we have some baked beans to make here.
Once the onion and peppers have softened, add the cooked crumbled bacon and all of the remaining ingredients.
Cover and bake the mixture at 350 degrees for an hour and you'll have a big pot of crowd pleasing baked beans.
If you want to put your slow cooker to work, take a look at the printable recipe below for Crock-Pot cooking instructions.
Have a fabulous and delicious holiday weekend. Don't forget to eat your veggies…and your beans!
Spicy Baked Beans
These easy Spicy Baked Beans are a zippy, flavorful take on the classic summer potluck dish.


Print
Pin
Rate
Servings: 10
Calories: 380kcal
Ingredients
6 slices bacon
1 cup diced onion
1 teaspoon minced garlic
1 small green or red bell pepper, diced
1 jalapeno pepper, seeded as desired and diced
56 ounces Bush's Best Original Baked Beans, don't drain (2 (28 ounce) cans)
15 ounce can kidney beans, drained
15 ounce can pinto beans, drained
1 cup ketchup
2 tablespoons mustard
1/3 cup brown sugar
2 tablespoons smoked paprika
1 tablespoon chili powder
1 teaspoon cumin
1/4 teaspoon cayenne, or to taste
1 teaspoon salt
1/2 teaspoon fresh ground black pepper
Instructions
Preheat oven to 350 degrees F.

Place bacon in a Dutch oven. Cook over medium high heat until evenly brown. Transfer the bacon to paper towels to drain, allow to cool and then crumble and set aside.

Drain bacon grease from pot leaving just a scant amount. Place onion, garlic, bell pepper, and jalapeno pepper in the Dutch oven. Cook, stirring, until onion and peppers are tender. Return crumbled bacon to the Dutch oven. Mix in the Bush's Original Beans and the drained kidney and pinto beans. Stir in the ketchup, mustard, brown sugar, smoked paprika, chili powder, cumin, cayenne, salt, and pepper. Cover Dutch oven, and bake for one hour.

Transfer any leftovers to a freezer container and freeze for up to 3 months.

Crock-Pot Method: Instead of baking in the oven, transfer the mixture to your Crock-Pot set to low. Cover and allow to cook for 3 to 5 hours.
Nutrition
Calories: 380kcal | Carbohydrates: 65g | Protein: 15g | Fat: 9g | Saturated Fat: 3g | Cholesterol: 20mg | Sodium: 1470mg | Potassium: 929mg | Fiber: 14g | Sugar: 18g | Vitamin A: 1315IU | Vitamin C: 17.2mg | Calcium: 143mg | Iron: 4.8mg