Zucchini and Sweet Corn with Feta is an incredibly simple, but super flavorful summer vegetable side dish that I highly recommend trying while summer vegetables are at their peak. It has become one of my favorite ways to prepare zucchini.
As I write this post we are primed and ready to leave for a long weekend in the mountains to swim in the river, hike, eat way too much food, drink a cocktail or two, and visit with my big brother, Jim and my sis, Marj. I also happen to be coming down with a cold that totally stopped both Boy #4 and my husband in their tracks earlier this week. Why do moms always get the bug last?  Right before vacation?  Or, on a big holiday when they are responsible for feeding a huge group of people?  Why?  I'm using sheer will and determination to keep this thing at bay.  May the force me be with me.  Amen.
Let's talk about zucchini.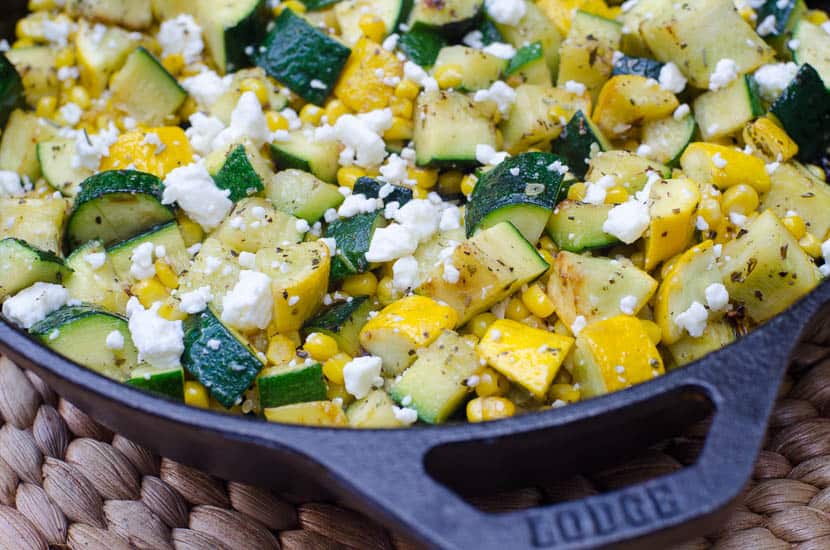 I'm a huge fan of squash in general but it is zucchini time right now and I couldn't be happier about that. I've been a bit zucchini crazed as of late and this particular side dish has become one of my favorite things to eat – ever. I get excited when the highlight of a meal is the veggie side and this one does that for me in a big way.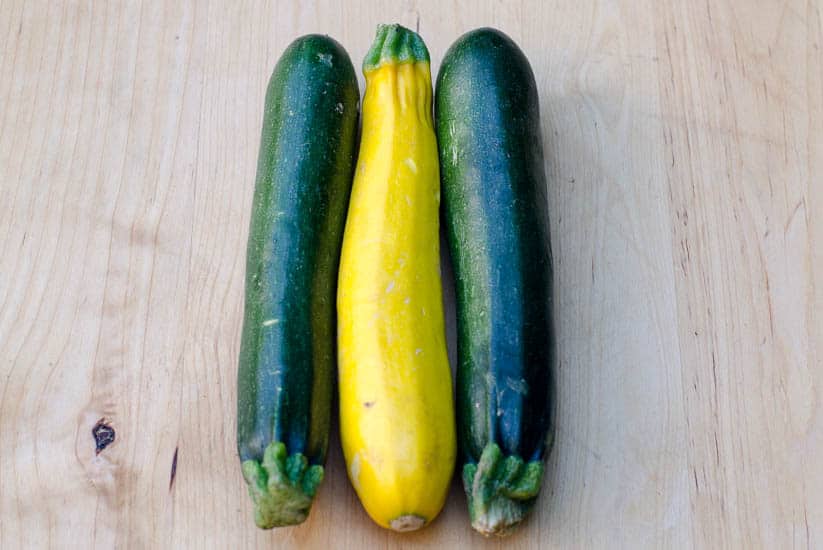 Many people may not realize there is a difference between what is commonly referred to as "yellow summer squash" and yellow zucchini. Yellow zucchini has a deep, vibrant color and a slightly sweeter taste than the green variety. You can tell it apart from other yellow varieties of squash because like it's green brother, it is pretty much the same width from end to end, as you can see in the photo above. Other varieties of yellow summer squash will taper at the end and can have either a crook or straight neck. All of these varieties are wonderful in this recipe so use whatever you can find. This is one of those dishes you can make a little different each time. Mix it up!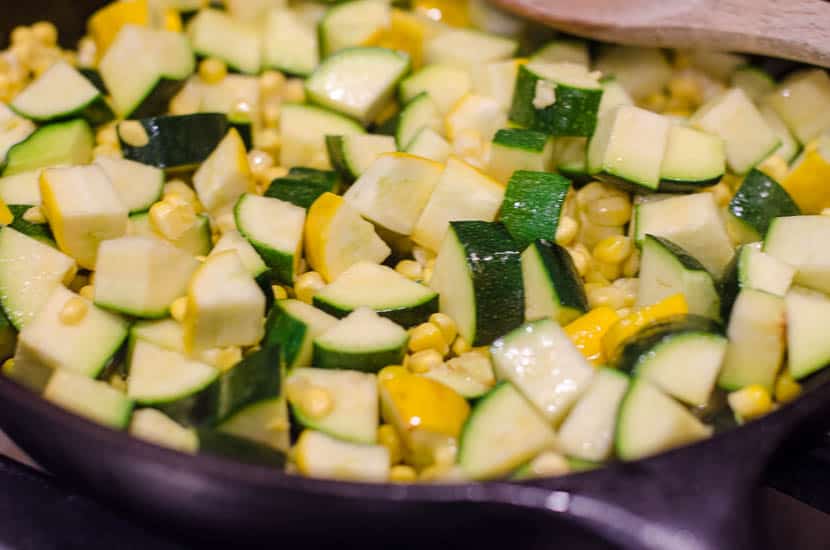 The chopped squash, some fresh corn cut from the cob, and minced garlic just need a quick saute in some olive oil. In less than five minutes it will be crisp tender and perfectly cooked.
A little Italian seasoning, salt and pepper is added towards the end of the short cooking time. Finish it off with a squeeze of fresh lemon juice and some crumbled feta cheese.
A fabulous side dish or add some grilled chicken over the top for an incredibly delicious summer meal. If you are a zucchini fan you are going to love this!
Zucchini and Sweet Corn with Feta
Prep Time 5 minutes
Cook Time 5 minutes
Total Time 10 minutes
Servings 4 to 6 servings
Change the number in the box above to adjust serving size. Please note that size of cookware and cook time may vary.
Ingredients
2 tablespoons olive oil
2 zucchini chopped into 1/2" pieces
1 yellow zucchini or other yellow summer squash chopped into 1/2" pieces
1 ear of sweet corn
1 teaspoon minced garlic
1 teaspoon Italian seasoning
Salt and fresh ground pepper to taste
1/2 lemon juiced
1/8 cup crumbled feta cheese
Instructions
Heat oil in a large skillet over medium-high heat. Add zucchini, yellow squash, corn, and garlic. Cook and stir until zucchini is crisp tender, about 3 to 4 minutes. Sprinkle with Italian seasoning and salt and pepper. Cook and stir for another minute. Remove pan from heat and stir in the lemon juice. Sprinkle with crumbled feta and allow to sit for a minute to allow feta to begin to melt. Serve.

Adapted from Damn Delicious
A few more of my favorite vegetable sides for you to check out.
Balsamic Grilled Zucchini
Sweet and Spicy Asian-Style Green Beans 
Roasted Asparagus with Balsamic, Goat Cheese and Toasted Walnuts