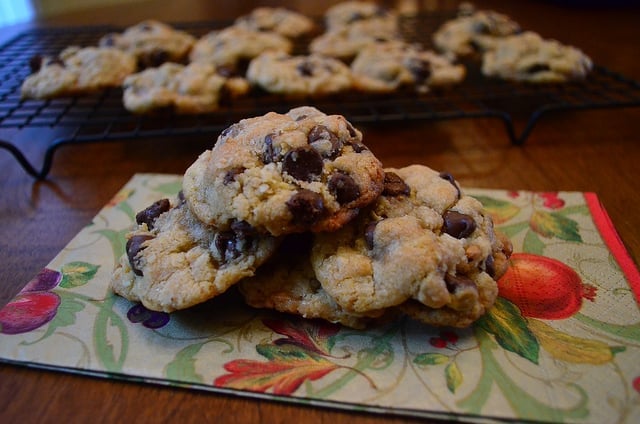 After my mad cookie baking frenzy before Christmas, I felt the need to back off from the baking for awhile.  But for the past couple of weeks, I've noticed my boys hovering around the kitchen, hopefully opening the pantry door and staring longingly at nothing. I guess it's time to get back in the saddle. I put together a batch of these yesterday and all is well in my household once again.
Toffee and chocolate together are just downright sinful, in a really good way. I've added just enough oats to add substance but not enough to call it an oatmeal cookie. You're going to like these, promise.
Enough chatter…let's make cookies!
The grocery list –  oats (quick cooking),  all-purpose flour, baking powder, baking soda, salt, butter, brown sugar,white sugar, eggs, vanilla extract, semisweet chocolate chips, and a package of toffee bits
These Heath Toffee Bits are what make this cookie so special. You should be able to find them in the baking section of your grocery store.
Mix together all the dry ingredients.
In a separate bowl, cream the butter into the brown and white sugars with a hand mixer.
Beat in the eggs, one at a time.
Add the vanilla.
Add the dry ingredients and combine with a spoon.
And lastly, in go the chocolate chips and toffee bits.
Now we are ready to bake some cookies!
Roll the dough into small balls and place on prepared baking sheets.
The key to these cookies is to get them out of the oven on time. Pull them out just when they are barely set and only lightly golden. They will be continue to set up as they cool and the end result is a sweet, chewy, delicious cookie.
Now grab the milk and enjoy!
Toffee Chocolate Chip Cookies
Prep Time 12 minutes
Cook Time 13 minutes
Total Time 25 minutes
Servings 5 dozen
Change the number in the box above to adjust serving size. Please note that size of cookware and cook time may vary.
Ingredients
1 cup oats quick cooking
3 cups all-purpose flour
1 teaspoon baking powder
1 teaspoon baking soda
1 teaspoon salt
1 cup butter softened
1 cup packed brown sugar
1 cup white sugar
2 eggs
2 teaspoons vanilla extract
1 cup semisweet chocolate chips
1 8 ounce package toffee bits
Instructions
Preheat oven to 350 degrees. Line baking sheets with parchment paper or spray with cooking spray.

Mix together flour, oats, baking powder, baking soda, and salt; set aside.

In a large bowl using a hand mixer, cream together butter, brown sugar, and white sugar until smooth. Beat in eggs one at a time, then add in the vanilla. Stir in the flour/oat mixture with a spoon until well combined. Mix in toffee pieces and chocolate chips. Roll dough into small balls and place on prepared baking sheets.

Bake for 11 to 13 minutes in the preheated oven being very careful not to overbake. Pull out of oven just when barely set and still light in color. Allow cookies to cool on baking sheets for 2 minutes before transferring to a wire racks to cool completely.
Course Dessert
Cuisine American