Save oven space on the holidays with this easy Crock-Pot Stuffing recipe. This hands off method is a real timesaver and creates the most delicious bread stuffing!
Stuffing can be a touchy subject for folks. For some it's got to have sausage, for others it must have cornbread, and some people even put the yucky innards from the turkey in there. Sorry, if I've offended any giblet lovers out there. I grew up eating my Mom's traditional bread stuffing that she made each and every Thanksgiving. It is still my favorite and it's what I make for my family. I have modified her recipe over time, mixing up the spices a little, but the biggest change is the method.
Why Should I Cook Stuffing in a Slow Cooker?
I came across the idea to cook the stuffing in a slow cooker on Allrecipes and I've done it that way ever since. It's genius. When I was a kid, my Mom always stuffed the bird and put what was left in a casserole dish and baked it separately. Now that we are advised not to stuff the bird, you end up with a large casserole dish of stuffing taking up oven space on a day when you have no oven space to spare. Instead, start the stuffing hours ahead of time in your slow cooker on your kitchen counter, freeing up the oven for all your other dishes. This allows you to monitor the taste and consistency throughout the cooking time and make adjustments as needed to get the perfect result. And, you can make a ton of it so you are sure to have leftovers.
The Best Bread for Crock-Pot Stuffing
You'll need two loaves of bread. I like to use a soft sandwich bread, either buttermilk or potato, whatever's on sale. I also like to add in a loaf of soft French bread (not super hard and crusty) that I get from my local store's bakery section. We aren't making a sourdough stuffing here although you really can use any type of bread that does it for you. Keep in mind that I feed a mob so if you've got less people, you can scale this in half.
How to Make Crock-Pot Stuffing
Slice the loaf of french bread and then tear the slices up, into bite size pieces and spread them on a rimmed baking sheet. Now tear up the sliced sandwich bread and spread it on a second baking sheet. Discard the end pieces or save them for another purpose. Put the baking sheets in a 250 degree oven for about 20-30 minutes. Reach in (carefully!) and give the bread a stir now and then and remove from the oven when lightly toasted. You can start in on the veggies while the bread is toasting.
Dice up a couple of yellow onions, an entire bunch of celery, and one carrot. I like to add the carrot for color.
Melt two sticks of butter in a large skillet, yes, there's butter involved. It's okay, it doesn't count on Thanksgiving.
Add your veggies and turn the heat up. Cook and stir for about 10 minutes or so.
Add the fresh parsley and minced garlic and cook and stir for another minute or two.
If you are adding mushrooms, this is where you would add them. I LOVE this Crock-Pot Bread Stuffing with fresh mushrooms but it's an optional ingredient.
Here's the part where your house will start to smell amazing. Add the seasoning and cook and stir for another couple of minutes. Remove the skillet from the heat and set aside.
Transfer the toasted bread to a roasting pan or very large bowl. Since the turkey roasting pan is out anyway, we'll use it now before the turkey gets it's turn. Pour the cooked veggies over the top and stir well to combine.
Time to add a couple of lightly beaten eggs and now – here's the important part. The key……the golden rule. You will add chicken broth, but only just enough to moisten the bread, about 1 to 1-1/2 cups. How much you need to add will depend on the type of bread you use and how dry it is. Reserve the rest of the chicken broth to add in throughout the day, if needed. You may not need to use the entire amount. You can always add more, but you can't take it out.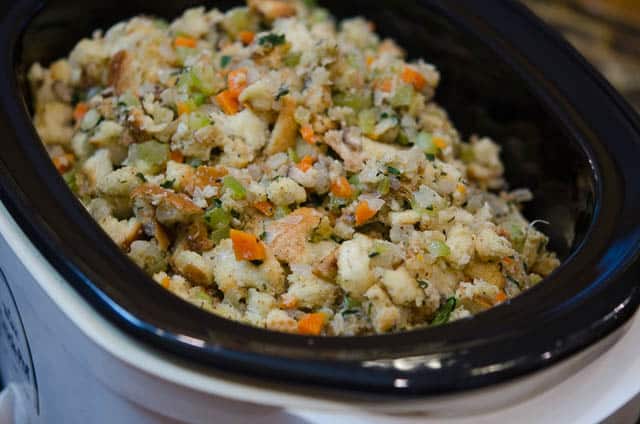 Now transfer the stuffing mixture to your Crock-Pot. Set it on low, cover it and you're done – for now. It will be full to the brim, but the mixture will cook down.
Check on the Crock-Pot Stuffing now and then. Add in chicken broth a bit at a time if you feel it needs it. I find it perfect with the amount of seasoning called for, but you can taste and adjust seasonings if needed. This is a valid excuse to taste it several times throughout the day.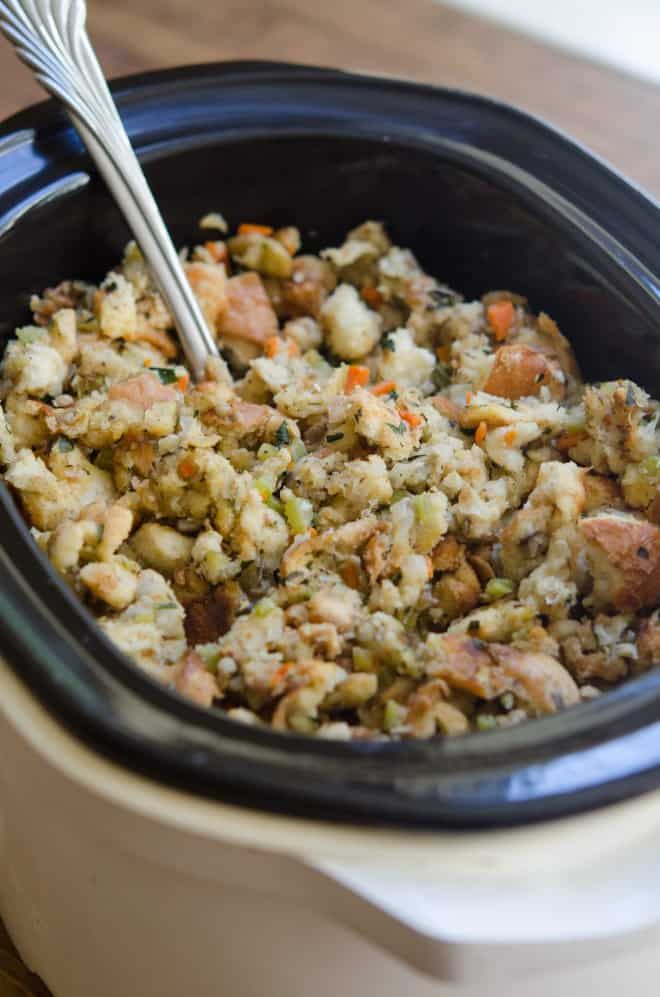 After 4 to 6 hours, it will be ready to serve. Just take the lid off and you're ready to go. If you prefer a crunchy topping, transfer your removable Crock Pot dish to your oven and broil for a couple of minutes till nicely toasted and brown. Without the browning, it is more like stuffing from the bird, which is how I like it.
Thanksgiving Menu
Check out all of my Thanksgiving Recipes including my Dry Brine Turkey and Easy Turkey Gravy – both excellent choices to serve with this Crock Pot Stuffing.
Happy Thanksgiving!
This bread stuffing can also be made ahead and baked in the oven. For complete make-ahead/oven bake instructions, see the recipe card below.
Crock-Pot Stuffing
Save oven space on the holidays with this easy Crock-Pot Stuffing recipe. This hands off method is a real timesaver and creates the most delicious bread stuffing!
Ingredients
1

pound

loaf soft French bread

(some stores label it as sweet French)

1

pound

loaf sliced buttermilk or potato sandwich bread

(I use Oroweat)

1

cup

butter

(2 sticks)

3

cups

diced onion

(about 2 onions)

3

cups

diced celery

(about 1 bunch)

1

carrot

diced

1

tablespoon

minced garlic

½

cup

chopped fresh parsley

4 or 5

cremini mushrooms

diced (optional)

2

teaspoons

dried sage

1

teaspoon

poultry seasoning

1

teaspoon

dried thyme

1

teaspoon

dried marjoram

2

teaspoons

salt

freshly ground black pepper

to taste

3 to 4

cups

low-sodium chicken broth

divided (can substitute vegetable broth)

2

eggs

beaten
Instructions
Preheat oven to 325 degrees F. Slice the loaf of French bread and then tear the slices of both the French and the sandwich bread into bite size pieces. Discard end pieces or save for another use. You should have about 20 cups, give or take, of torn bread. Spread the pieces of bread between two rimmed baking sheets and bake for about 15 to 20 minutes, or until lightly toasted, tossing with a spatula about halfway through.

While the bread is toasting, melt the butter in a large skillet over medium heat. Add the onion, celery, and carrot. Turn the heat up to MEDIUM-HIGH and cook, stirring frequently for about 7 to 10 minutes. Add the garlic, parsley and mushrooms (if using) and cook and stir for another minute or two. Add the poultry seasoning, sage, thyme, marjoram, salt and pepper. Mix well to combine. Remove from the heat.

When the bread is nicely toasted, transfer it to a large roasting pan or a very large mixing bowl. Spoon the cooked vegetables over and mix well. Add the beaten eggs and stir to combine. Add just enough chicken broth to moisten the mixture, about 1 to 1½ cups, reserving the rest for later. Mix well and transfer stuffing to a 6-quart (or larger) slow cooker.

Cover and set the slow cooker on LOW for 4 to 6 hours. Check on it now and then and add chicken broth throughout cooking time to achieve the desired consistency. Taste and add additional seasoning, if desired.

If you prefer a crunchy topping, transfer your removable (oven-safe) Crock-Pot dish to your oven and broil for a couple of minutes until nicely toasted and brown
Notes
Make-Ahead Instructions
Once you've added the cooked veggies, eggs, and 1-1/2 cups of chicken broth, cover the stuffing and refrigerate it overnight. Cover the remaining chicken broth and refrigerate it as well.
When ready to cook the stuffing proceed with remaining instructions as written.
If you prefer to bake the stuffing in the oven, transfer it to a large baking dish that has been coated with non-stick cooking spray before covering and chilling and follow instructions below when ready to bake. If you don't have a baking dish large enough, divide between two smaller dishes.
Conventional Oven Instructions
If stuffing was refrigerated overnight, remove the dish from refrigerator and allow it to sit out for about 30 minutes to take the chill off. Meanwhile, preheat oven to 350 degrees F. Remove foil and drizzle stuffing with remaining 1/2 cup chicken broth, or more, as desired. Replace foil and bake stuffing, covered, for 40 to 50 minutes until warmed through.
For a crispy topping, remove foil during last 15 minutes of baking time, or place under broiler for a couple of minutes before serving.
Nutrition
Calories:
172
kcal
·
Carbohydrates:
5
g
·
Protein:
2
g
·
Fat:
16
g
·
Saturated Fat:
9
g
·
Cholesterol:
67
mg
·
Sodium:
561
mg
·
Potassium:
198
mg
·
Fiber:
1
g
·
Sugar:
2
g
·
Vitamin A:
1690
IU
·
Vitamin C:
7.6
mg
·
Calcium:
39
mg
·
Iron:
0.6
mg
Nutrition information is automatically calculated using generic ingredients, and is an estimate not a guarantee. For more accurate results, please refer to the labels on your ingredients at home.
Did You Make This?
We love seeing what you've made! Tag us on social media at @fromvalerieskitchen for a chance to be featured