Saucy, seasoned ground beef is cooked with onions, green bell pepper, and corn and topped with a cheese-spiked cornmeal topping. Tamale Pie is pure, old-school comfort food.
I was always thrilled when my mom put Tamale Pie on the dinner table when I was a kid. I honestly didn't know anyone, young or old, who didn't love it. The combination of ingredients make it hearty, wholesome, and crave-worthy, and it just screams 1970's. If you listen close, you'll hear it. I believe the recipe actually dates back far earlier but it took on some new twists as it moved through time and this is the version I grew to love.
It really has very little to do with it's namesake, tamales, but this was true of many vintage recipes. I have a recipe from my mom's collection titled "Chinese Chicken" which is so NOT Chinese, but I'd never dream of calling it anything else.
OUR LATEST VIDEOS
It's these throwback recipes that I find myself craving the most. When I'm tired, stressed, or under the weather even just a little bit, I yearn for a meal like this.
Traditional 70's-style Tamale Pie does not have a thick layer of cornbread on top like many recipes I've seen. This recipe, like the one I grew up with, has a thinner cornmeal based topping that includes cheese. It has a light, velvety texture that forms a cozy blanket of goodness over the filling. 
This casserole dish is a great choice for a potluck or school banquet and it reheats beautifully. As a matter of fact, I'll be reheating this very casserole for my family in just a couple of hours for our dinner tonight. I somehow managed to cook and photograph it without diving in. Self-control can be hard when there's Tamale Pie close by.
Since it calls for canned goods and other pantry basics, I almost always have everything I need to pull this recipe together.
Shall we?
Place 1-1/2 pounds of ground beef, 1 cup of chopped onion, and 1/2 cup of chopped green bell pepper in a 12″ skillet over medium-high heat. Cook and stir until beef is crumbled and no longer pink. Pour off as much of the grease from the pan as possible and return the skillet to the heat.
Add the garlic, diced tomatoes, tomato sauce, chopped olives, frozen corn (no need to thaw it…just throw it in!), chili powder, salt, cumin, crushed red pepper, and black pepper. Stir the mixture together and bring it to a low boil and then reduce the heat to low and simmer for about 5 minutes.
Add 1 cup of shredded cheddar cheese. I'm using a combination of cheddar and jack to use up what I had on hand in the fridge. Use what you have…or what you like!
Stir the cheese into the beef mixture until it melts and then remove the pan from the heat. We're done with the filling for now. Onward!
Let's start the topping. In a large, heavy saucepan over medium heat, warm 1-1/2 cups milk, 1 tablespoon of sugar, 1/2 teaspoon salt, and couple of tablespoons of butter. When the butter has melted, slowly add 1/2 cup of cornmeal, stirring vigorously as you add it. Cook and stir until the mixture is creamy and thickened. This will happen quickly.
Remove the pan from the heat and stir in 1 cup of shredded cheddar and stir until the cheese melts.
Now, sloooowly drizzle in two lightly beaten eggs and really go at it again with that wooden spoon to get the eggs incorporated into the warm cornmeal mixture before they begin to set up.
Transfer the beef filling to a casserole dish that is coated with non-stick cooking spray.
Pour the cornmeal topping over the beef mixture.
Use a rubber spatula to spread the topping out to the edges of the pan. It's okay if it's not perfect. That just means the delicious filling will bubble up and around the edges of the topping as it bakes. Yum.
Pop the casserole dish in a 375 degree oven for about 30 to 40 minutes, or until the topping is nice and golden brown and the filling is bubbly.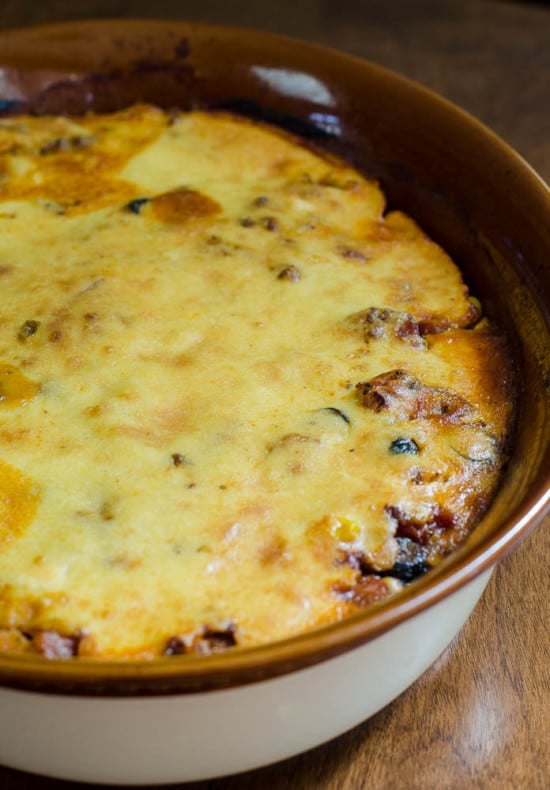 Now the hard part – after you remove it from the oven, let it sit for about 5 or 10 minutes to cool and set up a bit before serving. I know you can do it!
And, definitely serve it with sour cream. It's a must…in my book anyway.
Tamale Pie
Prep Time 20 minutes
Cook Time 40 minutes
Total Time 1 hour
Servings 6 servings
Change the number in the box above to adjust serving size. Please note that size of cookware and cook time may vary.
Ingredients
For the Filling:
1-1/2 pounds lean ground beef
1 cup chopped onion
1/2 cup chopped green bell pepper
1 teaspoon minced garlic
1 can 14-1/2 ounce diced tomatoes
1 8 ounce can tomato sauce
1 cup frozen yellow corn no need to thaw
1 2-1/4 ounce can sliced black olives, drained
1 tablespoon chili powder
1 teaspoon cumin
1 teaspoon salt
1/4 teaspoon crushed red pepper or to taste
1/4 teaspoon black pepper
1 cup shredded cheddar cheese
For the Topping:
1-1/2 cups milk
1 tablespoon sugar
1/2 teaspoon salt
2 tablespoons butter
1/2 cup cornmeal
1 cup shredded cheddar cheese
2 eggs lightly beaten
Instructions
Preheat oven to 375 F degrees. Lightly coat a 13" x 9" (or slightly smaller) casserole dish with non-stick cooking spray.

In a large skillet over medium-high heat, brown ground beef with onion and green bell pepper. Cook until beef is no longer pink and then drain off as much grease from the pan as possible. Stir in garlic, tomatoes, tomato sauce, corn, olives, salt, chili powder, cumin, crushed red pepper and black pepper and bring to a low boil. Reduce heat to medium-low and simmer for 5 minutes. Stir in 1 cup shredded cheddar cheese and simmer till melted. Transfer to prepared dish.

In a large saucepan over medium heat, warm milk, 1 tablespoon sugar, 1/2 teaspoon salt and 2 tablespoons butter, until butter has melted. Reduce heat to low and stir in cornmeal, a little at a time, stirring vigorously with each addition until smooth and thickened. Remove from heat and stir in cheese. Slowly drizzle in the beaten eggs, stirring vigorously until combined. Pour cornmeal mixture over meat mixture, smoothing out evenly over the surface.

Bake at 375 degrees for 30 to 40 minutes until golden brown and bubbly around the edges. Remove from oven and allow to cool for 5 to 10 minutes. Serve with sour cream.
You might also want to check out my Chili Cornbread Bake. In this recipe, a chili-like filling bakes on top of a sweet layer of cornbread. Not a traditional Tamale Pie in any sense but super tasty!