Whether it's a casual, fun weekend dinner in your backyard or an organized event at a park with friends, these 12 fresh and fabulous potluck picnic salad recipes are sure to please.
This post is part of a Rubbermaid #Freshworks sponsored series for Socialstars™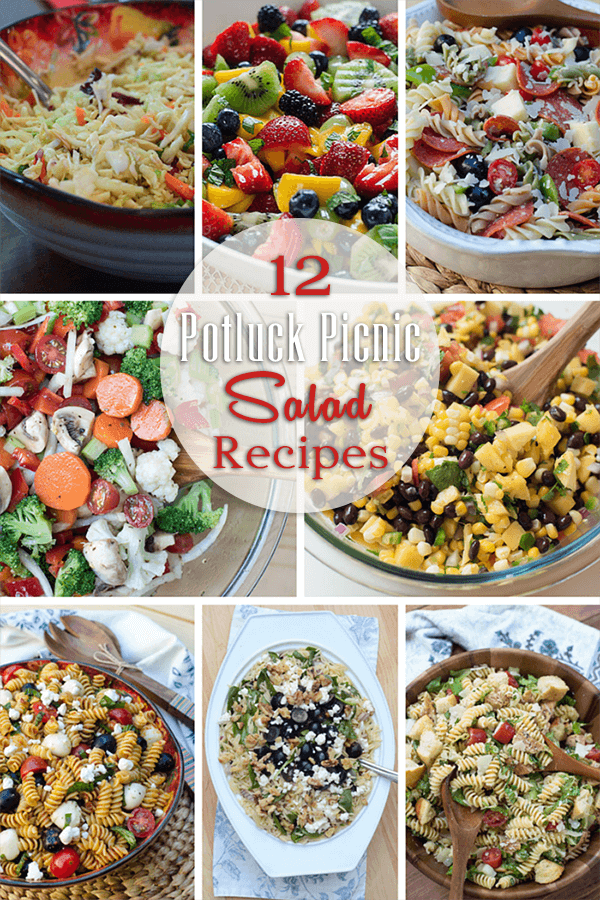 Outdoor gatherings are a big part of our lives here in Northern California. We've had some gorgeous sunny days already and weather permitting, you can pretty much count on any gathering we plan from now through the end of summer taking place in the great outdoors.
The recipes in this collection are my favorites for making and taking to potluck picnics. Most can be made in advance and all of them transport well. They include lots of fresh produce, gorgeous vibrant color, and wonderful flavor combinations; exactly what is in order when planning a menu for a spring or summer gathering.
Rubbermaid's new FreshWorks™ Produce Saver has arrived just in time to helps us keep our gorgeous seasonal produce fresher, longer. When we bag up fruits, greens, and veggies at the store they are typically a little damp and a wet plastic bag is pretty much the worst environment for anything fresh.
The FreshWorks™ containers include a CrispTray™ to elevate the produce away from moisture which allows for better airflow. Combined with the FreshVent™ technology in the lids, these containers will keep your produce up to 80% fresher than if kept in the store packaging. That's a pretty big deal when you want to shop on the weekend and keep fresh produce on hand through the week. The containers are available in three sizes ranging in price from $9.99 to $15.99 and are dishwasher safe. They are a great way to ensure your produce will be recipe ready when you need it.
A couple of tips before we get to the recipes:
If a recipe calls for a creamy dressing, pack it separately and keep it on ice in a thermal container if you're gathering is away from home. Toss it together with your salad just prior to serving.
Mixed green salads are not always the best choice for outdoor gatherings since greens can wilt quickly. You'll do better by going with a pasta salad with a little spinach or other substantial greens mixed in (some good ideas below).
12 Potluck Picnic Salad Recipes
Mango Corn Salsa with Black Beans – scoop it up with tortilla chips, serve it alongside grilled meat, or pile it on tacos. It is FABULOUS!
Fruit Salad with Creamy Poppy Seed Dressing – a homemade sweet and tangy poppy seed dressing makes this a really special fruit salad.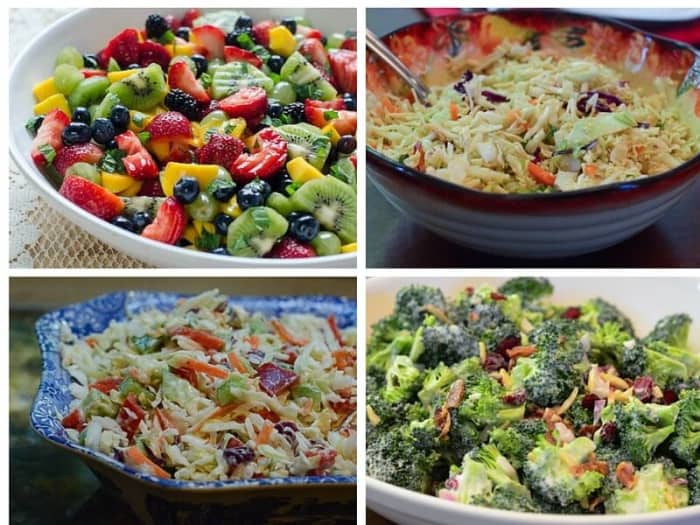 Top row – left to right:
Fruit Salad with Sweet Lime Dressing – Bright, beautiful, and delicious.
Ramen Cabbage Salad – Crushed ramen noodles and almonds make it crunchy and completely addictive. They will ask for the recipe.
Bottom row – left to right:
California Cole Slaw – Spruce up bagged cole slaw mix with some colorful veggies and a creamy but light homemade dressing.
Broccoli Salad – Broccoli, dried cranberries, red onion, almonds, and bacon! This classic recipe is always a hit.

Sun-Dried Tomato Pasta Salad – Big flavor and two kinds of cheese.
Pizza Pasta Salad – Pepperoni, olives, mozzarella with tri-color pasta. Everyone loves this one.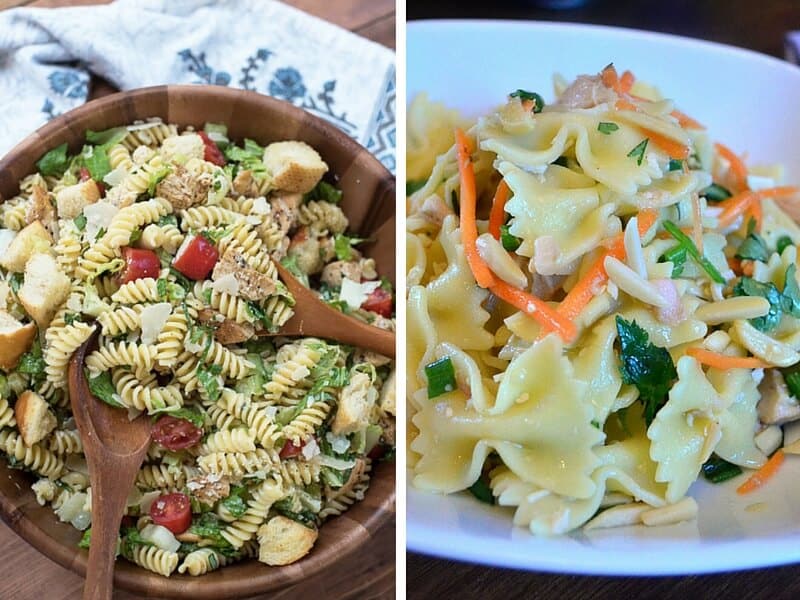 Chicken Caesar Pasta Salad – A combo pasta/green salad topped with bottled dressing (easy!) and croutons. Delicious!
Asian Pasta Salad – A homemade dressing makes this tasty pasta salad completely irresistible.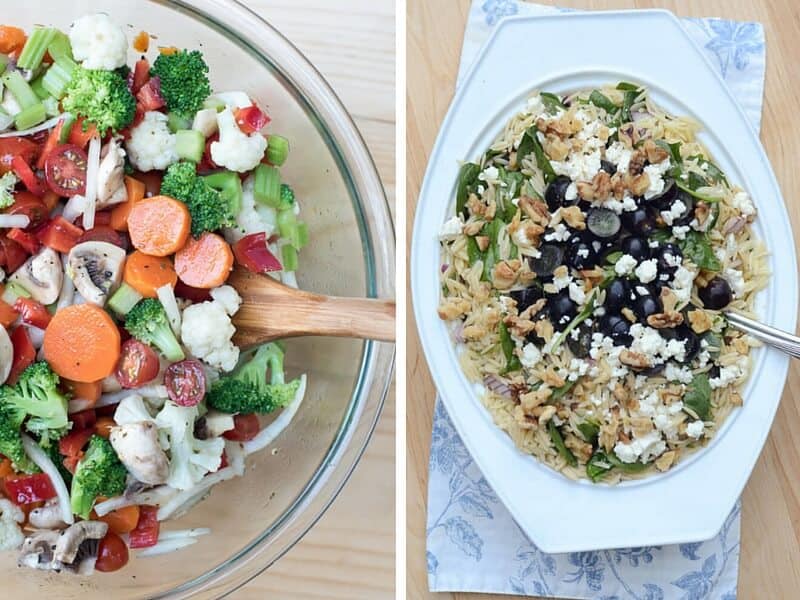 Marinated Vegetable Salad – A great way to get your veggies. This make-ahead salad is gorgeous!
Orzo Grape Feta Salad – This is one of my favorite combo pasta/green salad recipes of all time! Great texture contrast and amazing flavor.