Fresh ingredients combine to create this colorful, summery Mango Corn Salsa with Black Beans that is as bright and pretty as a sunny day!
As we head into the last long weekend of summer, I thought it was time to share this sunny salsa with you all. It's pretty much the perfect appetizer to bid summer a fond farewell whatever your plans may be. If you're hosting or attending a gathering, it'll go over in a big way. If you're just hanging out and taking a few days to relax and unwind, it would be an excellent idea to mix up a batch to keep in the fridge for snacking all weekend long.
When planning which appetizers to make for a gathering, my mind tends to go immediately to those the gooey, cheesy recipes – my mind likes to go there. Recipes like Cheesy Artichoke Dip (yum) or Warm Cheesy Bean Dip (help me) are always a delicious choice. But, as I was cruising through the produce department on a recent trip to my second home, the grocery store, it struck me that I should take advantage of the gorgeous summer produce that we come to take for granted… until it's gone.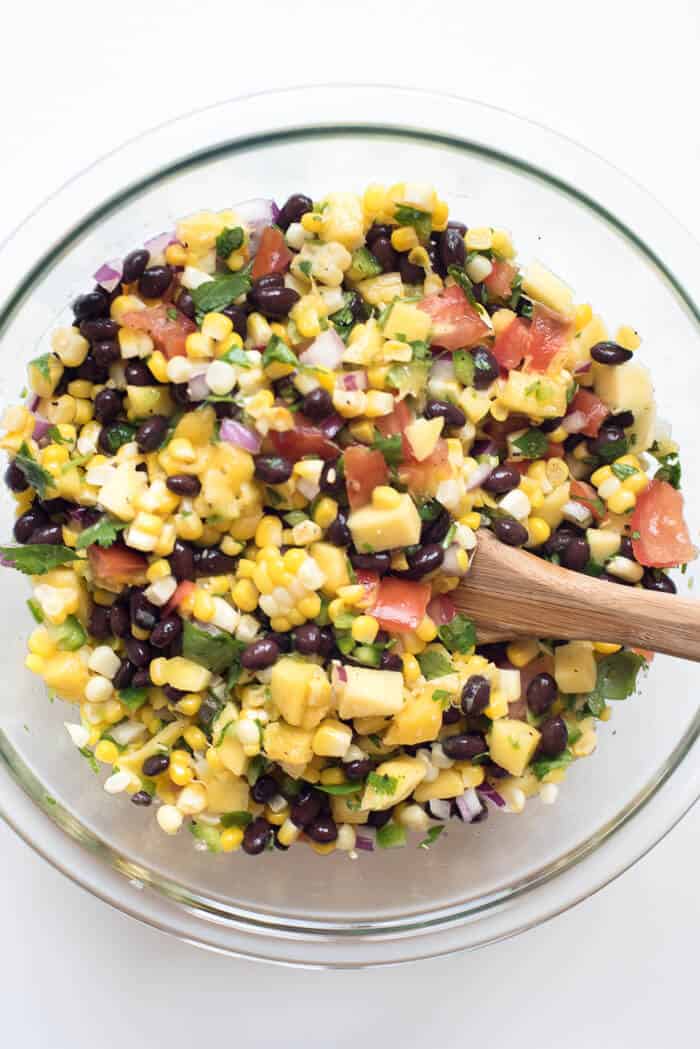 The decision was sound. This salsa has officially joined my list of favorite appetizers. The fact that it is incredibly good for you is a wonderful bonus, but the reason it's made the list is because it is so gosh darn tasty. And, it's more than just an appetizer, I could literally eat it with a spoon. Try serving it with grilled chicken or fish for a healthy, delicious dinner.
I started with the seasonal items first – bright yellow mango, fresh corn cooked briefly and then sliced off the cob, and chopped tomato. Then I threw in some diced red onion, a diced jalapeno, and for even more texture and color contrast, I added a can of black beans. A salsa rainbow!
Some cilantro rounds things out.
Finish it off with some sea salt, fresh ground pepper and fresh squeezed lime juice. Simple but oh, man, the flavor!
The lovely folks at Food Should Taste Good™ sent me a variety of their wholesome, delicious tortilla chips and the Blue Corn variety is absolutely spot-on perfect to serve with this salsa. These chips are made from simple ingredients including blue corn, brown rice, nutty flaxseed, quinoa, and sea salt. They have great, grainy texture and are flavorful enough to eat all on their own, but I loved them to pieces with this fresh salsa. They have lots of other super tasty and unique varieties of tortilla chips like Sweet Potato, Multigrain, Harvest Pumpkin (yes!), Kimchi (wow!), and The Works and they are all certified non-GMO and gluten free.
Visit Food Should Taste Good online for lots of other great appetizer recipe inspiration and try this salsa! Have a wonderful holiday weekend.
More Healthy Appetizer Recipes
Healthy Mediterranean 7-Layer Dip | Cookin' Canuck
Shrimp Taco Bites | I Wash You Dry
Mexican Shrimp Cocktail | From Valerie's Kitchen
Black Bean Hummus with Avocado | Heather Like's Food
Cowboy Caviar | From Valerie's Kitchen
Asian Turkey Meatballs with Chili Garlic Glaze | Aggie's Kitchen
Mango Cucumber Salsa | From Valerie's Kitchen
Black Bean Pineapple Guacamole | Food Should Taste Good
Greek Feta Yogurt Dip | Jeanette's Healthy Living
Mango Corn Salsa with Black Beans
Fresh ingredients combine to create this colorful, summery Mango Corn Salsa with Black Beans that is as bright and pretty as a sunny day!
Print
Pin
Rate
Servings: 10 to 12
Calories: 85kcal
Ingredients
2 to 3 large ears sweet corn husked and silks removed (can substitute 2 cups frozen corn, thawed)
2 large mangoes peeled and chopped (1 ½ to 2 cups)
15 ounces canned black beans, rinsed and drained well
1 small tomato chopped
⅓ cup diced red onion
1 jalapeno seeded and diced
¼ cup chopped cilantro
1 lime
sea salt and freshly ground black pepper to taste
Tortilla chips
Instructions
Bring a large pot of water to boil and add sweet corn. Boil for 4 minutes then transfer sweet corn to a colander and rinse well with cold water to cool down and stop the cooking process. When cool enough to handle, use a sharp knife to cut the corn kernels from the cob. Transfer corn to a large mixing bowl. Add mango, beans, tomato, red onion, jalapeno, and cilantro and mix till well combined. Squeeze the juice from one lime over the top and toss to distribute. Season to taste with sea salt and fresh ground pepper.

Serve immediately with tortilla chips. Leftovers can be stored, covered in the refrigerator for a couple of days.
Nutrition
Calories: 85kcal | Carbohydrates: 18g | Protein: 4g | Fat: 1g | Saturated Fat: 1g | Polyunsaturated Fat: 1g | Monounsaturated Fat: 1g | Trans Fat: 1g | Sodium: 226mg | Potassium: 295mg | Fiber: 4g | Sugar: 7g | Vitamin A: 617IU | Vitamin C: 22mg | Calcium: 25mg | Iron: 1mg
This post was sponsored by Food Should Taste Good but all content and opinions expressed are 100% my own.