One of the best ways to make life easier during hectic times is to have a store-bought rotisserie chicken waiting for you in your refrigerator at the end of the day. I hope that this collection of 25 Easy Recipes with Rotisserie Chicken will provide some busy day inspiration!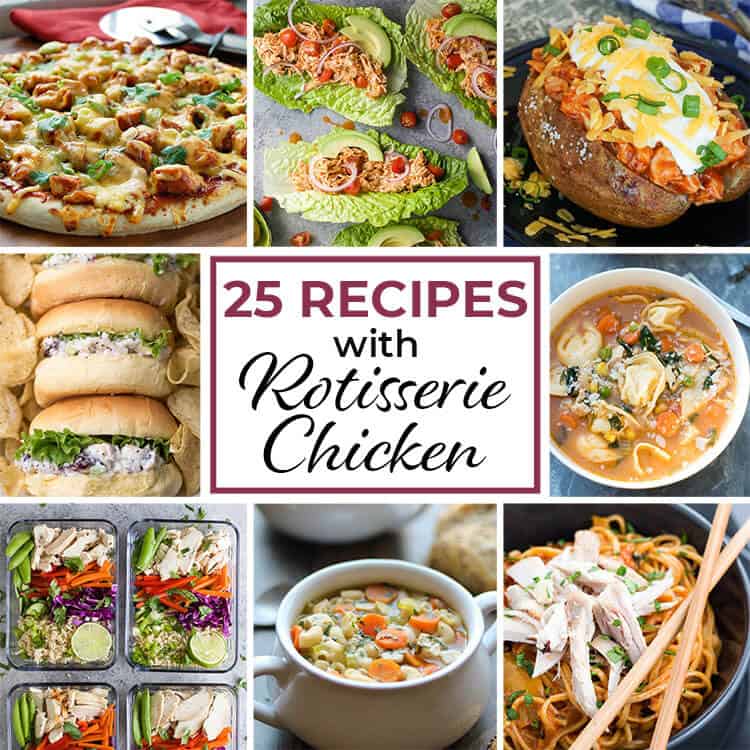 Thank goodness for all the wonderful bloggers out there creating easy, delicious recipes with rotisserie chicken. I'm going to let you in on a little secret. Food bloggers lead crazy-busy lives. Running a successful food blog is a full-time business and often-times goes well beyond a 40-hour work week. It never ends. This work we do bleeds over into life so much that we work on weekends, we work on vacations, and we work late into the night. It's fulfilling, good work, but we're tired! And, we're extremely sympathetic to the needs of busy households. This is precisely why I'm sharing this collection with you today.
I totally get it.
Just before Cinco de Mayo I published one of my all-time favorite rotisserie chicken recipes for Green Chile Chicken Smothered Burritos. It got such an overwhelming reader response that I'll definitely be working on developing more shortcut recipes like this in the near future.
I think nearly every grocery chain has rotisserie chickens available now but my favorite by a long shot are those great big, juicy birds they sell at Costco. The price can't be beat and they are so meaty and perfectly tender. I pick up one or two on every shopping trip, come home and strip the meat from the bone, and vacuum seal it so I'll have cooked chicken on hand for easy meals like the ones I'm sharing with you today.
Buffalo Chicken Lettuce Wraps | Joyful Healthy Eats
Thai Curry Noodles with Chicken | Erren's Kitchen
Chicken Bacon Alfredo Pizza | The Blond Cook
Cranberry Almond Poppy Seed Chicken Salad | Valerie's Kitchen
BBQ Chicken Stuffed Baked Potatoes | Barefeet in the Kitchen
One-Pot Creamy Tuscan Chicken Pasta | Belly Full
Quick Rotisserie Chicken Tacos with Smashed Avocado | Two Healthy Kitchens
Chicken Vegetable Tortellini Soup | Valerie's Kitchen
Sweet and Spicy Chicken Sliders | Belly Full
Asian Chicken Salad with Spicy Sriracha Dressing | Allergy Free Alaska
Beemster Smoked Gouda BBQ Chicken Pizza | Meals Heels & Cocktails
Easy Thai Chicken Grain Bowl | Joyful Healthy Eats
Skillet Chicken and Biscuit Pot Pie | Valerie's Kitchen
Quick & Easy Chicken Noodle Soup with Rotisserie Chicken | Two Healthy Kitchens
Easy Mexican Chicken and Rice Casserole | Mom on Timeout
Lemon Chicken Orzo Soup | Persnickety Plates
Chicken Tortilla Soup | Valerie's Kitchen
Rotisserie Chicken Noodle Soup | Eazy Peazy Mealz
Thai Chicken & Sweet Potato Noodle Bowls | Allergy Free Alaska
Chicken Bacon Ranch Stromboli | Melissa's Southern Style Kitchen
Crunchy Sweet Chicken Salad Sandwiches | Valerie's Kitchen
Simple Curry Chicken Salad | A Cedar Spoon
Creamy Chicken Orzo Soup | Eazy Peazy Mealz
Cheesy Chicken Broccoli and Rice Casserole | Mom on Timeout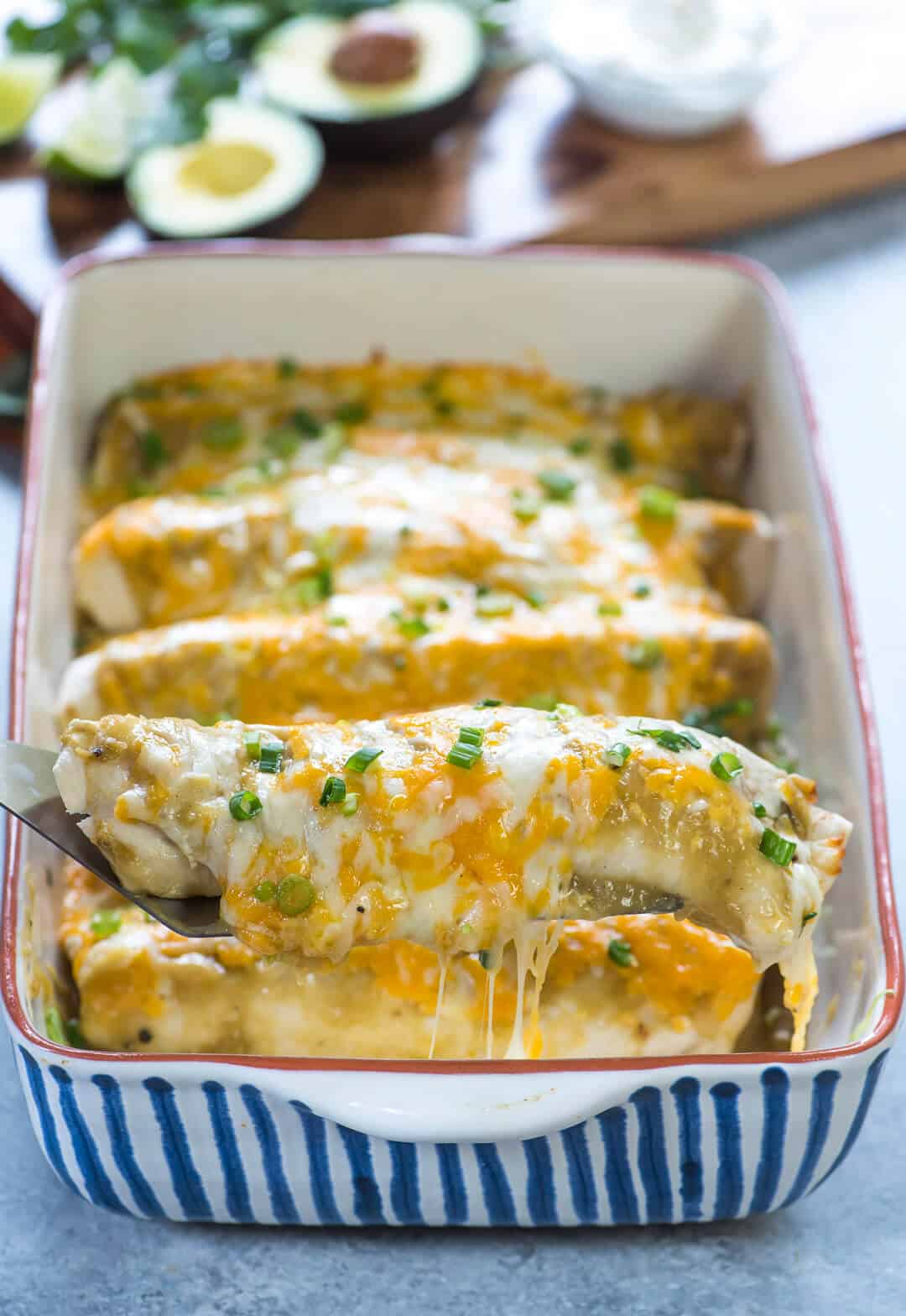 Green Chile Chicken Smothered Burritos | Valerie's Kitchen