If you are a fan of chocolate and cherries (and who isn't?) you've got to try these Chocolate Covered Cherry Cookies. Fudgy, brownie-like cookies with a sweet cherry peeking through a drizzle of cherry infused chocolate frosting.
Click HERE to sign up for your FREE email subscription and never miss a recipe!
I had such a thing for maraschino cherries when I was a kid. I think it was the Shirley Temple that got me hooked. That beverage was all the rage with the hip 8-year old crowd in the early 70's and I can remember stuffing about 5 or 6 maraschinos in my glass at a time. Weird kid? Maybe. But my love for maraschino cherries has not dwindled with age.
These seriously chocolaty cookies feel nostalgic to me. Probably due to my my fond maraschino cherry memories but also because all thumbprint cookies hold a special place in my heart.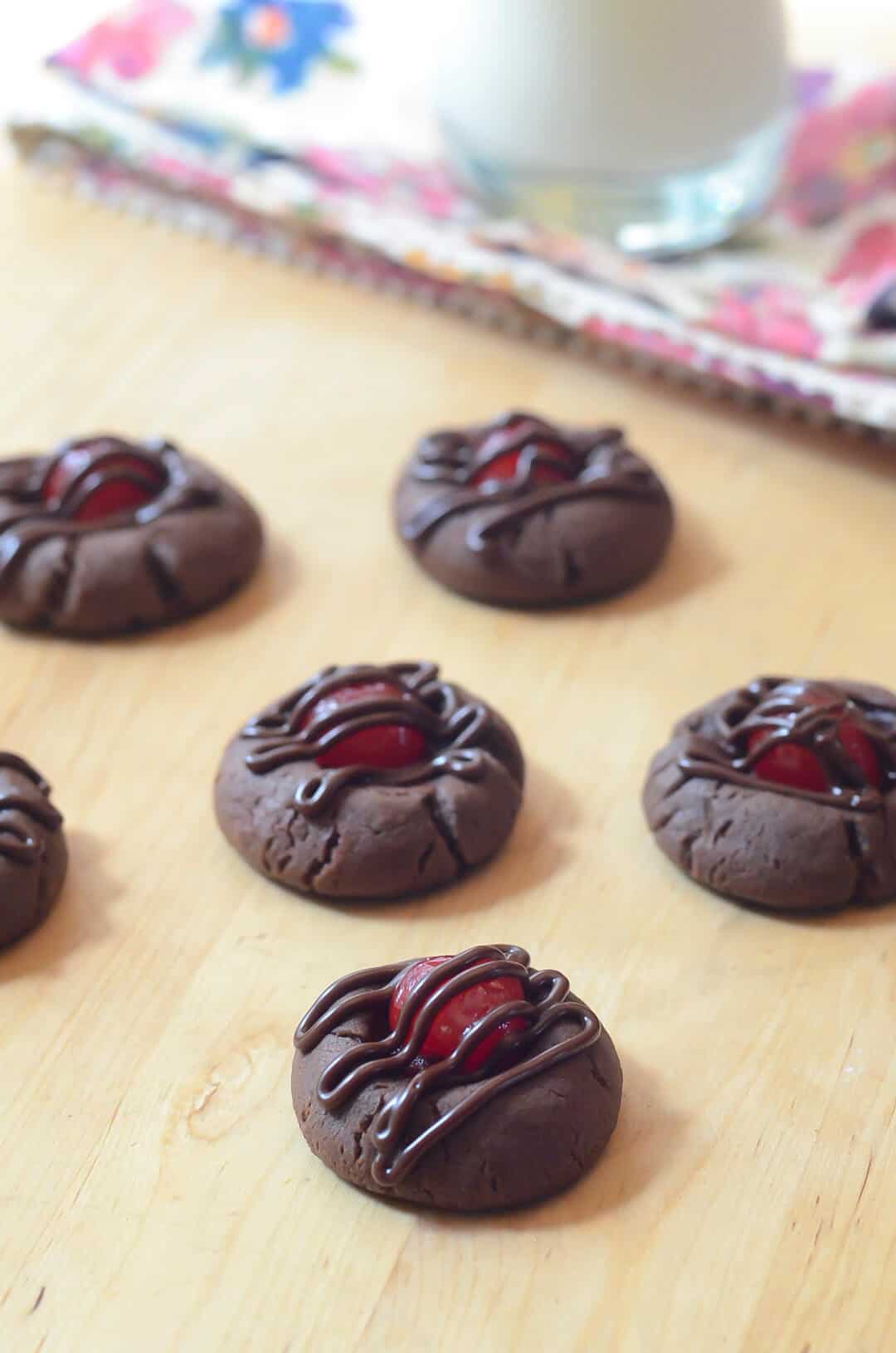 They are on my baking list every year for Valentine's Day and Christmas.
And, they are so incredibly delicious.
Shall we?
Grab a large mixing bowl and your electric hand mixer. Cream together the softened butter and both the brown and white sugars. Add an egg and the vanilla extract and beat until creamy and well combined.
In a separate smaller bowl, combine the dry ingredients. All-purpose flour, unsweetened cocoa, salt, baking powder, and baking soda.
Add the dry mixture to the creamed mixture, a little at a time, beating until combined with each addition.
Roll the dough into small 1″ balls. You should end up with 30 of them – or close to it.
Place the little cookie dough balls on a parchment paper lined baking sheet. I highly recommend baking your cookies on parchment paper but if you don't have any on hand, place the cookies directly on an ungreased cookie sheet.
Use a finger to make a small indentation in the center of each ball. Press lightly and only about half way through the center of the ball.
Place a maraschino cherry in each indentation. It's a good idea to blot them lightly with a paper towel before placing them. A little juice is good but you don't want them dripping wet.
I can remember eating maraschino cherries right from the jar when I was a little and to this day feel that they are the best part of a Shirley Temple. One is never too old for a Shirley Temple with 5 maraschino cherries, right?
And, it's time for the oven. Bake the cookies at 350 degrees for 10 or 11 minutes maximum.
On to the super simple, 3 ingredient frosting. Place 1 cup of semi-sweet chocolate chips in a small, heavy saucepan over medium-low heat. Add 1/2 cup of sweetened condensed milk. You'll have about half a can of this lusciousness left over. For an indulgent java experience try Pioneer Woman's Vietnamese Iced Coffee. I can't think of a better way to use up leftover sweetened condensed milk.
Add the sweetened condensed milk to the saucepan and cook and stir until the chocolate is completely melted.
Remove the pan from the heat and add 2 tablespoons of the reserved maraschino cherry juice. This amount works perfectly for me but feel free to add additional juice to reach the desired drizzling or piping consistency you are after.
For a pretty, uniform look, transfer the frosting to a pastry bag fitted with a small circle tip.
Pipe some of the frosting over each cooled cookie.
If you don't want to bother with the whole pastry bag thing, feel free to just grab a fork and use the tines to drizzle the frosting over the top of the cookies. I promise I won't tell anyone and I also promise they will taste just as good.
Happy Valentine's Day to you all! I hope you get to indulge in some sort of decadence whether it be cookies or romance – or both!
Chocolate Covered Cherry Cookies
For lots of delicious recipes, giveaways, and more, be sure to follow Valerie's Kitchen
Facebook | Twitter | Pinterest | Instagram | YouTube
Chocolate Covered Cherry Cookies
Ingredients
For the Cookies
1/2 cup butter, softened
1/2 cup light brown sugar
1/2 cup granulated white sugar
1 egg
1-1/2 teaspoons vanilla extract
1-1/2 cups all-purpose flour
1/2 cup unsweetened baking cocoa
1/4 teaspoon salt
1/4 teaspoon baking powder
1/4 teaspoon baking soda
30 maraschino cherries, blotted dry
For the Frosting
1 cup (6 ounces) semisweet chocolate chips
1/2 cup sweetened condensed milk
2 tablespoons reserved maraschino cherry juice, plus additional as needed
Directions
In a large mixing bowl, use an electric mixer to cream together butter and sugars until fluffy; beat in egg and vanilla. In a separate bowl combine the dry ingredients and then add to creamed mixture a little at a time, beating until well combined. Shape into 24 balls, about 1" round, and place on ungreased or parchment paper lined baking sheets. Slightly indent each ball with one of your fingers and then push one cherry into each ball.
Bake at 350° for 10 to 11 minutes. Remove from oven and allow cookies to cool on baking sheets for about 5 minutes. Transfer cookies to wire racks to cool completely.
Meanwhile, melt chocolate chips and sweetened condensed milk in a small, heavy saucepan over low heat, stirring constantly. Remove from the heat; add 2 tablespoons reserved cherry juice and stir until smooth. Add additional cherry juice if necessary to reach desired consistency. Drizzle frosting over cooled cookies or alternately, transfer the frosting to a pastry bag and pipe over the cookies for a more uniform look.
Store cookies in an airtight container.
Adapted from Better Homes and Gardens