This Ham and Cheese Crustless Quiche is not just easy to make, it's also a little easier on the waistline than traditional quiche. A great way to make use of leftover holiday ham!
Click HERE to sign up for your FREE email subscription and never miss a recipe!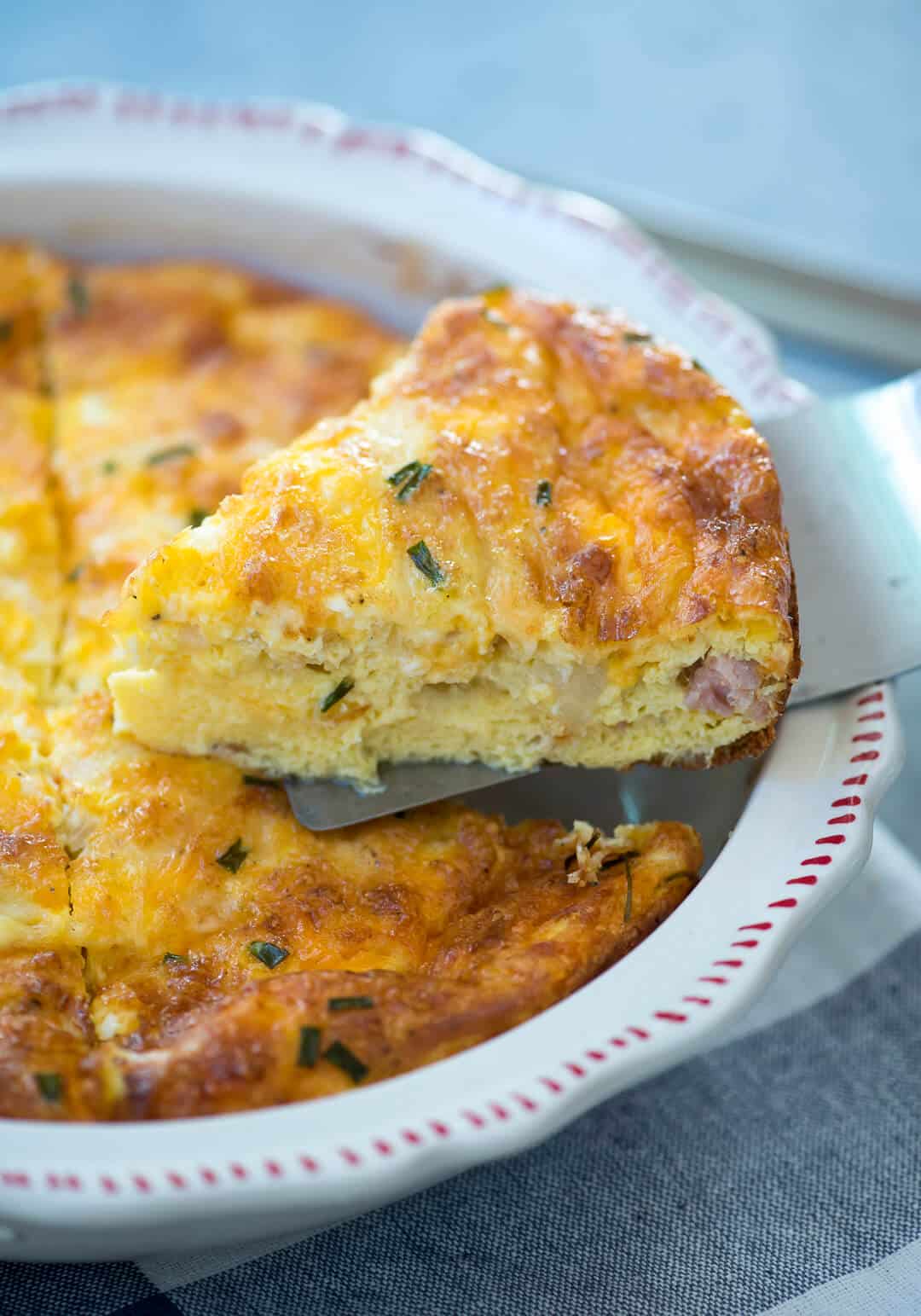 I love me some quiche, but considering the massive consumption of all things decadent at this time of year, I feel it's best to leave the pie crust to the pies and go crustless with the quiche. It's an easy way to lighten up without skimping on flavor.
Eliminating the crust doesn't just save on fat and calories, its saves in a big way on time and effort. This recipe is incredibly easy to throw together. So easy, in fact, that I recommend you print it out and hand it to someone else in your house and tell them you'd like some quiche tomorrow morning.
Occasionally I have good ideas like that.  
I went with ham and cheese this time since so many of us will have leftover ham on our hands after the holiday, but this quiche is delicious with a variety of ingredients – bacon, breakfast sausage, sautéed veggies, different cheeses. For a vegetarian version check out my Spinach Mushroom and Feta Crustless Quiche.
It's fun to mix things up but you just can't go wrong with the classic ham and cheese combo.
Another way I lighten this recipe up is by using whole milk instead of the heavy cream you see in most traditional quiche recipes.
You could always go with heavy cream for a richer result or meet in the middle and use half cream and half whole milk. I love compromise in cooking.
I always set out the hot sauce and some light sour cream for my folks here. That's just how we do things.
More delicious egg-y breakfast ideas:
Fireman's Overnight Breakfast Casserole
| Garnish with Lemon
Muffin Tin Hash Brown and Scrambled Egg Cups
| Valerie's Kitchen
Green Chile Egg Casserole
| Crazy for Crust
Mini Bacon Egg and Toast Cups
| Fifteen Spatulas
For lots of delicious recipes, giveaways, and more, be sure to follow Valerie's Kitchen
Ham and Cheese Crustless Quiche
Ingredients
1 tablespoon vegetable oil
1/2 cup diced white or yellow onion
1-1/2 cups chopped ham
1 teaspoon minced garlic
8 large eggs
3/4 cup whole milk (can use half-and-half or heavy cream)
1 tablespoons all-purpose flour
1/2 teaspoon salt
1/2 teaspoon fresh ground black pepper
1/2 cup shredded Gruyere cheese
1/2 cup shredded sharp cheddar cheese
1 tablespoon chopped fresh chives
Directions
Preheat oven to 375 degrees F. Coat a 9" deep-dish pie plate with non-stick cooking spray.
Add vegetable oil to a 12" skillet and place over MEDIUM heat. Add diced onion. Saute, stirring occasionally for about 3 minutes or until softened. Add ham and garlic to the skillet with the onions and cook, stirring, for just another minute or two or until ham is warmed through and garlic is fragrant. Spoon mixture into the prepared pie dish and spread out evenly.
In a large mixing bowl, whisk together eggs, milk (or cream), 1/2 teaspoon salt, 1/2 teaspoon pepper, and flour. Pour egg mixture over the ham and onions in the pie plate. Sprinkle with Gruyere, cheddar, and chives.
Bake 30 to 40 minutes, until golden brown and completely set in the center. Cool slightly before cutting into wedges.
Recipe Notes
Loading nutrition data...