I've been eating these little goodies for as long as I can remember. I honestly don't know where my Mom came across this recipe. It was probably some trendy thing that was circulating during the late 60's or early 70's but it stuck with our family. We all know it and love it and many of us still have a tradition of making it at different times of the year. For me, it's Christmas time; when I have lots of people coming and going. I keep the cheese spread in a container in my fridge and in 10 minutes I can have warm, yummy appetizers ready. They are great for watching football, holiday gatherings, and the perfect finger food for New Year's Eve too!
So let's get started.
We always use this cocktail rye bread which my local grocery store stocks near the deli section. It is also very good on sliced baguette.
Here's what you'll need to throw this together. Sharp cheddar cheese, a stick of cold butter, 3 hard boiled eggs, a can of chopped olives, a can of diced green chiles, onion, a can of Campbell's Tomato Soup, and a little salt and peppa!
I never once saw my Mom use a food processor to make this but that's how I do it. I'm all for quick and easy. You want thick shreds and the food processor shredding disc is perfect for this. Start with the sharp cheddar cheese. and then transfer it to a large mixing bowl.
Now shred the cold stick of butter and transfer it to the bowl with the cheese.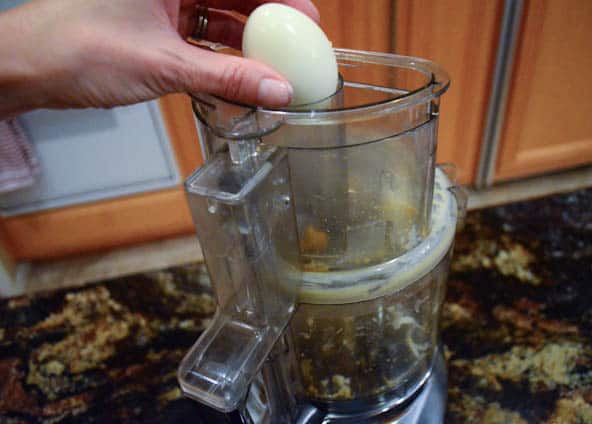 Drop all 3 hard boiled eggs in there – why not? Transfer the grated egg to the mixing bowl.
Now we can add the rest of the ingredients.
Since we already have the food processor out we might as well use it to finely dice the onion.
Add the onion, tomato soup, olives, green chiles, salt and pepper to the cheese mixture. I know what you're thinking. Tomato soup???? Yes, trust me, it's amazing! If you want to spice things up you can add a diced jalapeno at this point.
Mix it all together and this is what you've got.
Transfer it to an airtight container and keep refrigerated until ready to use.
When you're ready to serve them, just spread the cheese mixture on the cocktail rye bread and place them on a baking sheet.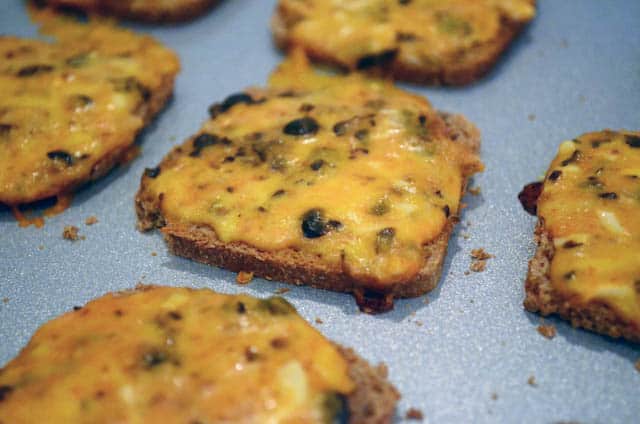 Bake at 375 degrees for 8 to 10 minutes, or till cheese is bubbly and bread is slightly toasted.
Enjoy!
Mom's Cheesy Bread Appetizers
These completely irresistible Cheesy Bread Appetizers are a great make-ahead recipe. This old family recipe is a holiday tradition.
Print
Pin
Rate
Servings: 60 pieces
Calories: 78kcal
Ingredients
1 pound sharp cheddar cheese
1/2 cup cold butter (1 stick)
4 ounces chopped olives, drained
4 ounces diced green chiles, drained
1/2 cup finely diced onion
1 jalapeno, seeded as desired and diced
10.75 ounces Campbell's Condensed Tomato Soup
salt and pepper to taste
60 packages sliced cocktail rye bread usually found in the deli section of the grocery store) or 2 french baguettes, sliced
Instructions
Grate the cheese, butter, and hard boiled eggs into thick shreds either by hand or in a food processor. Transfer to a large mixing bowl. Add remaining ingredients and mix well. Transfer to an airtight container and store in the refrigerator until ready to use.

To assemble appetizers: Pre-heat oven to 375 degrees. Spread the cocktail rye bread with some of the cheese spread. Place on a baking sheet and bake for 8 to 10 minutes or until cheese is bubbly and bread is slightly toasted. Let cool for a minute and move to a serving plate.

Spread can be kept covered in refrigerator for up to 3 or 4 days
Nutrition
Serving: 1slice | Calories: 78kcal | Carbohydrates: 5g | Protein: 3g | Fat: 5g | Saturated Fat: 3g | Cholesterol: 21mg | Sodium: 171mg | Potassium: 53mg | Fiber: 1g | Sugar: 1g | Vitamin A: 168IU | Vitamin C: 2mg | Calcium: 65mg | Iron: 1mg