Create a special, restaurant quality meal right in your own kitchen with this collection of Restaurant Quality Dishes You Can Make at Home. These recipes cover the spectrum from casual to elegant and include a variety of different cuisines to satisfy any craving!
I hope you're all holding up and keeping well in these strange times.
If everyone in your household is working from home, or just home period, you might notice how the days just seem to blur together. It's hard to even know what day of the week it is when that structure of the work week is gone or is just not as rigid as it once was.
Last week I shared my favorite Easy Pantry Staple Recipes, but it's the weekend, friends, and I thought it would be nice to share this list of restaurant quality recipes to give you some inspiration to create a special meal at home. Regardless of the circumstances of the world, we still have birthdays, anniversaries, babies are being welcomed into the world, and college admission letters are being received (congratulations to our son, Adam!). These things should not go unnoticed. And, even if it seems there is nothing to celebrate, cooking a special meal will just make it feel more like the weekend. We may not be able to visit our favorite restaurants for the time being, but we can make it a fun Friday or Saturday night and cook an extraordinary meal at home.
I put the word out to to the food blogging community and they responded in force with some of their favorites. You're sure to find something in this collection to satisfy your cravings for the restaurant dishes you're missing most.
Restaurant Quality Beef Recipes
1. Beef Stroganoff – Valerie's Kitchen
2. How to Cook Filet Mignon – Will Cook for Smiles
3. Beef and Broccoli Lo Mein – The Blond Cook
4. Slow Cooker Italian Short Ribs – A Cedar Spoon
5. Instant Pot Beef Burgundy – Valerie's Kitchen
6. Carne Asada – Downshiftology
7. Taco Salad with Salsa Ranch Dressing – Miss in the Kitchen
8. Easy Homemade Spaghetti Sauce – Valerie's Kitchen
9. Teriyaki Steak Bites with Green Peppers and Onions – Melissa's Southern Style Kitchen
10. Porterhouse Steak with Cowboy Steak Rub – Family Spice
11. Homemade Gyros – Foodie with Family
12. Philly Cheesesteaks with Peppers and Onions – Valerie's Kitchen
13. Slow Cooker Carne Adobada – Hola Jalapeno
14. Instant Pot Short Ribs – The Roasted Root
Restaurant Quality Poultry Recipes
15. Creamy Tuscan Chicken Thighs – A View from Great Island
16. Slow Cooker Chicken Tikka Masala – Valerie's Kitchen
17. Crispy Chicken Sandwich – Melissa's Southern Style Kitchen
18. Orange Chicken – Food Faith Fitness
19. Creamy Lemon Chicken with Pasta – Valerie's Kitchen
20. 20 Minute Company Chicken – Iowa Girl Eats
21. Bruschetta Chicken – I Heart Eating
22. Oven Roasted Orange Chicken with Fennel – Foolproof Living
23. Chicken Scallopini with Parmesan Noodles – Valerie's Kitchen
24. Easy Kung Pao Chicken – Flavor Mosaic
25. Chicken Francese – Saving Room for Dessert
26. The Ultimate Chicken Fried Steak with Gravy – Mom on Timeout
27. Green Chile Chicken Smothered Burritos – Valerie's Kitchen
28. Chicken Marsala – Valerie's Kitchen
29. Chicken Piccata with Fried Capers – Kalyn's Kitchen
30. Skillet Chicken and Mushroom Wine Sauce – Saving Room for Dessert
31. Creamy Tuscan Chicken – The Blond Cook
32. Cashew Chicken Stir Fry – Valerie's Kitchen
33. Easy Lemon Chicken Piccata – The Mediterranean Dish
34. Malibu Chicken (Sizzler Copycat) – Valerie's Kitchen
Restaurant Quality Pork Recipes
35. One-Pot Olive Garden Zuppa Toscana Soup – Mom on Timeout
36. Steakhouse Mushroom Pork Loin Medallions – Valerie's Kitchen
37. Cocoa Spice Rubbed Pork Tenderloin with Cabernet Sauce – Valerie's Kitchen
38. Apple Cider Roasted Pork Tenderloin – The Lemon Bowl
39. Instant Pot Pork Chops in Creamy Mushroom Sauce – The View from Great Island
Restaurant Quality Seafood Recipes
40. Crab Linguine Carbonara Pasta – Blackberry Babe
41. Red Miso Salmon with Ginger Scallion Sauce – Two Healthy Kitchens
42. Easy Baked Fish with Garlic and Basil – The Mediterranean Kitchen
43. Crab Cakes – Grandbaby Cakes
44. Salmon Provencal – Iowa Girl Eats
45. Creamy Tuscan Shrimp and Scallops – The Blond Cook
46. Blackened Mahi Mahi – Valerie's Kitchen
47. Seafood Bisque – The Blond Cook
48. Orange Sesame Ginger Glazed Salmon – Valerie's Kitchen
49. Pan Seared Scallops with Citrus Ginger Sauce – Down Shiftology
50. Lobster Mac and Cheese – Grandbaby Cakes
Restaurant Quality Meatless Recipes
51. Baked Eggplant Parmesan – Valerie's Kitchen
52. Cauliflower Crust Pizza – Downshiftology
53. Copycat Olive Garden Capellini Pomodoro – Unsophisticook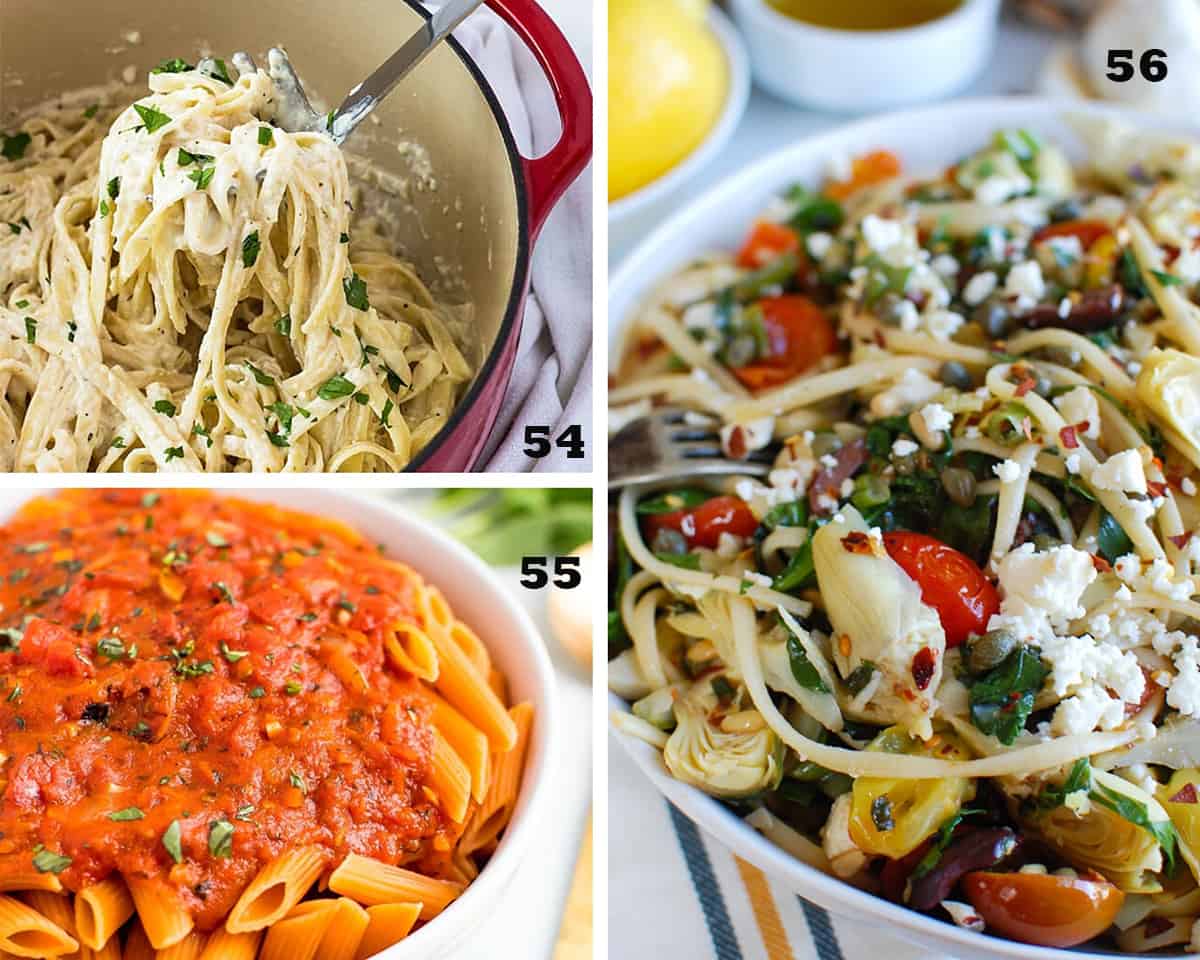 54. Easy Alfredo Sauce – The Blond Cook
55. Lightened Up Penne alla Vodka – Eating Bird Food
56. Mediterranean Pasta – A Cedar Spoon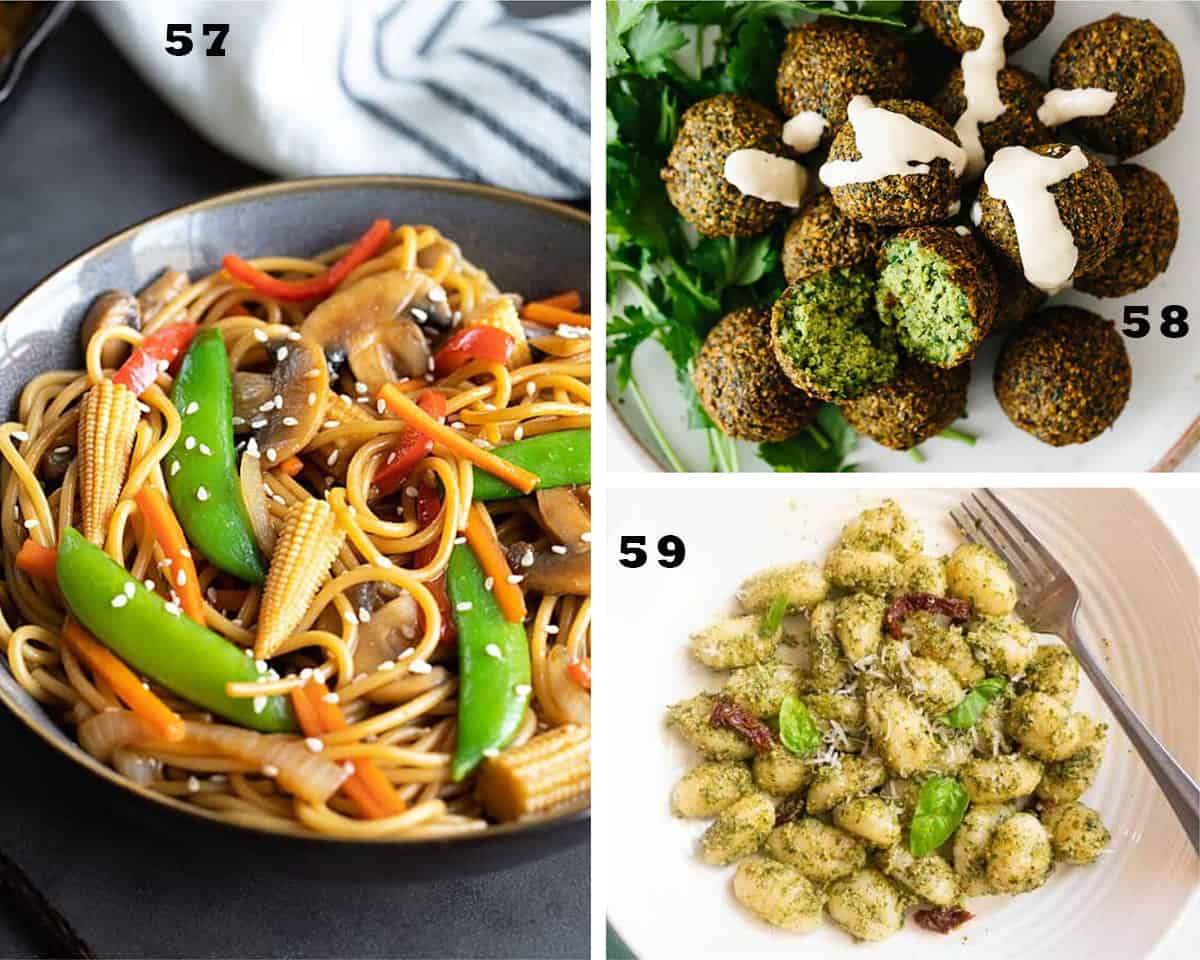 57. Vegetable Lo Mein – The Blond Cook
58. Homemade Falafel – Downshiftology
59. Gnocchi with Basil Pesto – Piping Pot Curry