Let this hearty soup simmer in your slow cooker during the day and you'll come home to a wholesome and comforting weeknight dinner. It's loaded with chunks of tender beef, lots of veggies, and barley, and it's all cooked together in a simply seasoned broth.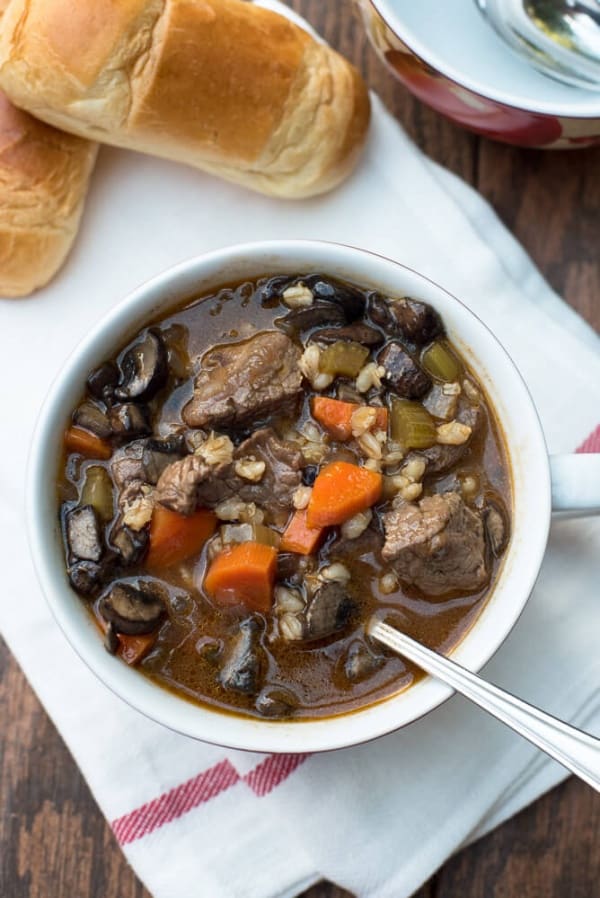 I think I ate nearly an entire batch of this soup by myself last week. Not in one sitting. . . I swear. . .  it was over the course of a few days.
It's very uncharacteristic of me to do such a thing. I like variety in my life and will rarely eat the same thing twice from one day to the next, but wow, I couldn't get enough of this soup. I know my husband had a bowl and I believe Boy #2 had a bowl or two, but the rest was mine.
It has that leftover pasta thing happening. You know? The thing where it tastes even better on the reheat. I warmed a bowl-full for myself the second day and noticed the barley was a bit softer and plumper but still retained a nice, slightly chewy bite. The flavors intensified and the whole situation was just really, really good. Literally to the last drop – and there was not a drop left at the end.  
I have big love for pearl barley. It is an awesomely versatlile ingredient that I'll definitely be incorporating into more recipes to share in the near future. Hulled barley has an extremely tough, fibrous outer layer so in order to reduce the amount of cooking time, some of that fibrous layer is polished off to make pearl or pearled barley- thus the name. Even though it has been polished, it's still quite high in fiber and has a distinctive and lovely, chewy bite.
I'm using about 1-3/4 pounds (give or take) of the beef you see at the grocery store labeled "Beef for Stew". It's just chuck roast that has conveniently been cut down into chunks for you. For soup, I like to cut it into even smaller pieces like you can see in the photo above.
Grab a large skillet, add some vegetable oil and place it over high heat. Add the beef in batches, giving it plenty of room The beef will not get a nice sear if the pan is too crowded. Season it with salt and fresh ground pepper as it cooks for about 2 or 3 minutes per side.
Transfer the browned beef to the slow cooker and repeat the process with the remaining beef.
Reduce the heat under the skillet to medium and add some diced onion and celery, chopped carrot, and minced garlic. Cook, stirring, for 2 or 3 minutes, to incorporate the veggies with the juices the beef left behind in the skillet.
Add a few tablespoons of tomato paste and a bit of Worcestershire sauce and cook, stirring for a minute or two until well combined.
Transfer the veggies to the slow cooker with the beef and add about 1 cup of chopped fresh mushrooms. The mushrooms will cook down plenty in the slow cooker so there's no need to give them a turn in the skillet with the other veggies. Next, add the beef broth. I highly recommend going with low sodium broth so you can control the level of salt yourself.
Time to add 2/3 cup of pearl barley and finally, some chopped fresh thyme. And, that's it my friends. Cover the Crock-Pot and head off to work or school or the mall or the movies or, well, you get it. Let it cook on LOW for 6 to 8 hours or on HIGH for 5 to 6 hours. You'll know it is done when the beef and barley are both tender.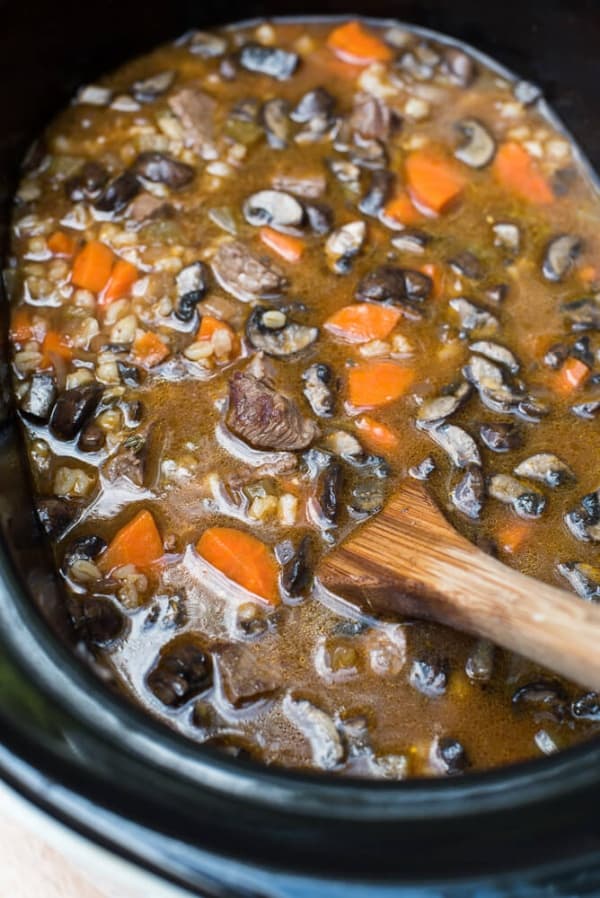 And, here is what you'll have on your hands at the end of the day. A rustic, hearty, delcious meal. Before serving, give it a taste and season with additional salt (only if you feel it's necessary) and some fresh ground black pepper.
I warmed some brioche rolls to go with it and for me, this is a perfect meal.
For lots of delicious recipes, giveaways, and more, be sure to follow From Valerie's Kitchen
Facebook | Twitter | Pinterest | Instagram | Google +
Slow Cooker Vegetable Beef Barley Soup
Ingredients
1 tablespoon vegetable oil, plus additional as needed
1-1/2 to 1-3/4 pounds cubed beef stew meat (boneless beef chuck)
salt and fresh ground black pepper, to taste
1 cup diced onion
1 cup chopped carrots
3/4 cup diced celery
1 teaspoon minced garlic
3 tablespoons tomato paste
2 teaspoons Worcestershire sauce
1 cup chopped mushrooms
6 cups low-sodium beef broth
2/3 cup pearl barley
2 tablespoons fresh chopped thyme (or 2 teaspoons dry thyme)
Directions
Cut the beef stew meat (or chuck) down into small, bite-size pieces.
Heat vegetable oil in a 12" skillet over medium-high heat. Add half of beef to skillet and allow to brown on one side for about 3 minutes. Season with salt and pepper to taste while cooking. Flip pieces over and brown for an additional 3 minutes. Transfer browned beef to your slow cooker and repeat with remaining beef.
Reduce heat under skillet to medium and add onion, carrots, celery and garlic. Cook, stirring, to incorporate with any juices the beef left behind in the skillet.
Add tomato paste and Worcestershire sauce and cook, stirring for a minute or two until well combined. Transfer the veggie mixture to your slow cooker with the beef.
Add mushrooms, beef broth, barley, and fresh thyme to the slow cooker. Stir to combine, cover, and cook on HIGH for 5 to 6 hours or on LOW for 6 to 8 hours, or until beef is fork tender (slow cookers can vary, times are approximate). Taste and season with additional salt and pepper, if needed.