This Slow Cooker Hamburger Minestrone is loaded with fresh vegetables, ground beef, and pasta. A hearty soup that is a meal in itself. Slice up a loaf of crusty bread, pour a glass of wine, and dinner is served!
Click HERE to sign up for your FREE email subscription and never miss a recipe!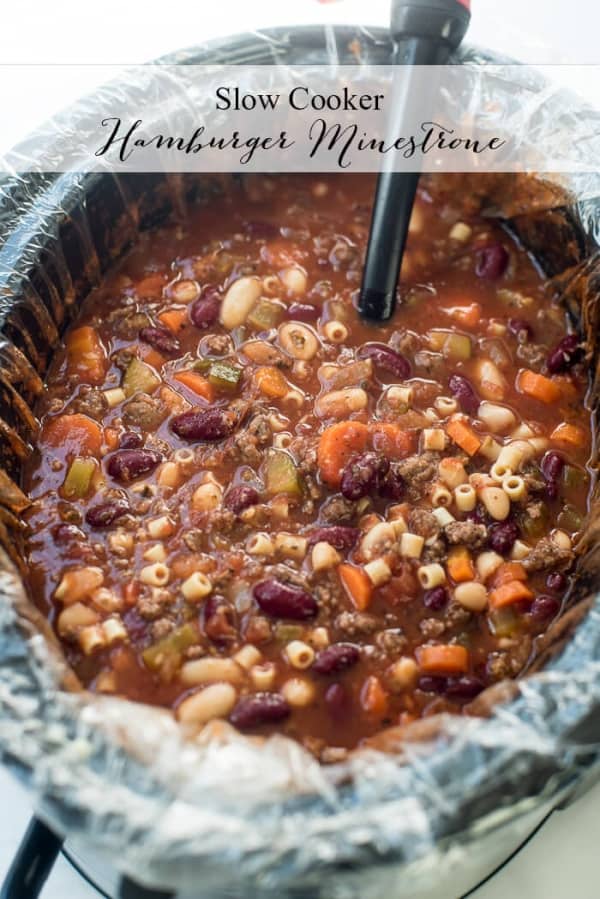 We are in the midst of what feels like a very long winter, but hang on friends, spring is coming! In the meantime, I thought a hearty, soul-satisfying soup was in order and this one definitely fits the bill. It's based on my sweet stepmom Bonnie's legendary minestrone recipe which I've adapted for the slow cooker. To up the comfort factor, I decided to add some ground beef, two kinds of beans, and little ditalini pasta. The result is a wholesome meal that will satisfy the entire family.  
This is my second in a series of three great slow cooker recipes to get you through to the spring months. Be sure to check out the Slow Cooker Drip Beef if you missed it last month. It's a good one!
We start with a pound of cooked, crumbled, and drained ground beef and some chopped veggies including, zucchini, onion, celery, carrot, and some minced garlic.
Add 4 cups of low-sodium beef broth. Always go with the low-sodium variety. You can always add additional salt if you feel it's necessary but I'm betting you won't.
In goes a big can of Italian style crushed tomatoes.
The seasonings consist of basil, oregano, thyme, and a bay leaf. Cover the slow cooker and cook the soup on LOW for 5 to 7 hours or on HIGH for 3 to 4 hours.
Are you feeling how easy this is?
After the initial cooking time, add a can of rinsed and drained kidney beans and cannellini beans and 1 cup of dry, uncooked ditalini pasta. You could go with any small dry pasta you happen to have on hand but I love ditalini in soup.
When adding beans and pasta to slow cooker recipes, you always want to do it towards the end of the cooking time. You don't want to know what happens to beans and pasta if they spend too much time in the slow cooker, trust me on this one.
And, last, about 1/2 cup of Parmesan. A little Parmesan makes everything better! Cover and cook on HIGH for 15 to 20 minutes, or until the pasta is cooked al-dente.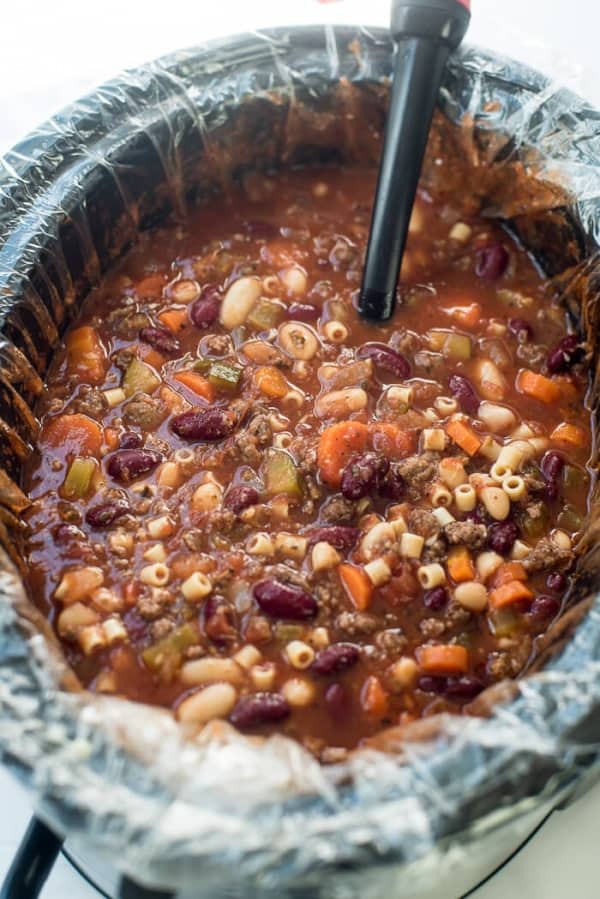 This soup was consumed with gusto in our house and it is long gone. It will be on the menu again very soon.
Soups that contain pasta tend to thicken quite a bit when refrigerated so if you've got leftovers, just add a little water or additional beef broth to thin it a bit and it will reheat beautifully.
SLOW COOKER HAMBURGER MINESTRONE
For lots of delicious recipes, giveaways, and more, be sure to follow Valerie's Kitchen
Facebook | Twitter | Pinterest | Instagram | YouTube
Slow Cooker Hamburger Minestrone
Ingredients
2 tablespoons olive oil
1 pound lean ground beef
1/2 teaspoon salt
Fresh ground black pepper, to taste
1 cup diced onion
1 cup peeled and chopped carrot
1 cup chopped zucchini
2 ribs celery, chopped
2 teaspoons minced garlic
4 cups low-sodium beef broth
1 (28-ounce) can crushed Italian style tomatoes
1 teaspoon dry basil
1 teaspoon dry oregano
1/2 teaspoon thyme
1 bay leaf
1 (15 ounce) can cannellini beans, rinsed and drained
1 (15 ounce) can kidney beans, rinsed and drained
1 cup ditalini pasta, uncooked
1/2 cup grated Parmesan
Directions
Heat olive oil in a large skillet over medium heat. Add ground beef and cook, stirring to break up. Season with salt and pepper and cook until no longer pink. Drain off as much of the grease as possible and transfer the cooked beef to the slow cooker. Add the onion, carrot, zucchini, celery, garlic, beef broth, crushed tomatoes, basil, oregano, thyme, and bay leaf to the slow cooker with the beef. Stir to combine. Cover and cook on LOW 5 to 7 hours or on HIGH for 3 to 4 hours.
After initial cooking time, add beans, ditalini pasta (uncooked), and Parmesan. Cover and cook on HIGH for an additional 15 to 20 minutes, or until pasta is al-dente.
Recipe Notes
To add even more nutrition, throw in a big handful of raw baby spinach at the end of the cooking time and stir to blend well. Allow to lightly wilt for just a couple of minutes and serve.
This soup freezes very well. Place leftovers in freezer safe containers for a great make-ahead meal.
Loading nutrition data...
Valerie's Kitchen is a participant in the Amazon Services LLC Associates Program, an affiliate advertising program designed to provide a means for us to earn fees by linking to Amazon.com and affiliated sites. For more information on our site policies click HERE.