Braising is the best method around to ensure your pork chops will be fork-tender and delicious. After a quick sear, they are cooked low and slow in a super flavorful liquid to create an incredibly savory meal.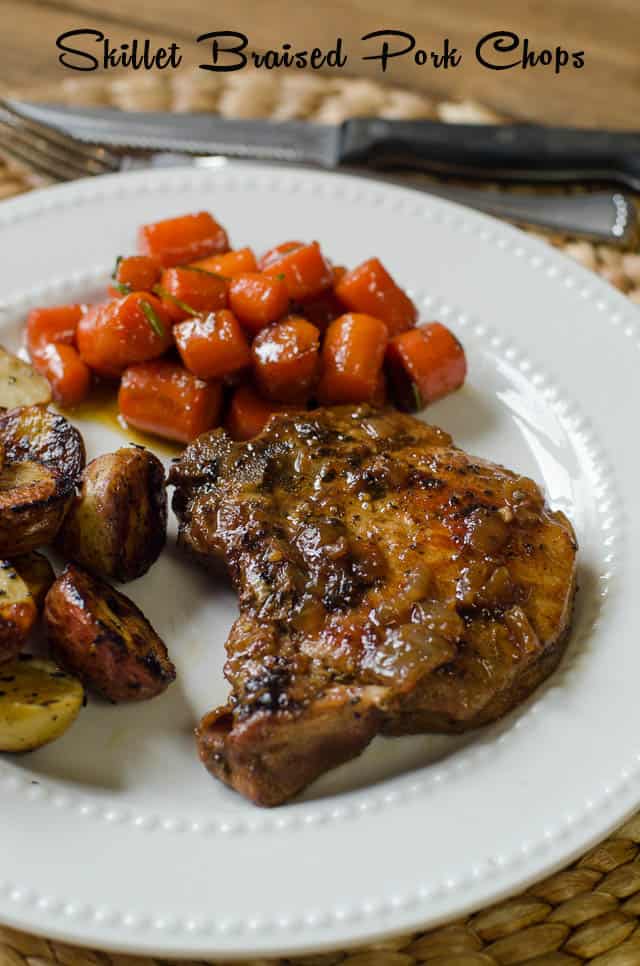 Pork chops can be a tough bugger…literally. Without the correct cooking method, they can end up as tough as shoe leather. But with the proper technique, you can turn this inexpensive cut into a tender, flavorful, family-pleasing meal. I attempted to eat these incredibly tasty chops with the manners my mama gave me – lady-like and with a knife and fork – but in the end I was compelled to pick the thing up and go after it until I had every last bit of meat off that bone.
Yeah, that happened. Sorry Mom.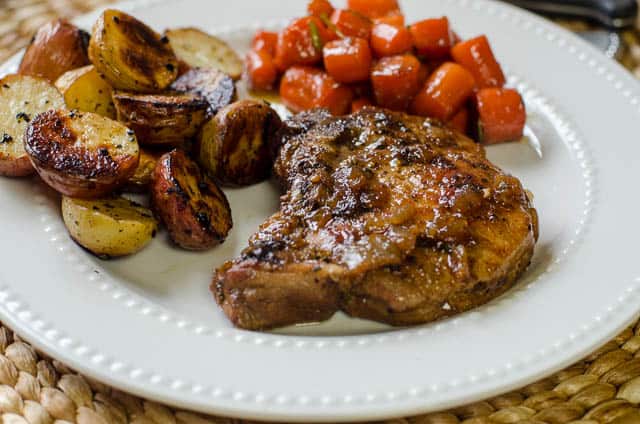 Pork chops were on regular rotation on our dinner menu when I was a kid. My mom cooked them frequently and only one way – pan fried with mashed potatoes and creamy mushroom gravy. You know, the kind of gravy made with good old-fashioned Campbell's Cream of Mushroom Soup. It was that recipe that was the inspiration behind my Crock-Pot Pork Sirloin Tip Roast recipe and I still love those pork chops dearly to this day. But I've branched out from my pork chop beginnings and I'm here today to share a great method and a delicious recipe that is a big departure from Mom's 1970's style chops.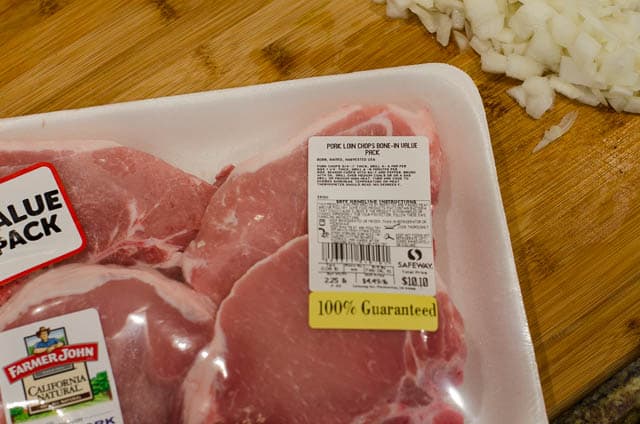 First, we need some chops! I picked up this package of four bone-in pork loin chops for just a tad over $10.
Grab a large, heavy skillet – I'm using a nice quality non-stick pan here. Add a couple of tablespoons vegetable oil and place it over high heat. You might need to add more oil if you're not using a non-stick pan. Add the chops and cook them for several minutes until nicely browned on one side.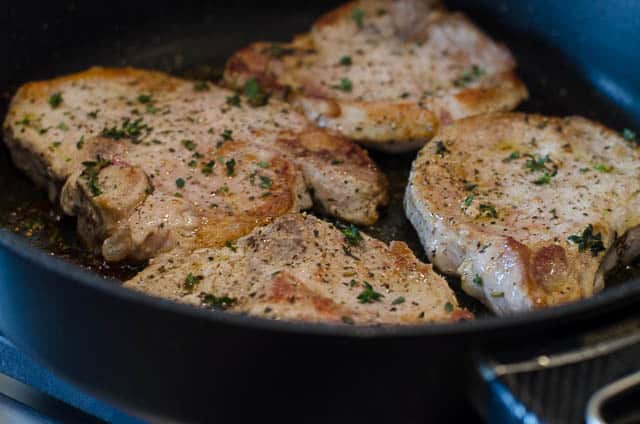 As they cook, season both sides of the chops with some salt, fresh ground pepper, and fresh thyme. We aren't concerned with cooking the chops through at this point, we just want to get a nice sear on them. Once browned, transfer the chops to a plate and set aside.
After I remove the chops from the pan, I like to pour off any pork grease, quickly wipe the pan down with a paper towel, and add some additional vegetable oil to help prevent the braising liquid from being too greasy. It's not a required step but I recommend it. Reduce the heat to medium and add some chopped onion and minced garlic to the pan and cook, stirring, until the onion is softened and the garlic is fragrant.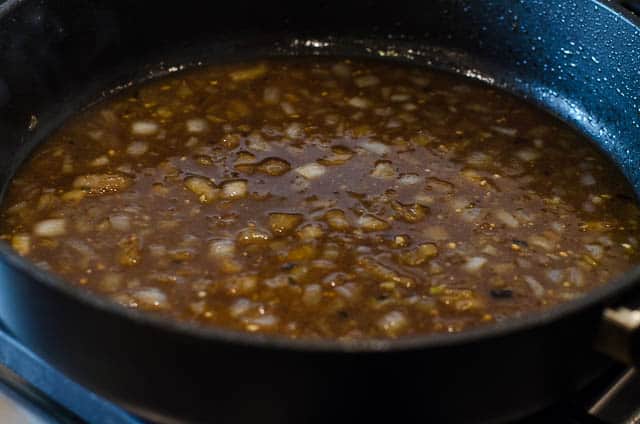 To the cooked onion and garlic add some chicken broth, Dijon mustard, balsamic vinegar, a little brown sugar, and Worcestershire sauce.  Cook and stir for about a minute until the sauce is combined.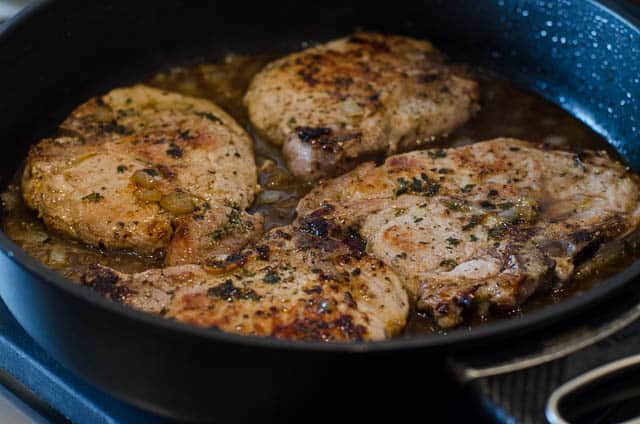 Add the browned chops back to the pan, nestling them down into that flavor-packed sauce. Increase the heat to high and bring the mixture to a boil, then reduce the heat to low, cover and simmer for at least 45 minutes to an hour, until fork-tender. This part can happen in the oven if you'd like. See the printable recipe below for the oven braising directions.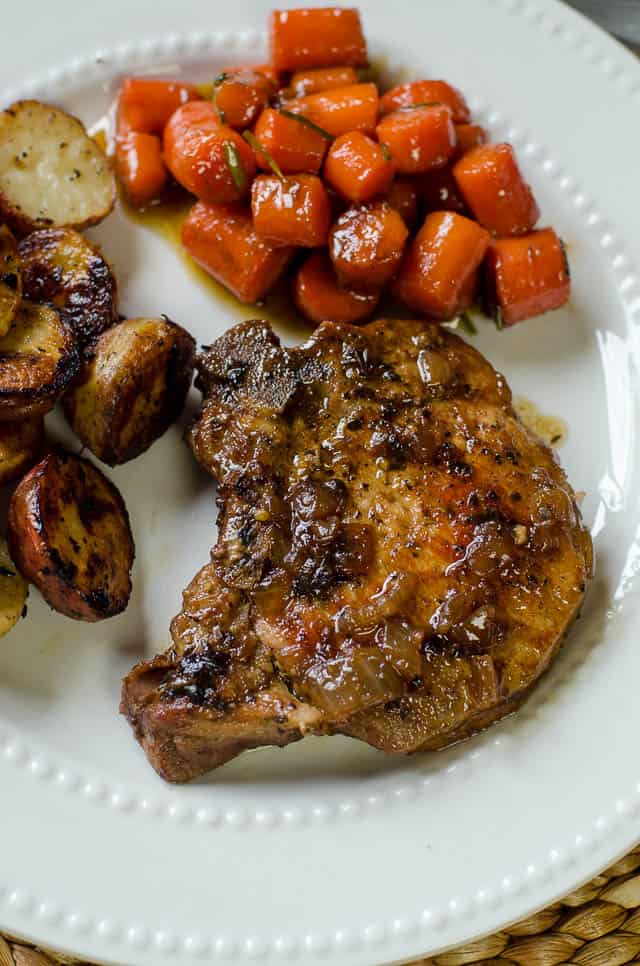 And that, my friends, is that. Plate them up, spooning some of the sauce and onions over the top, and serve them with your choice of sides. I feel like it's almost required to serve Skillet Braised Pork Chops with potatoes of some sort and this time I went with my Lemon and Garlic Roasted Potatoes. Those carrots up there are out-of-this-world-good and I'll be sharing them with you soon. Update – you can see those tasty carrots HERE.
For a great resource on this cut of meat, including a comparison of alternate cooking methods, be sure to check out The Food Lab's Guide to Pan Seared Pork Chops on Serious Eats.
Now, go forth, and eat pork chops!
Skillet Braised Pork Chops
Ingredients
3

tablespoons olive oil, divided ( or as needed)

4

bone-in pork chops

Kosher salt and freshly ground black pepper

2

teaspoons chopped, fresh thyme

1

cup diced onions

2

cloves garlic, minced

1

cup chicken broth

1

tablespoon Dijon mustard

2

tablespoons balsamic vinegar

3

tablespoons light-brown sugar

1

tablespoon Worcestershire sauce
Instructions
Heat 2 tablespoons olive oil in a large heavy skillet over medium-high heat, add the pork chops. Cook the chops for about 3 to 4 minutes on each side, or until nicely browned, seasoning both sides with salt, fresh ground pepper, and fresh thyme. Transfer browned chops to a plate and set aside.
Drain grease from pan and add remaining tablespoon of olive oil. Reduce heat to medium and add onions to pan. Cook and stir for about a minute and then add garlic. Cook until onions are softened and lightly browned, being careful not to burn the garlic. Add the chicken broth, Dijon, balsamic vinegar, brown sugar, and Worcestershire sauce to the pan and cook, stirring for about a minute. Add the chops back to the pan, nestling them into the sauce. Increase heat and bring mixture to a boil. Cover the pan tightly, reduce heat, and cook over low heat for about 45 minutes to 1 hour, or until the pork chops are fork-tender.
If you prefer to use the oven, cover the skillet (ovenproof) or transfer to a baking pan and cover tightly with foil. Braise the pork chops at 325 degrees for about 45 to 55 minutes, until tender
Adapted from About.com